THE UK'S TOP 30 ECOMMERCE RETAILERS
Who they are. How they're winning.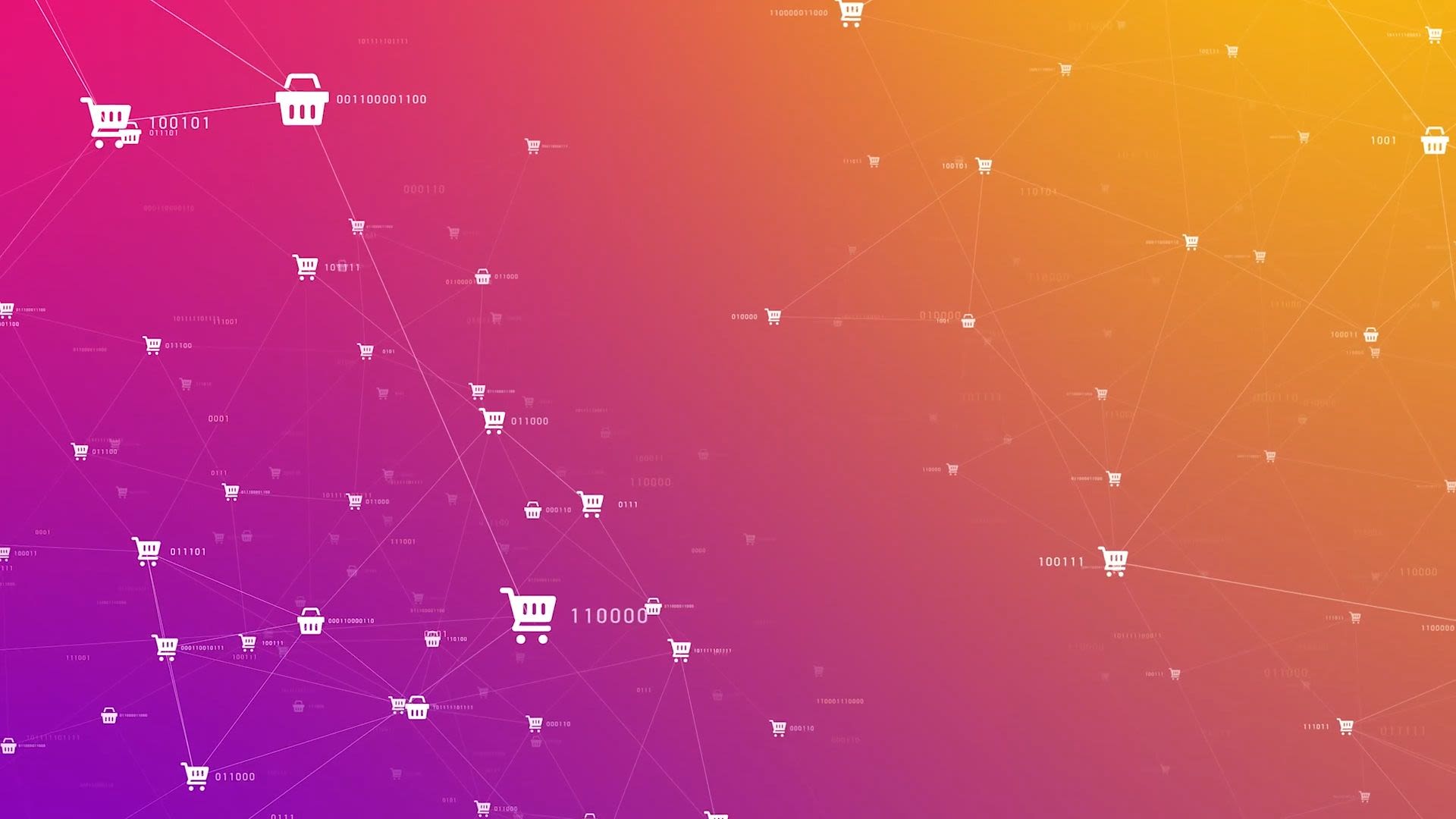 At a glance
Following the UK ecommerce surge during the pandemic, the performance of many predominantly online retailers has plummeted.
The combination of the cost-of-living crisis and post-Covid store revival with rising numbers of hybrid shoppers has meant online retailers must work harder than ever to win digital spend.
This backdrop has made one thing clear: the ecommerce strategies many online retailers traditionally relied upon to attract and convert shoppers are no longer fit for purpose.
Fortunately, there are others getting it right.
The UK's top 30 ecommerce retailers ranks the country's most successful ecommerce retailers by forecast online sales
The UK's top 30 ecommerce retailers, produced in association with Ecommpay, Marigold and Zendesk, uses exclusive Retail Week analyst data to rank the country's most successful ecommerce retailers by forecast online sales.
Over the following chapters, you'll discover the retailers fighting against the tide to make online work for them, where ecommerce fits in their wider business strategy and how you can follow their lead.
Methodology
The primary ranking of The UK's Top 30 Ecommerce Retailers is based on forecast UK online sales for FY2022 compiled by the Retail Week analyst team in January 2023. The two other rankings cited in this report include Retail Week analyst data of total UK online sales for FY2021 and comparisons for forecast UK online sales in FY2023 and FY2024. Please note some figures may be estimated.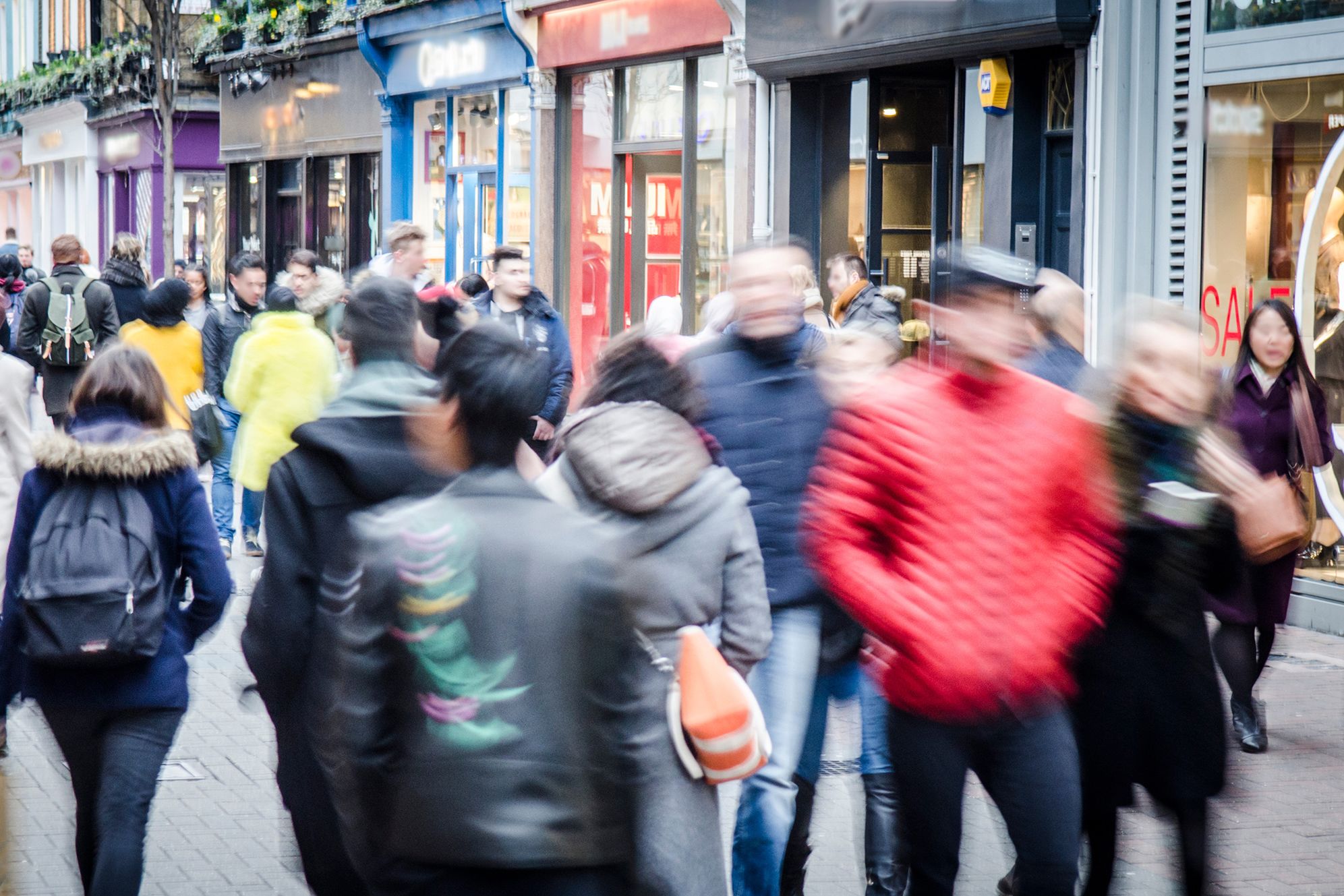 Introduction:
Realising the ecommerce opportunity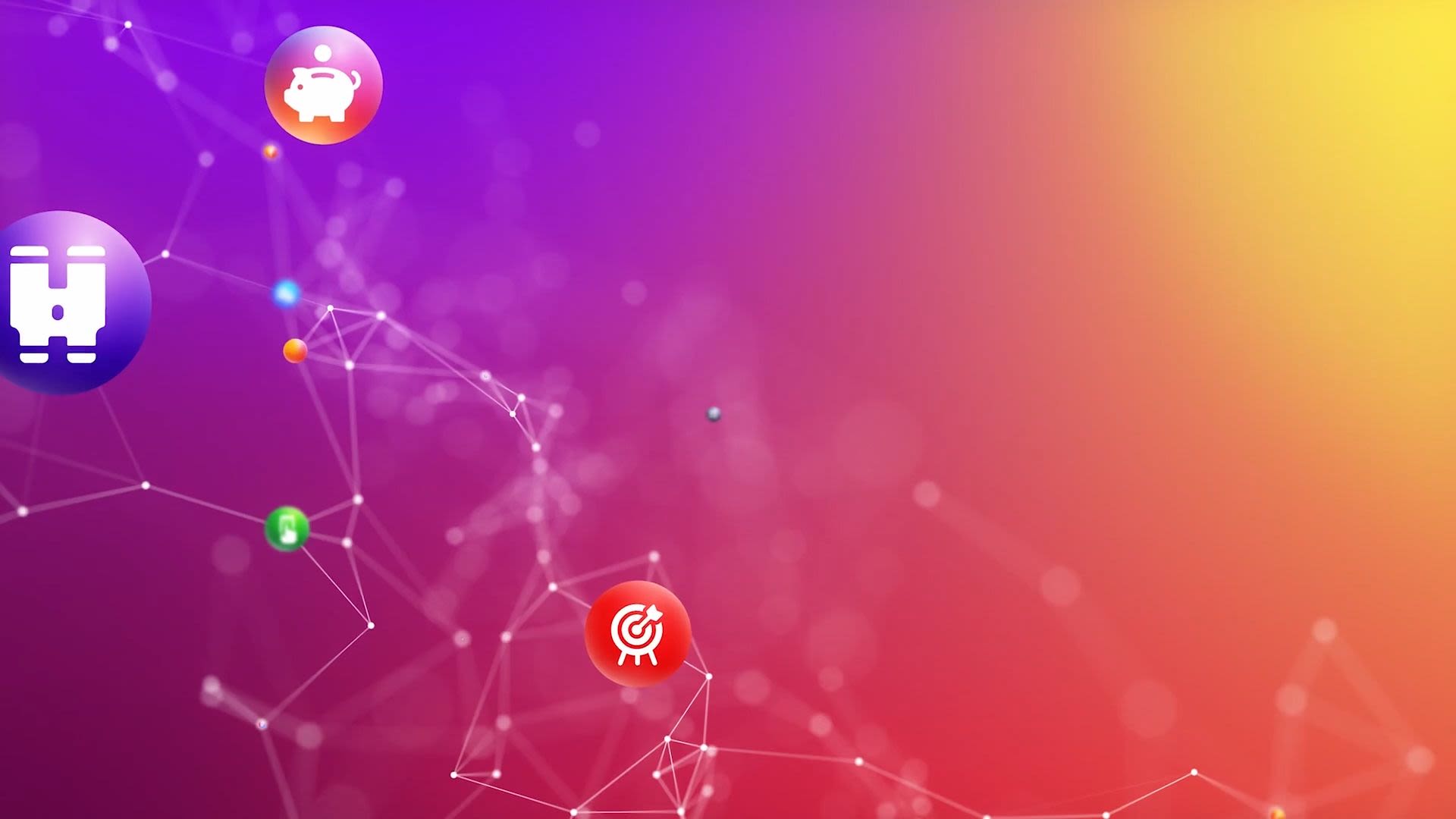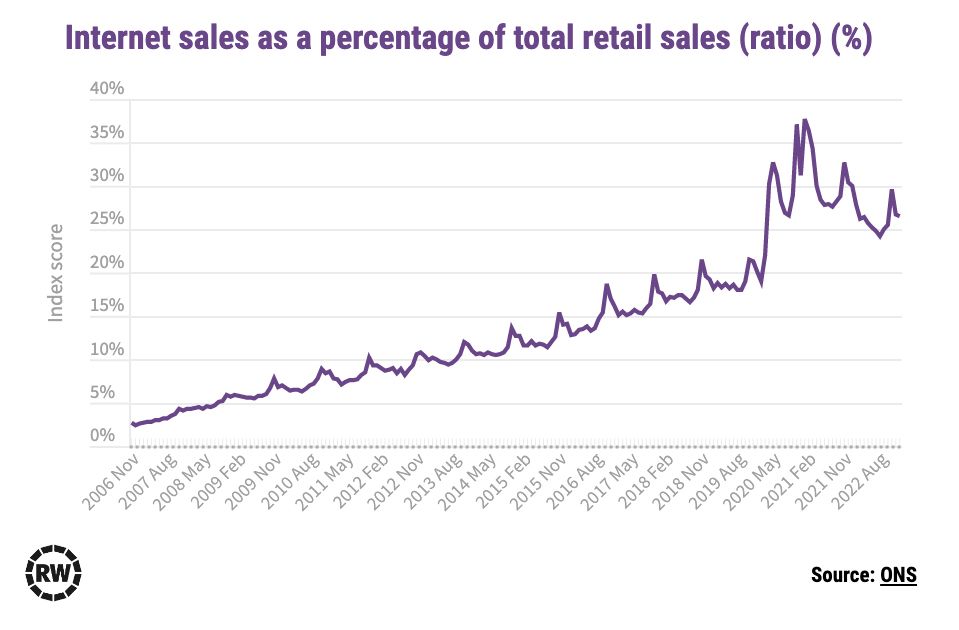 It is a challenging time to be an online retailer operating in the UK.
Online sales accounted for just 26.6% of total UK retail sales in January 2023, down 0.1% from 26.7% in December 2022, and more than 8% down on online's peak 37.8% in January 2021, Office for National Statistics (ONS) data shows.
Other industry data highlights the volatility of ecommerce. The latest BRC-KPMG Retail Sales Monitor showed a 3.6% monthly decrease for online non-food sales in January 2023.
The ecommerce car crashes of Eve Sleep and Made.com in October 2022 were telling of a new struggle for online retailers. Eve Sleep, which launched in 2015 and floated in May 2017 with a market valuation of £140m, went into administration with its assets subsequently bought by Bensons for Beds owner specialist investor Alteri. Similarly, Made.com, which had previously raised £775m in a highly publicised IPO in May 2021, was rescued by Next for the small sum of £3.4m in return for the homeware etailer's brand, domain name and IP, leaving behind any stock, property and staff.
In fact, Retail Week executive editor George MacDonald believes we're no longer moving to the digital future of Web 3.0 but in fact a reversal to Web -1.0. "All the talk during lockdowns that online had accelerated by decades and the pandemic had sparked an irreversible digital shift looks debatable now. Never mind the metaverse – the struggles of online operators have left it feeling more like Web -1.0," he says.
"All the talk during lockdowns that online had accelerated by decades and the pandemic had sparked an irreversible digital shift looks debatable now. Never mind the metaverse – the struggles of online operators have left it feeling more like Web -1.0"
Similarly – and despite making its entry into ecommerce in 2022 with a website relaunch, introduction of in-store product availability information and a click-and-collect trial – Primark's parent company ABF finance chief John Bason has said he believes online will not grow constantly. "People like being in our stores. We've got to move on from that narrative that online just increases all the time. To me, online looks mature," he says.
However, data shows just how much ground UK ecommerce has made over the past four years. Across all retail destinations, store footfall is expected to settle this year at between 5% and 10% lower than 2019, shopper analytics expert Springboard forecasts. While UK internet sales are still markedly up on pre-pandemic levels of 19.1% in February 2020 compared with 26.6% in January 2023, ONS data shows.
UK internet sales are still markedly up on pre-pandemic levels of 19.1% [CHK] in February 2020 compared with 26.6% in December 2022, ONS data shows
The emphasis now then – particularly with more shoppers having less money to spend on discretionary retail thanks to the worst inflation rates in 40 years – is for pureplay and multichannel retailers to work harder to make every single click count.
So what does that look like? Turning online volatility into opportunity takes ingenuity, innovation and investment. Fortunately the UK top 30 ecommerce retailers in our ranking offer a window into how to turn the online doom and gloom on its head.
The UK top 30 ecommerce retailers in our ranking offer a window into how to turn the online doom and gloom on its head
Based on a topline overview of the ranking in this report, a winning ecommerce strategy in 2023 requires at the bare minimum:
Exceptional online customer service – spanning everything from purchase support to social engagement
Effective supply chain infrastructure that moves seamlessly from first mile to final mile
Mobile app investment – be it via tech updates, rewards, value incentives and exclusive offers
Extended reach – being present in more online spaces via marketplaces, retailer and third-party partnerships
Improved online search capabilities, greater personalisation and a data-first approach
Brand evolution – this doesn't have to mean 'newness' or launches, but an advancement of what is already working
With that in mind, let's meet the ecommerce power players…
Meet the UK's top 30 ecommerce retailers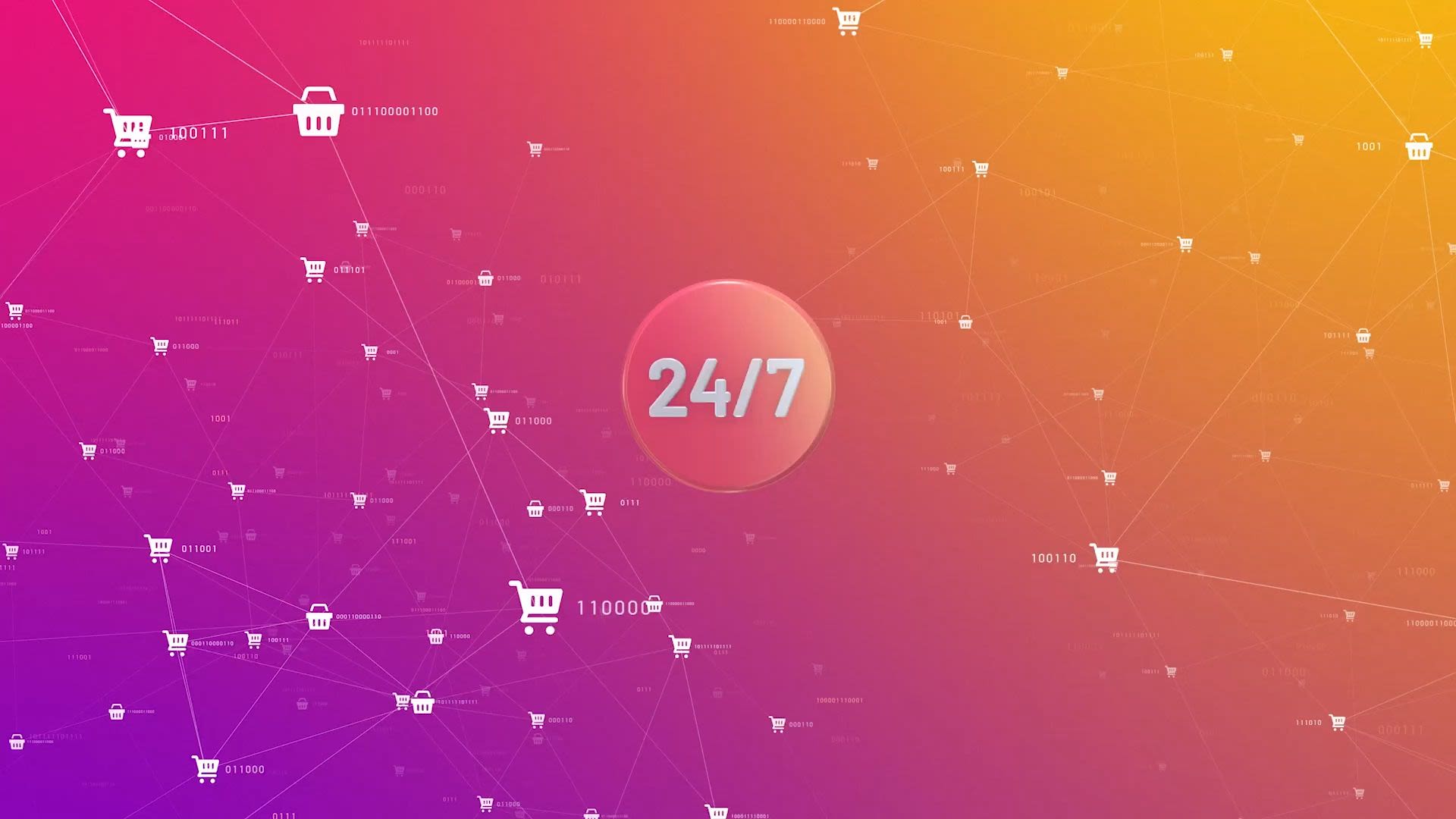 The UK's top 30 ecommerce retailers are those shrugging off MacDonald's concerns of a return to "Web -1.0" and using online to prop up other channels where relevant.
Here, we explore how six of the leaders are forecast to achieve strong online sales performance despite the difficult trading backdrop – and where these retailers are hedging their bets for 2023.

Amazon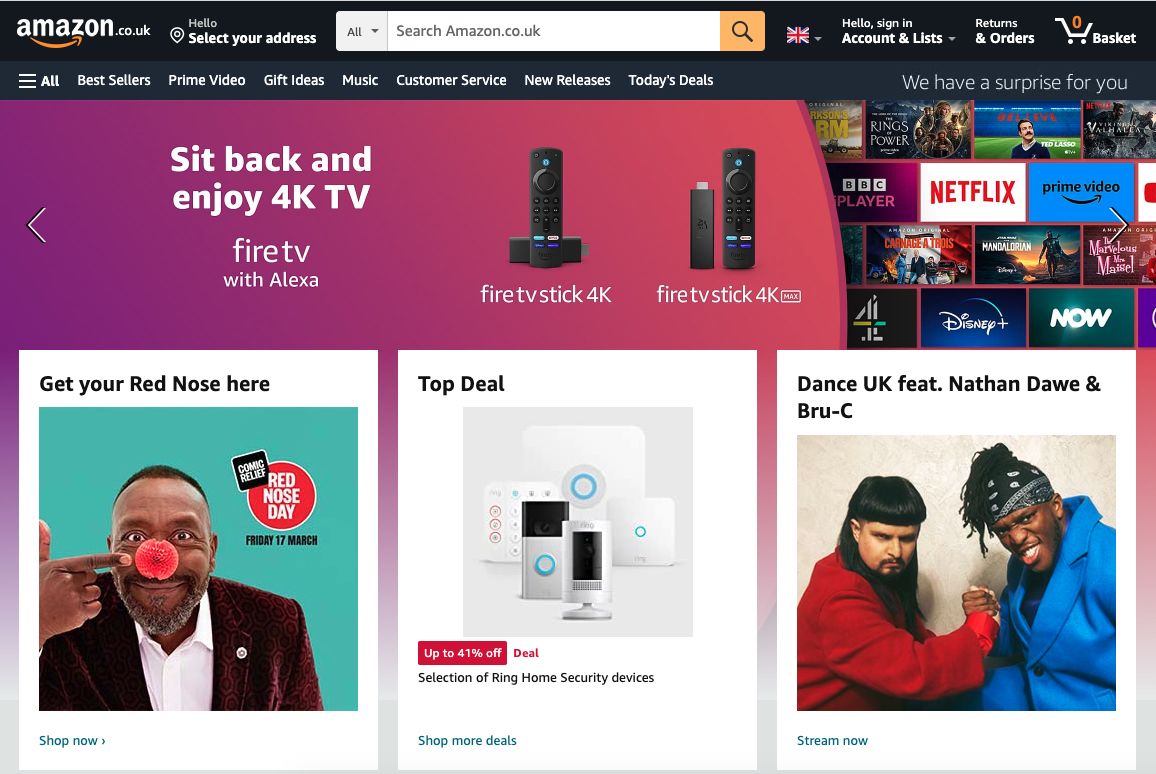 FY 2022 forecast UK online sales: £24.8bn (+7% on 2021)
FY 2021 total UK online sales: £23.2bn (+21% on 2020)
It is no surprise to see the undisputed ecommerce leader Amazon at the top of our ranking, despite its recent challenges. The pandemic brought stratospheric growth for Amazon, with its UK 2021 sales totalling an extraordinary £23.2bn. We expect it to grow 7% this year to £24.8bn in FY2022, followed by 11% in 2023 and 13% in 2024.
The pandemic-induced shift online led to UK growth of 51% in 2020 and 20.5% in 2021. As a result the business invested heavily in increasing its distribution network and capacity to support online demand. However, as noted in our introduction, shoppers have returned to store shopping more keenly than expected and Amazon has been left with high inventory and excess space. This has led to cost-cutting and reduced capital expenditure – in January 2022 it announced 18,000 job cuts globally including 1,200 roles at risk in the UK. However, its obsessive focus on the customer and decades of innovation mean it is well positioned to weather the current storm – and even with a slightly tightened belt, ecommerce innovation will proceed.
The business is also quietly testing a new Prime Lite Service in India as of January 2023 – Lite being a cheaper membership alternative to Prime, including free two-day instead of one-day shipping, and lacking premium services such as Prime Gaming. The service is a bid to offer customers a lower-cost option and reduce the number of Prime cancellations and, if successful, is likely to roll out to other markets.
In a major shift change for the business, in February Amazon announced an overhaul of its European product-sourcing model. It will now focus on sourcing products directly from brands rather than wholesalers in a move intended to help control its cost base and keep prices low for customers.
Warehouse technology advancements will continue, with new robotics and AI showcased in November 2022 (see Fulfilment and returns) that picks and sorts orders – something only humans could previously do. While this moment of difficulty is unusual for Amazon, it remains the brand to look to for future online performance.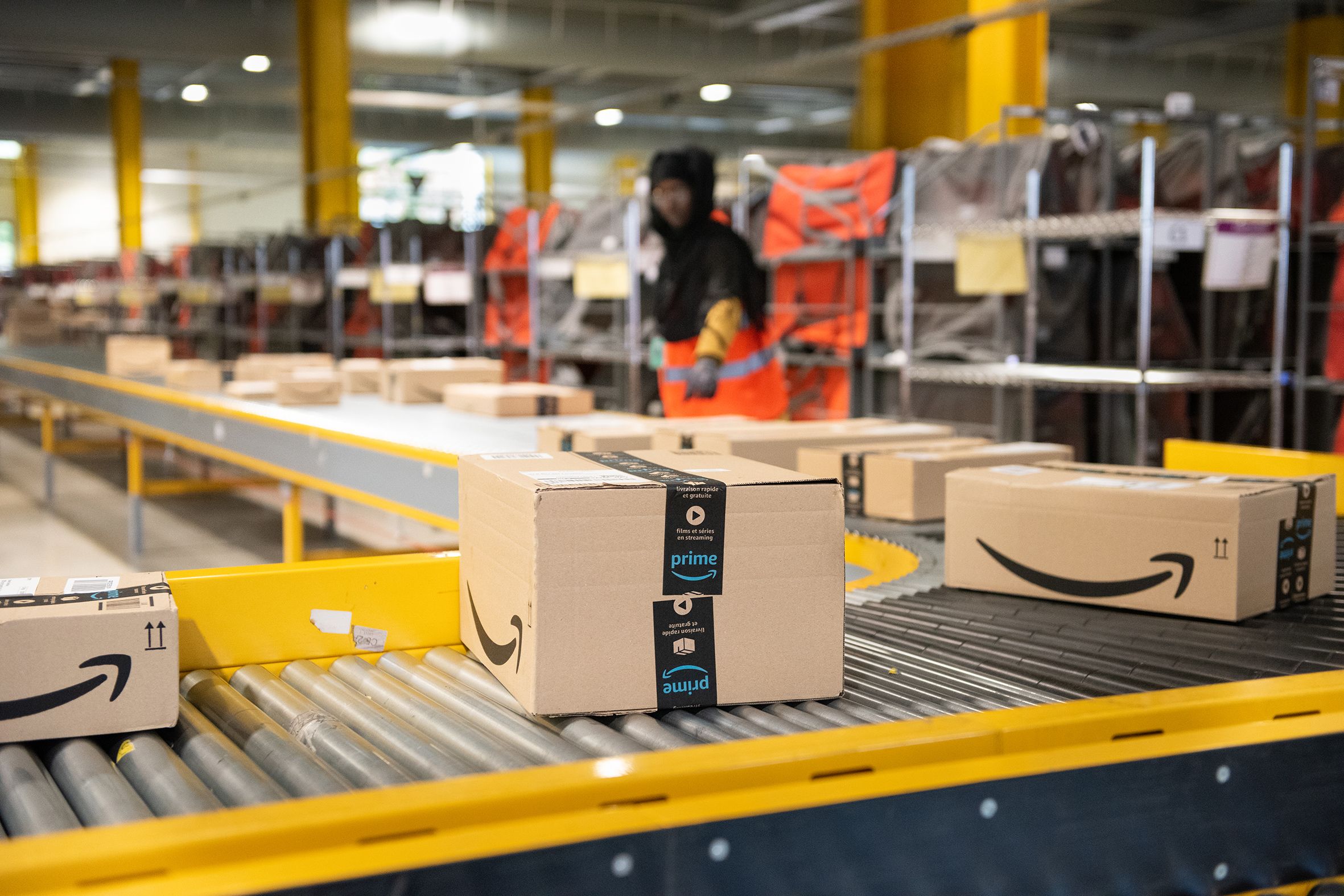 Tesco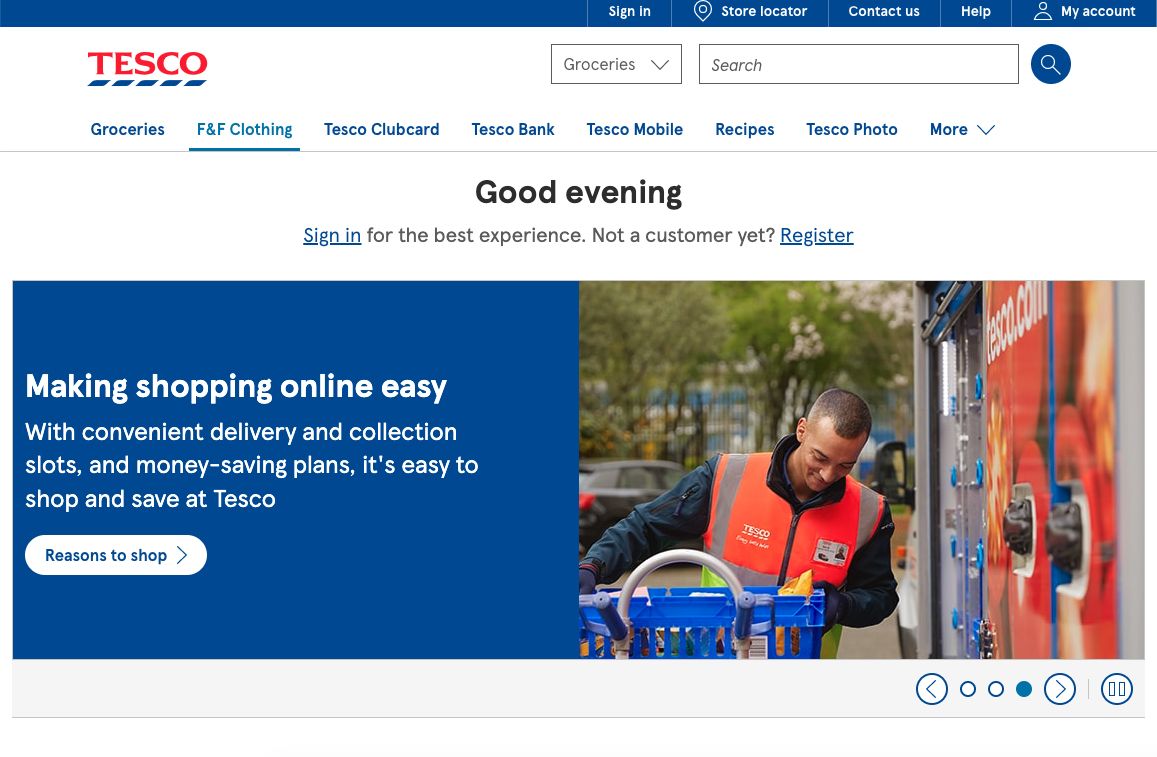 FY2022 forecast UK online sales: £5.6bn (-5% on 2021)
FY2021 total UK online sales: £5.9bn (-7% on 2020)
The UK's third largest online retailer (after Amazon and Sainsbury's Argos) continues to be Tesco, which is shrinking its online sales gap. The grocer's online sales can be credited to its adaptability and agility, driven by its commitment to logistics investment. For instance, it is well known that Tesco's ability to scale up quickly allowed it to double to a peak of 1.5 million orders per week during the pandemic, a volume that has since fallen and stayed steady at 1.2 million.
But it hasn't rested on its laurels since then. It came second only to Amazon when Retail Week asked 1,000 shoppers unprompted to name the retailer with the best customer experience, in exclusive research published in January 2023.
Its Clubcard loyalty scheme continues to be a central part of its strategy, as it has been for years, and today the card's digitisation is a key priority. It reported in its preliminary results in April 2022 that it now has 9 million digital Clubcard app users. It continues to evolve the Clubcard user journey; an in-app personalised digital summary of customers' experience and the money they have saved shopping with Tesco had been trialled with 1 million customers as of April 2022.
Tesco also focuses heavily on behind-the-scenes efficiency and now has six urban fulfilment centres (UFCs) across the UK. The UFCs use excess space in large stores to fulfil online orders using automated technology and the grocer says pick rates are around four times higher than store-based picking. While it plans to open more UFCs in 2023, it has dropped its previous target of 25 in favour of a test-and-learn approach. This year also sees Tesco making plans to roll out its one-hour Whoosh on-demand rapid delivery service to 600 stores by the end of the year.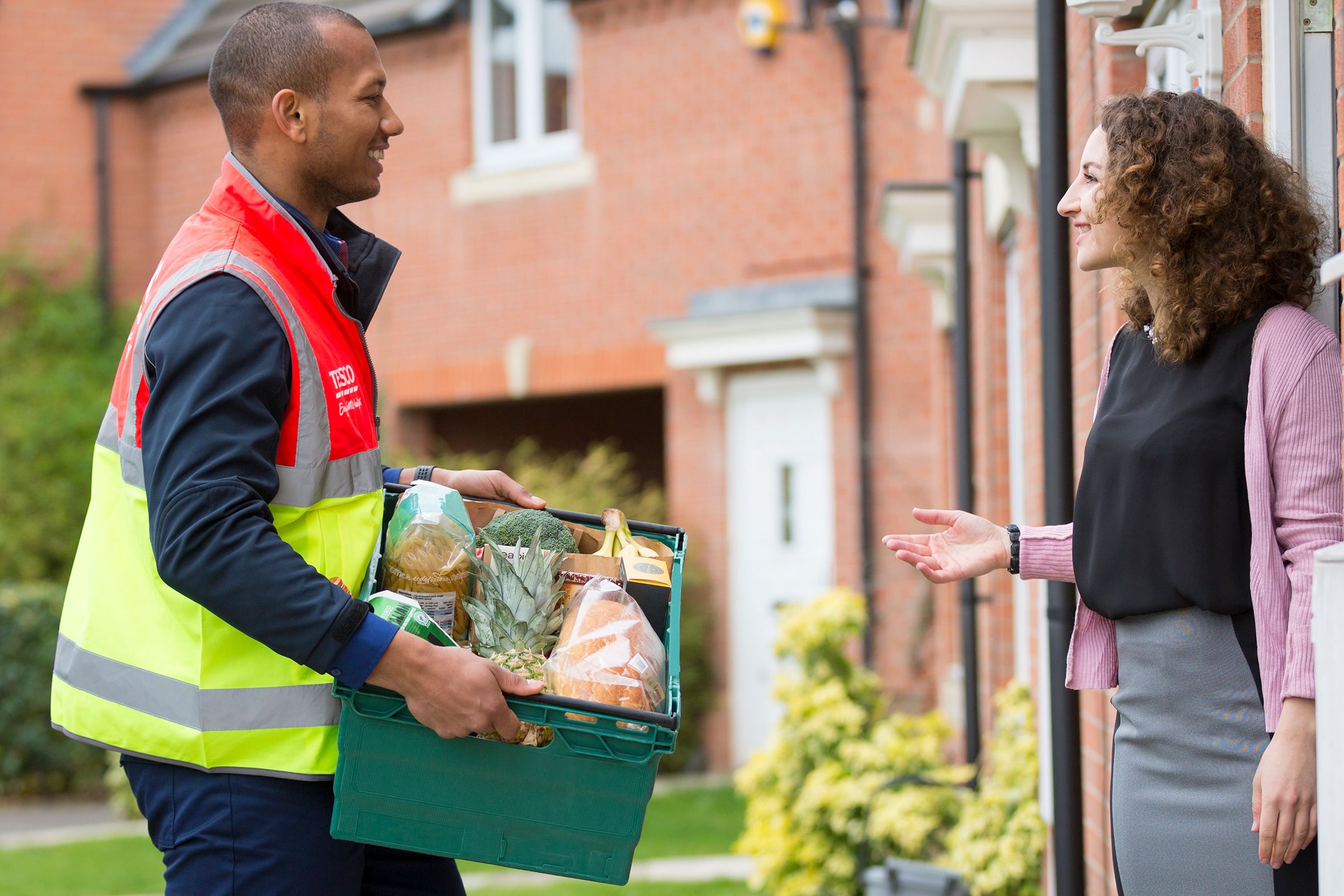 Next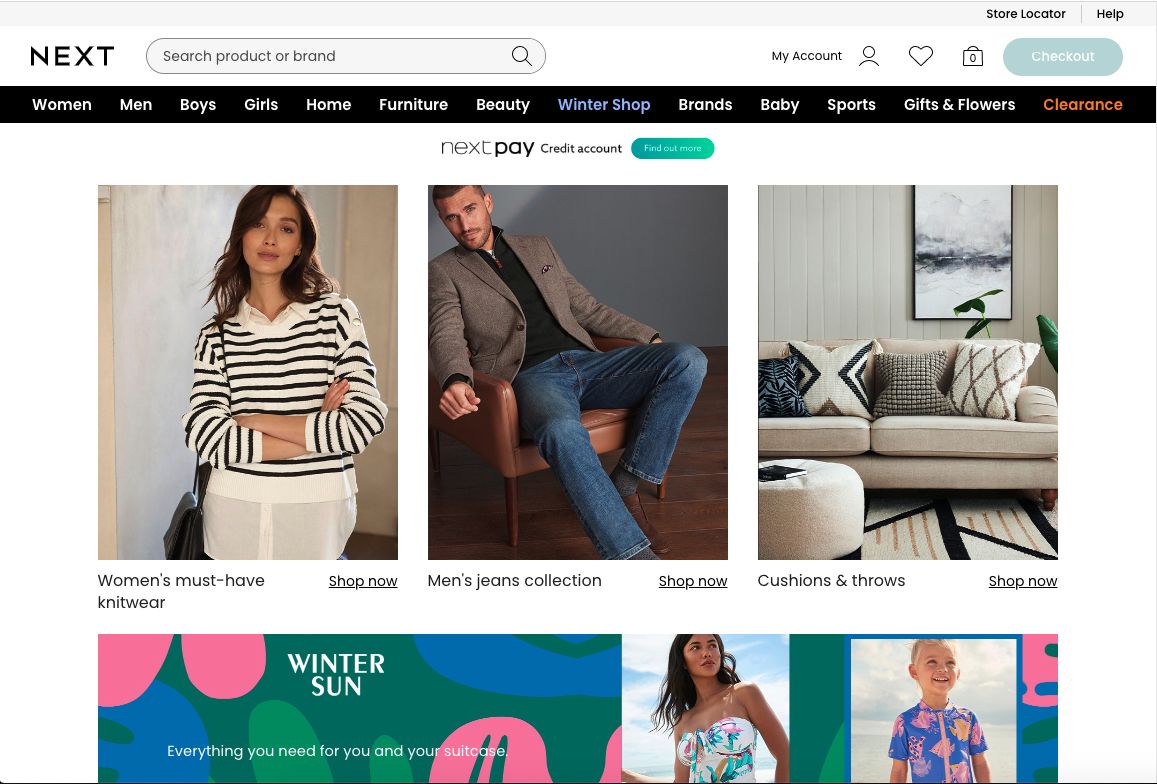 FY2022 forecast UK online sales: £2.3bn (+3% on 2021)
FY2021 total UK online sales: £2bn (+26% on 2020)
An early multichannel leader, Next boasts three sources of revenue across its online platform – its own ecommerce operation; its Label business, which sells third-party brands through its website; and Total Platform, a 2019 launch which allows third parties to access its formidable infrastructure. It is also adding to its stable of brands via an acquisitive strategy. Recent buys include Made.com November 2022 for £3.4m; Joules in December 2022 for £34m; and a majority stake (51%) in Reiss in August 2022.
Our data shows that Next's online sales accounted for more than 60% of total sales in 2021/22. While growth is expected to reduce (2021 year-on-year online growth was 26% compared with 2022's expected growth of 3%), with chief executive Lord Wolfson expecting sales to "reach an equilibrium" at some point this year as shopping patterns normalise, its online offer remains a strength. For instance, Wolfson credited Next's online click-and-collect service as a valuable part of its strong Christmas trading in December 2022.
Looking forward, Next is increasing its tech spend – capital investment is expected to increase to £36m in FY2022, up from £31m in FY2021. This is being spent on initiatives such as further personalisation across its website and marketing, including targeted promotions and fully personalised homepages. It is also maximising the online value of its stores through increased integration such as using stores as online fulfilment networks.
More recent improvements include increasing the number of delivery vans visiting stores each day to facilitate collection of online returns – plus, when online returns are dealt with in store using new order-processing software, the retailer is now able to identify items that are in highest demand and prioritise their processing.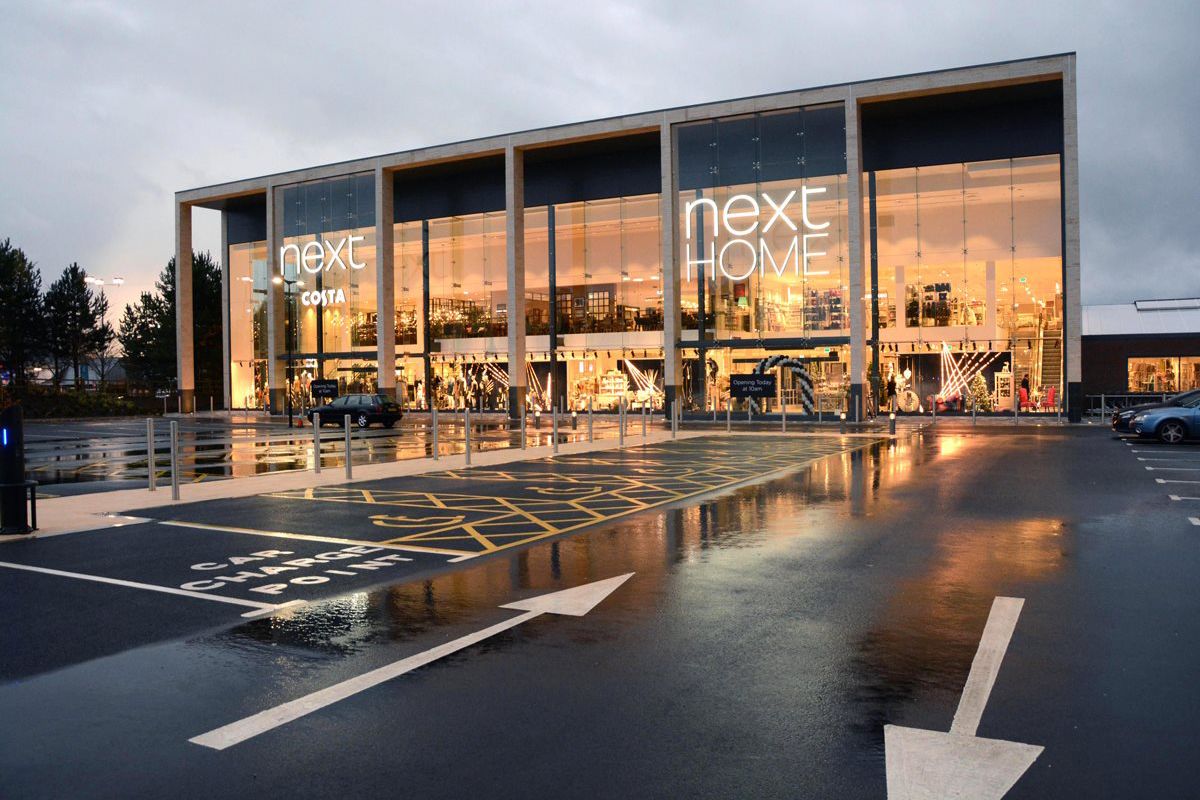 Asos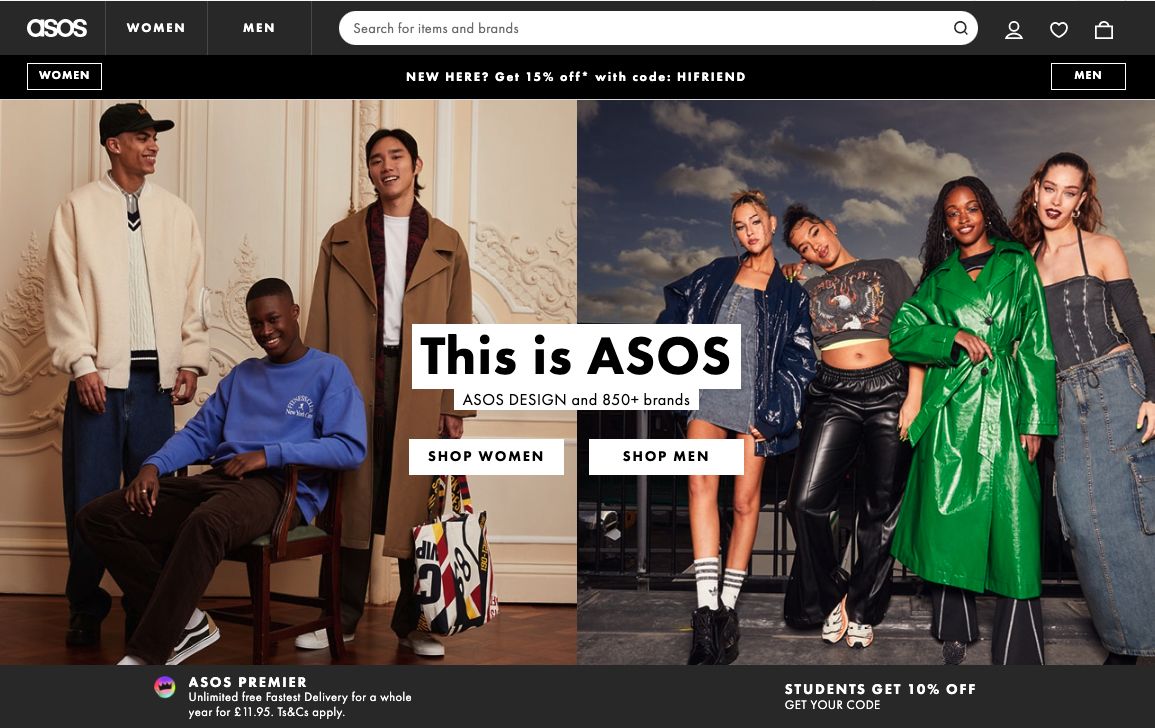 FY2022 forecast UK online sales: £1.7bn (+7% on 2021)
FY2021 total UK online sales: £1.6bn (+36% on 2020)
Despite experiencing well-publicised challenges in 2022 largely driven by supply chain problems navigating surplus stock, Asos nonetheless performs strongly in our ranking at number nine. Its 2022 forecasted growth of 7% compares with 2021 growth of 36%, a leap driven by pandemic behaviours. Looking ahead our data highlights a small dip in growth of -4% in 2023 and then a rise of 3% in 2024.
Asos' ecommerce strategy for 2023 involves tighter stock management and faster speed to market, as well as use of data and digital developments to better engage customers. To support this, technology investment has already ramped up with capital expenditure growing from £157m in 2021 to £183m in 2022. With mobile accounting for 88% of its online visits in FY2022, this channel is Asos' key priority and where much of the spend will be focused.
It is exploring voice and visual technologies to improve search, and using artificial intelligence (AI) to improve customer navigation. As part of this, it is investing in data science and analytics platforms to keep improving its algorithms – driving increased personalisation of homepages and stronger customer recommendations.
Its February 2022 tech infrastructure deal with Microsoft Cloud means the supplier's Azure platform and AI will continue to sit behind the retailer's digital platforms. The partnership is long-running and is set to help better predict customer demand, optimise logistics and deliver greater efficiency. Alongside working with third-party suppliers, collaboration with retailers is helping to strengthen Asos' online offer.
In June 2021 it partnered with Nordstrom in the US and the deal means that 350 Nordstrom stores now offer online click and collect for Asos orders.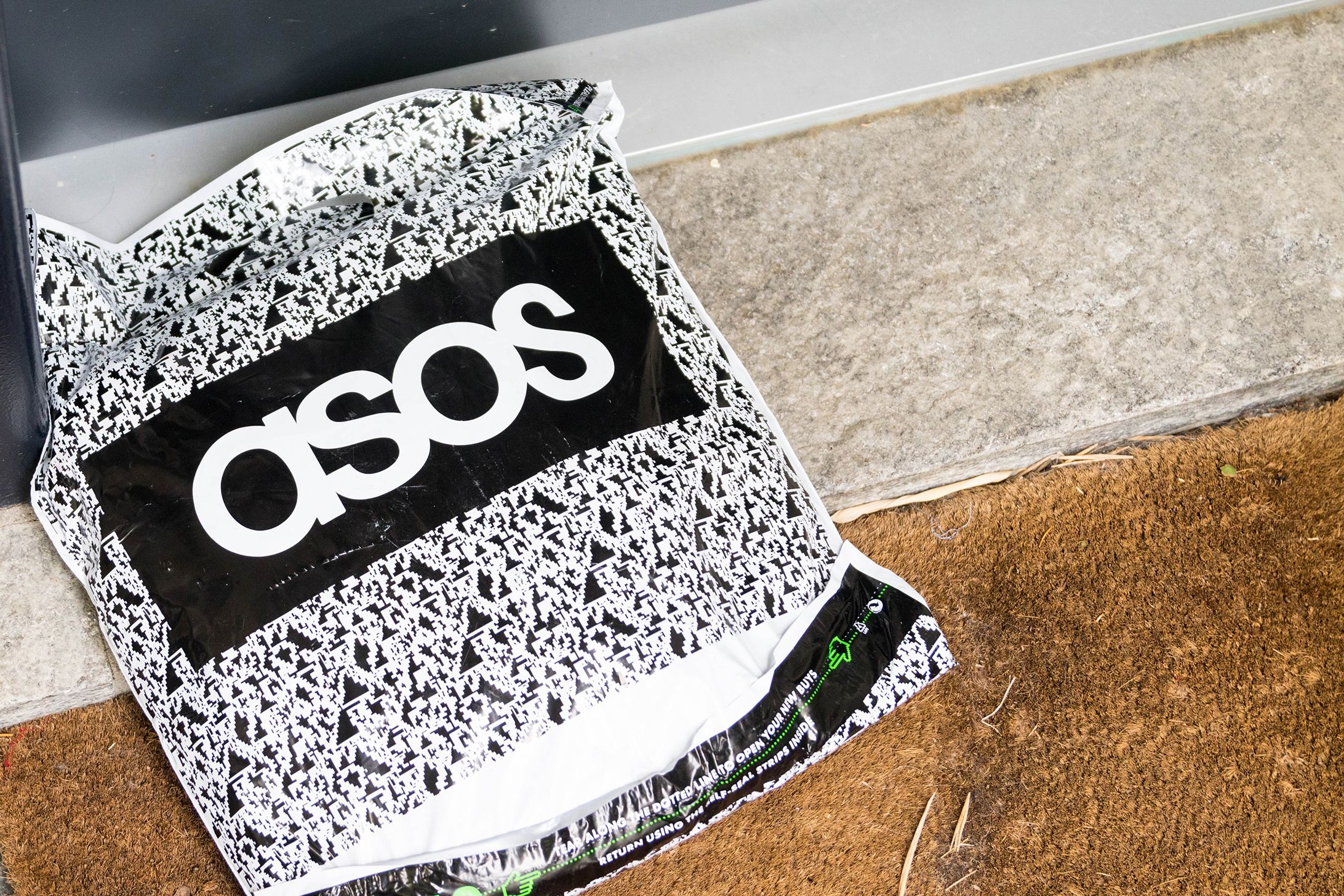 Frasers Group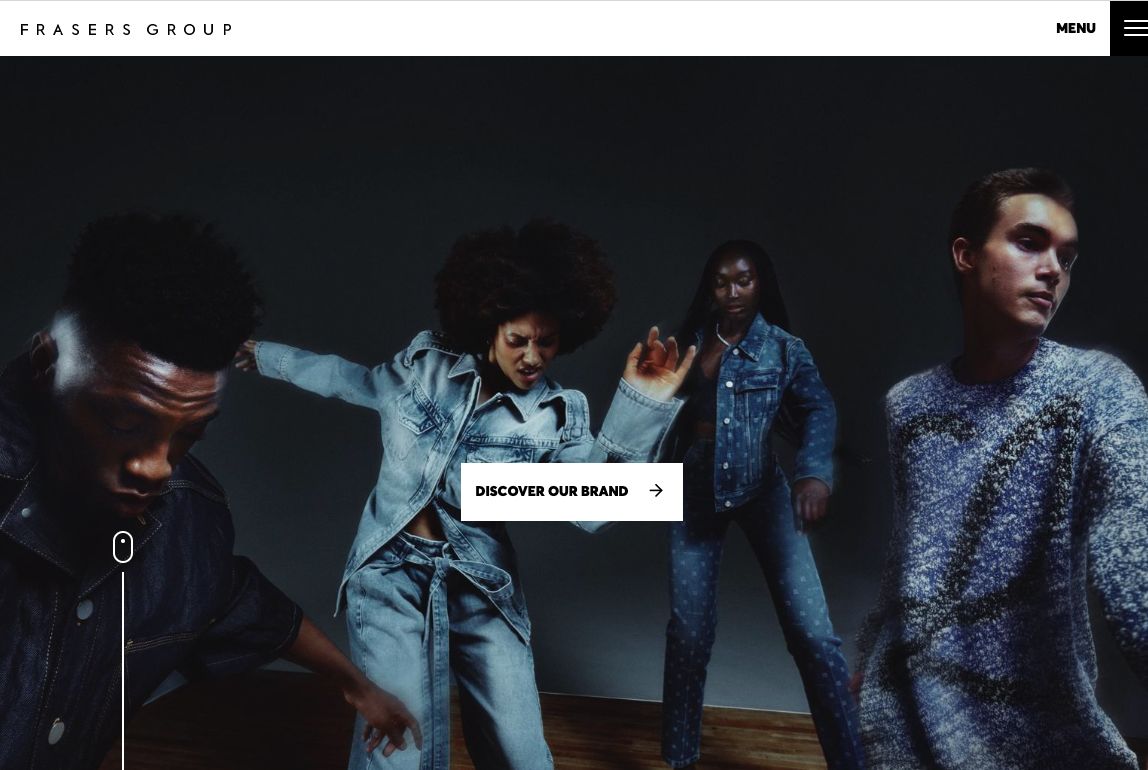 FY2022 forecast UK online sales: £1.4bn (+38% on 2021)
FY2021 total UK online sales: £1bn (+37% on 2020)
Frasers Group may be best known for its large store estates, but it is making major inroads online with its UK ecommerce sales forecast to grow 38% in FY2022 on FY2021 – the highest percentage growth of any of the retailers in our ranking.
Its acquisitive strategy has bolstered its ecommerce offer. The company purchased online catalogue brand Studio Retail in February 2022 for £1 in the initial deal and then £26.8m for lenders' claims against it; pureplay fast-fashion etailers I Saw it First for an undisclosed sum; and Missguided in the summer of 2022 for £20m; and then in October 2022 it took a 4.5% stake in online stalwart N Brown Group and a 5% stake in Asos, becoming its fourth-biggest shareholder.
Outside of acquisitions – which are often limited to retailers with big budgets – there are lessons to be learnt from Frasers' strategy of 'elevation' of its proposition. The retailer is focused on improving its online customer experience with a particular focus on customer service, engagement and data. Recent examples include a newly streamlined online guest checkout process, improved search capabilities and enhancements to its mobile platforms.
The latter includes the announcement in January 2023 of Frasers Plus; its new app that combines loyalty incentives with the option of buy now pay later (BNPL). The app entitles shoppers to earn one point for every pound they spend across the group's retailers, while for BNPL the retailer will allow repayment over a maximum of 36 months (any repayments over three months will be charged at a variable rate of 29.9% APRI).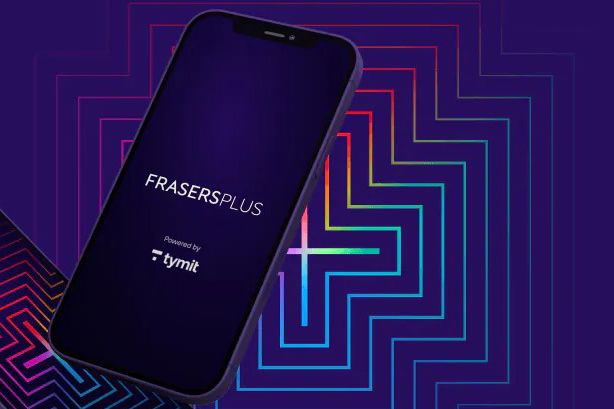 Frasers Group will also be busy this year bedding in some of the systems and ecommerce expertise it has brought into the business via its 2022 acquisitions, using both to improve its online offer. Its channels aren't siloed either; our analysts forecast Frasers will follow Next's lead in developing a cross-channel offer where it uses its stores for online fulfilment.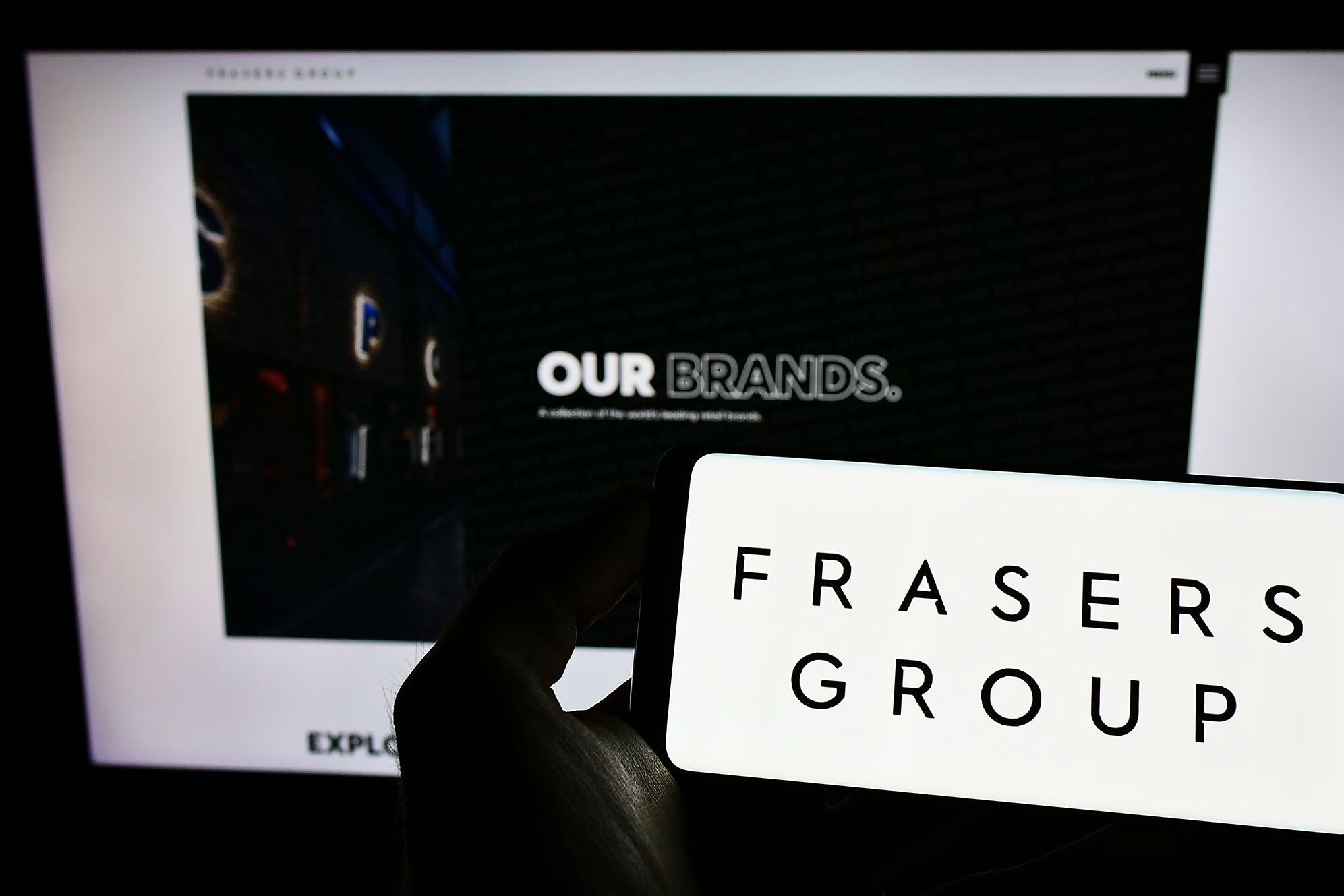 Nike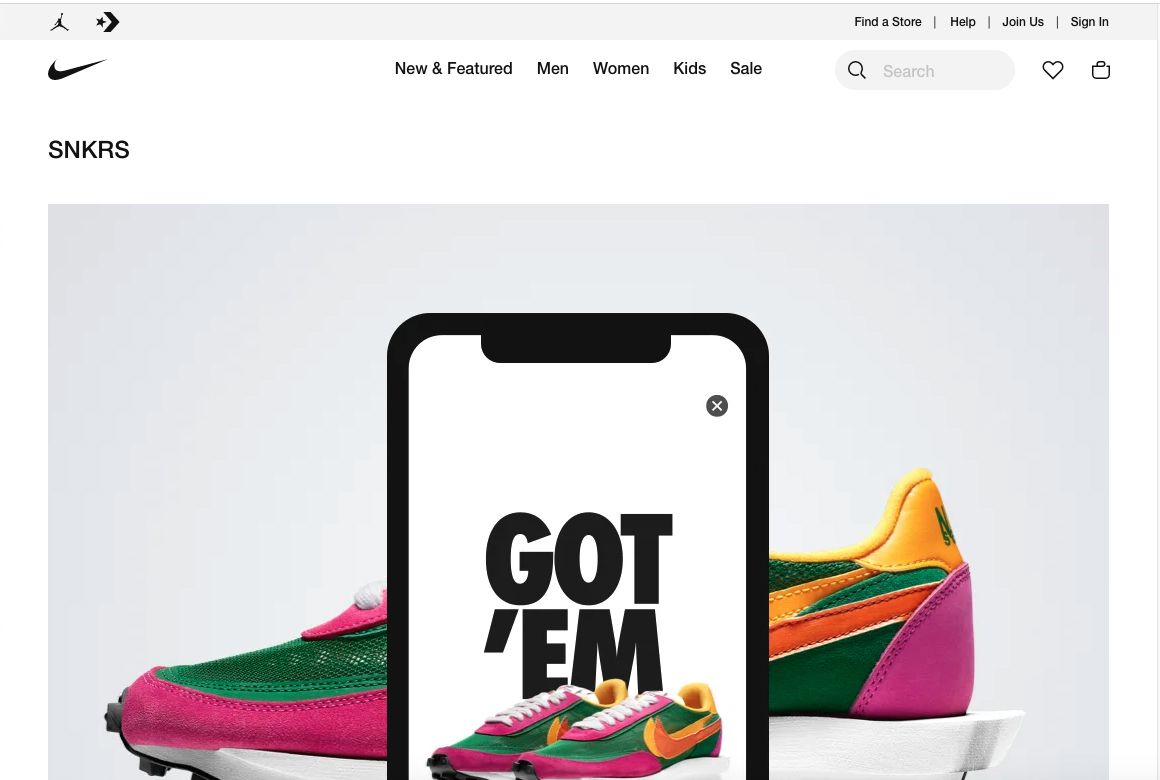 FY2022 forecast UK online sales: £759m (+41% on 2021)
FY2021 total UK online sales: £540m (+19% on 2020)
Nike has been on the offensive for a number of years to improve its digital sales, which surged 19% in 2021 to £540m – and our data forecasts another jump of 41% for FY2022.
Nike's app ecosystem now drives almost half of all digital demand and the UK market will benefit from new initiatives such as Connected Partnership, where Nike and JD Sports customers can link their two app membership accounts. This will build on the existing Nike+ app membership scheme, which offers shoppers rewards based on spending and fitness levels, provides access to sports experts, personalised workouts and priority event access. The app also integrates augmented reality (AR) technology that enables online shoppers to gauge accurate size estimations, while its separate SNKRS app (above) drives engagement by promoting highly sought-after limited-edition products.
While Nike does not disclose its UK ecommerce sales, Retail Week analysts estimate that the UK market represents around 6.5% share of total Nike ecommerce sales, with the UK set to grow over the next few years as Nike continues its digital dominance. As with Asos, partnerships will be key to this. In January 2023 it teased upcoming retail collaborations with luxury brands Cortez and Tiffany & Co – tie-ups that will help it reach new online audiences.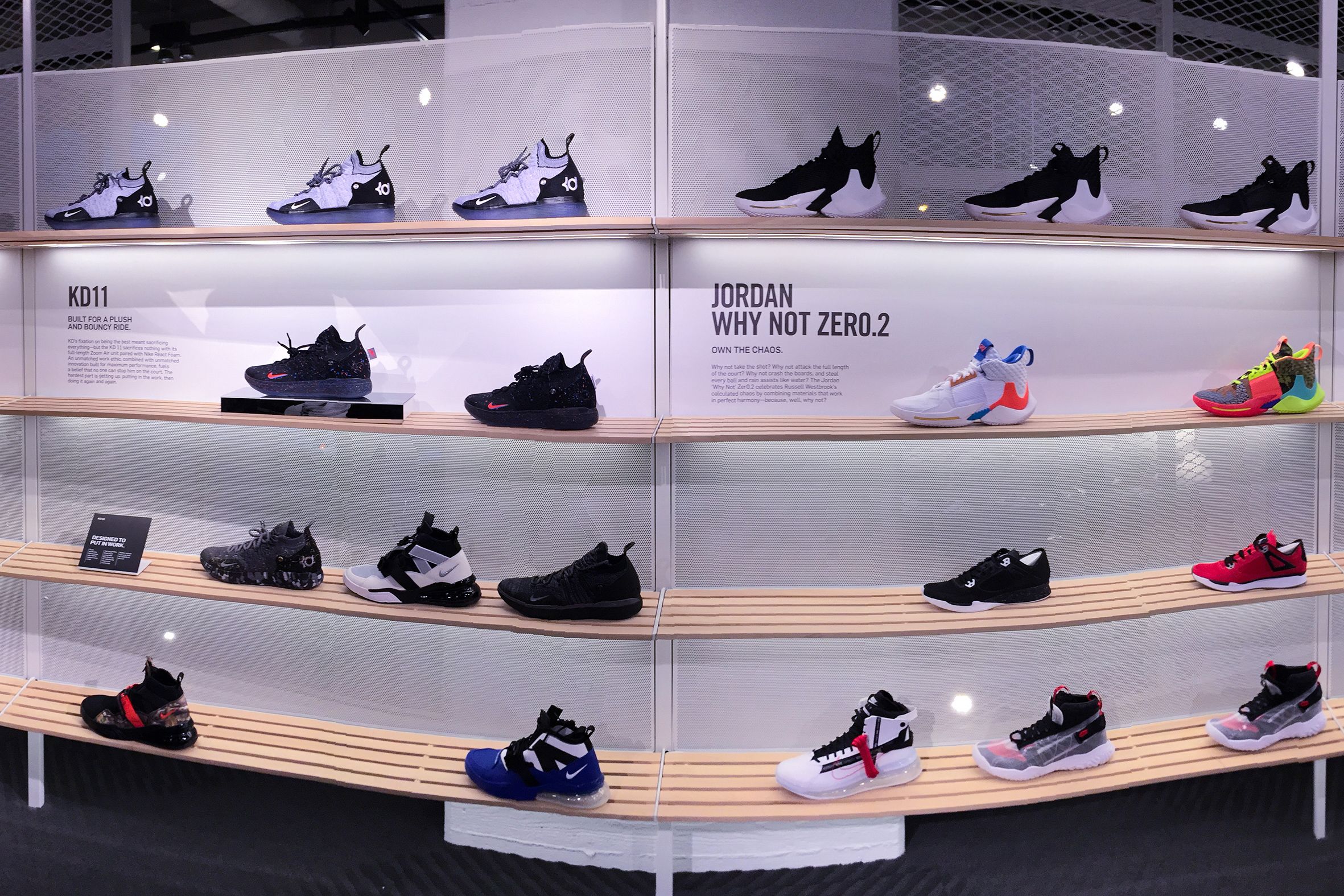 Retail's digital present – and future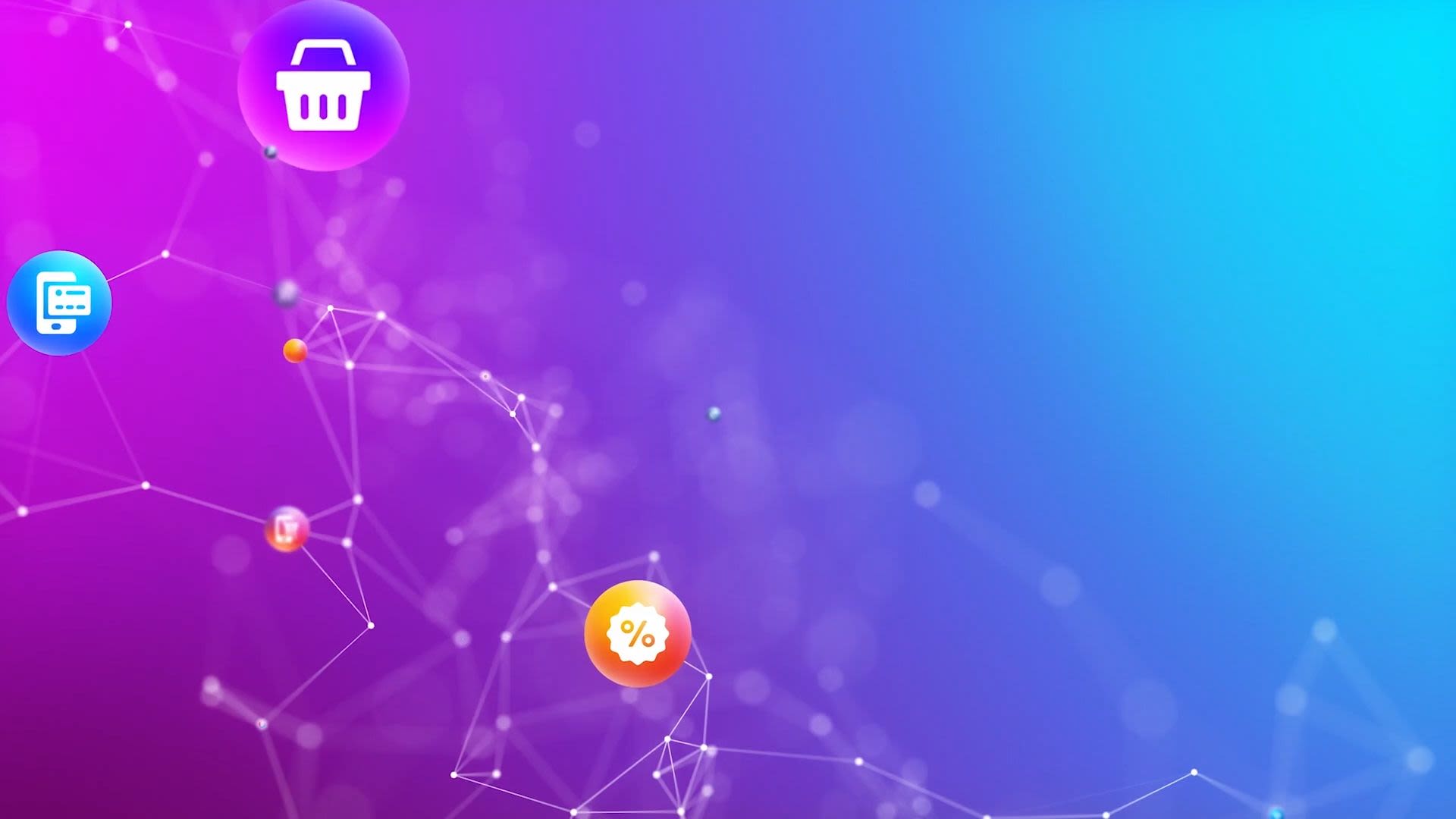 Strong UX and CX goes hand in hand with ecommerce sales performance, so how are the country's top ecommerce retailers ensuring they deliver optimal online shopping experiences? In this chapter we look at the tech, partnerships and innovations these retailers are investing in.
Using marketplaces to maximise assets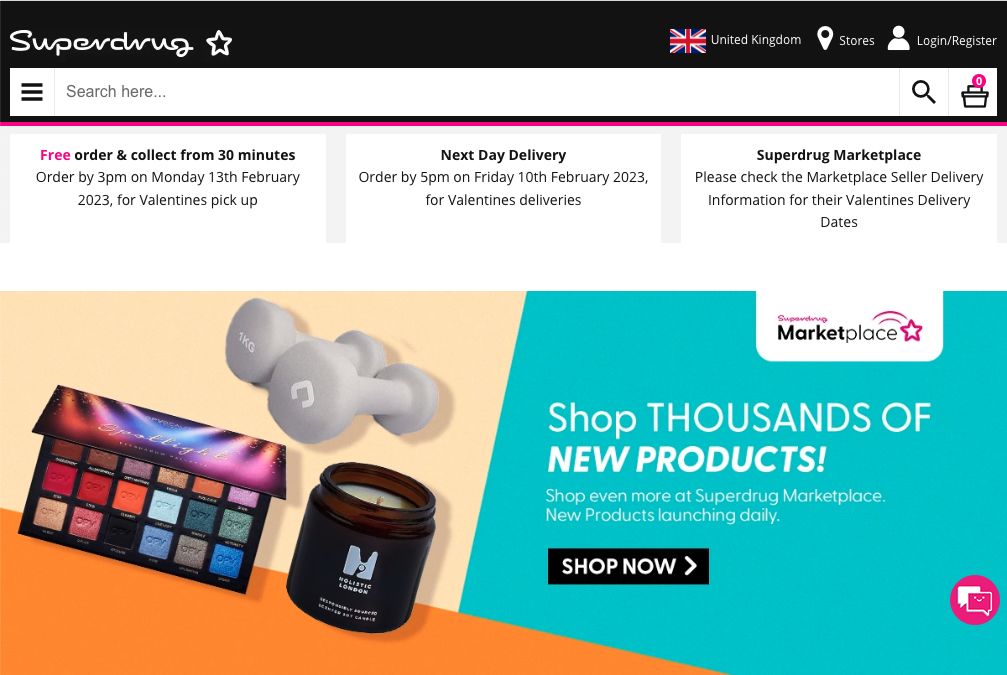 Those retailers leading the way in ecommerce are open to innovation without losing focus on strategic goals. Take Superdrug, for instance – 30th in our ranking with FY2022 forecast online sales growth of 6% to £350m – which is innovating to improve its digital personalisation and scaling its online product range. To help achieve this and diversify, Superdrug has focused on establishing its own online marketplace. Launched in November 2022 with 300 brands signed up, the marketplace has already enabled the beauty retailer to double its product offer with a focus on "homegrown, female-founded, sustainable and inclusive" new brands.

This is a similar strategy to that being pursued by Boots, which is launching its own marketplace this spring with brands of any size able to sell via the platform. Boots enjoyed mammoth ecommerce growth during the pandemic: its FY2021 total online sales surged 54% to £1.2bn and, despite a small decline in growth (-4%) expected for FY2022, it is focused on retaining its stronghold.
Replatforming and app investment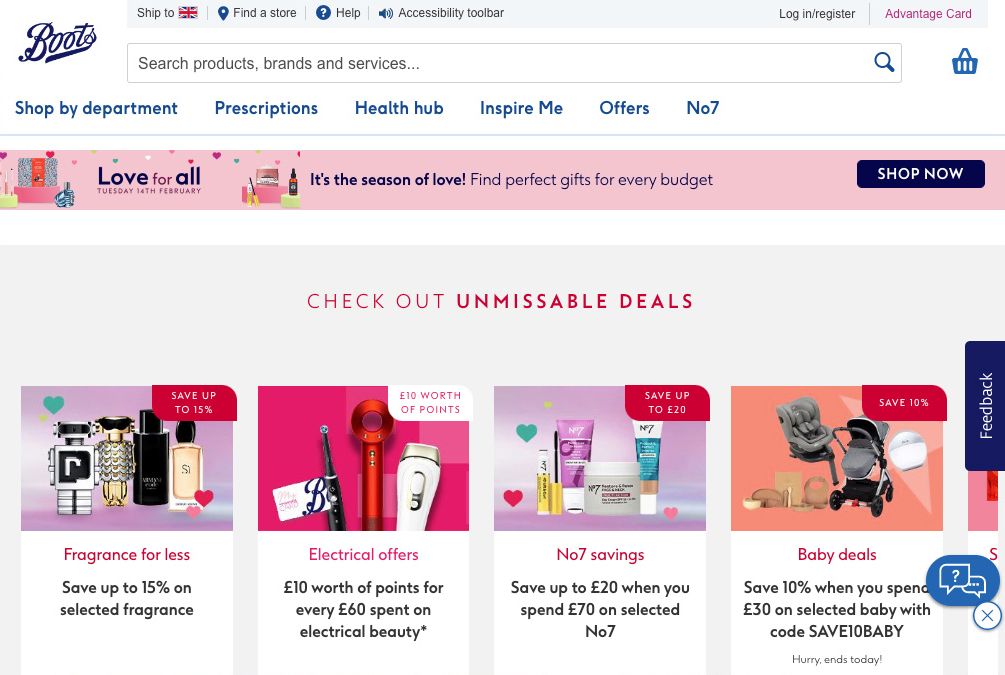 In 2021, Boots replatformed its website to IBM Cloud, a full-stack cloud platform with more than 170 products and services covering data, containers, AI, Internet of Things (IoT) and blockchain, which has greatly improved the beauty business' performance and functionality.
In its most recent quarter to 30 November 2022, Boots said its digital sales growth continues to outperform the market and now accounts for 18% of total retail sales. The Boots app has been a big driver of this too, with the app experiencing impressive growth of 26% in 2021 and now representing more than a quarter of Boots.com sales.
The app plays into Boots' loyalty-driven community, with its 15 million Advantage Card holders a huge feather in its cap, and it continues to work to maximise this community. For instance, while the Advantage Card was digitised in the app back in 2019, only in 2022 was the app updated to give members exclusive access to Boots Price Advantage deals, offering up to 50% off selected products.
Elevated online partnerships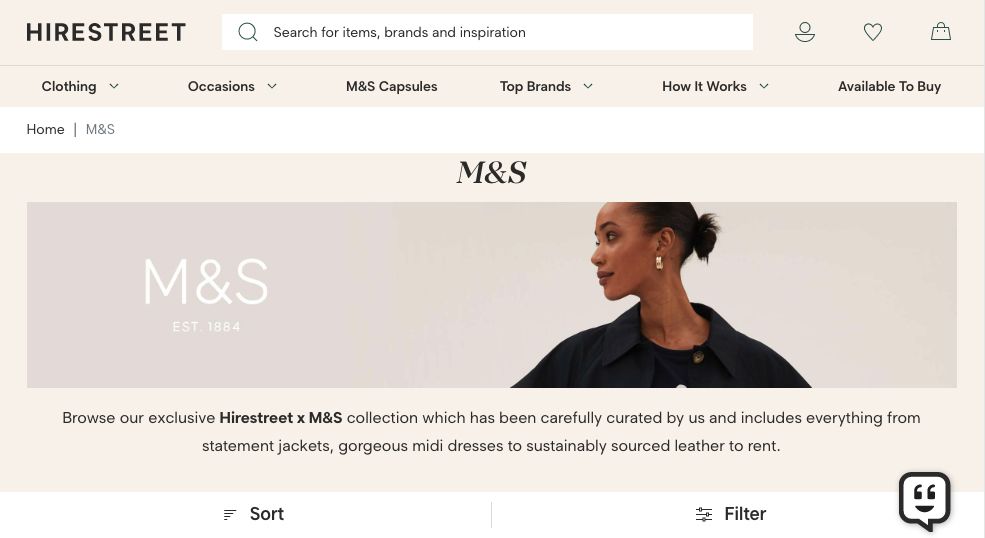 One clear trend from retailers leading the way in ecommerce is the growth of strategic partnerships. Marks & Spencer and rental platform Hirestreet are one such example. M&S (ranked 11th with forecast online sales up 8% for FY2022 from £1.3bn to £1.5bn) used Hirestreet to introduce a rental offer via its website back in October 2021. The launch came after M&S found that more than a third of its consumers consider the environment before buying clothes.
By April 2022, M&S had made 40 womenswear lines available on the platform in what it said was the biggest retailer collaboration so far for Hirestreet. It is continuing to learn what works on the platform and says that although rental is usually associated with formal dressing, 53% of Hirestreet customers are now renting M&S products for casual social events.
AO.com (ranked 17th) and Homebase are also chasing a goal of cross-channel benefits. In August 2022 the retailers entered into an initial five-year agreement to supply, install and recycle appliances. Homebase has agreed to purchase major domestic appliances and audio-visual equipment exclusively from AO.com, and Homebase customers get access to the entire AO range at its "internet" pricing and access to its logistics, including its recycling scheme. Chief executive John Roberts has highlighted how more businesses should be partnering to create "one-stop-shop solutions".
Boots is also making a play to drive ecommerce partnership revenue. In September 2021, the business launched the Boots Media Group, a media and marketing agency that helps third-party brands – inside and outside of retail – provide personalised campaigns to customers based on its Advantage Card database. ITV is the latest business to quite literally take advantage, striking a deal in November 2022 to target potential customers for its ITVX platform.
Enter relationship marketing
Another trend evident among the UK's top 30 ecommerce retailers is the real connection these businesses are forming with their customers via their marketing strategies. It is a trend that Marigold, parent company of Cheetah Digital, Selligent and more, refers to as "relationship marketing" – i.e. putting the customer at the centre of everything.
Marigold VP of Global Content Tim Glomb explains: "The idea of relationship marketing simply means listening to consumers as individuals and meeting their needs via marketing efforts. This means personalising email, ads, loyalty offerings, etc. Consumers are tired of generic, one-size-fits-all offers from brands."
Glomb adds: "Our 2023 Consumer Trends Index also found that 49% of people are frustrated with irrelevant content and offers, so the time is now and the technology exists to deliver on this at scale."
M&S, for instance, is honing relationship marketing. While it has been working on personalising the customer experience through its website, app and CRM programme over the past couple of years, it has recently developed a bespoke in-house solution to deepen relationships with customers and drive future growth. The goal is to build personalisation at scale to move from a targeted promotions model to one where the range, interactions and product presentation are relevant to the individual customer, making M&S a more engaging and easier place to shop.
The retailer's personalisation efforts stepped up a gear in the closing weeks of 2022 after it acquired the intellectual property of online personal styling service Thread, which had collapsed into administration, for an undisclosed sum. M&S has bought property including the source code and algorithms developed by Thread and is hiring 30 of its former data scientists, software engineers and styling and creative colleagues.
M&S said over the past few years it has "generated substantial value through customer data, personalising offers and language and providing repeat purchase and product recommendations". Between 20% and 25% of "all digital interactions" are anticipated to be personalised this year, but co-chief executive Katie Bickerstaffe wants to get to 50% in the next 12 to 18 months.
Learning from Sainsbury's Argos
FY2022 forecast UK online sales: £10.5bn (-3% on 2021)
FY2021 total UK online sales: £10.8bn (-11% on 2020)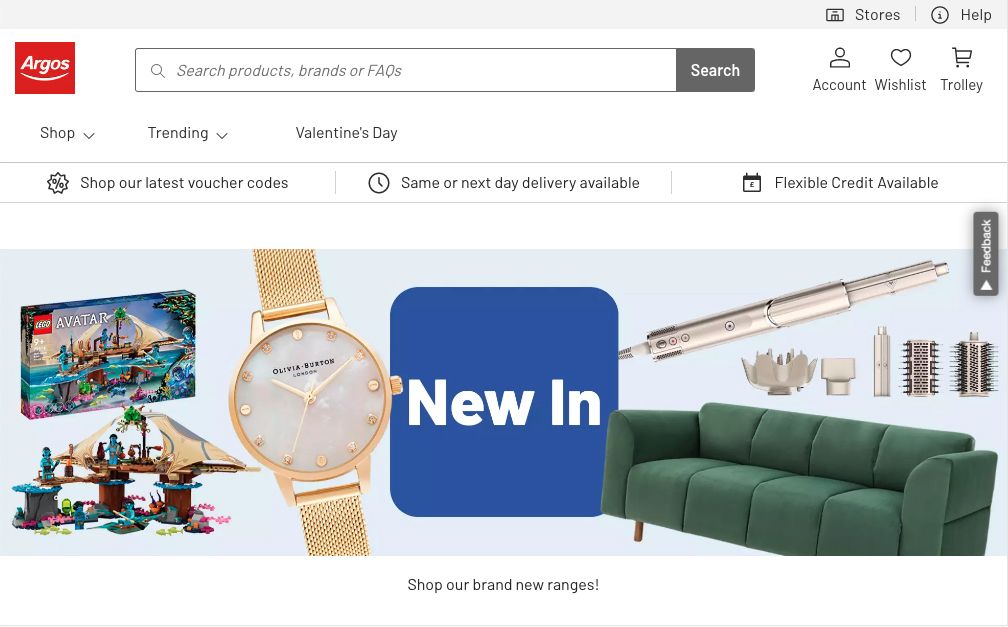 For Sainsbury's Argos, ecommerce is on a turnaround. While online sales are expected to fall 3% across the two businesses in FY2022, a rebound is anticipated in 2023 with growth of 6% and 9% in 2024. Argos in particular is enjoying an online revival with a large part of Sainsbury's Argos' strong Christmas 2022 performance – general merchandise up 7.4% over the 16 weeks to January 7 – being down to its ability to fix its availability issues, something that has plagued general merchandise retailers across the market. This meant it was able to capitalise on the success of its Black Friday awareness campaign, which drove 120 million visits to the website over the period and saw 15,000 orders per hour being processed on Black Friday itself.
Argos is another online-led retailer that has used online to prop up its other channels. While its owner Sainsbury's has closed many Argos own-brand stores, customers still have 1,100 points of contact with the retailer via its remaining estate and its presence in Sainsbury's stores. Its click-and-collect model, honed over many years, stood it in good stead for customers looking for the confidence they'd receive their items during a Christmas period of Royal Mail strikes.
Looking forward, the goal is to continue wrapping its store presence around Argos' ecommerce and mobile offer. By 2024, every Sainsbury's supermarket is set to have either an Argos shop-in-shop or a collection point. The Argos store estate will be reduced to 100 standalone stores, with all of these similarly tailored to fulfilling online orders.
Retailers returning to form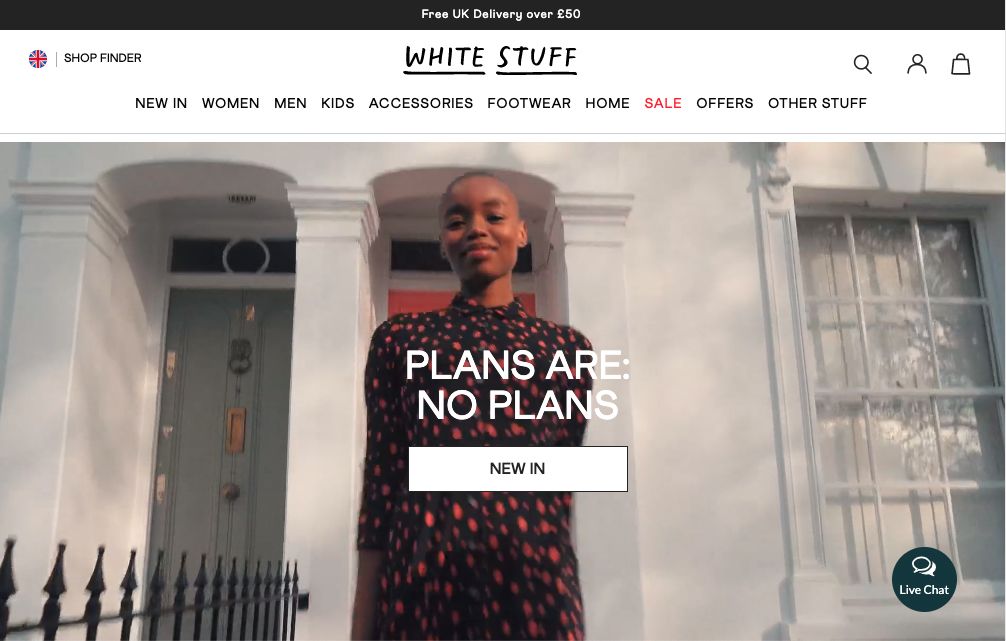 Outside of our analyst rankings, another significant trend to note is the volume of legacy retailers that have successfully revitalised their ecommerce strategies to get back in the black. Multichannel fashion retailer White Stuff, for instance, returned to profit during the year to April 2022 after a bumpy couple of years. The fashion retailer recorded EBITDA before exceptional items of £8.6m during the year to April 30, up from a loss of £3.4m the year before. Online sales inched up 0.4% to £61.3m.
Since 2018, the retailer has been on a three-year transformation plan that involves significant investment in IT systems to drive process efficiency. This includes upgrading its ecommerce platform, implementing a product information management tool and replacing its finance, order and inventory management systems. It has also developed its partnerships with Next's Label platform, QVC and M&S – in 2019, 2020 and 2021 respectively – alongside an increased focus on wholesale, to broaden its appeal.
Quiz is another example of a retailer whose recent online drive has proven fruitful. It swung back into the black in the six months to September 2022, following a challenging pandemic. It posted a pre-tax profit of £1.8m for the six months to September 30, compared with a £1.3m loss during the same period a year previously. Online sales jumped 29% to £16.1m over the period as investments in digital marketing paid off and customer numbers rose.
This extends to personalised messaging via email marketing. It has been working with a supplier since July 2020 to adopt more targeted email messages, which Quiz says has lowered the level of purchase abandonments for journeys originating via email. It has also been using AI technology to provide post-purchase customer support via Facebook Messenger to be closer to customers. While third-party partnerships are important – Quiz has arrangements with New Look, Next and Very – the fashion retailer's core focus remains its own website sales.
Outside of fashion, in homewares digital transformation has been under way at Oak Furnitureland. Following a tough 2020, which saw the company bought by hedge fund Davidson Kempner in a pre-pack administration deal, in the year to June 30 2022 the retailer reported a 10% rise in revenue and a return to profit. During the year, group revenue stood at £275m, while profit was recorded as £1.8m, up from an £19m deficit in 2021.
With most purchases starting via online research, the focus has been on the creation of a single customer view and seamless multichannel service. Mobile is key and Oak Furnitureland launched a new app in December 2021 to bolster its ecommerce offer. Users of the app can now scan QR codes in its stores to add items to a wishlist and purchase at a later date. They can also use VR technology to gauge what products would look like in their own homes.
Ones to watch: Ecommerce disruptors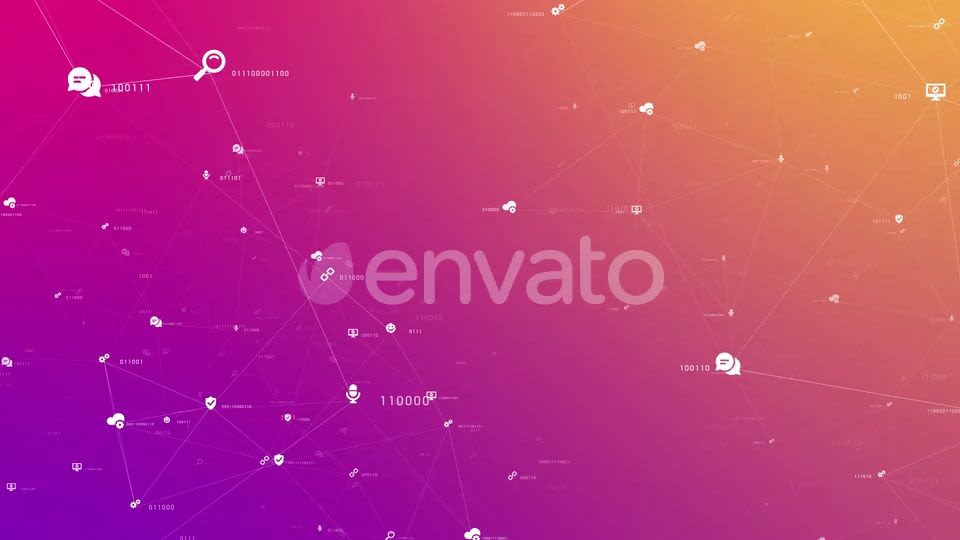 It is not just the big names excelling at ecommerce. Retail Week's analysts have compiled a secondary data ranking of the UK's top 30 ecommerce retailers by 2021 sales growth and it shows several smaller brands, niche retailers and, perhaps surprising due to their store-focused past, heritage brands that delivered significant online growth in 2021.
Sosandar
Third-party ecommerce collaborations key to growth
Making moves from pureplay to omnichannel
Pureplay womenswear retailer Sosandar enjoyed 142% online sales growth to £30m for FY2021. Sales have also been growing in every product category, and on its website alone the retailer said in January 2023 that its customers traded up into higher-priced items and categories, reflected in the average order value for Sosandar rising 11% year on year to £106.37. Much of this ecommerce growth has been driven via partnerships in which Sosandar sells its range via the John Lewis, Next, Marks & Spencer and The Very Group websites. Most recently, in January 2023, it announced a tie-up with Sainsbury's to offer a select range of items through Sainsbury's' online channel while also making the move into omnichannel with some of its range set to be sold in Sainsbury's stores.
Loaf
Investing in website improvements
Using VR tech to incentivise purchases
Loaf saw monumental 44% growth to £87m in FY2021. The homewares retailer is capitalising on recent improvements to its website – such as the use of more in-depth product information on site and editorially driven product content with large pictures of items – while using its four furniture showrooms in London and Manchester to incentivise online sales. Visualisation technology is high on the agenda too, with Loaf working with software company Cylindo in May 2021 to introduce a 3D product-visualisation tool and 4K zoom to help customers engage with its products online. The technology allows for a 360-degree view of the products and a 4K close-up of textures and materials.
Fenwick
Launched its first website in 2019
Prioritising online with half of the proceeds from Bond Street store sale being reinvested
Heritage department store Fenwick achieved 200% year-on-year online sales growth to £7.5m after playing catch-up having only launched its website in 2019. The retailer is changing its business model to focus more on its online proposition and full-price items as opposed to discounting. In October 2022 chief executive John Edgar reflected on current Fenwick performance and said "it demonstrated that the model we're trying to impart, which is the strength of our regional business, the importance of digital – and we didn't really have a digital business until two-and-a-bit years ago – and the focus that allows us to put on full-price trading seems to be putting us in the right direction." And in December, this online focus was further cemented when Fenwick announced the sale of its Bond Street London store for an undisclosed sum with proceeds from the sale going towards its online operations and investment in its Newcastle flagship.
Beauty Pie
Simplifying its proposition and website functionality
Using store pop-ups to drive online sales
Pureplay beauty membership brand Beauty Pie has scaled ecommerce sales by 30% to £43m. It is on the ecommerce ascent having simplified and streamlined its membership packages with a choice of either a monthly subscription for £10, which includes a £300-a-month product allowance; or an annual Beauty Pie Plus membership for £59 and a yearly £3,600 product allowance. It has also improved website navigation by bundling products together by skin concerns. Additionally, it has embraced pop-up stores as a means to drive online engagement and awareness, and in July 2022 it opened its month-long 'warehouse of dreams' – a standalone bricks-and-mortar venue in Covent Garden, London. The pop-up offered non-members the opportunity to sign up to receive up to 75% discount on online retail prices.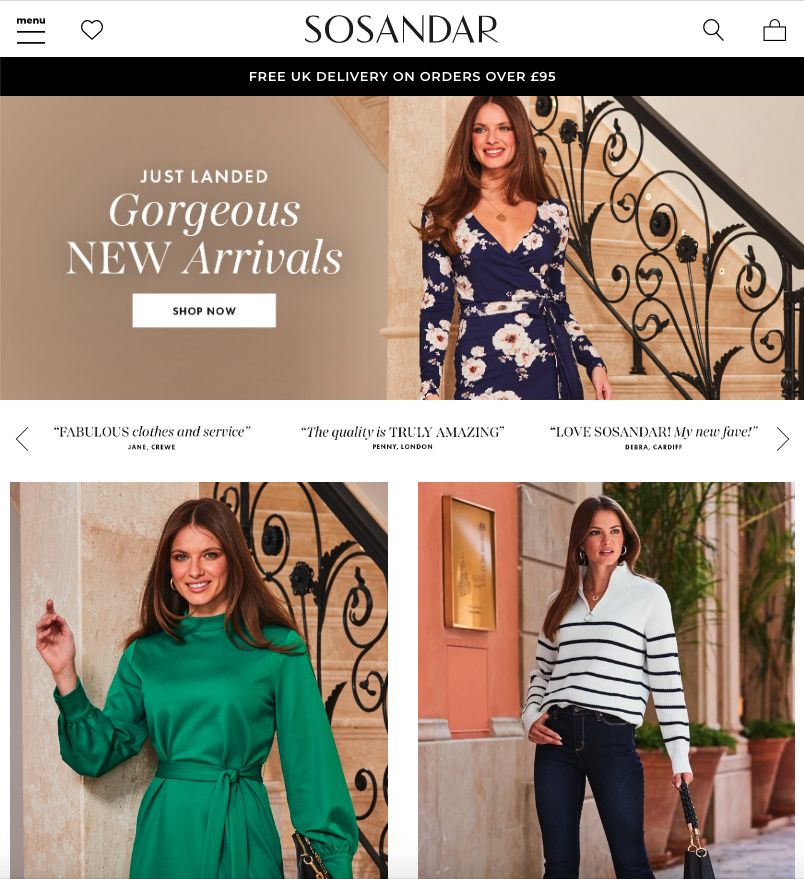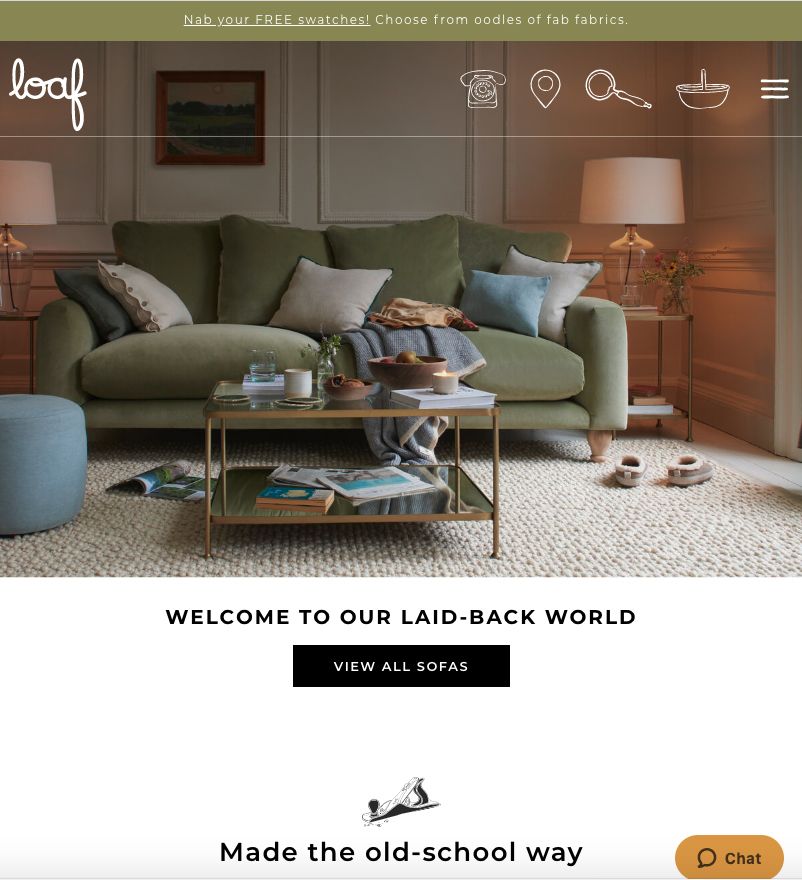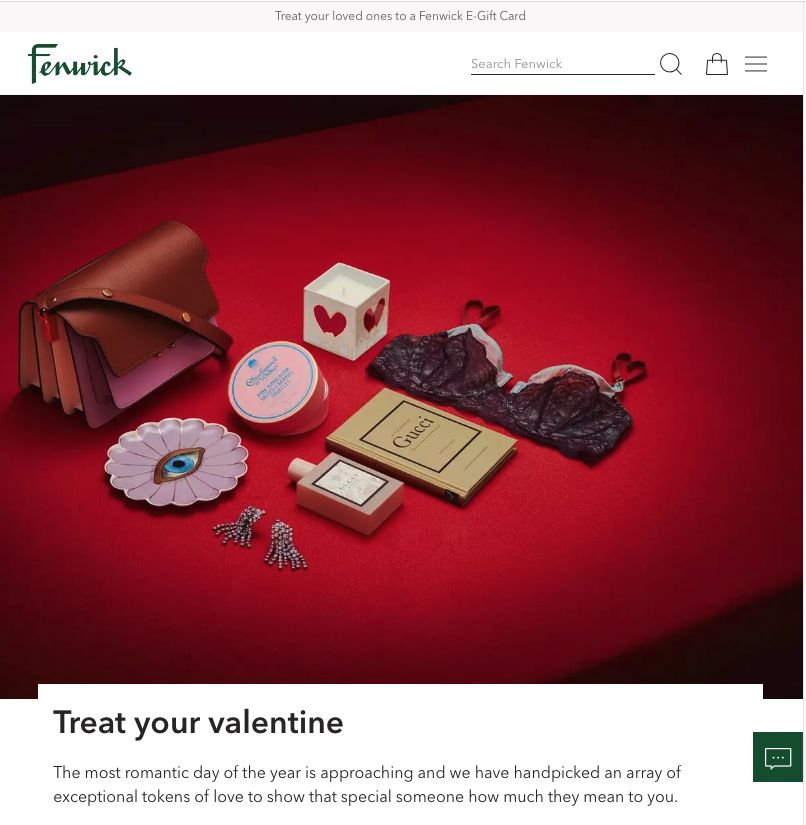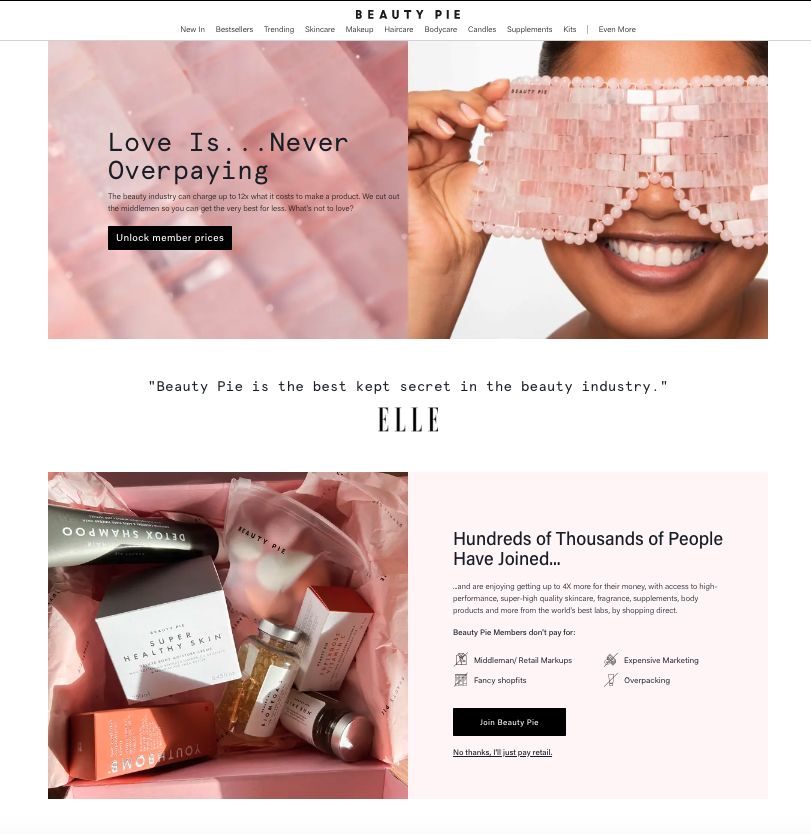 Traversing the ecommerce fulfilment and returns battleground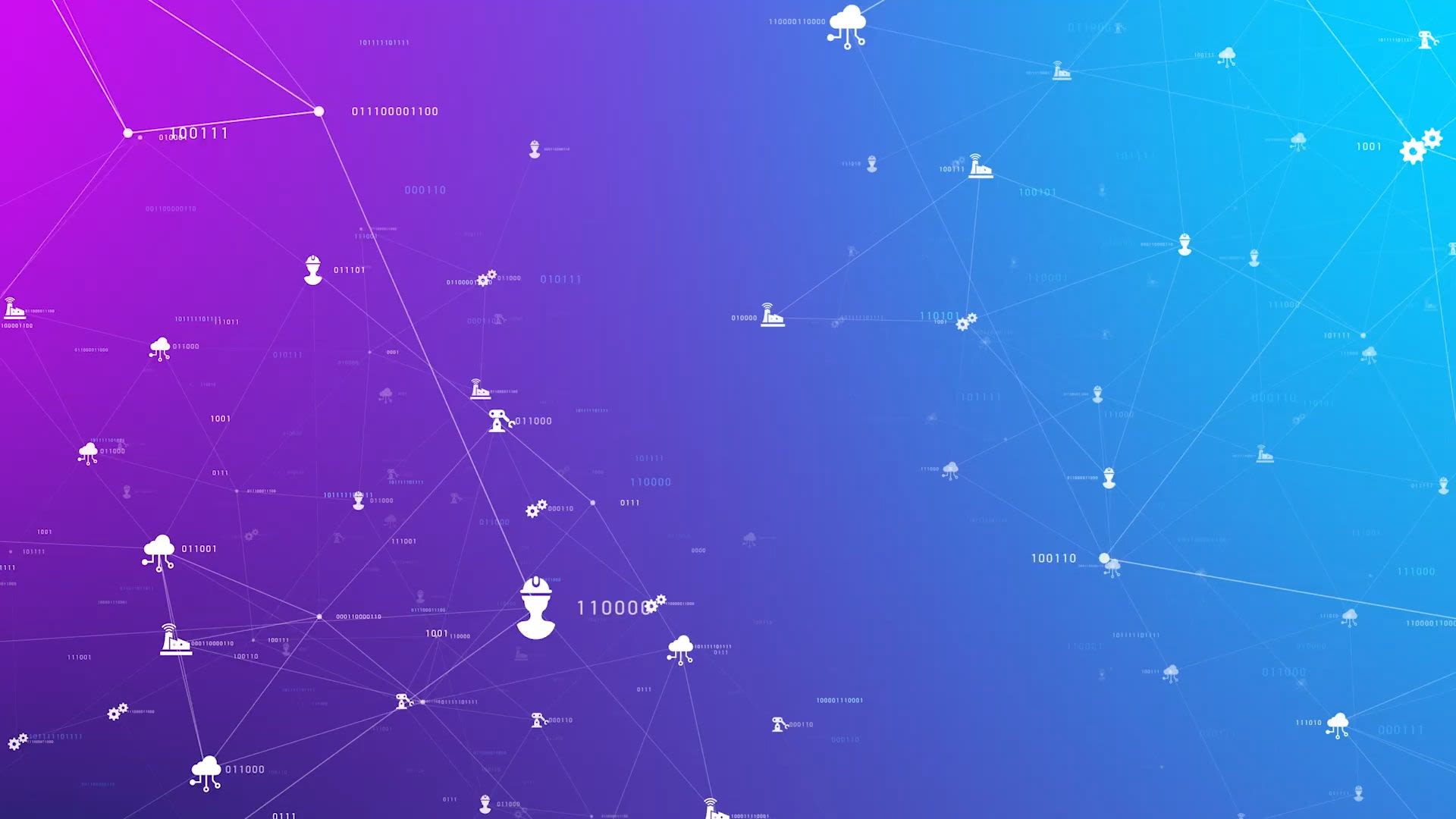 Supply chain challenges remain numerous for retailers – no more so than for online operators. Just as businesses started getting over pandemic-induced sourcing delays and availability issues, they have been hit with a double whammy of slacking online consumer demand amid a return to stores and cutbacks as the cost-of-living crisis hits. For many – particularly fashion retailers – these crises have resulted in piles of unsold stock (such as Asos, see profile in Top 30).
On top of these pressing issues are the constants of navigating the cost of online returns, driving down the costs of fulfilment and delivering online orders that meet expectations. However, as the UK's top ecommerce retailers show, there are some common solutions being implemented to mitigate these challenges with effective results.
Solution 1: Investment in automation and warehouses
Efficient fulfilment can't happen without effective warehouse management and a constant improvement of customer fulfilment centres (CFCs). For many retailers, this means automation.

Grocer Ocado – eighth in our ranking with FY2022 forecast UK online sales of £2.2bn – has long led the charge in warehouse automation. Its new tie-up with South Korean grocer Lotte is likely to see it extend its lead further. The partnership – Ocado's 12th tie-up to date – was announced in November 2022 and will involve the grocer developing six automated CFCs in South Korea by 2028. Ocado's suite of features in its Smart Platform, unveiled in January 2022 – which includes lighter robots, fast-build fulfilment centres and its Swift Router tech that enables same-day deliveries – helped it win the contract. Operating in one of the world's most advanced technology and ecommerce markets, the two grocers are now focused on building what could become one of the world's most impressive multichannel grocery operations.
While Amazon (ranked first) is reigning in its capital expenditure slightly as it enters a period of cost cutting, it continues to invest heavily in warehouse automation. During its Delivering the Future conference in November 2022, it unveiled Sparrow: a robot designed to sort inventory and pack it into orders, which is a job currently done entirely by humans. Already, 75% of Amazon's 5 billion annual orders are handled at some point by a robot, a proportion that is likely to increase and which raises questions about the role of human workers, particularly given the company's recent announcement that it is cutting 18,000 jobs. But while it is hard to predict how that will play out, one thing is clear: the growing maturity of its suite of robots, with some powered by AI, will continue to make its ecommerce operation faster and more efficient.
Warehouse investment to support ecommerce growth doesn't always have to be technology focused either. In January 2023 pureplay bathroom retailer Victorian Plumbing – featured in our secondary ranking with 28% online sales growth in FY2021 to £268m – announced it would be investing £50m in a new purpose-built distribution centre in Lancashire. The goal is to increase capacity and consolidate a number of smaller sites to optimise productivity.
Solution 2: On-demand tie-ups
Another key area for multichannel retailers to digitally innovate is rapid delivery, with many multichannel retailers already entering into tie-ups with on-demand intermediaries such as Uber, Deliveroo, Just Eat and Getir.
While on-demand's trajectory has slowed somewhat – for instance, Deliveroo's 2022 UK results show order numbers remaining flat – multiple multichannel retailers see opportunity in fast, sub-one-hour deliveries and continue to trial and roll out the service. Sainsbury's Argos (number two in our ranking) and Asda (number four) are two recent adopters.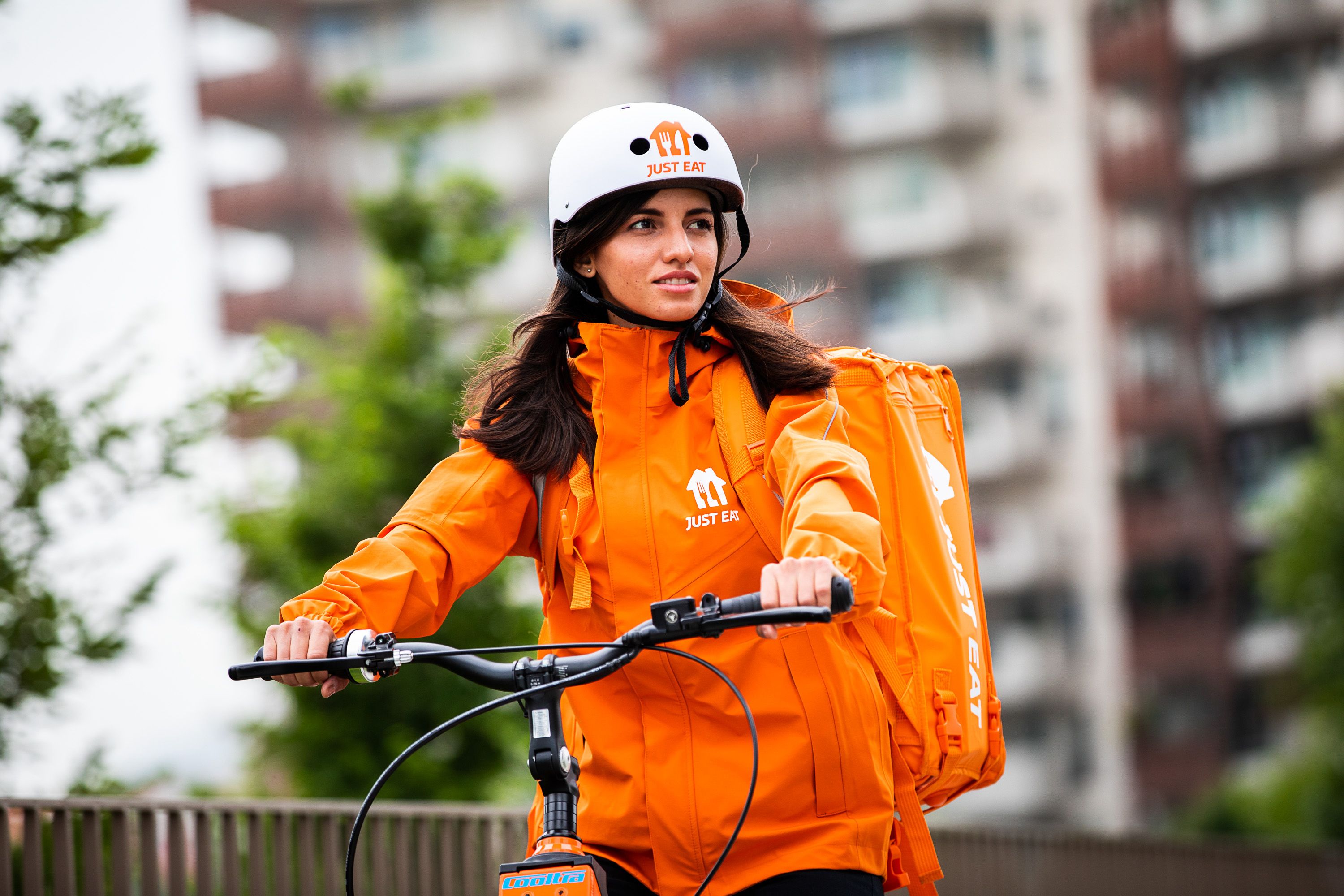 In January 2023, Sainsbury's announced it would be adding Just Eat to its roster of rapid delivery options – in addition to its own Chop Chop one-hour delivery app and third-party partnership with Deliveroo – in a deal that will see groceries delivered within half an hour of 175 stores. In August 2022, Asda launched a partnership with Deliveroo with a goal of rolling out to 300 stores.
Outside of grocery, Boots (ranked 18th) has focused heavily on its ecommerce offering with a range of delivery options from next-day and click and collect across its store network to partnerships with Deliveroo and Uber Eats. In August 2022, following a successful trial in 2021, Boots expanded its Deliveroo partnership to cover 125 stores in the UK while boosting its product range to more than 750 SKUs on the platform.
Solution 3: Charging for online returns
The cost and environmental impact of returns is a headache for all retailers, but for pureplay and predominantly online retailers – without in-store returns to lean on – the challenge only intensifies. Fashion retailers suffer the most, with data from returns specialist ReBound highlighting that online returns in fashion can be more than double the rate of store-bought fashion goods. Similarly, January 2022 data from KPMG estimates UK ecommerce returns could now cost up to £7bn a year.
So how are the UK's top ecommerce retailers tackling this? Well, despite industry experts emphasising the need for frictionless retail, some of the UK's top ecommerce retailers are in fact introducing friction into their returns process.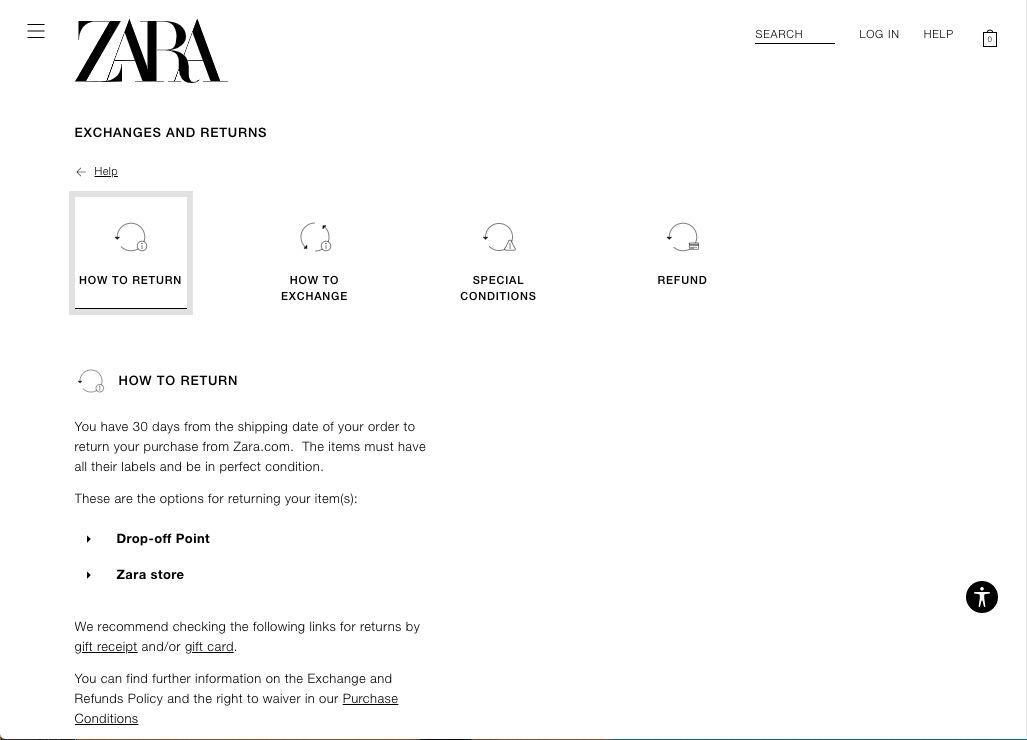 Since the beginning of May 2022, Inditex-owned Zara (ranked 17th on our secondary ranking for FY2021 UK online sales growth of 39% to £3.49bn) has charged shoppers £1.95 a time to return online orders. Having reportedly implemented the change for sustainability reasons, others such as Boohoo have already followed suit – but not to support their eco-credentials.
Boohoo, ranked 16th in our primary ranking, has said high returns rates were a key factor in its plummeting profits in the year to 28 February 2022, which nosedived 94% on a pre-tax level. It introduced a £1.99 returns fee in July 2022 in response. The shift opens up a discussion as to whether frictionless service isn't always a good thing, encouraging over-consumption and higher costs for retailers.
Solution 4: Implementing VR/AR try-on tech
VR and AI fit technology is beginning to play a central role in helping retailers to reduce online return rates. Significantly, the AR/VR market size is forecast to reach $455bn (£411bn) by 2030 and, based on the PwC Global Consumer Insights Pulse Survey, a third of VR users said they made purchases after visiting virtual stores.
Texel is a Kazakhstan-founded company which manufactures solutions that enable precise 3D measurement of a human body, as well as the Texel Portal, a full-colour 3D body scanner.
Using Texel – an award-winning solution celebrated among Retail Week's 2022 Tech List – consumers can create digital avatars or supply a photo of themselves. Marks & Spencer has trialled Texel's tech and found customers using it were five times more likely to purchase and 30% less likely to return items.
Similarly, Intelistyle – an AI-powered styling platform – offers a virtual try-on fitting room app with outfit recommendations shown on real models so that customers can visualise the full look and are incentivised to make smarter purchases. Clients include Lane Crawford and Tommy Hilfiger.
Solution 5: Charging for quick delivery
During the pandemic, the race was quite literally on for ecommerce retailers to fulfil online orders as quickly and conveniently as possible. For many retailers, this meant offering super-speedy delivery options such as next-day and, for those with the resources, same-day delivery.
This came with a price and was eating into retailers' revenues. However, retailers are becoming increasingly savvy and putting the onus on consumers to pay for the privilege.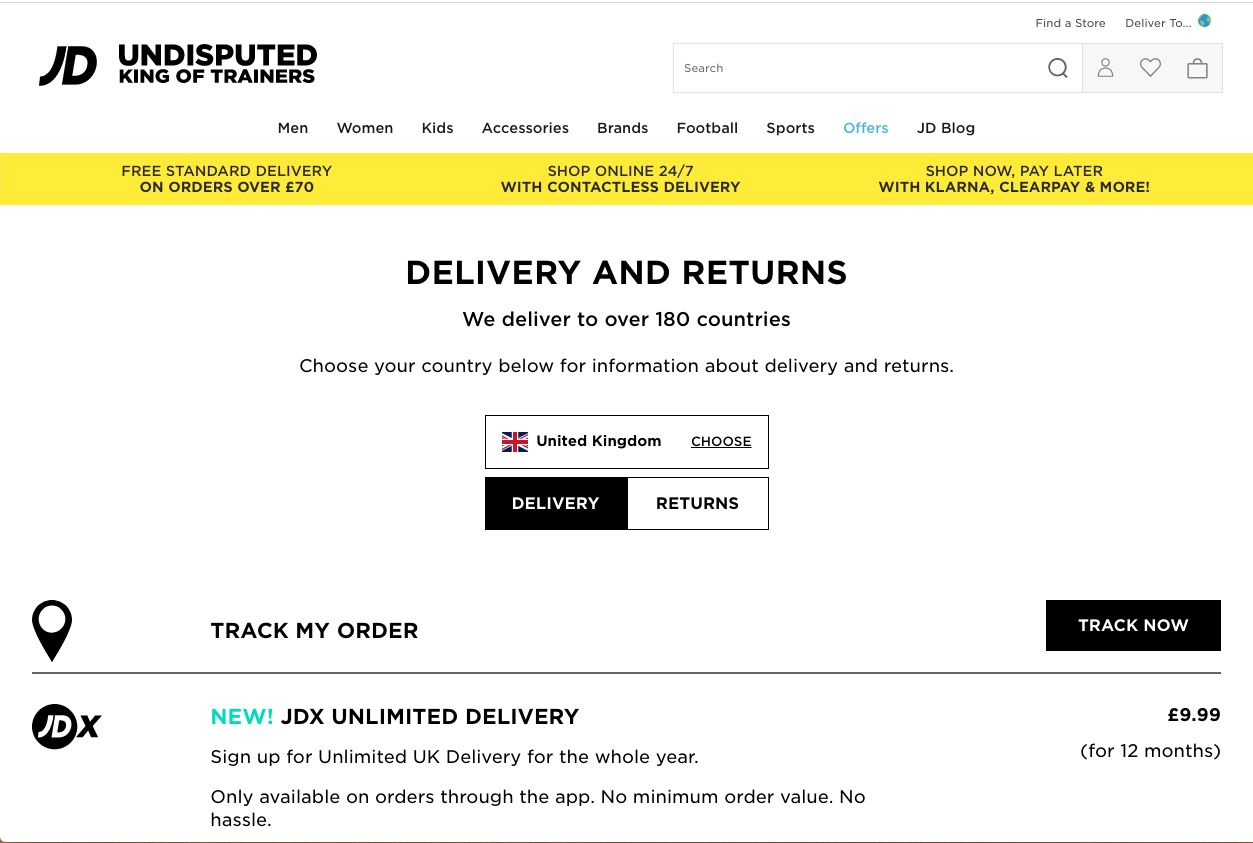 For example, JD Sports (ranked 14th) has long offered a range of paid delivery options such as £3.99 standard delivery that takes 3-5 days, £4.99 express two-day delivery and £5.99 next-day delivery alongside store click and collect. However, in May 2022, it went one step further by offering UK consumers the opportunity to have their JD Sports trainer orders delivered within two hours via Deliveroo for a fee of £14.99.
Outside of our ranking due to its total vs UK sales, it is worth noting that pureplay Chinese fashion retailer Shein works to UK delivery times of 7-9 days and yet this hasn't impacted its rapid growth. Retail Week analysts forecast Shein's total sales will achieve $30bn (£24.9bn) in 2022 and $45bn (£37.4bn) in 2023.
It is clear that ecommerce sales performance and speedy delivery don't have to go hand in hand.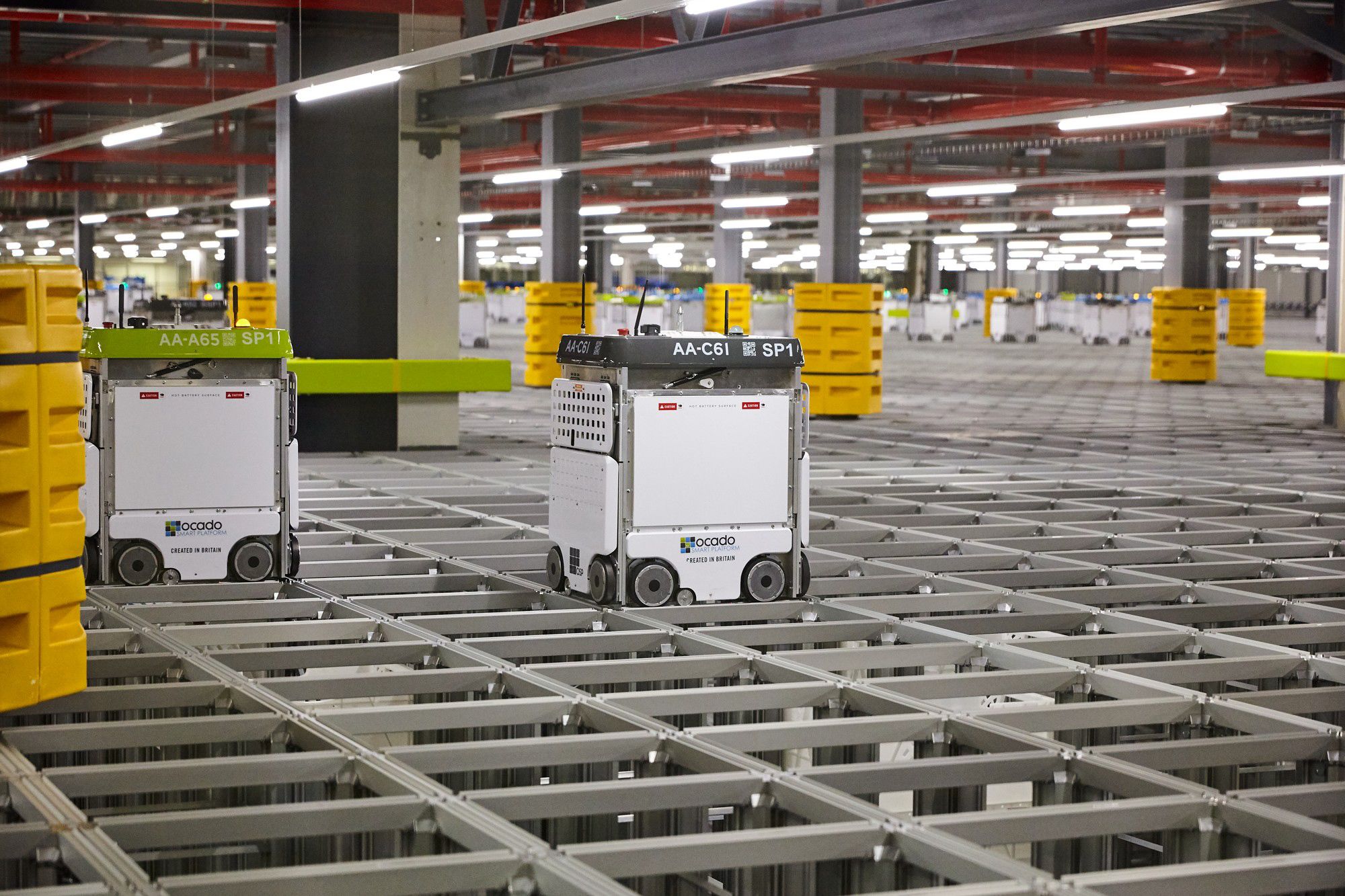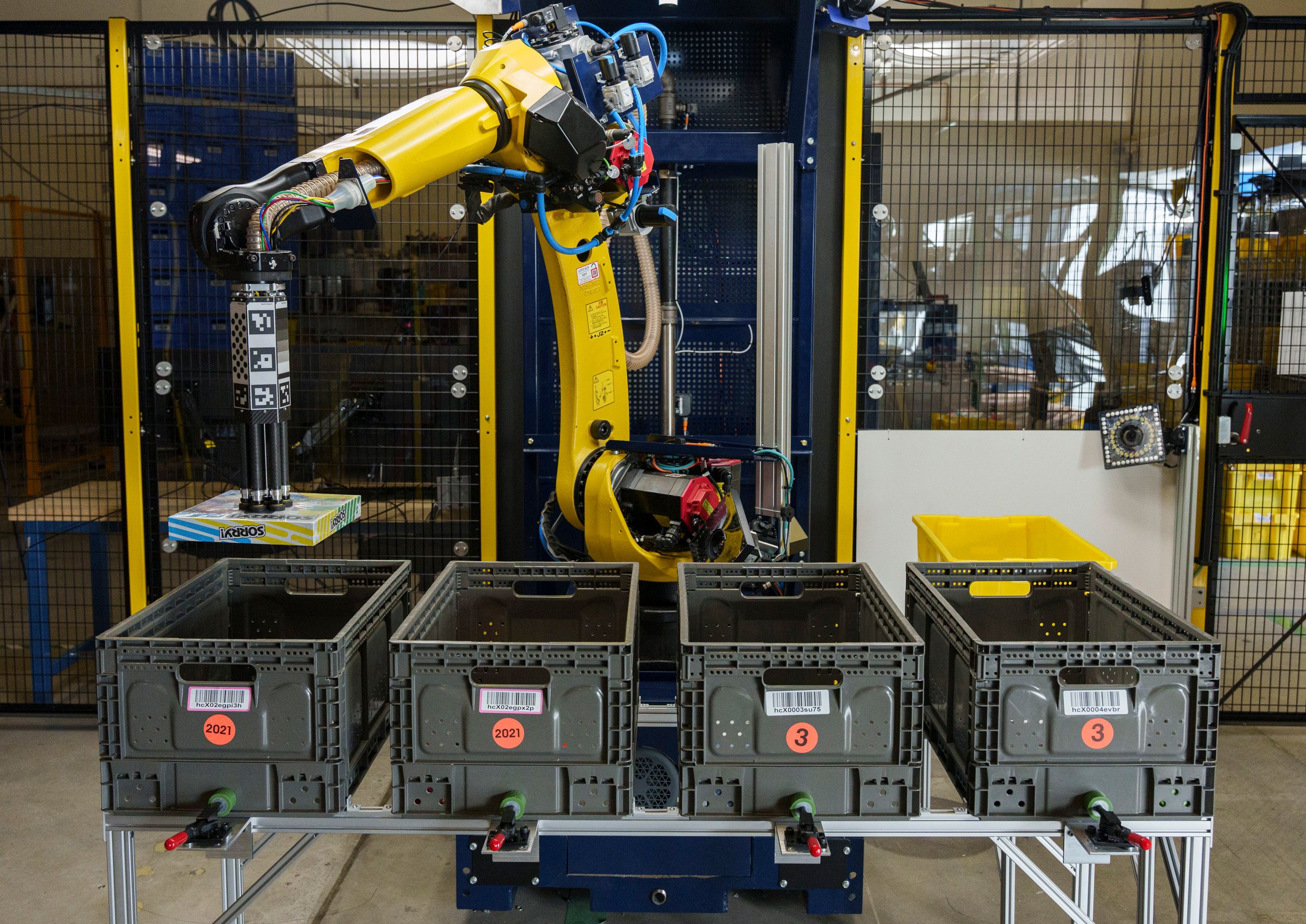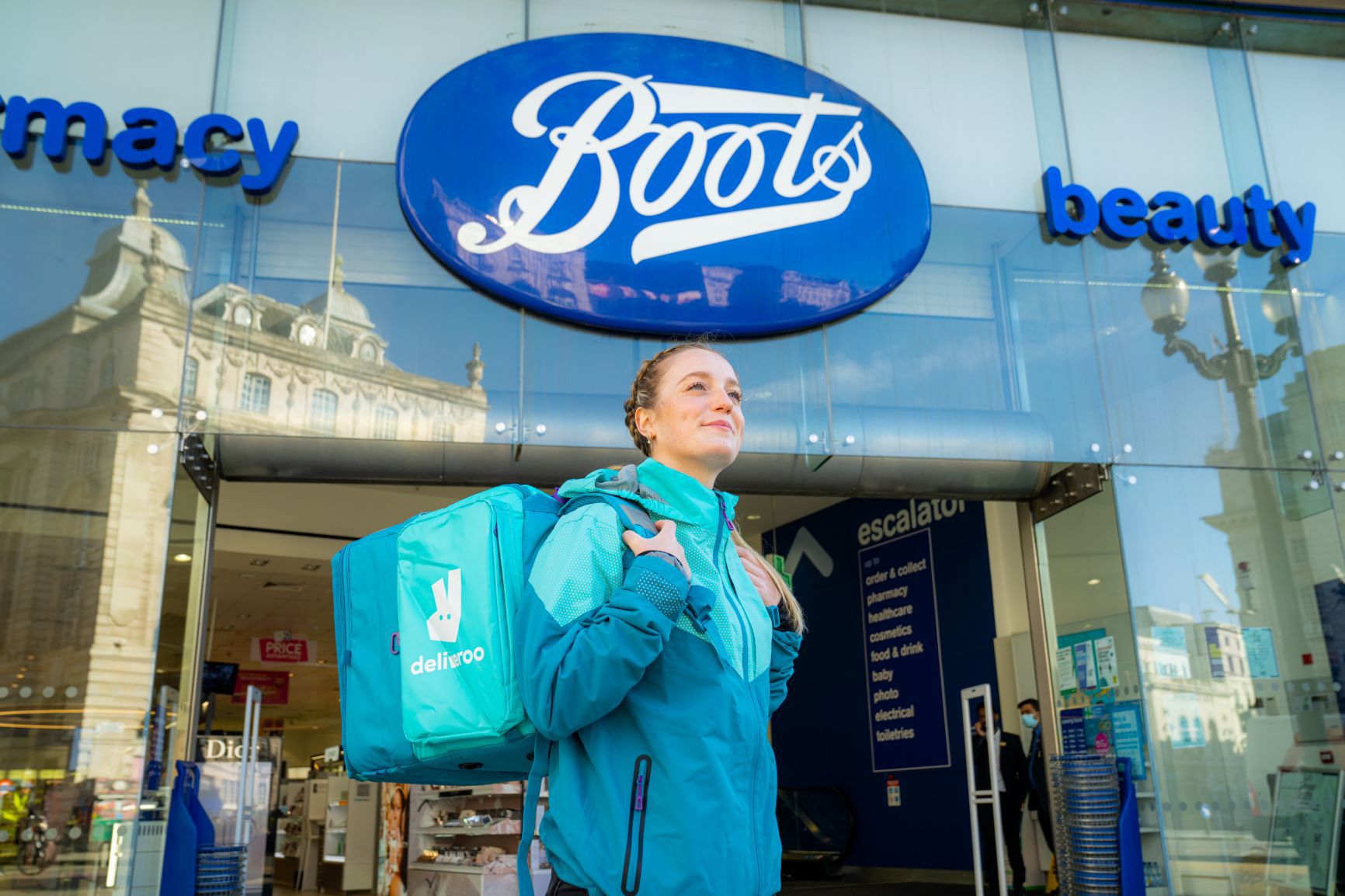 Building the digital dream team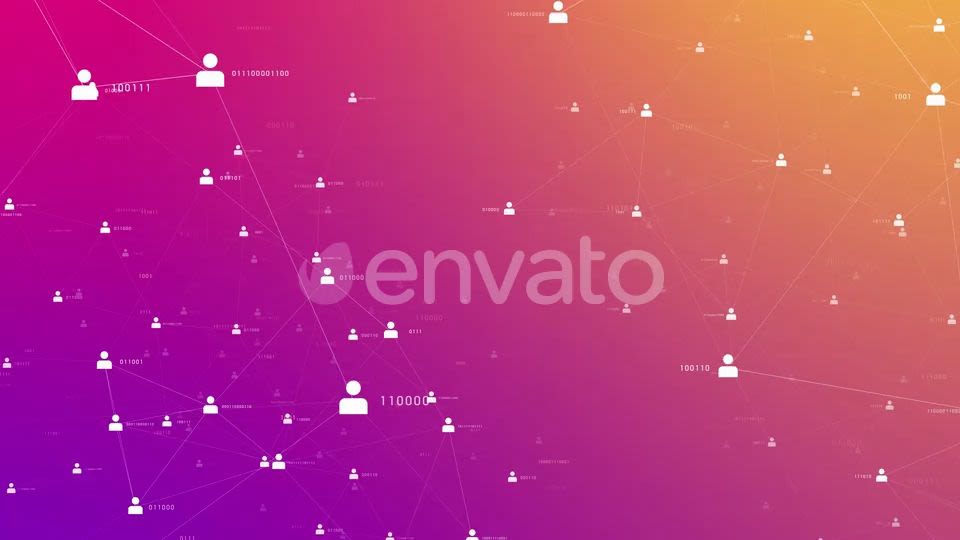 The importance of great staff in 2023 cannot be underestimated. From online customer service colleagues to social media teams and warehouse operatives, the pandemic highlighted just how crucial people were to navigate uncertainty and meet online customer demand.
There are several proactive steps that the UK's top 30 ecommerce retailers are taking to build their own digital dream teams.
Compensation
In a bid to support employees, many of the UK's top 30 ecommerce retailers have been prioritising the most pressing concern – helping staff navigate the cost-of-living crisis. John Lewis, Sainsbury's and M&S are among the retailers that, in the past year, have offered staff financial help such as wage increases, cost-of-living payments or free meals through the winter of 2022/23.
Ikea, number 22 in our ranking, has also been stepping up. In November 2022 the homewares retailer announced a range of support measures for staff – those working in digital and store roles – investing £12m in pay rises and other incentives such as increased staff discounts, free meals, public transport discounts and access to loans of up to £1,000 or 10% of salaries.
For many working at the helm of digital retailers, more competitive pay is a central tenet. This is especially true for those in warehouses and delivery drivers who are managing online orders, fulfilment and returns. For instance, in January 2023 and then again in February 2023 Amazon UK workers – largely its drivers – went on strike for higher pay, while in the same month Aldi announced pay rises of up to 20% for its warehouse staff.
Investment in online teams is imperative, according to Zendesk Vice-President Enterprise EMEA Eric Jorgensen. He highlights his company's research that shows "some 80% of business leaders plan to increase their customer service budgets over the next year".
Why? Jorgensen says: "They plan to do so because they appreciate the potential for CX to increase revenue. It's a landmark switch in leadership mindset, where they no longer see CX as a cost but as a way to grow the business."
"We expect to see retailers increasingly using solutions that help them to offer a more immersive CX experience – where customers are no longer treated as a ticket number, but as individuals who have their own specific preferences and requirements."
Integrating tech tools
Outside of pay, retailers are investing in digital tools to make it both easier for staff to engage with online customers and to better manage productivity.
Currys ShopLive is a well-documented example. Launched back in May 2020 at the height of the pandemic as a means to enable online customers to speak to in-store staff using a video link, ShopLive now gives around 34,000 online customers a week access to advice. The service is accessible 24/7 too, and via a dark-store concept in its Birmingham training facility, Currys can operate outside of normal store hours, offering flexibility in hours for staff and anytime advice for consumers.
Significantly, Currys has said that 94% of its customers are highly satisfied with the service, while conversion is four times higher, and the average order value is 40% higher than unassisted online. Curry's also continues to bridge the gap between online and offline to support hybrid shoppers. In September 2022 it launched the Colleague Hub which gives in-store teams real-time access to online customer history, a log of online interactions and any items the customer has put in their online shopping cart, helping staff to get a single view of the customer. It also includes knowledge articles and tasks for staff.
Zendesk's Jorgensen says customer experience teams in retail are only getting busier. "Our research shows customer engagement is up 14% this year compared with last year and customers are relying more than ever on service teams in the current socio-economic post-pandemic environment. For instance 61% of customers are reporting that they have higher service standards than ever before."
Jorgensen adds that "service teams are integral to meeting the increasing needs of customers".
He says that "digital tools and AI are central to skilling up and supporting CX teams, while also relieving the pressure being placed on each worker".

He adds: "Digital CX tools are designed to help staff in several ways: from channelling customers to the right agents, offering 24/7 availability – even when agents are out of office – to providing speed and agility by serving multiple customers at once. This frees up online service teams to focus on providing richer, more rewarding one-to-one consumer experience."
People changes
To gain a competitive edge, the top ecommerce retailers are making crucial digital hires and team reshuffles.
M&S has been making significant digital leadership changes. In January 2023, M&S co-chief executive Katie Bickerstaffe "reset" her team to create a more compelling customer ecosystem, and deliver better digital customer insights and customer experience.
As part of this reset, M&S Bank and services director Kirsty Ward has been appointed director of the new M&S Connect division, which will be focused on building a single digital identity of M&S customers. The emphasis will be on maintaining and building the membership of the Sparks loyalty scheme and driving shopping through the retailer's app. The Sparks team, led by Danielle Papagapiou, will join the bank and services team to create the new M&S Connect team.
Meanwhile, M&S.com director Stephen Langford has become director of online and omnichannel, with the goal of uniting the retailer's website and app, and improving how digital its channels work alongside stores. Finally, M&S chief digital and data director Jeremy Pee was appointed chief digital and technology director to bring technology, digital product and data teams into one function.
Investment in staff is key for Asos too. It recently brought on a new leader to help re-invigorate the business – on February 1 2023 former Amazon senior ecommerce executive Wei Gao was appointed non-executive director and member of the audit committee. Gao brings a wealth of experience in international ecommerce. At Amazon she served as vice-president of grocery tech, product and supply chain, and as technical advisor to the chief executive, and she was previously chief operating officer at online hosting platform Hopin. Gao's appointment is part of José Antonio Ramos Calamonte's 12-month turnaround plan to "simplify the business".
Similarly, John Lewis has made clear its intent to "strengthen our transformation capability" by hiring its first chief transformation and technology officer at an executive level. Announced in November 2022, Zak Mian is tasked with helping to bring great experiences to customers.
Doubling down on culture
For many ecommerce retailers, the pandemic was a turning point for putting wellbeing and mental health at the top of the priority list and, post-Covid, this focus has remained. It is a shift that Currys chief people officer Paula Coughlan has dubbed a "staff wellbeing wake-up call" for retail.
In 2020 Currys launched a range of online services to connect and support staff including Wellbeing Corner – an online hub bringing mental, physical and financial wellbeing into one place. Its partnership with Champion Health offered personalised support to all colleagues via an app. Fast forward to March 2022 and Coughlan revealed a major step-change in its support for staff with the news it was making flexible working accessible to all by closing its west London head office, signing a deal with WeWork to allow staff to work in its spaces around the country, and opening permanent flexible-working space in London's Waterloo. It is also converting unused space in stores into offices.
This wellbeing focus extends to warehouse teams too. In November 2022, Currys revealed it had invested more than £250,000 on a suite of robotic exoskeleton suits to help prevent muscle injuries for warehouse staff handling heavy loads.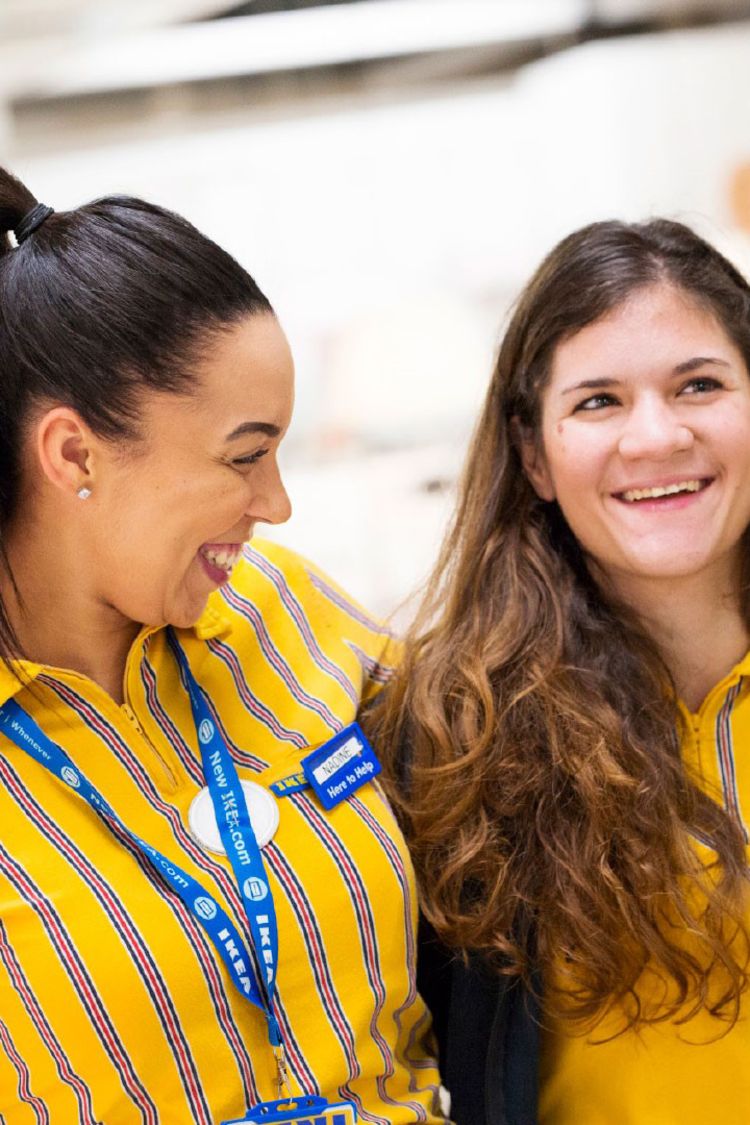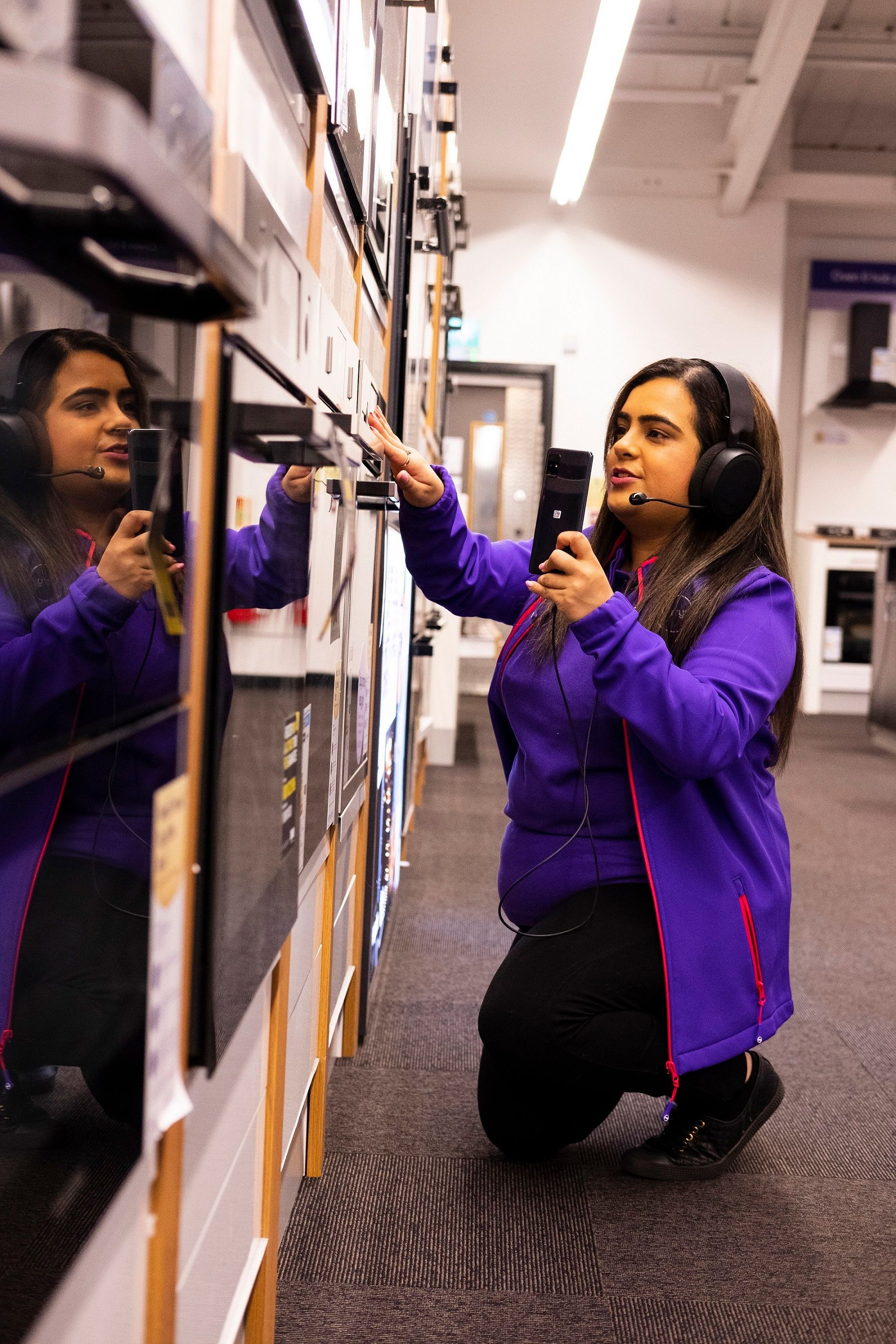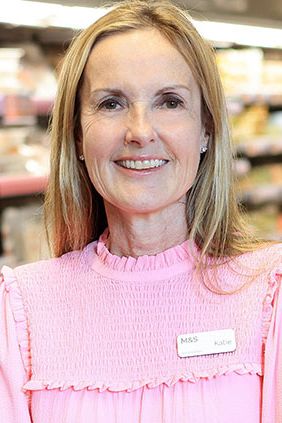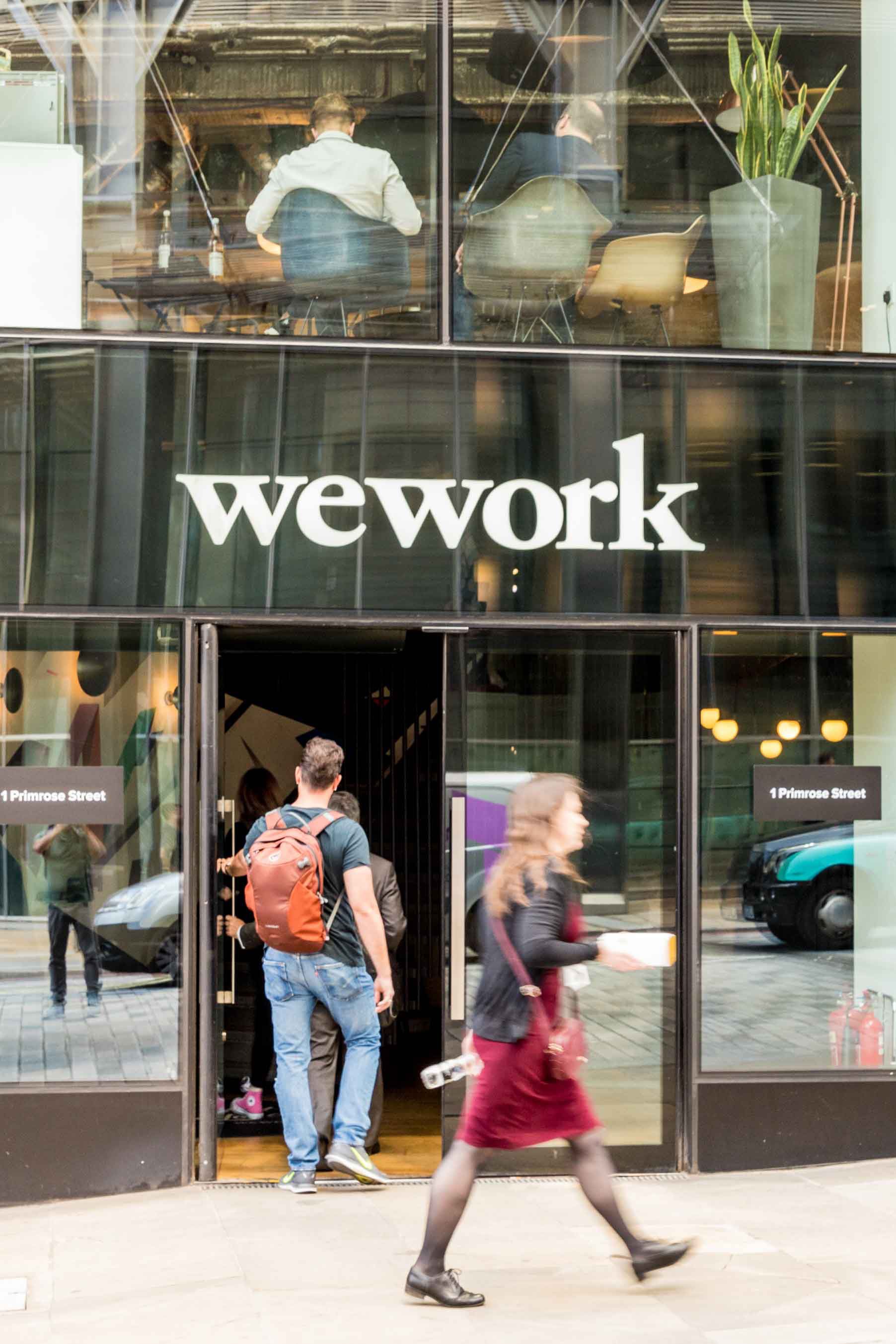 Conclusion: Time for a REFRESH

It is clear that the UK's top 30 ecommerce retailers have commonalities – they have prioritised technology, staff, supply chain and, above all, the customer to bolster online sales performance.
What's also clear from our review is that there is no one silver bullet to a winning ecommerce strategy, with many of the top online retailers still navigating shifts. Amazon is the key example here because, despite its ranking and reputation as an ecommerce behemoth, it has not been immune to the impact of declining online demand and has been forced to constantly rethink and adjust its strategy accordingly.
There is a new dawn for ecommerce too – not the "Web -1.0" that MacDonald describes – but one where emerging disruptors such as Beauty Pie are claiming online market share and established retailers that critics may once have written off, such as White Stuff and Quiz, are returning to online growth.
More than anything, it is evident that to stay ahead online retailers must refresh their ecommerce strategies – what worked before won't work now. Here are our tips to REFRESH in 2023.
Recommendations and personalisation are key: From Asos investing in a data science team to improve its online recommendations to Next doubling down on personalisation across its website and app, the report has shown that customers have to be at the heart of ecommerce strategy. In fact, retailers have to become customer obsessed in 2023.
Enhance the app experience: Retailers must innovate to improve online CX and, alongside personalisation, this means investing in mobile apps to be present where hybrid customers now are. The Nike+ app shows just how valuable a tool they can be to drive engagement. Likewise, Tesco's work to evolve its Clubcard and Tesco Pay+ apps has greatly supported customer retention.
Focus on staff: It may seem obvious but, as evidenced in the Currys case study, a renewed focus on employee engagement such as digital upskilling initiatives can largely improve ecommerce productivity, and reduces overheads of new technical hiring and training. Leadership development, compensation and better support for warehouse teams cannot be overlooked either.
Replatforming reaps rewards: As the Boots example shows, retailers that take action to overhaul their websites – or launch new websites altogether à la Fenwick – can expect greater online sales performance. The results outweigh the investment.
Elevating partnerships: Tie-ups and test-and-learn initiatives not only allow ecommerce retailers to innovate at a lower cost, but – as we've seen with the examples of Superdrug and its marketplace partners, and Asos and Nordstrom – they help broaden reach to new online audiences.
Savvier supply chain thinking is needed: The Fulfilment and returns chapter highlights solutions being implemented by the top ecommerce retailers, but equally it showcases an opportunity for businesses to take decisive action on adding friction into the supply chain. For instance, JD Sports and Zara have shown that charging for shorter delivery times and returns respectively hasn't impacted their online sales.
Hone in on what's already working: You don't necessarily need to go after the next big thing. You may notice that our report hasn't discussed the metaverse opportunity, blockchain or other elements of Web 3.0. This is for a reason: enhancements and continued updates as opposed to investments in future-thinking tech can generate, and are generating, dividends. Screwfix and Tesco, for instance, have continued to iterate their propositions and retained their positions as online titans.
Partner viewpoints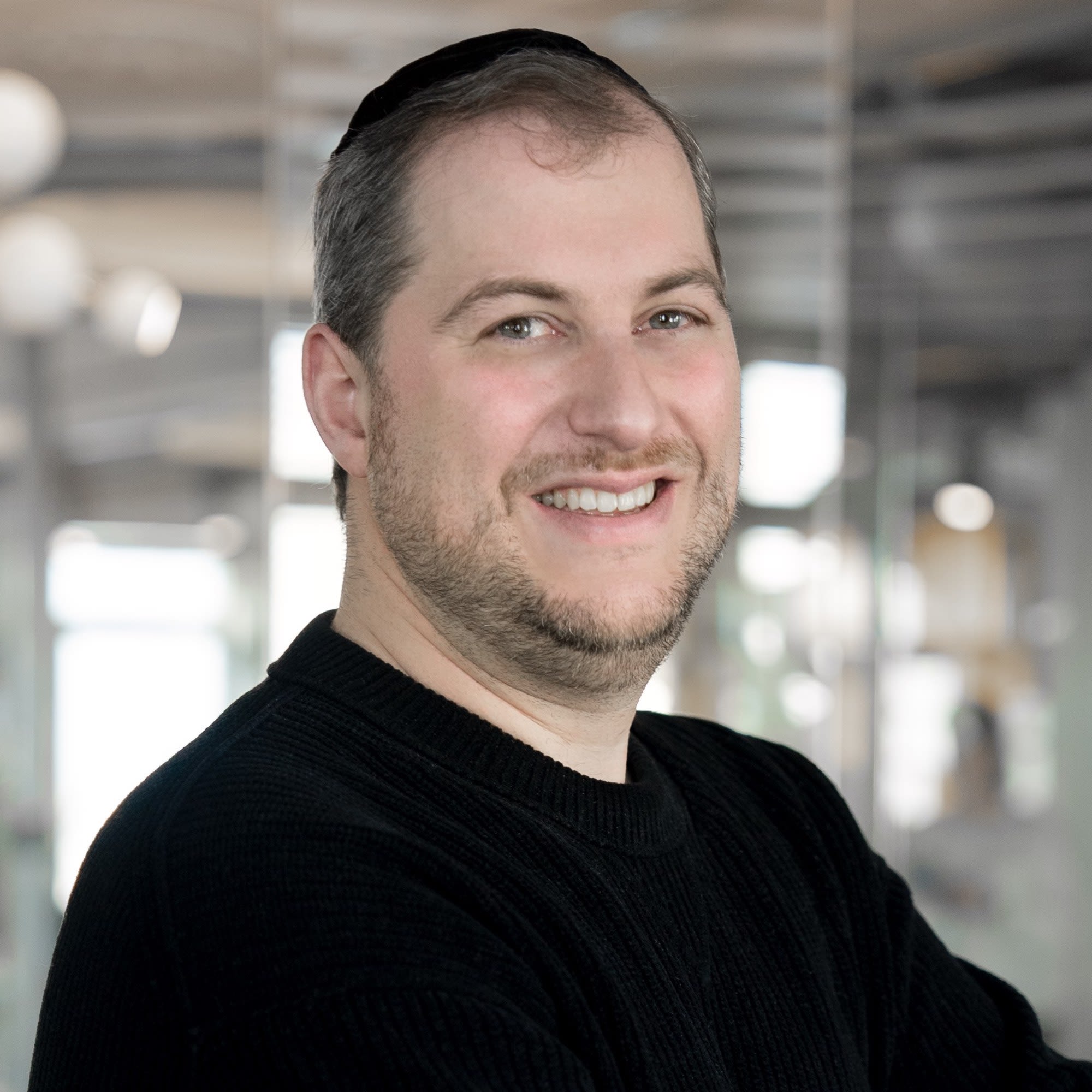 Moshe Winegarten, Chief Revenue Officer, Ecommpay
In the current UK climate, it's essential for retailers to reduce their costs and convert as much of their traffic as possible. Each customer now becomes even more valuable.
Buyers nowadays are more demanding and always want to pay using the methods that make them feel the most comfortable, and the retailers that have been able to provide those options have thrived over the past couple of years. If you're not able to provide what consumers want, then there are competitors who will.
"More than 71% of respondents are likely to abandon the cart if the preferred payment method is unavailable"
A great deal of etail businesses still work with separate acquirers, gateways and so forth. A full-stack provider brings many benefits for merchants, from fast implementation of the latest security standards to adding innovative features and payment methods such as Apple Pay, Google Pay, open banking and buy now, pay later.
Offering alternative payment methods and ways for shoppers to pay in instalments can have a big impact. According to Ecommpay's internal data, more than 71% of respondents are likely to abandon the cart or seek a different option elsewhere if the preferred payment method is unavailable.
However, by pairing with a payment provider who understands alternative local markets and their consumer behaviour, as we do at Ecommpay, I still believe there is plenty of opportunity for businesses to grow and thrive, especially as many logistical issues surrounding Brexit begin to be solved.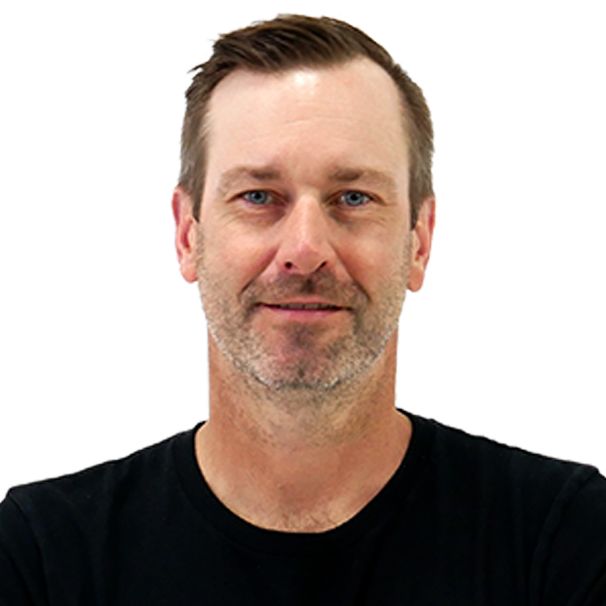 Tim Glomb, Vice-President of Global Content at Marigold
In the past three years, consumers and marketers alike have seen more disruption and transformation in their habits and behaviours than probably in the past two decades.
Retailers, marketers especially, need to embrace the shifts in consumer behaviour and get closer to their audience by implementing new strategies rooted in relationship marketing. This requires true conversations with consumers to understand their wants and needs, rather than simply forcing products and services on segments of people via advertisements and mass media.
"Retailers, marketers especially, need to embrace the shifts in consumer behaviour and get closer to their audience by implementing new strategies"
Recent relationship marketing technology has evolved quickly, to the point where brands can now ask, listen and activate on psychographic zero-party data with consumers at scale.
Understanding your audience and their needs, as individuals, can create enormous efficiencies in the process of driving revenue. Channels such as email, SMS and in-app messaging can be 100% personalised with hyper-personalised content and offers. Those channels are also seeing near 100% deliverability and incredibly high engagement rates with extremely favourable cost-to-sales ratios.
Furthermore, personalisation across marketing and loyalty strategies drive long-term brand advocacy. It is time to invest in these one-to-one relationship marketing technologies that aim to build relationships rather than a simple conversion.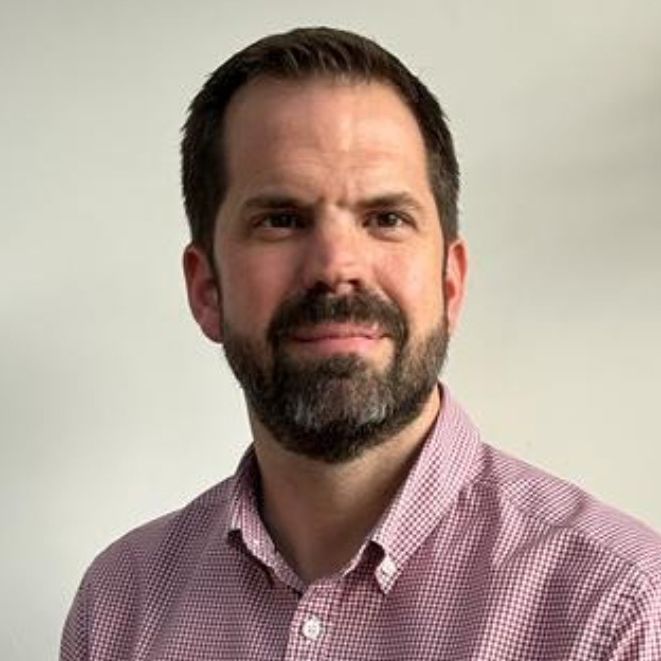 Eric Jorgensen, Vice-President Enterprise EMEA, Zendesk
In the past two years, retailers have faced many challenges, yet thrived in the middle of change, becoming more innovative and resilient than ever before.
At Zendesk, we are proud to support the retail industry and delighted to see so many top professionals and brands celebrated among the UK's top 30 ecommerce retailers for their unique talent and the innovation they bring to this industry.
"The downturn has taught retailers to prioritise investment in the right areas – 79% of leaders agree that great CX is essential to their business goals"
The most recent economic downturn has taught retailers to prioritise investment in the right areas. In fact, 79% of leaders agree that delivering great CX is essential to their business goals, according to the latest Zendesk CX Trends report. Consumers, on the other hand, won't put up with any less than great experiences. The same study shows that nearly half of consumers in the UK would switch to a company's competitor due to one bad customer experience.
However, today it is no longer just about meeting consumer expectations and providing those seamless and convenient experiences. To maintain their market share, as well as acquire new customers, retailers need to go that extra mile.
In a world of conscious consumers, with 62% in the UK alone being more likely to purchase from a business that cares about their emotional state, retailers can no longer ignore their customers' wellbeing. Investing in the right technologies, allowing retailers to gain a solid understanding of where customers stand emotionally, will translate into satisfied customers, agents who feel prepared and ultimately lead to the true measure of good customer service: increased revenue.
Congratulations to the UK's top 30 ecommerce retailers who are paving the way for greater success in the sector.
The UK's top 30 ecommerce retailers, in association with
Ecommpay, Marigold and Zendesk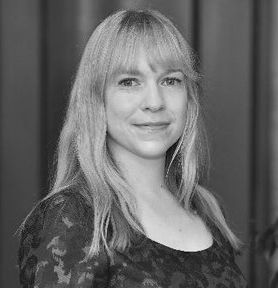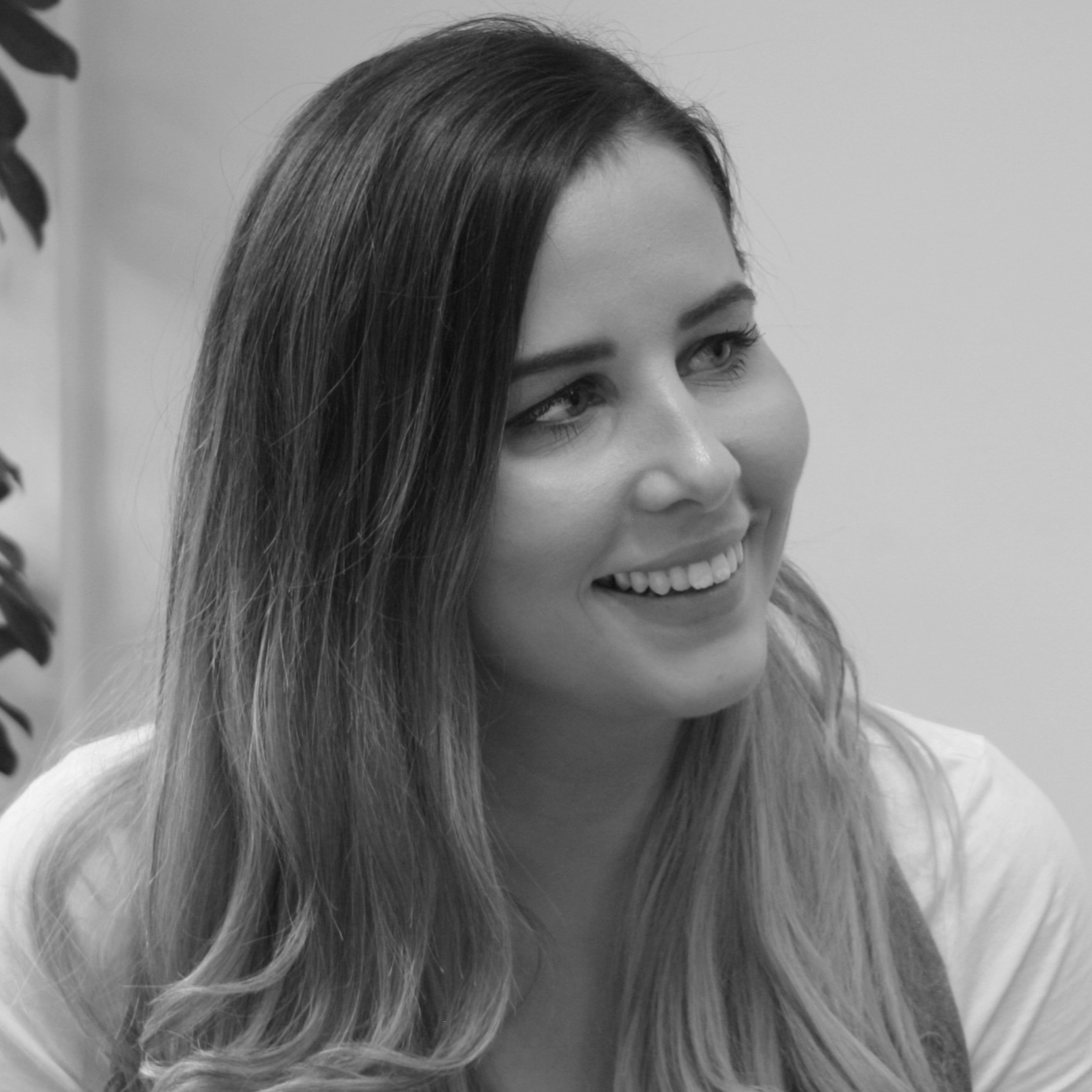 Megan Dunsby
Report editor and senior commercial content editor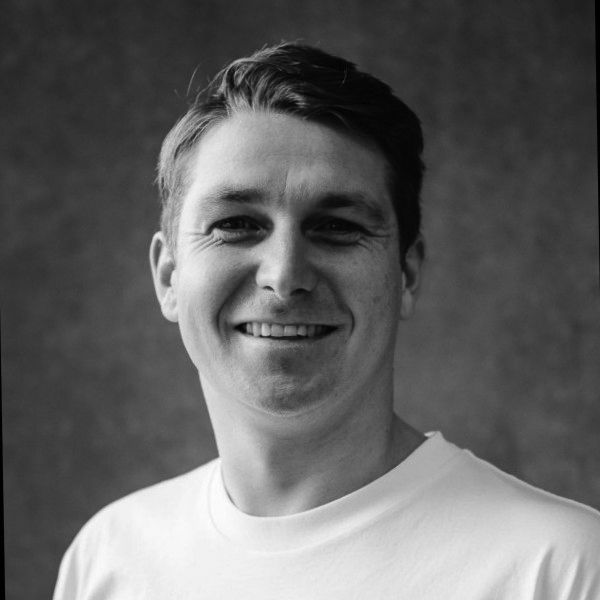 Matt MacDonald
Account director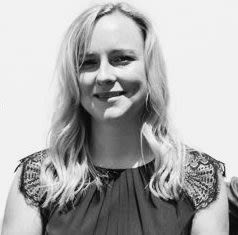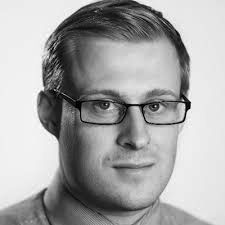 Stephen Eddie
Managing editor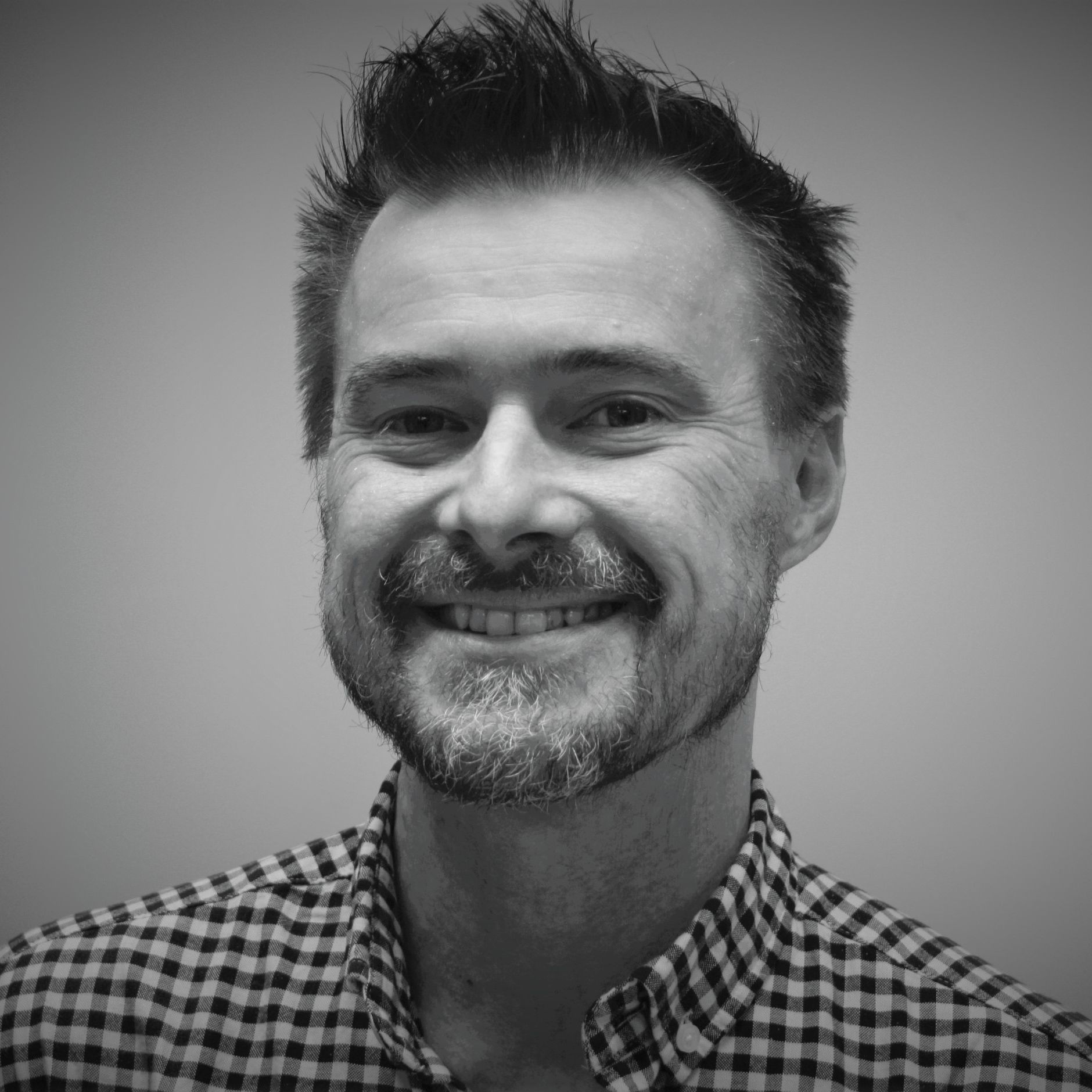 Simon Mooney
Senior marketing manager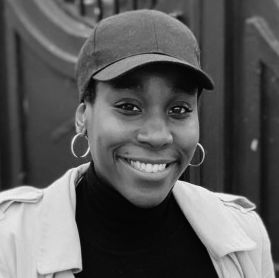 Leslie Kimona
Digital marketing operations executive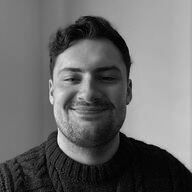 Jed Adkins
Marketing executive