The price is right
Winning the value-driven shopper in 2019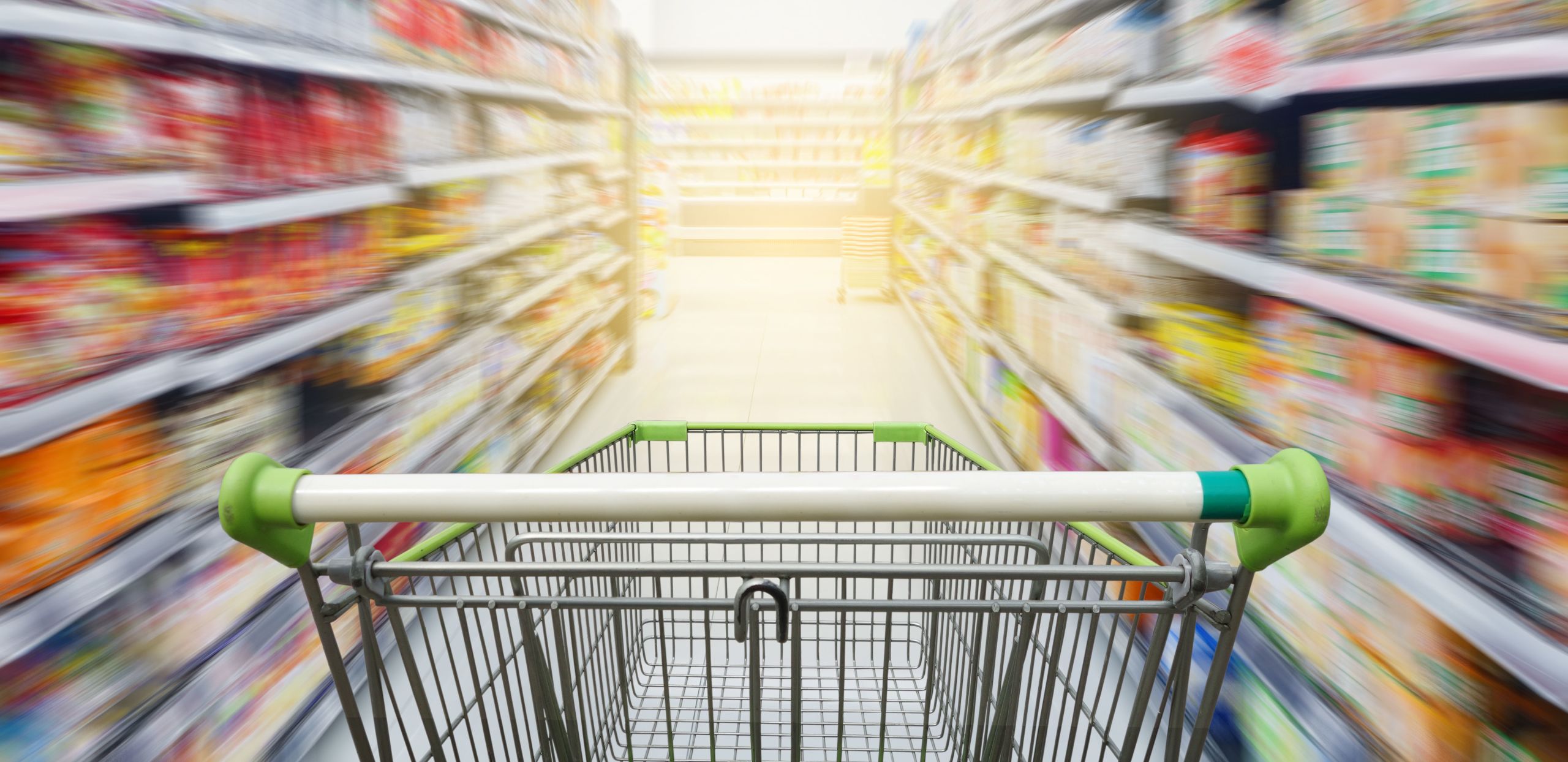 In today's frugal environment, retail pricing matters more than ever.
With an uncertain Brexit outcome on the horizon, depressed wage inflation and rising costs leading to higher prices, 2019 looks set to be another year of belt-tightening for UK consumers.
Indeed, many experts have predicted that 2019 could be the year the dam holding a consumer confidence plunge at bay finally bursts.
So what does this mean for consumer spending and perceptions of value?
And how can retailers win the spend and loyalty of value-driven shoppers in a year that promises no miracle resolution to the UK's political strife?
This interactive guide, in partnership with price comparison service Kelkoo, will examine how the UK's shoppers intend to spend their hard-earned money in 2019 and why they are drawn to value brands, providing guidance on how retailers can capitalise on these insights.
We will reveal:
UK shoppers' spending and saving priorities in 2019
How, where and why shoppers most like to make savings
An exclusive top 10 ranking of the retailers shoppers believe offer the best value for money
Why consumers are gravitating towards brands with everyday low-price strategies
The reasons consumers are increasingly attracted to own-brand ranges
How retailers can adjust their pricing and marketing strategies to capitalise on these findings.
---
Research methodology
For this guide, we surveyed 1,000 UK consumers, broken down into three broad groups (based on UK tax brackets):
High-income earners – with individual earnings pre-tax of £46,351 to £150,000
Middle-income earners – with individual earnings pre-tax of £11,851 to £46,350
Low-income earners – with individual earnings pre-tax of up to £11,850.
MEET THE VALUE SHOPPER
In a time of political uncertainty, today's shoppers are seeking everyday low prices, as evidenced by their top 10 value retailers.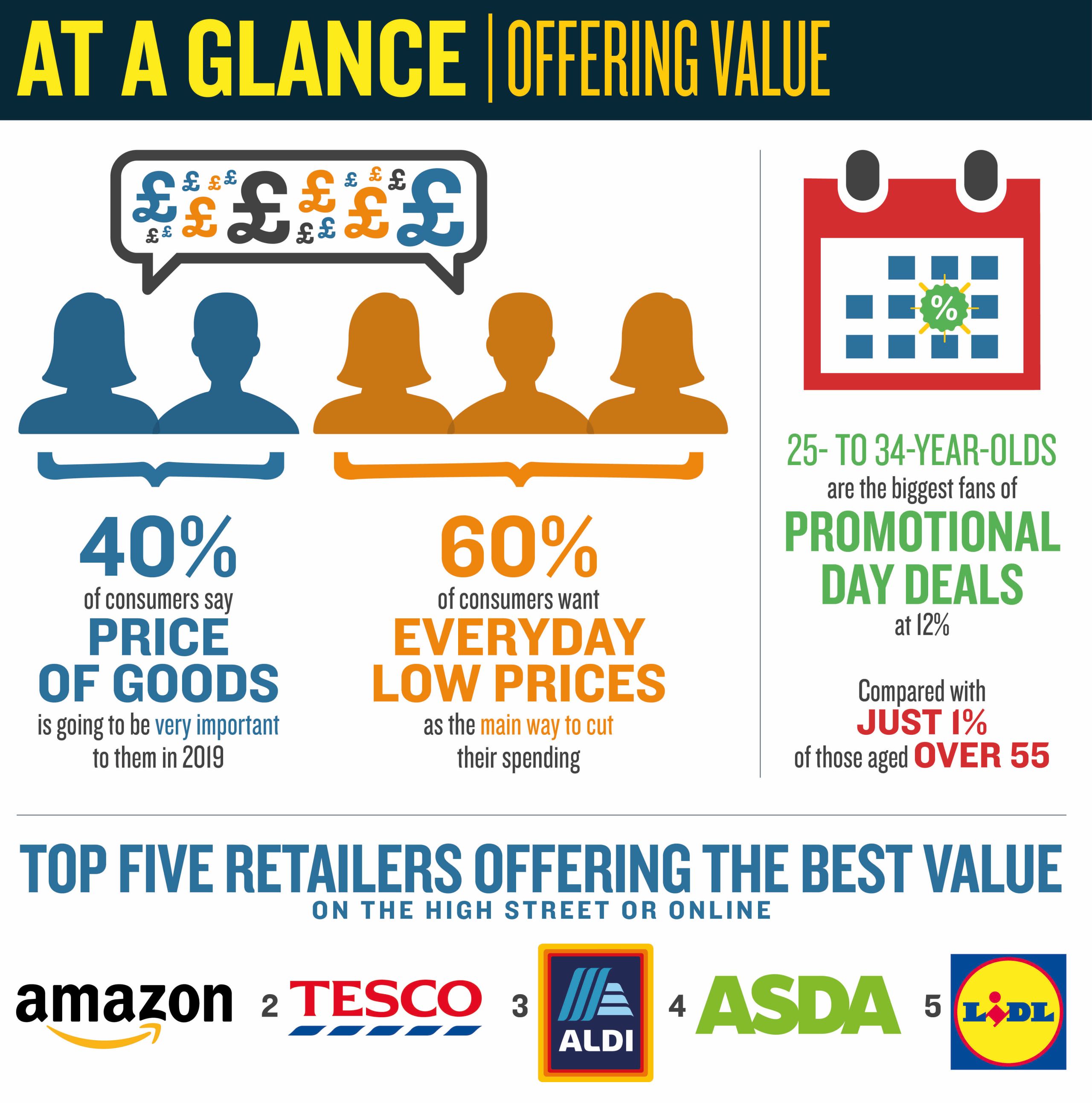 With diminished confidence in the UK's economic situation, the value shopper of 2019 is seeking low-cost everyday goods and comparing the most competitive prices on big-ticket items to ensure they get the best deal.
Recent Retail Week Connect research revealed that 51% of UK consumers are less confident about the political situation in 2019 compared with the previous 12 months.
It also found that 36% of UK consumers feel less confident about their personal finances compared with this time last year.
36% of consumers feel less confident about their personal finances than they did last year
At the end of 2018 the GfK index revealed that consumer confidence had slumped to a five-year low, driven by fears over the stability of the UK economy, rather than personal finance concerns.
Neil Wilson, chief market analyst at Markets.com, says: "Consumer confidence has clearly taken a knock since the Brexit vote in 2016 and has actually been deteriorating all through 2018 and into the start of 2019."
Brexit has also sparked concern around house prices. "People are less confident about future house price growth and that has a real dampening effect on broader consumer confidence and their willingness to spend," he explains.
Unsurprisingly, our research found that Brits are significantly more price-conscious going into 2019 than they were at this time last year.
"Consumer confidence has taken a knock since the Brexit vote and has been deteriorating all through 2018 and into 2019"
When asked how important the price of goods will be to them in the coming 12 months compared with 2018, just 1% of consumers surveyed responded "not important" or "less important".
In contrast, 40% say the price of goods in 2019 will be "very important" to them and 34% say it will be "quite important". Just a quarter report no change in how they will view pricing in the year ahead.  
Consumers aged 25 to 34 are the most price-conscious age group, with 49% saying pricing will be "very important". Among the youngest consumers (aged 18 to 24), the figure is 37%.
Low earners are more likely to say prices in 2019 will be "very important" compared with last year, while middle earners are the least likely.
Despite these generational and income-related variations, the overarching message is clear: British shoppers will be keeping a closer eye on their spending in 2019.
To stay competitive in this frugal climate, retailers should:
Keep up-to-date with their competitors' pricing structures and promotions
Ensure their own pricing structure is competitive
Regularly offer well-promoted Sales, discounts and deals
Ensure marketing strategies clearly associate the brand with good value for money.
Top 10 value retailers
So which retailers do consumers believe offer the best value, both on the high street and online?
Amazon garnered the most mentions by respondents – who were asked to name up to 10 retailers each – followed by Tesco and Aldi. Asda and Lidl rounded out the top five.
Which retailers offer the best value on the high street or online? 
1. Amazon
6. Ebay
2. Tesco  
7. Primark
3. Aldi 
8. Argos
4. Asda 
9. B&M
5. Lidl 
10. Morrisons
It's no surprise that supermarkets synonymous with everyday low prices featured highly in consumers' lists of best value retailers.
In this fiscally tough year, shoppers are most keen to slash spending on everyday necessities, according to our research. As a result, they are flocking to brands well known for budget groceries.
Retail figures support this trend. Aldi reported a record Christmas week in 2018: the cherry on the cake of a December when it sold almost £1bn of goods in the UK.
In fact, according to research from Kantar Worldpanel, two-thirds of UK households visited either Aldi or Lidl over the Christmas 2018 period, with Aldi's sales jumping 10% in the 12 weeks to December 30, and Lidl's 9%. Between them, Aldi and Lidl opened more than 100 new stores in 2018, which in part contributed to this strong Christmas trading.
Asda showed the strongest performance of the big four, followed by Tesco, which reported its best growth in almost a decade.
Tesco chief executive Dave Lewis said at the time that this growth was due in part to "a flight to value" and shoppers seeking out its cheapest range, Exclusively at Tesco.
The fact Amazon topped the list suggests that, along with everyday value, shoppers want to be able to easily compare prices for the same products to ensure they are getting the best deal possible. The convenience of its delivery proposition must also play a part here.
As well as opting in to comparison sites, retailers can achieve this by being as transparent as possible when it comes to their pricing and that of their competitors.
Tapping in to demand
So what tactics should retailers employ to satisfy the value-conscious consumer?
The vast majority of shoppers (60%) make it clear that what they want most when it comes to value is everyday low prices.
Special offers came in second at 15%. Price-matching, discounts and promotional events such as Black Friday and Cyber Monday all glean roughly 7% of the vote each.
High earners are more likely than those in other income brackets to favour promotional day deals as a way to benefit from lower prices. Low earners, meanwhile, prefer money off and everyday low prices.
However, the demand for everyday low prices does not differ hugely between high, middle and low earners.
Shoppers over the age of 55 are comparatively more interested in everyday low prices than other groups, with 72% citing this as their favourite way to save money, compared with just 47% of millennials.
Meanwhile, tech-savvy younger consumers are bigger fans of promotional day deals, with 12% of 25- to 34-year-olds selecting this option compared with just 1% of those aged over 55.
In order to appeal to consumer preferences across the board, retailers should place less emphasis on special one-off or annual deals and instead look to drive down costs across their range year-round.
Despite minor differences between the demographics, "everyday low prices" was by far the favourite way to benefit from lower prices across the board.
Brands capitalising on shoppers' appetite for bargains should use marketing strategies to drive home their focus on keeping prices low, ensuring consumers will consciously and subconsciously associate them with good value for money.
However, it is vital for brands to identify their target demographic and adopt tactics that will attract these consumers.
The age groups are divided when it comes to what attracts them to retailers. Even generations close in age, such as Gen Z and millennials, can hold starkly different views when it comes to shopping.
But the key takeaway here is clear: a reputation for consistently low prices will bring 2019's shopper through a retailer's doors – no matter which segment of society they are trying to attract.
The dopamine effect
Consumers are motivated to shop, spend, engage, share and anticipate thanks to dopamine, a neurotransmitter released in the brain, says Ari Peralta, chief executive and founder of multi-sensory research company Arigami.
Peralta explains that dopamine helps to regulate the reward and pleasure centres in the brain. He says: "When a consumer feels they get a good deal, it leads to a rush of dopamine. In today's market, a good deal is not enough as consumers seek more and more dopamine to validate a purchase or experience."
So how can brands harness this? According to Peralta, retailers should look to extend the dopamine effect in order to increase the reward and pleasure of any one purchase.
"Share your product on social media for extra savings or… to access brand-exclusive events," he advises.
"This allows customers the extended opportunity to feel validation, support and recognition for their recent purchase. This also increases the perceptual pleasure of the item purchased, building new memories that are all formed stemming from that original purchase."
Dr Cathrine Jansson-Boyd, consumer psychologist at Anglia Ruskin University, suggests that an uncertain economic climate will make consumers "more willing to cut corners" when it comes to purchasing daily essentials, both consciously and subconsciously.
"It may be that in the past they used to purchase an expensive washing powder, but will now instead buy a supermarket own brand that is cheaper," she says.
In order to motivate customers to buy a product, therefore, retailers should use "unconscious clues".
"Otherwise, shoppers will have their 'protective barriers' up that prevent them from being influenced by the cues," she explains.
One example of this would be to use tactile cues, such as a textured product that entices shoppers to touch it.
"This means the shopper takes psychological ownership of it, which makes it feel as if the item belongs to them. Thus they don't wish to leave without it," she says.
Dr Jansson-Boyd also touches on "deal fatigue". In order for consumers to truly feel they are getting a good deal, retailers should avoid running "forever ongoing Sales".
"Brands should make sure consumers are not continuously bombarded with special deals as it creates deal fatigue and they lose interest.
"Instead, limit sales and special discount occasions to ensure that consumers think things are actually at a reduced price."
"Brands should make sure consumers are not continuously bombarded with special deals as it creates deal fatigue"
GAINING THEIR CUSTOM
Most consumers believe the best bargains are online, but demographic differences come into play around the psychology of shopping.

Where are consumers going to seek out the lowest prices?
Overall, consumers believe the top deals can be found on the internet, with 60% of respondents saying they log on for the best bargains.
"60% of consumers believe the lowest prices are online"
In store came second with 32%, followed by retailer apps (3%), price comparison sites (3%) and direct marketing to devices (2%). Surprisingly, 18- to 24-year-olds are the least likely to say the best deals can be found online (50%) and most likely to say in store (37%).
High earners are the most likely of the income groups to say the best deals are found online (66%), and they are also more likely to report they find the best deals on price comparison sites.
Meanwhile, low earners are most likely to say they find the best deals in store (40%).
These findings underscore the importance of an astute online strategy that complements the offline experience, capitalises on segmented data and retargeting, and employs voucher codes and flash Sales, both promoted in store and through social media channels.
Retailers catering to older and low-income shoppers must also seek to embody the traditional message of everyday low prices in bricks-and-mortar stores.
Key value categories
When we asked consumers to name the retail categories in which they most like to feel they are getting the best value, the majority prioritised everyday essentials.
Almost 70% of respondents name food as one of their top three value categories, with 41% citing it as their number one.
Electricals is the second most cited as number one at 13%, followed by fashion with 11%.
Entertainment and health and beauty are fourth and fifth respectively.
This suggests shoppers are focusing on finding deals in the categories they spend the most money on – whether that is for daily necessities such as food or big-ticket items such as electricals.
However, the desire to get a good deal on food rises with lower-income brackets, while bargains on big-ticket items are more popular with higher earners.
What causes shoppers to gravitate towards certain promotions, whether in store or online?
From our respondents, 42% say they enjoy the sense of getting a good deal, while 25% say knowing they are getting money off draws them to promotions.
Trust in the brand or retailer takes 21% of the vote, while 12% nod to product quality.
In this thrifty climate, it's no surprise that trust in the retailer and product quality lose out to price concerns.
This attitude to goods is perhaps at the heart of the rocketing success of fast-fashion brands at a time when many UK clothing traders are struggling.
For instance, Boohoo.com – known for its low prices and quick turnaround of new products – generated a sales rise of 44% to £328.2m across the group in the quarter to December 31 and has raised sales guidance for the year. 
A question of trust
Somewhat surprisingly, the importance of trust appeared to diminish with age: 30% of 18- to 24-year-olds named this as the main factor that would attract them to promotions, compared with just 16% in the 55-plus group.
In addition, the sense of getting a good deal was least important to the youngest demographic, with just 26% naming this as their main motivator.
According to the think-tank Resolution Foundation, millennials in the UK now consume 15% less than those aged 55 to 64; in 2001, the two age groups consumed the same amount.
Furthermore, it is common for millennials to have experienced little to no disposable income improvement on Generation X – despite economic growth of 14% in the 15 years to 2018.
"Instead of focusing solely on price, Gen Z consumers ask: 'What's the reputation of the brand? Are they strong ethically?'"
It seems natural then that millennials would prioritise price over product quality. However, the results show that the attitudes of Gen Z (those born after 1995) do not align with the generation before them.
Harry Beard, co-founder of Gen Z consultancy Future Labs (and himself a member of Gen Z at the age of just 19), explains that factors other than price "have a bigger role" in Gen Z's purchasing decisions.
Instead of focusing solely on price, they're asking: "What's the reputation of the brand? Are they strong ethically? What's the overall service like? How convenient is the process?"
Making comparisons
How are money-conscious consumers ensuring they get the best deals online?
Our research shows that more than three-quarters of consumers frequently use price comparison sites.
Of our respondents, 37% say they use such sites once a month, while more than a quarter rely on them between two and five times per month.
While 23% say they never use price comparison websites, 9% say they visit them between five and 10 times a month, and a bargain-savvy 4% use them more than 10 times every month.
It seems that reliance on comparison sites also increases with salary. High earners are the most prolific users of such sites and the least likely income group to say they never used them.
Low earners, meanwhile, are most likely to never use price comparison sites.
Electricals was by far the biggest retail category consumers use price comparison sites for, with 33% of respondents naming it as their number one sector. It featured in the top three of 63% of those questioned.
This indicates shoppers are most keen to save money on one-off expensive purchases, particularly when identical items can be purchased from a variety of retailers.
Looking at the categories named as first choice, general merchandise came in second at 14%, followed by food (13%) and home and DIY (11%). Entertainment (9%), fashion (7%) and health and beauty (6%) followed.
The youngest shoppers are most likely to use comparison sites for fashion, while over-55s are most likely to turn to them when buying electricals or home and DIY goods.
High earners are also more likely than other consumers to use comparison sites when making an electricals purchase.
The role of price comparison sites
As consumers seek to ensure they are getting the best value for money, comparison sites are now the first port of call for many when shopping online. They allow shoppers to see a much wider variety of options and help them to buy specific products at the lowest price available.
However, it is not just about the cheapest price: consumers may also choose to buy products from a brand they trust over one they do not know.
When it comes to retailers, price comparison sites are not only a vital tool to drive more traffic to their own websites. They can also provide analytics to help retailers stay ahead of the competition, offer the ability to compare product lines with those of competitors – updating retailers whenever their rivals alter their prices – and give access to ratings and reviews, among other benefits. 
OPPORTUNITIES IN 2019
This will be the year that price-conscious shoppers take to own-brand in a big way, with value supermarkets topping the list of desirable retailers to shop with.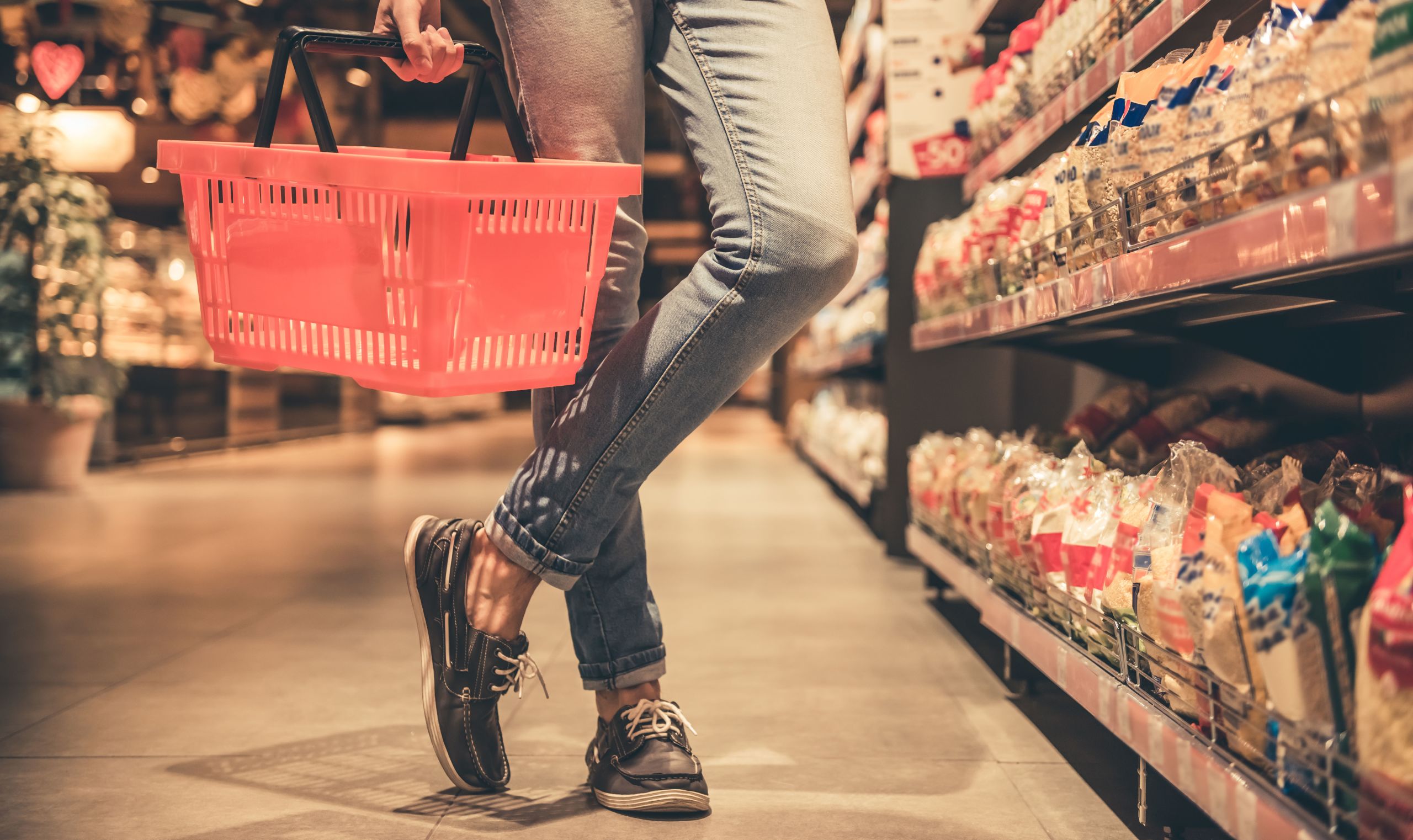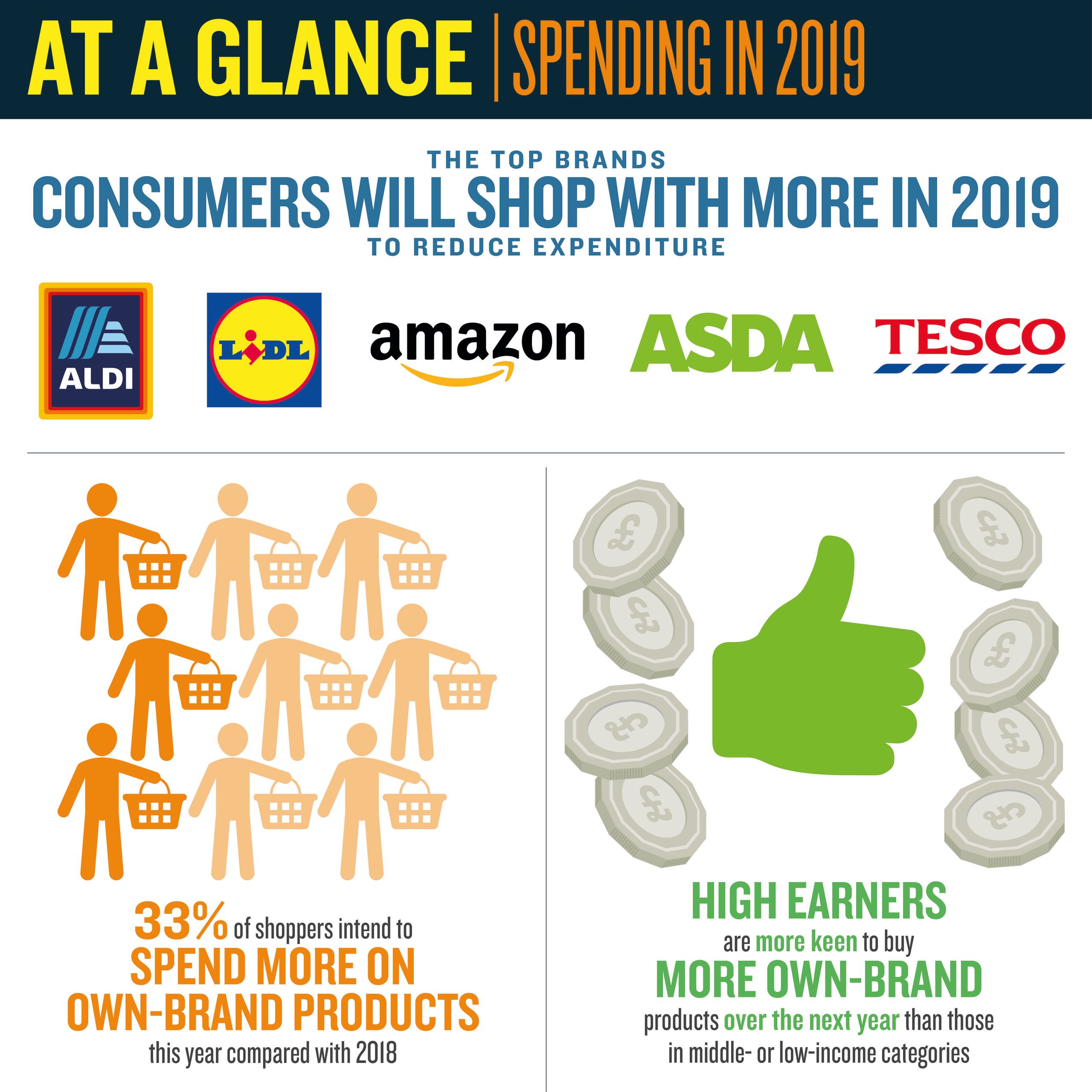 Saving the pennies
So which brands will consumers be turning to this year?  
Top 10 brands consumers will shop with more in 2019 to reduce expenditure
1. Aldi 
6. Home Bargains
2. Lidl 
7. Poundland
3. Amazon and Asda (joint place)
8. Primark
4. Tesco
9. Ebay
5. B&M
10. Iceland
When we asked consumers which retailers they plan to shop with in order to reduce expenditure in 2019, Aldi won out, with 394 respondents planning to visit the low-price supermarket more this year.
Lidl followed, with 309 mentions, while online giant Amazon tied with Asda in third with 215 votes apiece. Tesco and B&M rounded out the top five.
It will come as no surprise that so many of the top 10 are synonymous with everyday low prices – from Aldi and Lidl to Primark and Poundland.
Given that food was identified as the key category in which people like to save, it is equally as expected that four supermarkets known for their low prices feature.
What we can learn from the online winners – Amazon and Ebay – is that consumers seek transparency around price. These platforms allow shoppers to easily scroll from vendor to vendor until they have found the best deal.
Turning to own label
As shoppers increasingly seek out everyday low prices, own-brand products have become more popular.  
No longer seen as simply the cheapest option, private label has taken on an ethical association as middle-class consumers increasingly shop at budget supermarkets such as Aldi. 
This represents something of a shift in recent years. Whereas once items such as free-range eggs and Fairtrade coffee would not be available as part of a supermarket's cheapest ranges, retailers are increasingly using own brand to push their eco-friendly credentials by cutting down on plastic or expanding their vegan options.
This, in turn, is meeting a much-hyped growing demand for ethical products among consumers.
"33% of consumers intend to spend more on own brand this year"
According to IRI's European Shopper Insights survey, two-thirds of Brits prefer to shop with brands that clearly demonstrate their commitment to environmentally friendly packaging and demonstrate integrity, fairness and transparency.
Could own brand therefore be the big success story of 2019? A third of those we surveyed reported that they intend to spend more on own-brand products this year.
Meanwhile, 56% anticipate no change in their own-brand spending and just 11% intend to spend less.
Price was by far the biggest attraction: 60% named it as the single top reason they would buy private-label products.
Production quality was second, with 17% citing it their number-one reason, while choice of ingredients came third with 6%.
Interestingly, high earners seem the most keen to buy more own-brand products over the next 12 months (37% vs 33% on average), with this group more likely to cite ingredients and provenance as the reasons for buying private label.
Although middle earners are least likely to say they will spend more on own brand in 2019, this group is more likely than others to name sustainable considerations as the reason for doing so.
Low earners, meanwhile, are most likely to select price as the biggest draw.
Younger consumers are also more likely to increase spend on own brand over the coming year, with 44% of 18- to 24-year-olds and 50% of 25- to 34-year-olds falling into this category.
The youngest category is also more likely to name ethical reasons as their biggest motivator for doing so (9% vs 5% on average).
Going green
The fact that ethics and sustainability are now being taken into account by shoppers when making private-label purchases could provide big wins for retailers that have already implemented eco-friendly policies on their in-house lines.
In January, Marks & Spencer launched 50 new own-brand vegan dishes and joined Iceland, Tesco, Asda, Morrisons and Waitrose in committing to clear and consistent vegan product labelling.
Waitrose has committed to banning glitter from all own-brand products by 2020 in an effort to diminish plastic waste, while Marks & Spencer is introducing a biodegradable glitter alternative.
And Iceland, which has long led the charge for more environmentally friendly alternatives, last year vowed to eliminate all plastic on its own-brand range.
These environmentally friendly efforts have no doubt embedded own-brand products yet further in the consumer consciousness.
Case study: the success of Aldi
In 1990, the then little-known German supermarket Aldi opened its first store in the UK.
Run on an efficient model that hinges on own-brand products, and synonymous with everyday low prices, by 2008 Aldi controlled 1.7% of the market.
In recent years, as the recession battered the nation and Brexit-fuelled uncertainty forced many to draw the purse strings tighter, Brits have flocked to the budget supermarket.
Aldi retains the title of the UK's fastest-growing grocer and, according to Kantar Worldpanel, ended 2018 with a 7.4% share of Britain's grocery market – ahead of Co-op, Lidl, Waitrose and Iceland.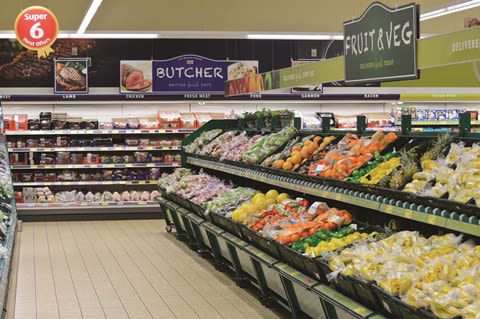 Richard Thornton, communications director at Aldi UK, says: "Everyday low prices are the bedrock of Aldi's strategy, and customers trust us to be honest with them."
But are there any downsides to adopting an everyday low price strategy? "Not for us," says Thornton. "We've consistently been the fastest-growing supermarket in the UK for some time, which proves the popularity of our strategy."
Aldi has managed to keep its prices low for so long in part because more than 90% of the products it sells are own brand.
"We have control over the quality and can keep prices low because we're not paying a premium to stock branded items," Thornton explains.
As our research shows, in tough economic times, everyday low prices are the most popular way to save on shopping.
By proudly flying the flag for everyday low prices since its inception, Aldi has successfully tapped into this market.
In October 2018, Aldi confirmed it would open 130 new stores in the UK over the next two years.
"Everyday low prices are the bedrock of Aldi's strategy, and customers trust us to be honest with them"
KEY TAKEAWAYS
Price is at the forefront of British shoppers' minds going into 2019.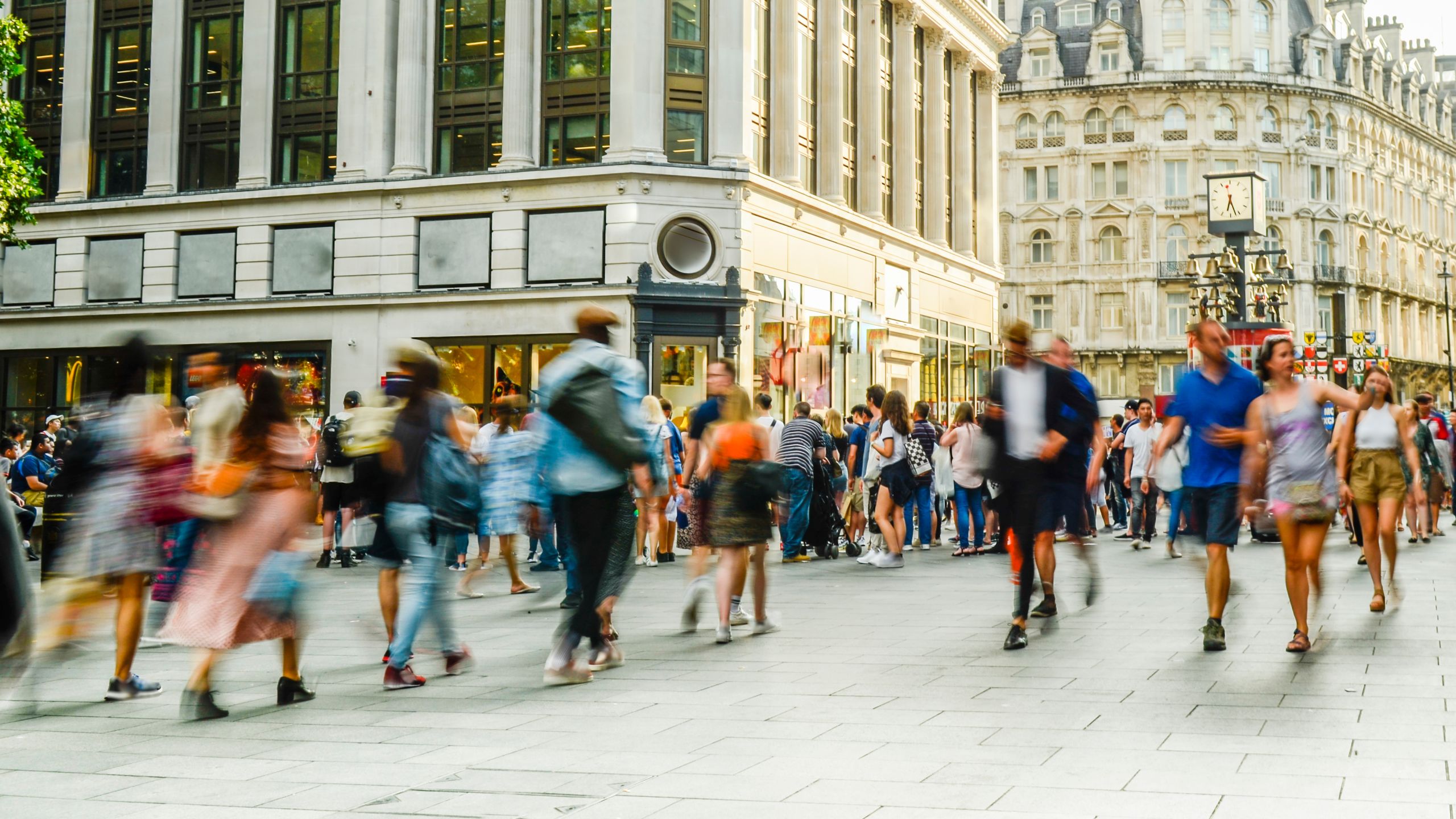 We ventured to one of London's premier shopping destinations – Regent Street – to demonstrate just how vital saving money is to the nation's public and find out how they intend to make significant savings in the year ahead.
These vox pops, considered alongside our research, bring seven key takeaways for retailers into sharp relief:
1. Stores with an everyday low-price strategy are well placed to take advantage of the appetite for value.
2. Food is top of consumers' lists when it comes to slashing expenditure in the year ahead, so grocery stores must ensure their pricing structure is extremely competitive.
3. Older consumers and those in the low-income bracket are the most keen to save through everyday low prices, while promotional day deals remain popular among higher earners and younger consumers.
4. Gen Z are less concerned about price than their millennial counterparts and more likely to prioritise trust in brand and product quality.
5. Most consumers believe the best deals are found online, but in store remains a popular option, underlining the need for complementary online and in-store user journeys.
6. The popularity of own-brand products continues to soar, with high earners the most likely to increase their spending on them in 2019.
7. Three-quarters of Brits are regularly using price comparison websites to ensure they get the best deals, suggesting retailers would benefit from promoting competitively priced products on such sites.
---
PARTNER COMMENT
Despite fears of a dip in consumer spending, there are opportunities out there for retailers that price competitively, says Paul Lyonette, commercial director at Kelkoo Group.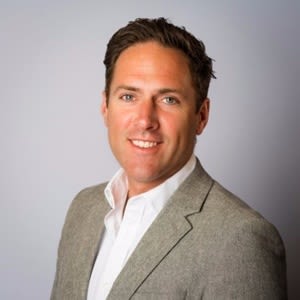 Rising living costs, an uncertain Brexit deal and stagnant wages may top the UK headlines, but consumers are continuing to spend – providing that the price is right.
We saw three common themes:
1. Balance demand with value for money
It's no surprise that the brands most likely to succeed in a penny-pinching climate are those that have continually placed value for money and consumer happiness at the heart of their retail campaigns.
Continue to signpost deals, promotions and discounts, and offer consistently competitive pricing if you want to remain a firm favourite – no matter the demographic you are trying to target.
2. Tap into the psychology of shopping
Consumers continue to log in to search for the best deals and that means your marketing strategy may need a rethink. Comparison shopping sites provide consumers with a range of pricing alternatives, as well as bringing new brands to their attention.
Consider using a price comparison service to help you access vital analytics and truly tap into the psychology of shopping. Competitor pricing, ratings and reviews are among some of the perks on offer if you decide to work with a trusted partner such as Kelkoo.
"Comparison shopping sites provide consumers with a range of pricing alternatives, as well as bringing new brands to their attention"
3. Generate conscious clicks
Eco-friendly alternatives – products that are affordable and environmentally conscious – are seeing something of a renaissance for own-brand offerings. 
Give your shoppers a trustworthy, affordable range of items to choose from and those clicks will convert into sales in no time.
Paul Lyonette is Kelkoo commercial director for the UK and Europe.
---
The price is right
Winning the value-driven shopper in 2019
Written by Caroline Howley
Produced by Rebecca Dyer and Dan Harder
In partnership with Kelkoo Group