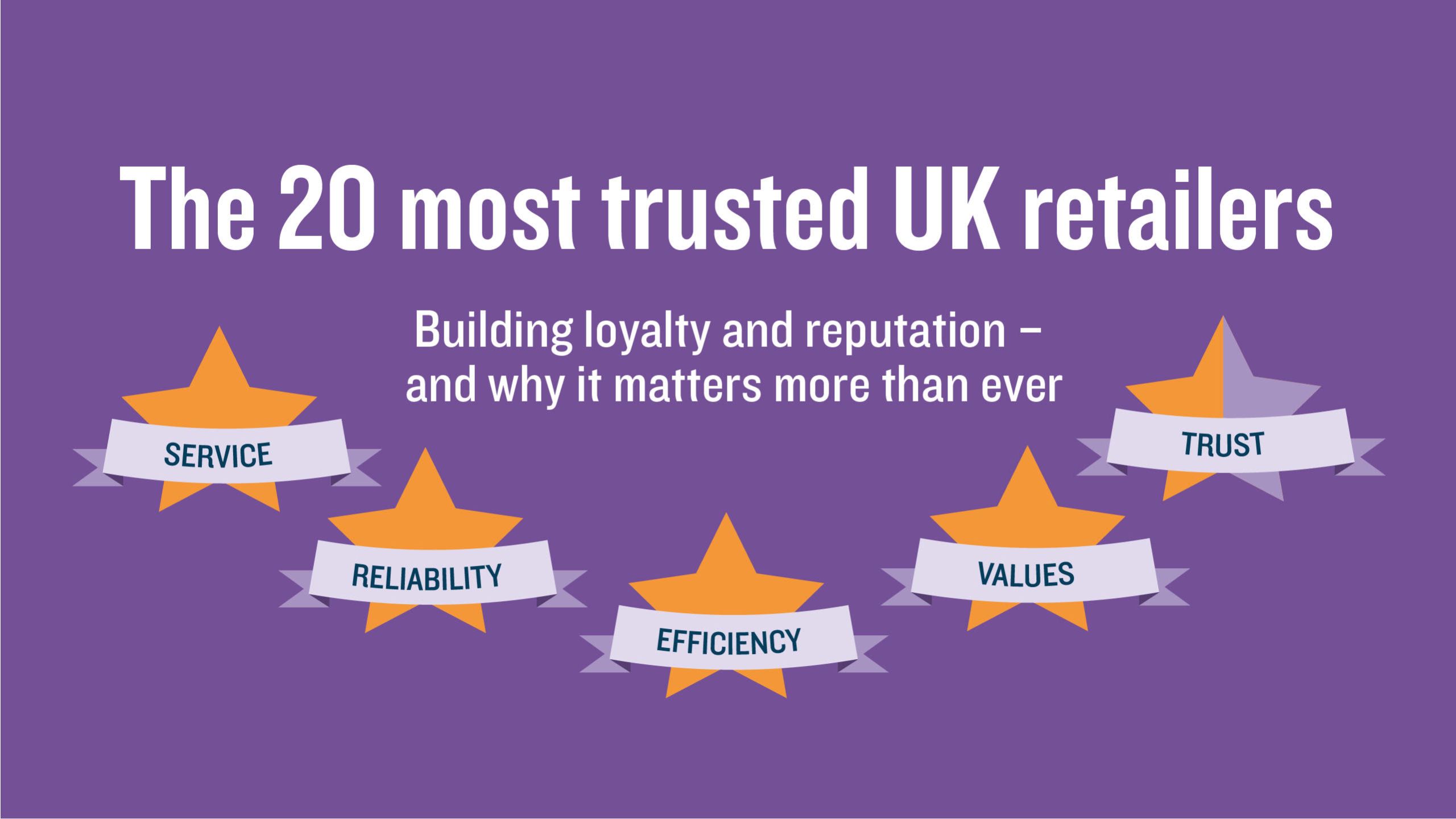 In today's digital world where sensitive personal information can be transmitted via smartphone, smartwatch, apps, emails and more, the issue of trust has never been more important.
Our ranking of the top 20 most trusted UK retailers draws on exclusive consumer research to reveal those leading the pack when it comes to customer trust.
Shoppers will only buy from retailers in which they have full confidence, with the Digital Trust Index produced by identity and access management platform Okta finding that 85% of consumers are unlikely to purchase from a brand they don't trust.
The relationship between retailers and consumers is at a unique point. In the early days of the pandemic, retail's role in consumers' lives was thrown into stark relief, and as lockdowns were enforced and supply chains juddered under the pressure, many who had previously taken retail for granted were prompted to view it in a new, often more positive, light.
While access to food and essential items was critical, fashion and lifestyle brands also saw their place in people's lives placed under the spotlight, as lockdowns forced a temporary end to shopping in stores as a social activity or pastime.
The rules of trust have changed and will continue to evolve as we shift further into an environment where remote connections are more common.

However, as online shopping continues to grow, so do the chances of reputational damage. Data breaches, missed deliveries and delayed refunds mean the online shopping experience can make it harder for retailers to gain trust than ever before.
But how can brands increase consumer trust? What makes consumers more likely to shop elsewhere? And which retailers are leading the charge when it comes to trust in today's market?
In this report, we'll explore how and why trust in UK retail is changing, discover the most trusted retailers and look at how trust can be lost – and more importantly gained.
Winning strategies in this report
Brand relevance and evolution
✔
Agility and partnerships
✔
CX
✔
Innovation and investment
✔
Culture and purpose
✔
Find out more about our winning strategies here.
Methodology
The Retail Week and Okta Retail Trust Index surveyed 2,000 UK consumers aged 18 to 65+ and was conducted in July 2021.
We spoke to experts including:
Snapshot statistics
Consumers trust physical shops the most, with 72% saying they find this channel the most trustworthy.

Service matters: 71% say poor service makes them lose trust in a retailer, but excellent service will build trust for 57% of shoppers.

Grocery is the most trusted retail sector, with 72% rating it highly, while sporting goods is the least trusted with 42% rating it highly.

Some 58% of consumers are worried about password and identity theft, highlighting the need for retailers and brands to reassure and design secure systems.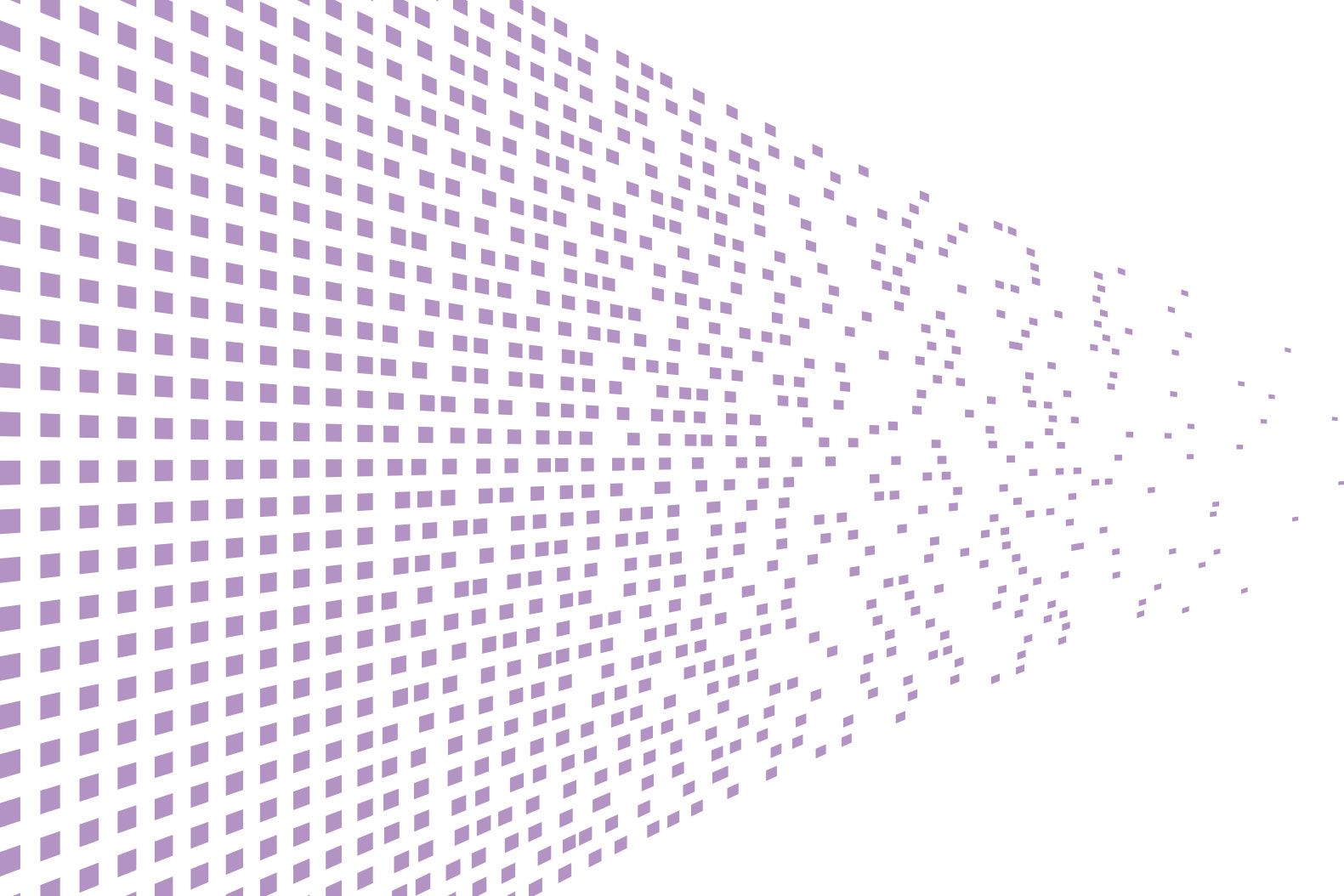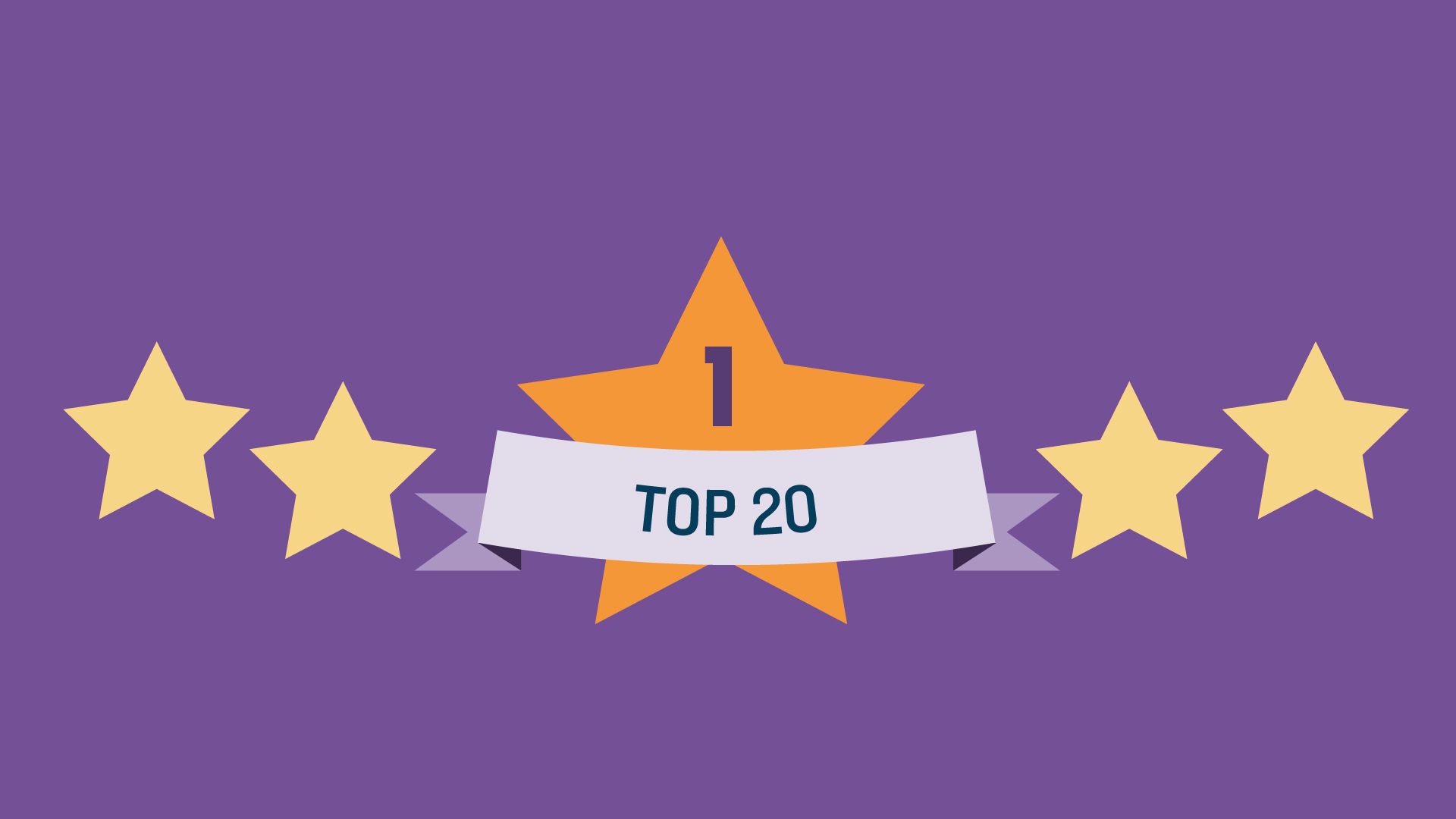 Our index of the UK's 20 most trusted brands is based on votes from 2,000 UK consumers

The ecommerce giant tops our index because of its relentless efficiency. It delivers reliably and consistently for customers, time after time, and has led the way in introducing fast delivery. Its quick resolution of issues and wide range of products also contributed to respondents choosing it, and its use of customer reviews enables shoppers to feel confident they are buying the right thing. Its ubiquity also helps – shoppers from every age group use it and even those unused to internet shopping feel more comfortable on such a well-known site.

Tesco's large selection, good value, transparency, reliable service and community links were mentioned by consumers; several also appreciated its response to Covid-19 – as one says, they trust Tesco because of "the way they have dealt with Covid, making sure customers get what they need". Over the past year, Tesco moved quickly to increase its online capacity, with weekly delivery slots doubling to 1.5 million. The supermarket repaid £535m in business rates relief and donated £15m of food to food banks during the first lockdown.

John Lewis is known for quality, excellent service, guarantees and warranties, and value for money. Its co-operative structure – with employees receiving a share of profits – also receives mentions. The department store retailer was another brand to respond quickly to the pandemic, increasing its online capacity and launching virtual services, such as home design, to enable remote interaction and take its reputation for strong service online. As John Lewis customer director Claire Pointon points out, most consumers have grown up with the brand, giving it a unique place on the high street and strong emotional resonance.

Customers highlight Asda's value and prices, with some flagging what they see as the supermarket's caring approach. In September 2020 it brought back its familiar 'Asda Price' campaign as part of a £100m investment in prices, and in the early days of the pandemic it launched contactless prepaid shopping cards for those self-isolating, allowing volunteers to do their shopping for them. For others Asda's focus on quality is important and its longevity helps as well – many have been shopping there consistently for years.

Marks & Spencer's longevity and long-standing reputation for quality are mentioned by consumers in our index – as many point out, everyone has grown up with the brand. The company's ethics and commitment to combating climate change are also mentioned. M&S products have been available throughout the past 12 months via its partnership with Ocado, and it launched a range of measures to help its clothing suppliers get through the disruption, including paying for all made garments for the vast majority of its orders.

One shopper says of Next: "Very good quality and customer service, and always puts the customer first"; while another says: "Ordering and returns are the easiest to do here and the clothes are always good quality." The brand's focus on a seamless multichannel offer has paid off with consumers. Next is now the UK's biggest online clothing retailer, offering a huge range of brands on its marketplace and providing customers with reliable and fast delivery. Its Total Platform service, launched in 2020, allows it to host other brands online, supporting their websites and back-end operations. The quality of its digital infrastructure meant it kept up with online demand during the pandemic.

Good service, quality products and knowledgeable staff are all mentioned by our consumers. Highlighting the role that safety now plays for shoppers, one notes: "They provide an excellent, safe service." The grocer rewarded its staff with pay rises in 2021 and one-off bonuses recognising their work during the pandemic. It increased its online delivery capacity by 50% during lockdown and contacted its 800,000 most vulnerable customers to prioritise their deliveries. At the same time, its Aldi price match scheme has helped to reassure customers on value.

Consumers appreciate the healthcare advice, cruelty-free products and the long-standing reputation that Boots offers them. Trust in Boots rocketed during the pandemic as it took a frontline role in the vaccine rollout and in helping consumers to stay healthy. The pharmacy chain was understandably busy during the pandemic, with online orders rocketing 85%, and the retailer has launched a pilot with delivery service Deliveroo for super-fast local delivery with a focus on items for parents and those who can't leave the house.

In addition to the reliability and value synonymous with all the grocers, one Morrisons customer flags its pricing and supply chain strategies: "They make more of their own food items than any other retailer. All of the meat comes from their own farms. They donate food to food banks." Morrisons' single-price strategy – with prices consistent across the UK – is also mentioned. The retailer's social conscience has long been part of its USP – in April 2021, it became the first grocer to completely remove plastic bags from its stores and in January it became the first grocer to pay £10 an hour minimum.

While many grew up with the Argos catalogue, consumers today appreciate Argos' innovative approach, convenient click-and-collect service and no-quibble returns. The retailer scrapped its famous catalogue in 2020, but customers continue to flock to the brand, with demand for its Fast Track same-day delivery service growing by 62% over Christmas 2020. Argos was another retailer whose reliability and good service over the difficult lockdown periods increased its standing in the eyes of consumers, who appreciated its continued presence. As one survey respondent says: "Always have what I want, it always works, everything is easy to find and has been since I was a kid."

Aldi's commitment to price makes it stand out for our respondents, along with quality and consistency of products. As one customer says: "I always save money going there as prices are so good compared to other supermarkets." The discounter expanded its click-and-collect service in 2020, giving customers more ways to access its ranges. It also sold online food parcels to self-isolating and vulnerable customers during the pandemic, and has joined forces with Deliveroo to offer a rapid delivery service. During the pandemic, it provided customers with handy hints for shopping in store, such as flagging the quietest times of day.

Asos has spent years perfecting the speed and convenience of its shopping journey, and this is what consumers highlight – speed, easy returns and quality product. Its sustainable packaging also garners a mention. Asos was there for shoppers during the pandemic when they needed loungewear, beauty or workout gear, and it also revealed a 13% reduction in its carbon footprint for 2020. In April 2021 it announced plans to raise £500m to accelerate its expansion, and in June 2021 US clothing retailer Nordstrum announced it had taken a minority stake in Asos to bring its newly acquired Topshop brands to a wider international market and reach a younger consumer.

Online auction site eBay's ability to make anyone feel comfortable buying and selling online – and sorting issues quickly and relatively painlessly when they arise – means customers' trust is high. As one customer says: "I've been using eBay for years and I think I can count on one hand how many times I've had problems." Its social conscience helps as well – in February 2021, eBay launched a multi-million-pound programme to create jobs and opportunities in parts of the UK hardest hit by the coronavirus pandemic. The 'eBay for Change' initiative offers training and financial support to small, community-based businesses that support disadvantaged areas across Britain.

Consumers like that Primark is straightforward, with one saying: "What you see is what you get." They flag its prices and broad range of items as reason for shopping with the brand. The retailer is also active in sustainability – in May 2021 it launched a recycled activewear line. It does not sell online, which is part of the reason why it topped a Retail Week poll as the brand consumers were most excited to return to following lockdown. This was not just down to Primark's low prices – the retailer has channelled investment into in-store experience for years, using digital tech and experiential retailing to make its stores a positive experience.

Consumers like that Lidl's prices are consistently low, its produce is of high quality and its staff are friendly. They like its straightforward 'no frills' approach, and as one customer says: "It is reliable, no frills, good prices and quality, and it doesn't over-promise." The grocer was among those paying back £100m of business rates relief and it has cultivated a down-to-earth image with a Christmas ad that poked fun at more sentimental messages. While it suffered from not having an online operation during the pandemic, it has clearly retained its place in consumers' minds.

Consumers feel Apple protects their personal data and makes high-quality products that last. They also mention its design and commitment to quality throughout its operations, from apps to products. It's strong customer service is also mentioned. As one customer says: "Everything is checked for quality and security." After the abrupt shift to home working for office staff across the globe in early 2020, Apple recorded its most profitable quarter ever as shoppers bought devices to boost their home technology set-up – and with hybrid working set to continue, the brand will be able to keep building on this.

Consumers like Nike's branding, and long-lasting, quality clothes and shoes. Customers relied on it during the pandemic for comfort and activewear, while its new UK store format focuses on community and localisation. The sports brand benefited during the pandemic from a focus on loungewear and local exercise such as running and walking, although sales were impacted by shipping issues and the closure of bricks-and-mortar stores. The sportswear giant donated more than $30m to Covid-19 relief efforts around the world.
New Look's range, quality, price and ethics are all mentioned by consumers in our index. Its return to profitability in 2021 reflects its core role in many shoppers' lives, and its 'still standing' status after the fall of Topshop and Debenhams will likely further increase its value in consumers' eyes. Its presence on many smaller local high streets will have helped cement its status further, enabling it to tap into the pandemic-related surge in local shopping.

The Swedish retailer's sustainability strategy gets mentioned by consumers, no doubt bolstered by the 2021 expansion of its second-hand chain Sellpy, now being launched in 24 countries. Its range, price and quality are also popular. While it sells online, shoppers have flocked back to stores in their droves since stores reopened, leading to jumps in profitability.


Customers like the Co-op's local produce and social conscience, as well as their ability to have an impact on business decisions by becoming members. As one says: "Its ethical stance; its involvement in the community; and as a member I can influence its actions." The Co-op has benefited from the rise in local shopping and has also been vocal about the need to tackle 'social unfairness', helping it to develop a reputation for fairness and equality. It has also launched a fast local delivery service with Deliveroo, helping to develop the convenience and speed of its offer.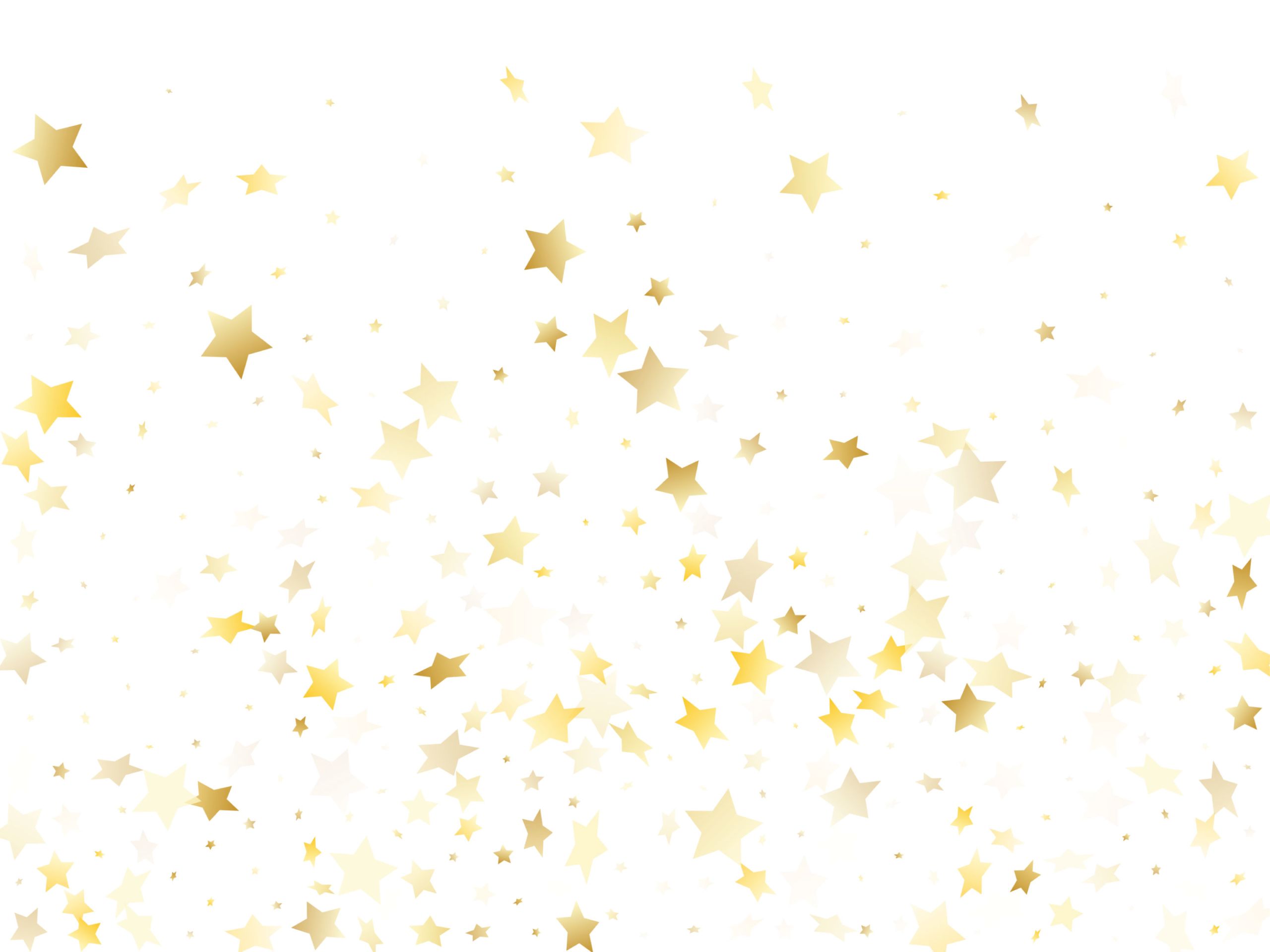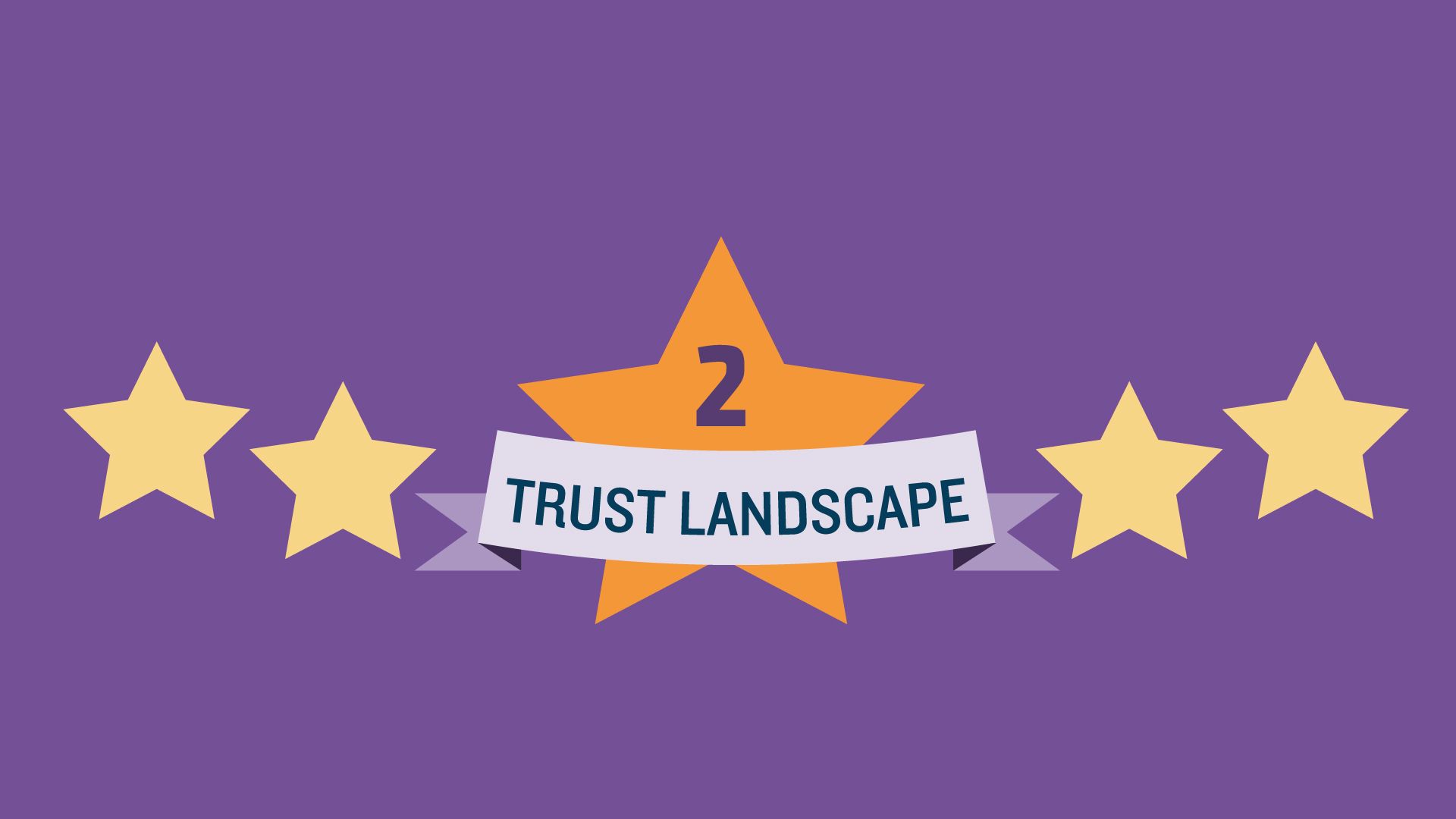 Trust is a crucial part of whether a shopper will part with their money – research by security and identity firm Okta has found that 88% of UK shoppers are unlikely to purchase from a brand they don't trust, and almost two-thirds (64%) have reservations about buying from sites they haven't heard of.
So what kind of organisations do consumers trust and why? According to our data, grocery is the most trusted category of retailer, with 72% choosing this category. It is followed by electrical retailers with 56% saying they trust this category, home and DIY with 55% and toys and games at 47%.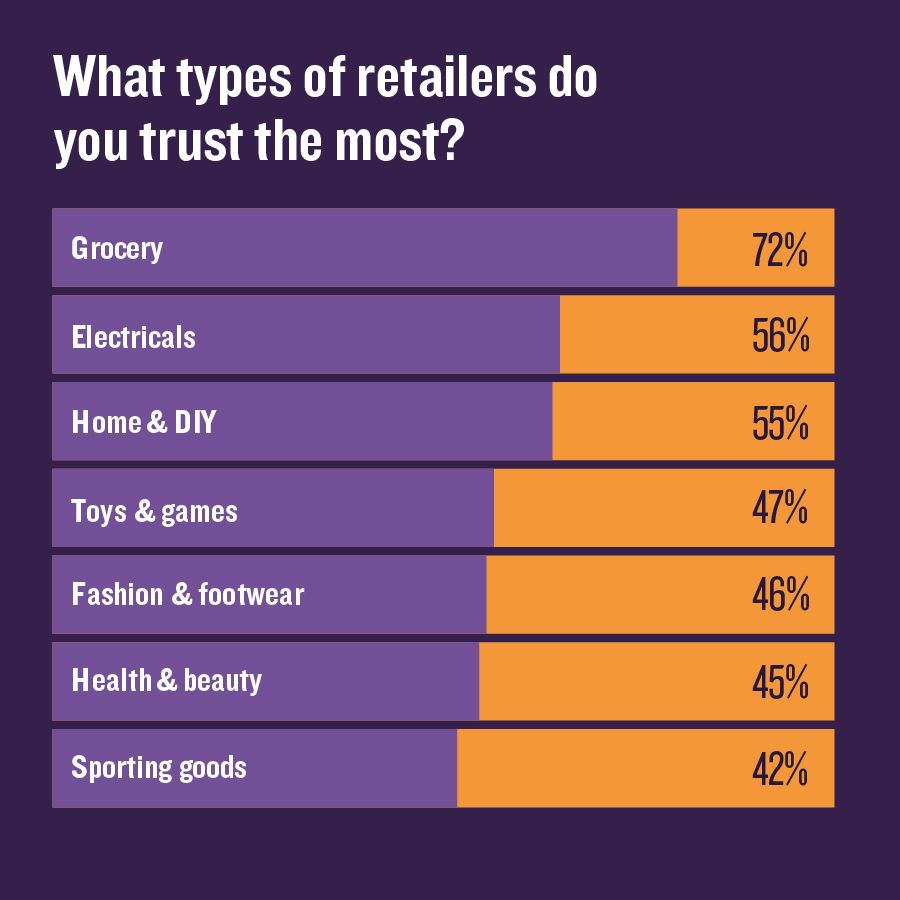 Chloe Woolger, commercial director for CX at data, insights and consulting firm Kantar Insights, says the pandemic gave grocers a chance to shine.
"Supermarkets as a whole were trusted more because of how quickly they adapted. Tesco [at number two in the ranking] recruited additional drivers quickly and on the whole they moved fast. Over the past couple of months we've seen several chains insisting people still wear masks in store, because safety and cleanliness became important. That's how trust is built: understanding what's most important."
Physical or digital?
Consumers trust physical shops the most, with 72% saying they find this channel the most trustworthy; and shopping on social platforms the least, with just 20% choosing this option. Younger shoppers are more likely to trust digital channels, but they still prefer physical outlets – 62% of 18- to 24-year-olds opt for physical shops and 60% say department stores, compared with 43% for online and 27% for social.
Despite this preference for physical shops, Amazon dominated when consumers were asked for their most trusted brand, highlighting an interesting contradiction.
While consumers clearly prefer to see and potentially touch products before buying them, over the past 18 months many have become more aware of the 'always-open' nature of digital shopping. While long queues formed outside the physical shops they'd come to rely on, Amazon was able to fulfil orders as quickly as ever, without them needing to leave the house.
The online behemoth's operations did not falter under the pressure either – its premium services, such as its subscription delivery service Prime, remained as seamless as ever.

"Amazon has managed to increase familiarity with consumers, and proven they have a high level of dependability," says principal analyst at research company Forrester Enza Iannopollo. "The past 18 months has given them the possibility to be known by more consumers."
She adds there could be an emotional aspect behind Amazon's high ranking. "People were buying a lot of things because they needed someone to come to the door – it may be the only person they see. This daily presence in people's lives has an important impact on the way we think."
While this is less likely to be the case now consumers are out of lockdown, this appreciation of online retailers is likely to have lingered.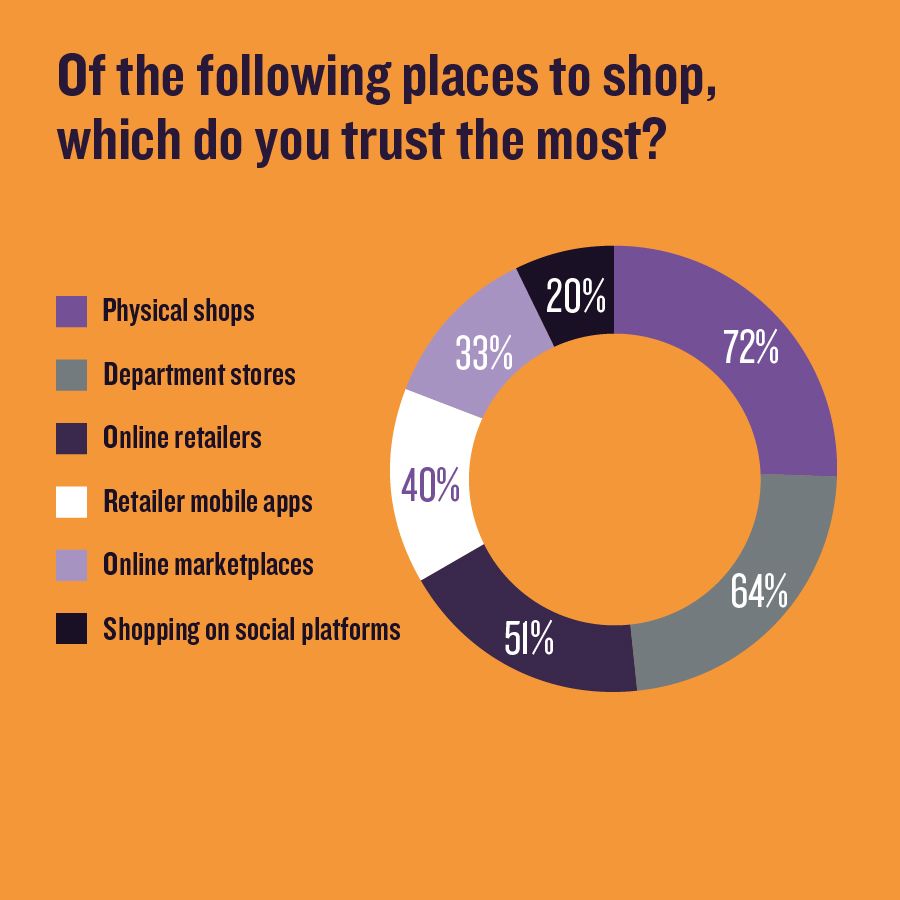 Protecting data
When it comes to protecting personal data, the healthcare industry is the most trusted. We asked consumers to rate each industry between 1 and 10, with 10 being highly trustworthy. Over two-thirds (68%) rated healthcare between 7 and 10. Banking is not far behind with 62% rating it highly. Retail came third, with 42% rating it highly – a decent score, although with plenty of room for improvement: the remaining 58% rate it below 7.
Interestingly, retail was also the sector with the most low-scored votes: 22% rated it between 1 and 4 for trustworthiness on personal data.
Iannopollo says healthcare and banks are highly regulated verticals, meaning consumers are aware there are stringent rules they must follow. "They have to comply with rules and regulations, and consumers know they are checked up on and there is that solid floor of security. Banking is also a very mature sector," she says.
While retailers are subject to different regulations, they can still learn lessons from these sectors' stringent approach to data protection – including strong communication and potentially two-factor authentication.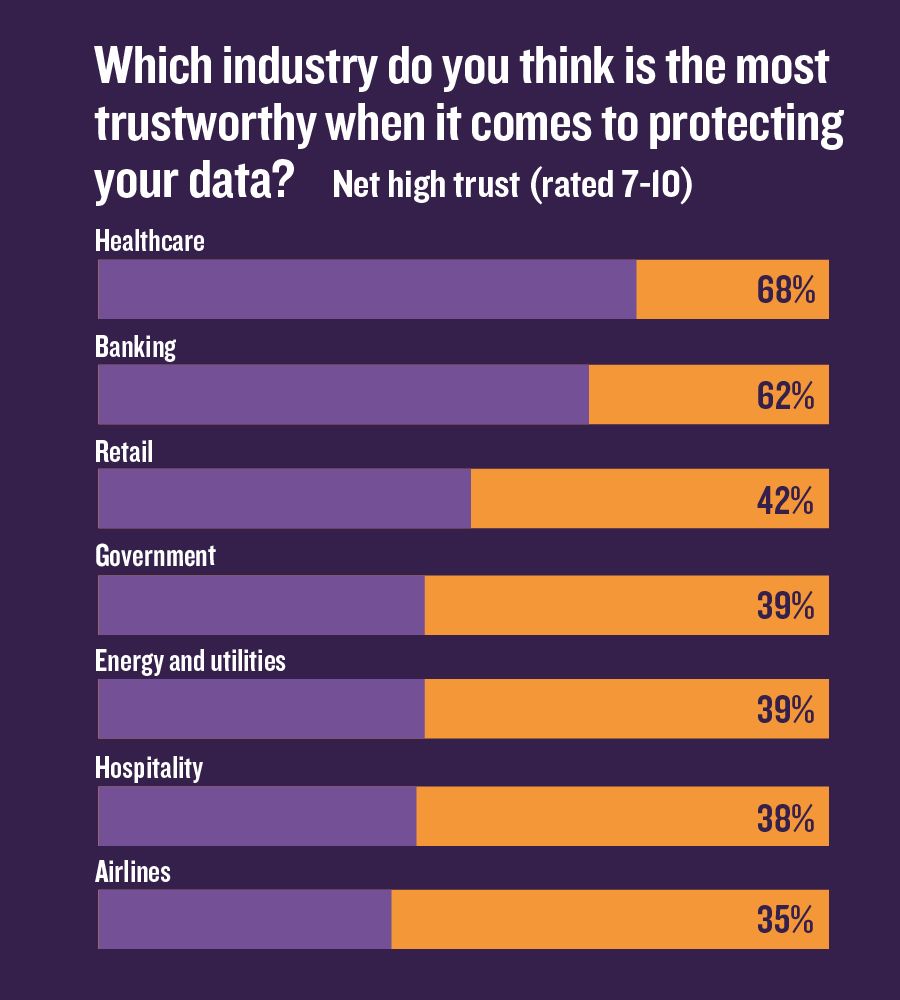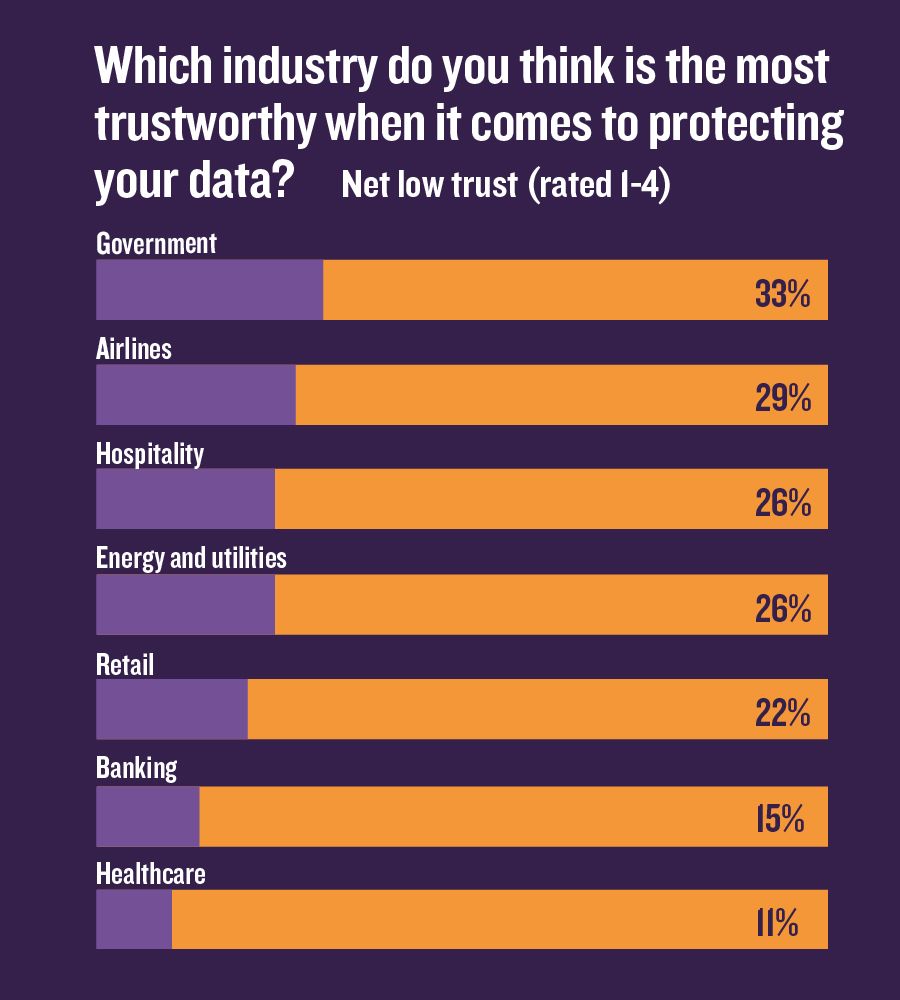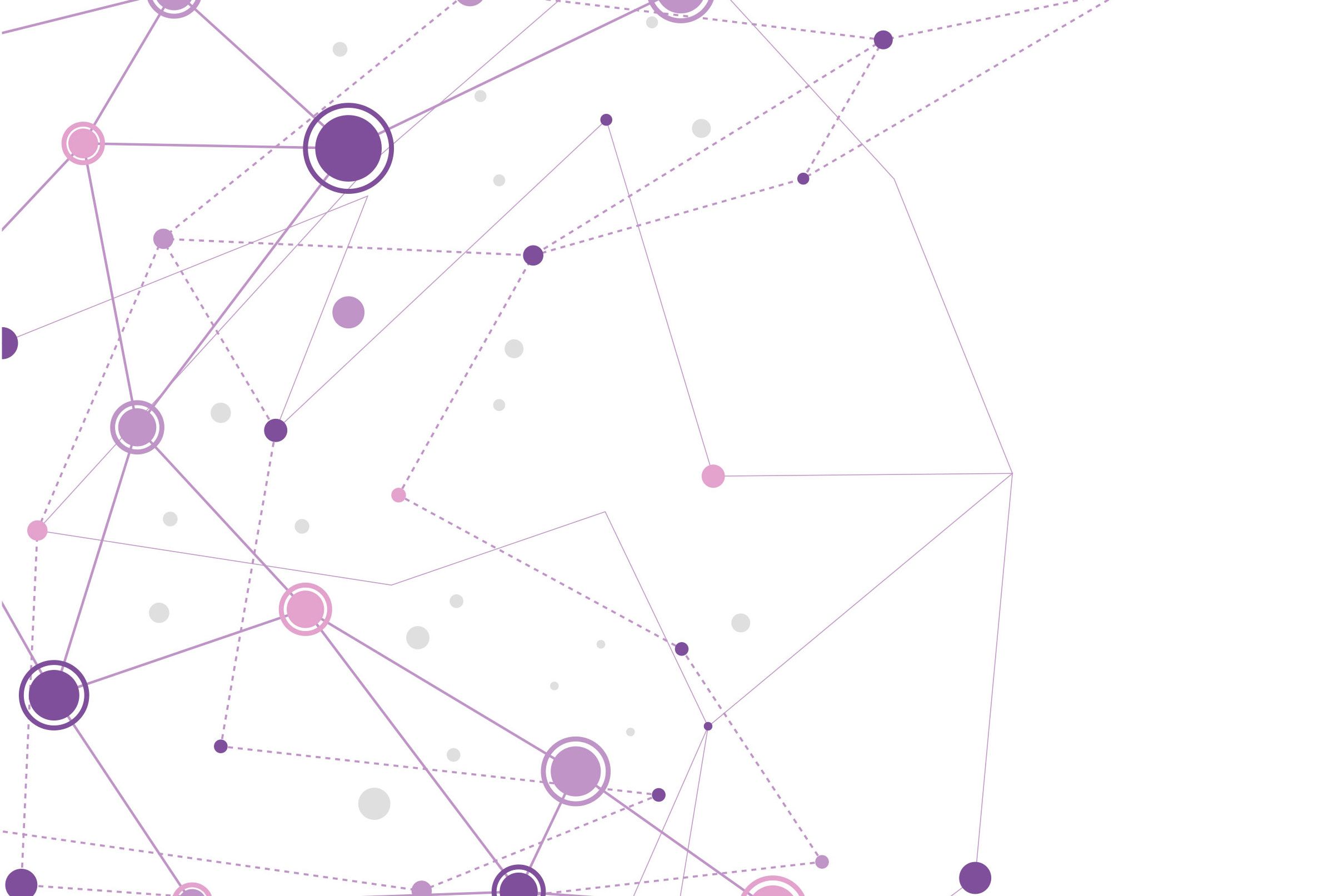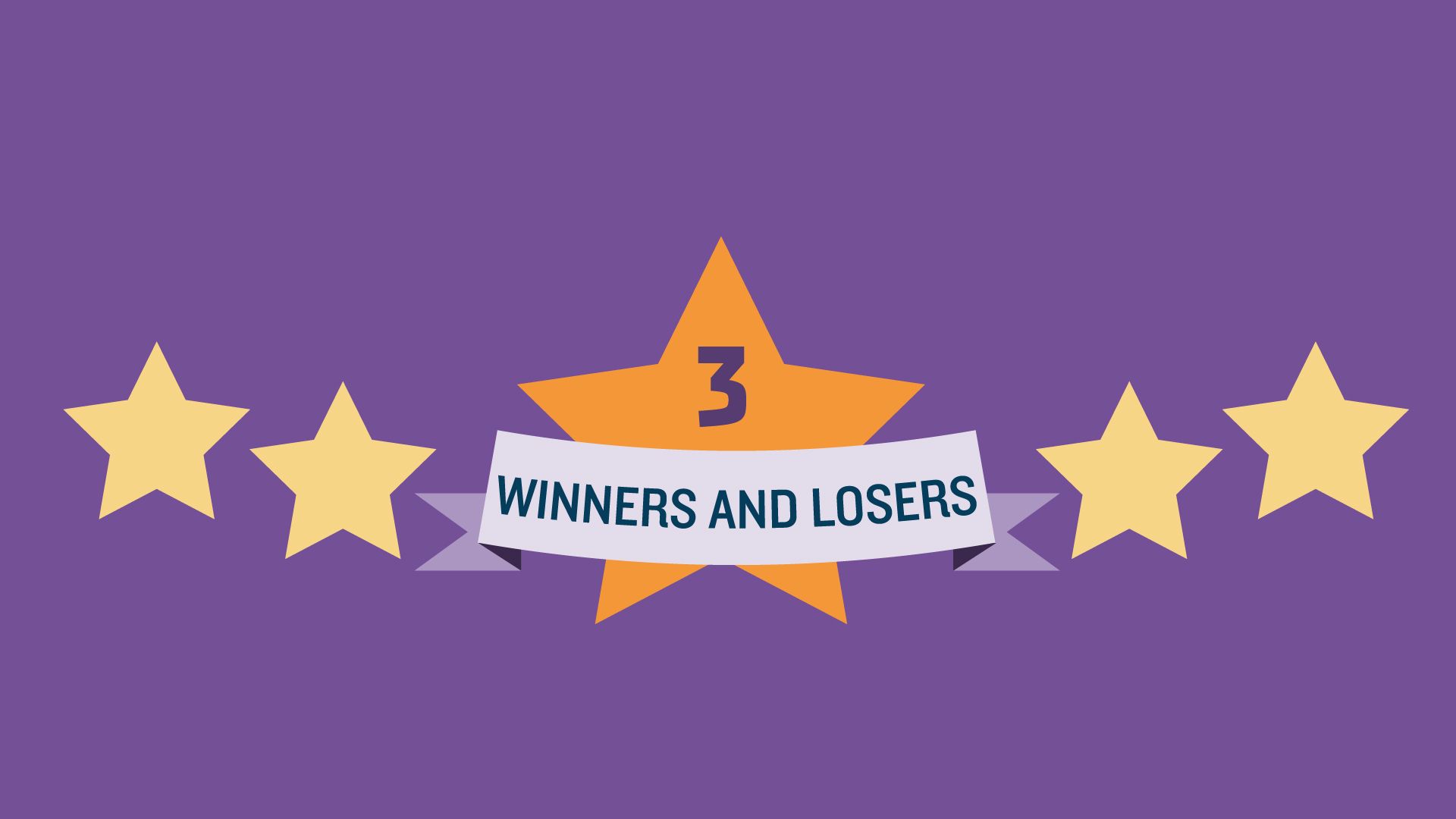 What should brands and retailers be doing in order to improve trust? Enjoying a high level of trust means a brand is consistently, over time, meeting a customer's expectations and ensuring its values match its actions.
Asos chief executive Nick Beighton says: "At Asos we believe that trust is created when customers feel like a brand truly understands them. Providing an outstanding experience from beginning to end is equally important."

Based on our data, the most common consumer expectations are around convenience, product selection, reliability and speed. Shoppers appear happiest when retailers create as few barriers as possible to them getting the items they need or want.
Many reward efficiency with long-term loyalty – and the longer they shop with a retailer while experiencing few problems, the more they trust that business to always do what they need.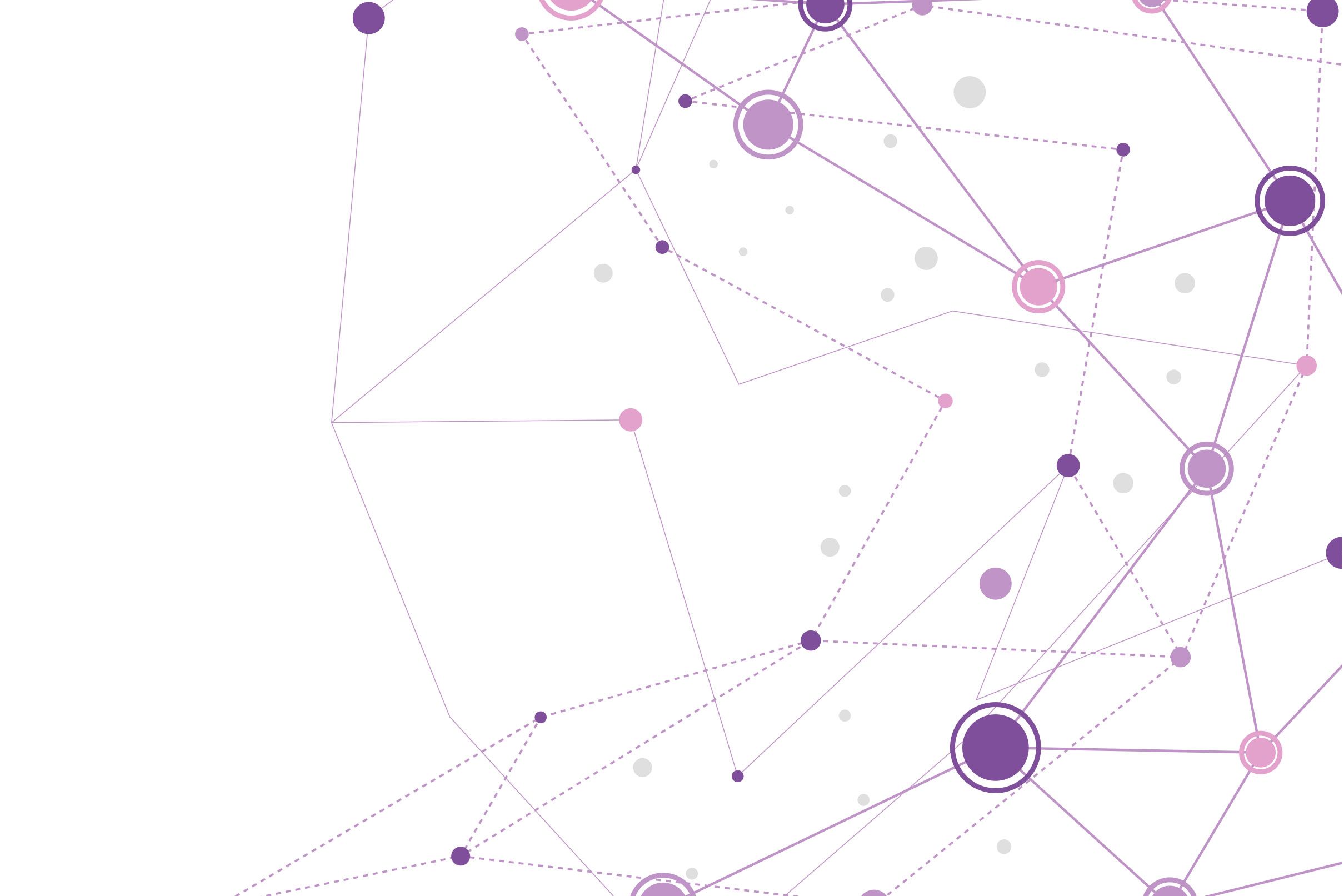 Efficiency and reliability
Amazon's high level of trust is down to a combination of its broad product range (as one shopper says, "Convenient and has basically everything I can imagine to look for"); fast delivery that rarely fails ("They always deliver quickly and efficiently"); and a no-quibble returns policy where problems are solved quickly ("Reliable, quick, easy to sort out any issues").
But the comment that is perhaps most often used is, "Never had any problems with them" – the lack of issues over the years, the reliability of the service and its ability to deliver quickly, is what makes people trust Amazon's retail service. In short, its efficiency means customers rarely encounter problems; when they do, issues are solved and refunds quickly given.
Iannopollo says Forrester's research has highlighted how consumers use two sets of values when assessing where to shop and who to trust. First is functional values, which include price, quality and logistics – everything that makes it easy to shop with a brand. Second is symbolic values, which can be anything from the importance of data privacy to sustainability.
"If you have two brands where everything functional is exactly the same, consumers will then use symbolic values to determine between them," she says. But, she adds, no one is currently equal to Amazon when it comes to convenience, efficiency and range.

Amazon is known for reliable service, but it wasn't long ago that it was a shiny new innovator, among the earliest brands to attempt to persuade people to part with their cash on the internet: no mean feat in the early days.
Ian Lowe, head of industry solutions at Okta, says it built trust by being the quickest and most reliable from the start: "It built efficient, automated and reliable systems – it established trust that the item would be there quickly."
Lowe adds that technology innovation can be a means of building trust by improving the customer experience, pointing to augmented reality as an example of a newer technology that is not yet widely used but has the potential to boost trust and loyalty.
"One retailer uses it to measure customers' feet for the perfect size of running shoe and other brands can show you what clothes look like on you. Furniture stores allow you to see what items look like in your home. This 'try before you by' technology is getting more sophisticated every day and it provides a really good user experience."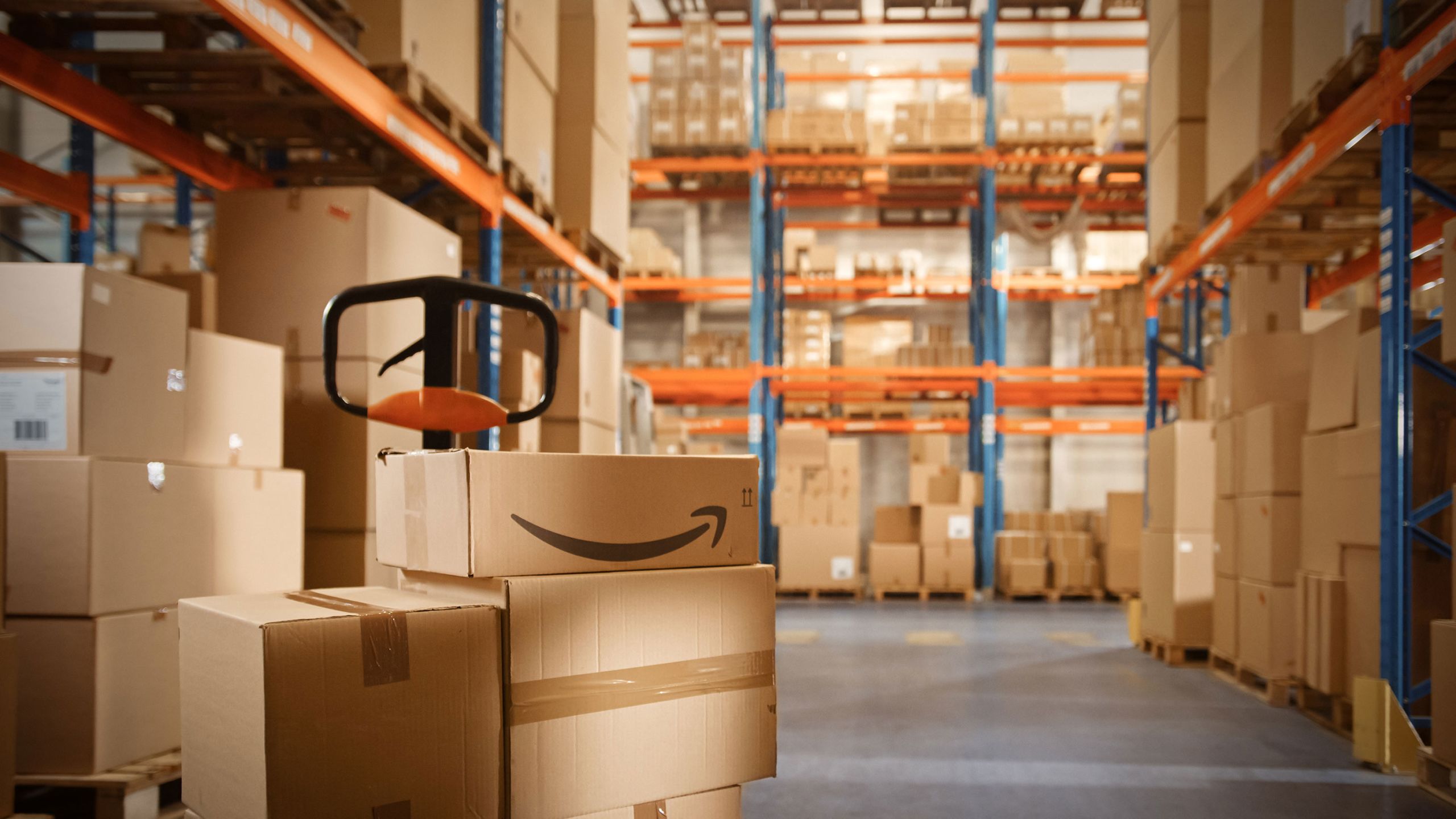 Empathy and familiarity
Another theme that emerges from our data is the perception that a consumer's chosen brand is caring or empathetic. One consumer flags Asda, for instance, for being "caring towards their customers" and another highlights the ethics of H&M – the Swedish fashion giant claims to be focused on sustainability, aiming, for instance, to use 100% recycled or sustainable materials by 2030. Tesco is described as "friendly"; B&Q as "helpful".
Iannopollo says empathy is a crucial part of building trust: "Consumers need to feel that retailers understand their needs. They are looking for that, even if they're just buying milk."
Closely related to this is the importance of familiarity: the grocers come up time and time again, in part because they form a significant part of people's lives and are the one place everyone shops at some point. John Lewis' reputation for service, strong warranties and helpful staff also stands the department store chain in good stead. Everyone, meanwhile, has grown up with the 137-year-old Marks & Spencer.

M&S Food marketing director Sharry Cramond says it is consistency that makes the difference in the long term. "Service – and consistently great service – is a massive way retailers build trust from consumers. Customers want to be confident there won't be a problem, but on the rare occasion there is it will be handled quickly and simply.
"How retailers provide great service is changing – today it might mean helping a customer learn how to use a new digital technology in store – but the fundamentals of a warm welcome and friendly service continue to remain incredibly important."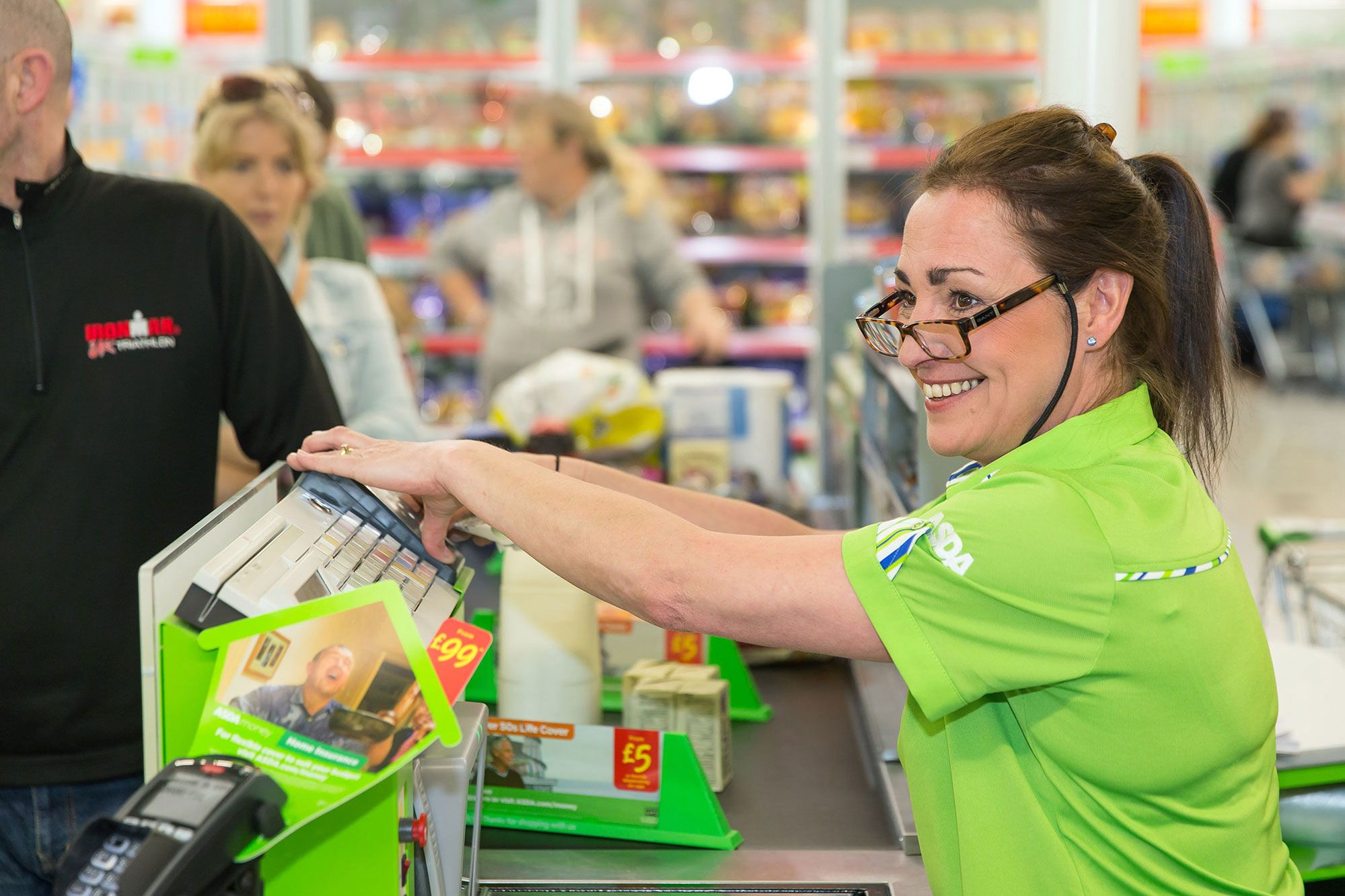 Responding to crises
Retailers' response to crises can lead to dramatic falls in trust – or sudden improvements. Grocers such as Tesco and Asda were able to move quickly to expand the capacity of their online delivery at the beginning of the pandemic, generating significant good feeling towards these brands from consumers who felt unsafe going into stores. Consumers also felt increasingly grateful towards store staff, something retailers hope will remain as the memories of lockdowns fade.
Boots UK chief marketing officer Pete Markey says the way that brands responded to the pandemic has played a huge role in how they are now perceived: "The past 18 months have been an incredibly tough trading environment for retailers, but those that have been able to connect emotionally with customers during such a difficult time will have gained a lot of goodwill.
"I am proud of the work we did at Boots during this period – from the health advice we were able to offer our customers to our role in supporting the NHS to administer Covid-19 vaccines. We have seen our brand reputation scores rise during the pandemic and I believe we can build on this further as we recover from it.

"The pandemic has also placed even more importance on purpose – now more than ever retailers must communicate what and whom they stand for in order to remain trustworthy as a brand."
Cramond at M&S agrees: "As essential retailers serving the nation, I do think consumers had to have a high level of trust in food brands during the pandemic. Having said this, what's important now is that we maintain that and continue to build the very best experience for customers."
For M&S, this means communicating its work on sustainability – in July 2021, for instance, it announced it would be the first major retailer to only sell slower-reared, higher-welfare chicken across its full range of chicken products.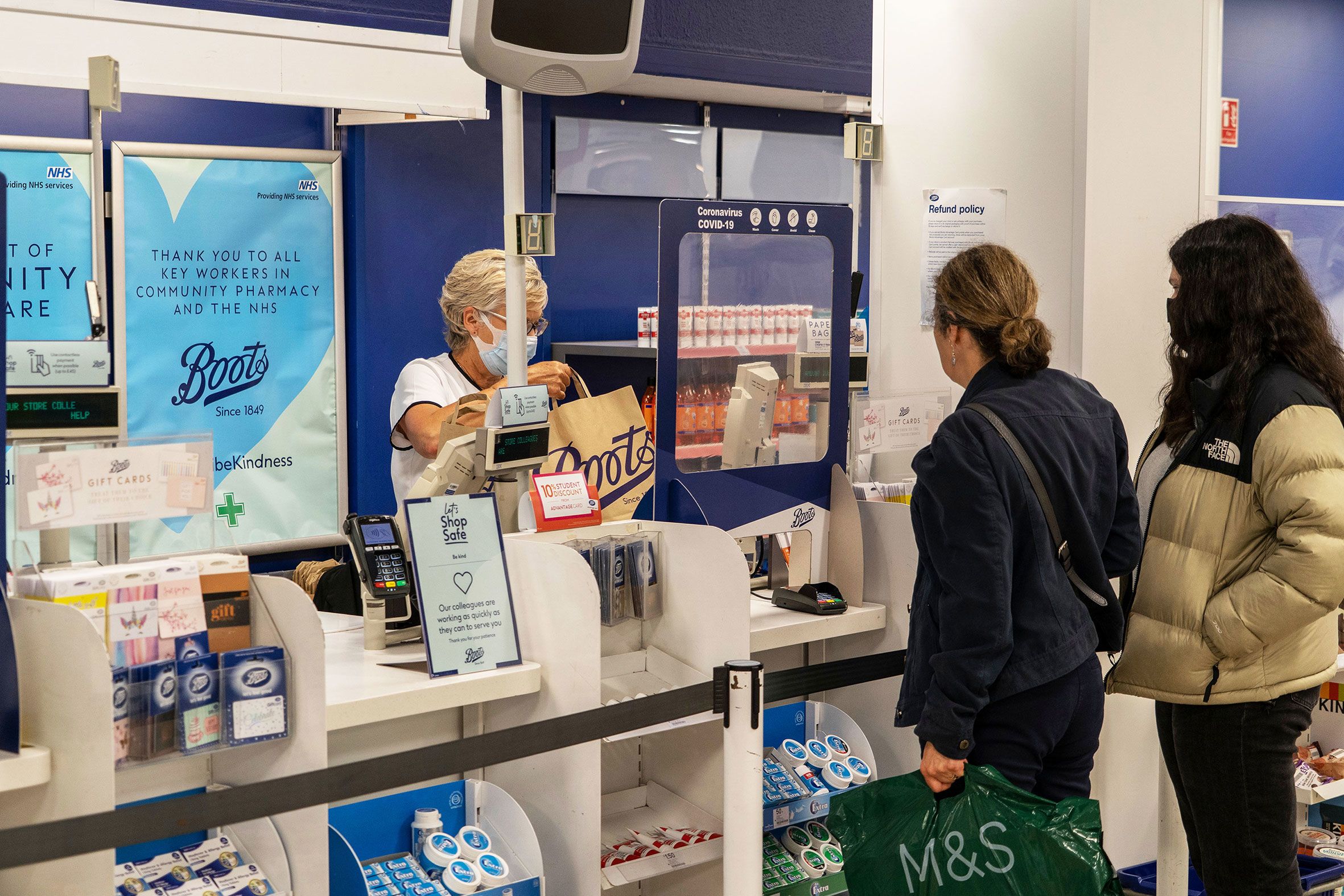 Losing trust
When it comes to losing trust, poor customer service or customer experience matters – 71% of consumers said poor service would make them lose trust in a retailer. This came out significantly higher than faulty product (55%) or even a data breach (58%), showing that whatever happens, what really matters is how a retailer deals with a problem. As Cramond at M&S says: "Transparency is crucial."
A spokesperson at experience management platform Reputation says not listening is a common means of losing trust. "The quickest way to reduce trust in your brand is not listening to the customer. Listening to and acting on customer feedback is often the best source of information to improve your brand, product or service.
"If someone is taking the time to give you feedback, via whatever source that may be, the least you can do is acknowledge it, respond to it and, if you're really on top of things, act on it."
They add that online information is also important: things like updating store hours on Google My Business page may seem small, but attention to detail matters.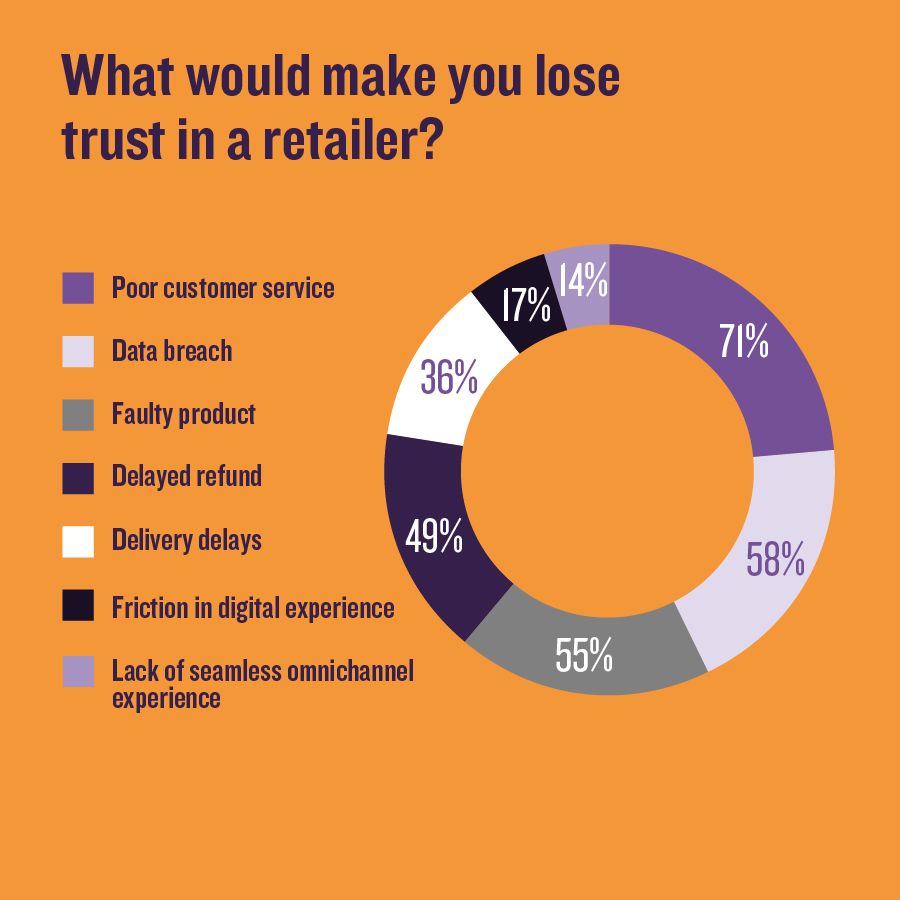 Mistakes do happen, and retailers encounter challenges all the time: from cybersecurity data losses – with T-Mobile the latest company to have been hit in 2021 – to Tesco's horsemeat scandal in 2013.
Iannopollo says brands that have built up trust in the first place will find it easier to come back from these difficult moments: "Consumers that trust a brand are more likely to forgive that brand if something goes wrong, but they do expect it to take ownership of their mistake."
This is reflected in the data – when it comes to building trust, customer service again emerges as the most important factor. Fifty-seven per cent of consumers flag excellent service as a means of retailers and brands gaining trust.
The next most important factor is clear communication around use of personal data, with 45% flagging this as important. Almost a third (31%) say trust can be built via product transparency: showing consumers how items are made and the supply chain process.
Lowe at Okta agrees this is a crucial part of a trust strategy: "You need to tell customers where an item is made, where it will be coming from and potentially how long it will take to get there."
Finally, positive reviews also play a role – 25% say these can improve trust.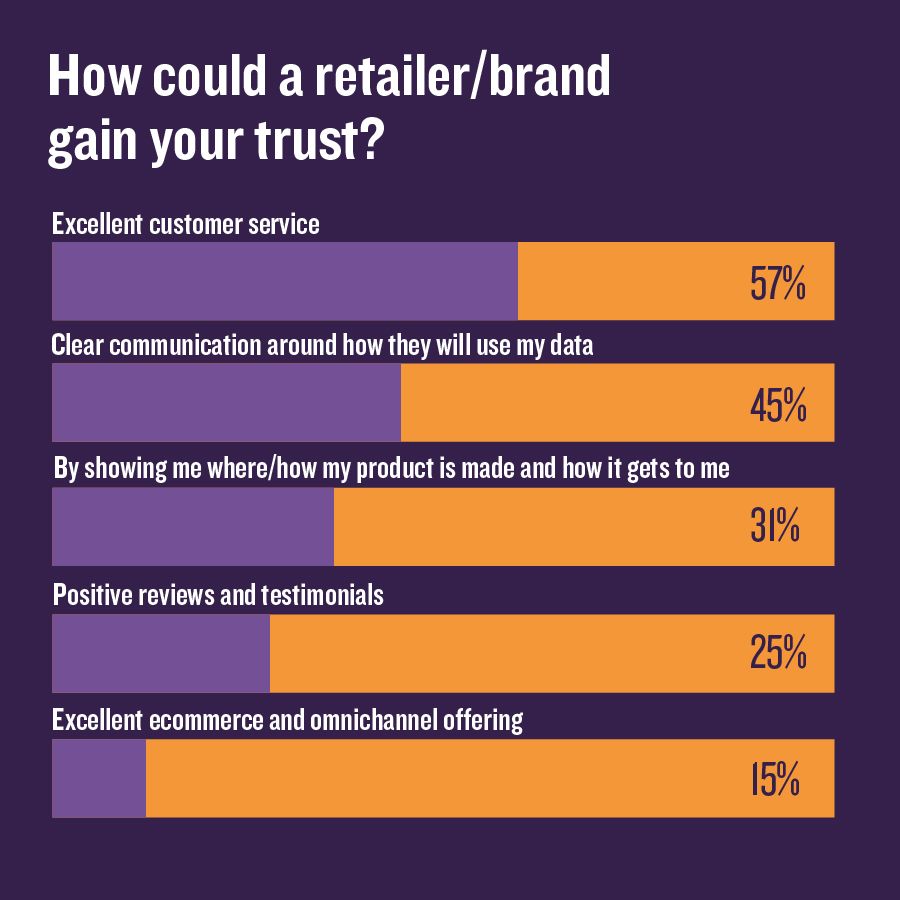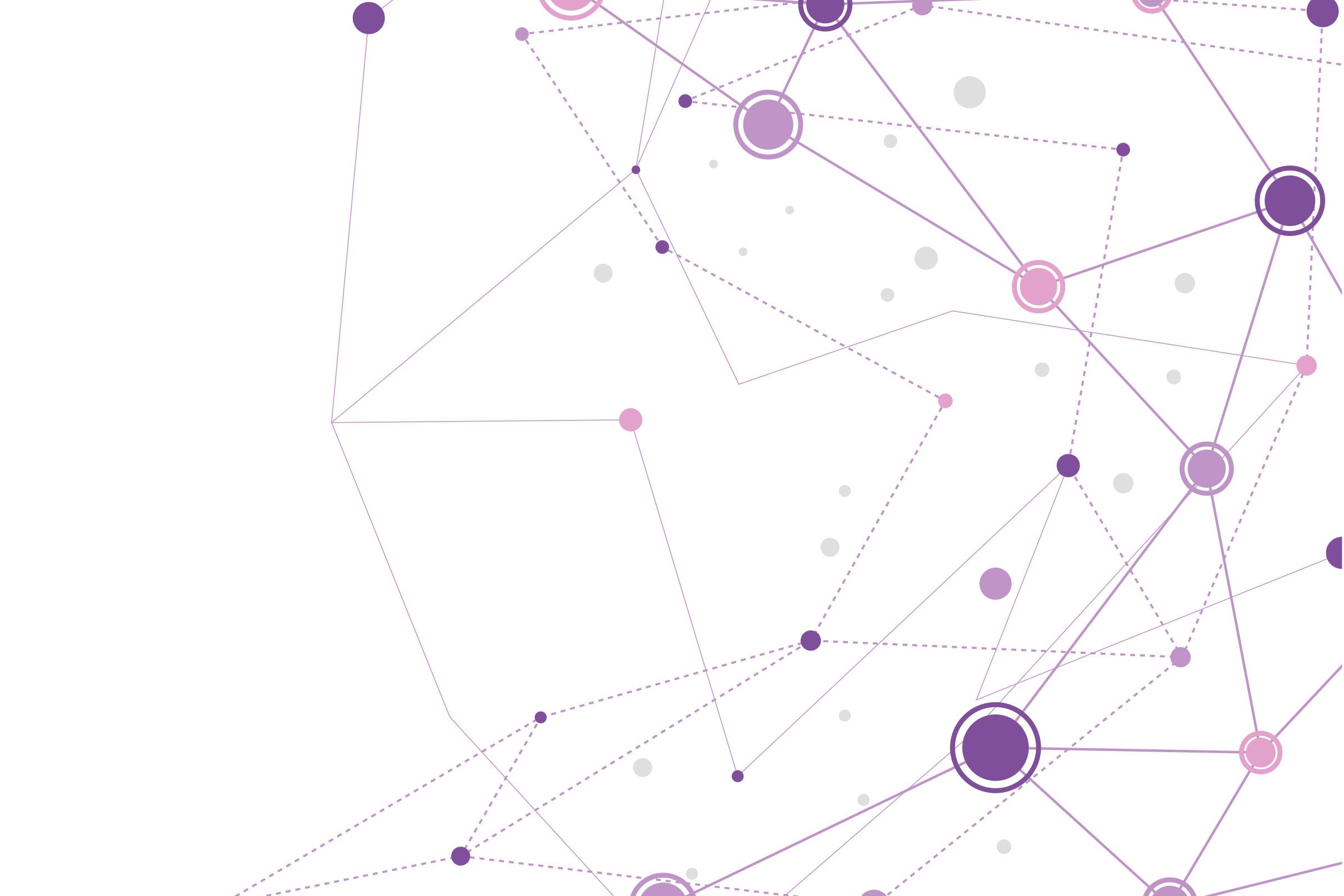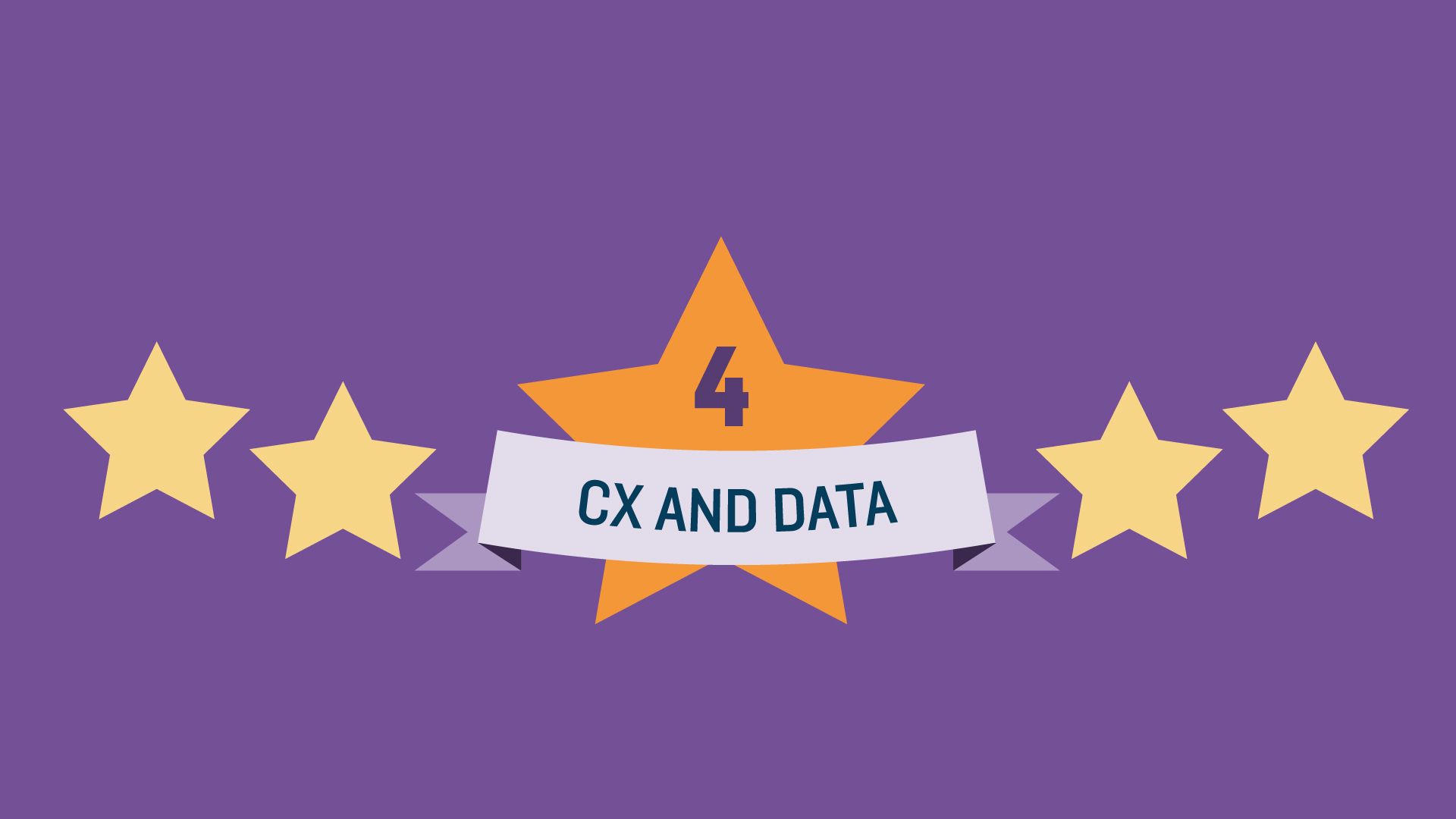 Personal data is one of the biggest sources of mistrust and uncertainty for consumers. Data breaches and security alerts are common, and consumers often feel confused about what to do in the event of a breach or how to protect themselves in the first place.
Linked to this is the importance of a strong customer experience – a seamless, easy experience online coupled with straightforward but strong security is likely to make shoppers feel reassured that the retailer is competent and will fulfil their order with ease.
Woolger at Kantar Insights says an important part of getting the experience right is not just to focus on experience metrics, but on what customers are actually saying.

"Lots of organisations focus on their NPS score but not on what the customer is actually saying. Everyone is focused or incentivised on the score, but it's not changing what the customer needs. We say focus on verbatim feedback, what people are actually telling you."
Handing over data
Customers appear aware of the financial value of their data and are most likely to part with it for a financial incentive. Fifty-eight per cent say a discount will make them more likely to provide data to a brand or retailer. A smaller number (30%) would provide data for early access to Sales and 26% would provide it in return for personalised content.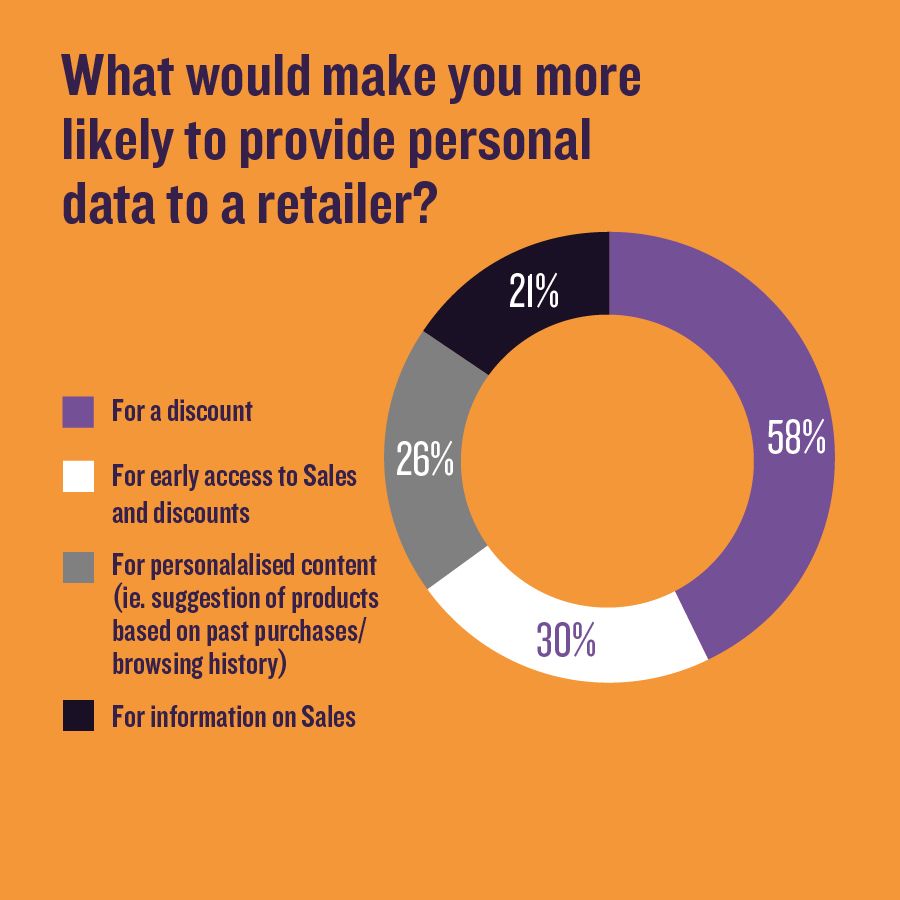 It's crucial banking and payment data are kept safe: consumers won't shop on any site that makes them feel less than 100% confident. A heartening 57% either say they save their payment or address details with retailers sometimes or if it's a retailer they will use again, and another 13% say they do it all the time. Just 15% say they never do this. Shoppers under 45 are much more likely to save their details than shoppers over 45.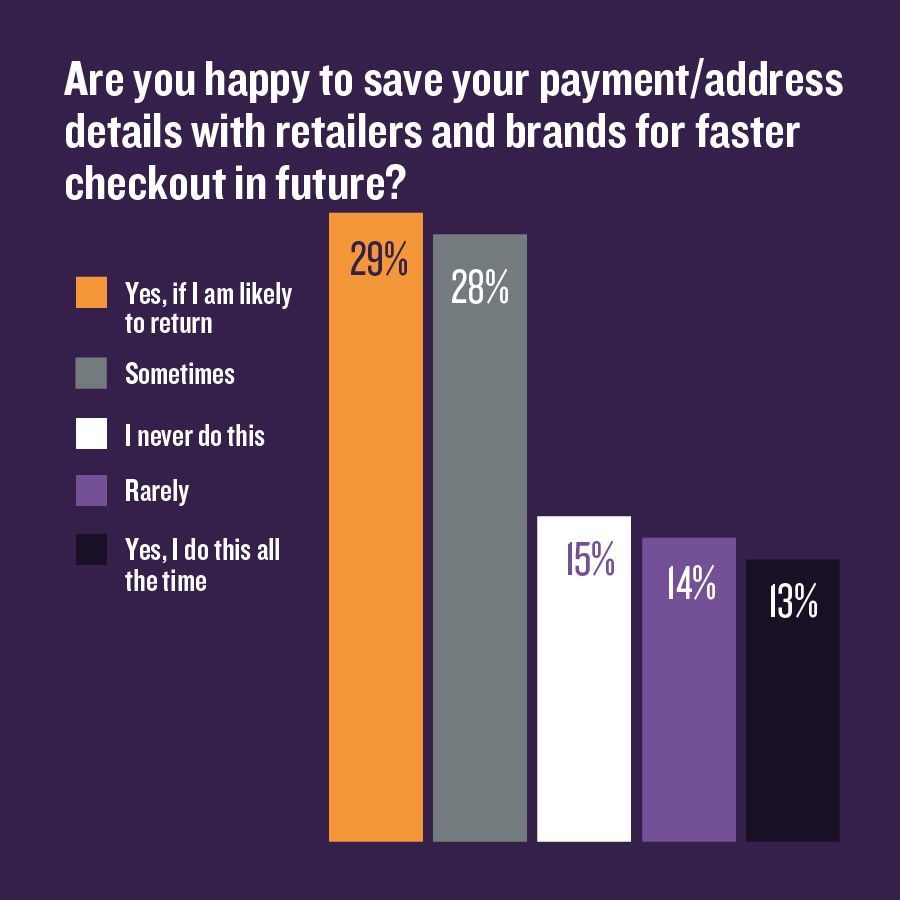 It is this kind of service that will make a shopper's overall experience quicker and easier, highlighting the virtuous circle that trust can bring: shoppers will allow retailers access to more of their data if they trust a retailer, leading to better service, a further increase in trust and increased sales for the retailer in question.
Iannopollo says having clear, well-written policies that make it easy for consumers to understand and give or remove consent helps encourage data sharing. It's also advisable to have a strong user experience on web pages explaining data policies, with clear links for those who want to know more.
"This will build the idea that you are very competent and it's easy for them to access their rights. It makes people more comfortable," she says.
Plus, she adds, it's advisable to use brand colours and make data-related pages visually appealing as consumers are more likely to read them.
Choosing the right payment methods can help boost trust as well – debit and credit cards are still the most trusted form of payment, and interestingly, PayPal is now marginally more trusted than cash (19% vs 18%).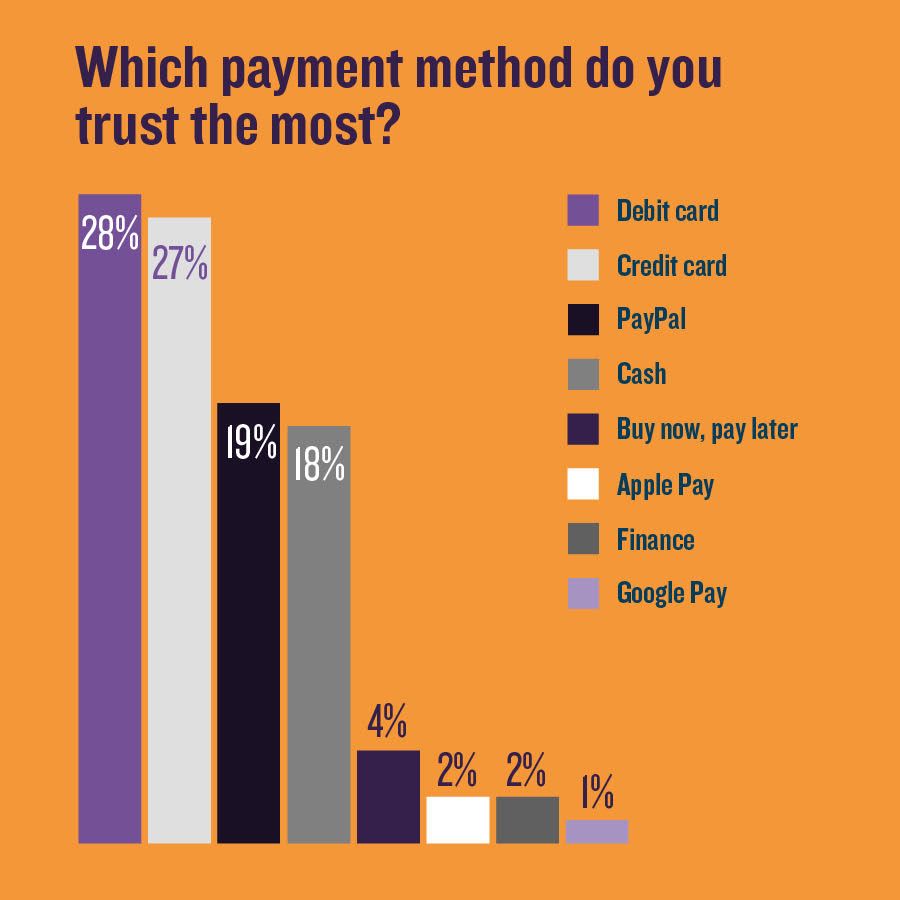 The barriers that can prevent consumers from completing online purchases cause hiccups in the customer journey than can dent trust and loyalty. First and foremost is being unable to checkout as a guest, with 30% flagging this as an issue, while 23% highlight expensive delivery.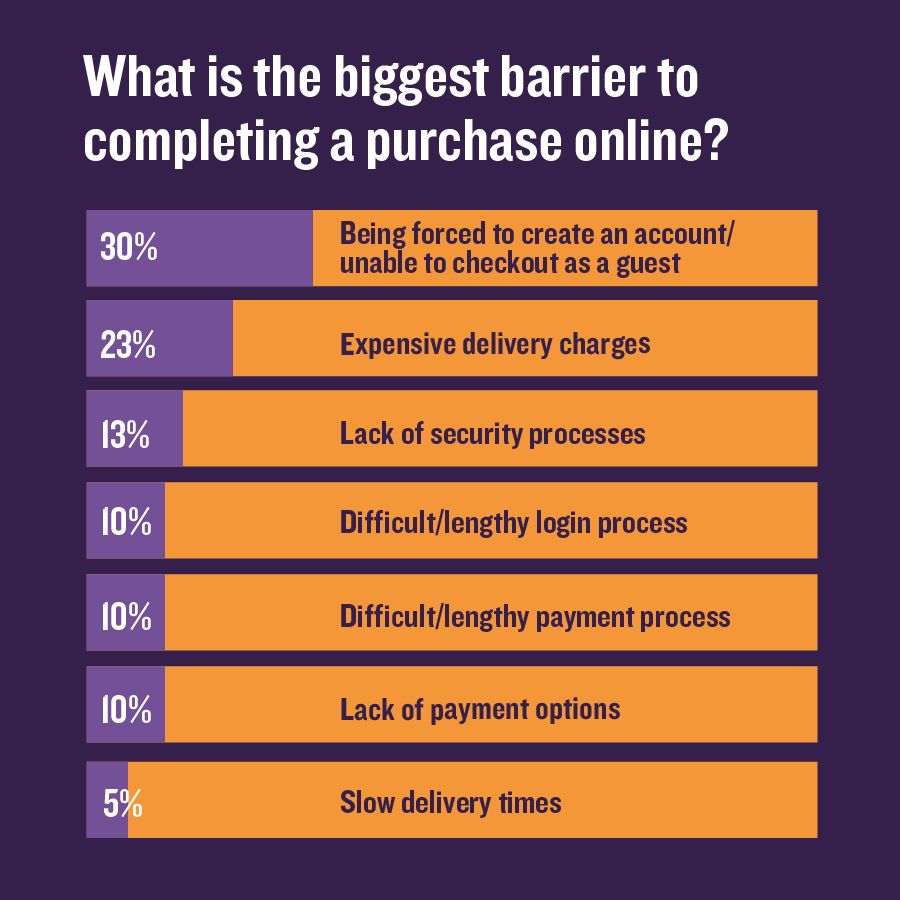 Woolger at Kantar Insights says it is best to look at the whole journey to find the touchpoints that might be frustrating people. "It's all about understanding the moments that matter most – there will be points where customers get more frustrated," she says.
"Every second isn't going to be exceptional so it's about understanding what points most colour people's overall perception of the whole thing."
Asos chief executive Nick Beighton echoes the importance of identifying the moments that matter, saying: "There are multiple moments and touchpoints throughout the retail experience where you can make a customer feel valued, satisfied, and engaged, which also builds their trust in you. That holds true for any retailer, be it in-store or online."

Claire Pointon, customer director at John Lewis, says the pandemic caused online sales to rocket from 40% of total sales to between 60% and 70%. "This meant our customers' experience of online shopping became absolutely key in building trust, particularly at a time when our shops were closed," she says.
While a big part of this was building a smooth and reliable experience, Pointon added customers also wanted interaction and advice from John Lewis.
"Individual advice and expertise is a cornerstone of our brand and our relationship with customers. For this reason we worked very quickly to incorporate this expertise into customers' relationships with us online. During the pandemic we quickly introduced virtual shopping experiences for nursery, plus home and personal styling."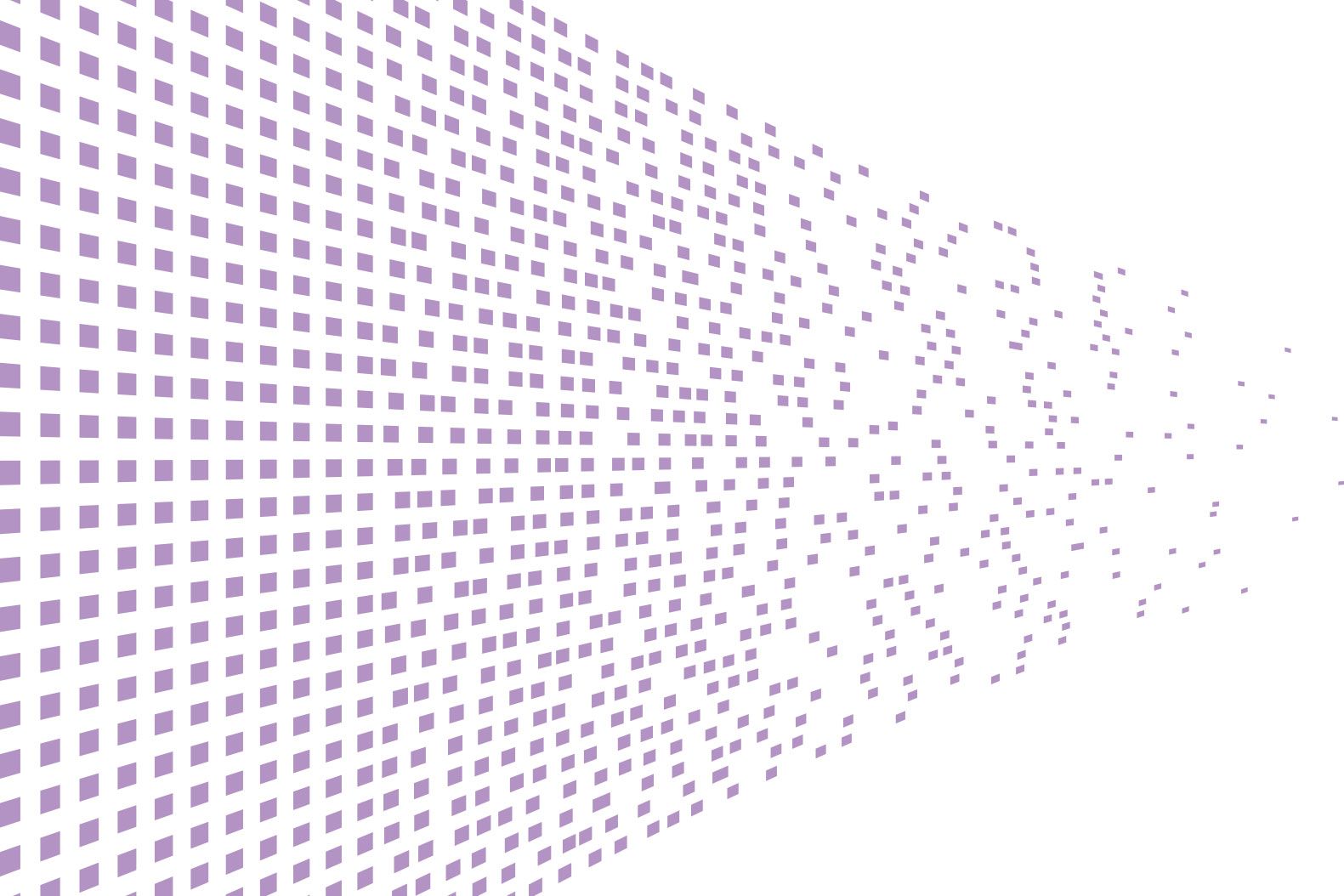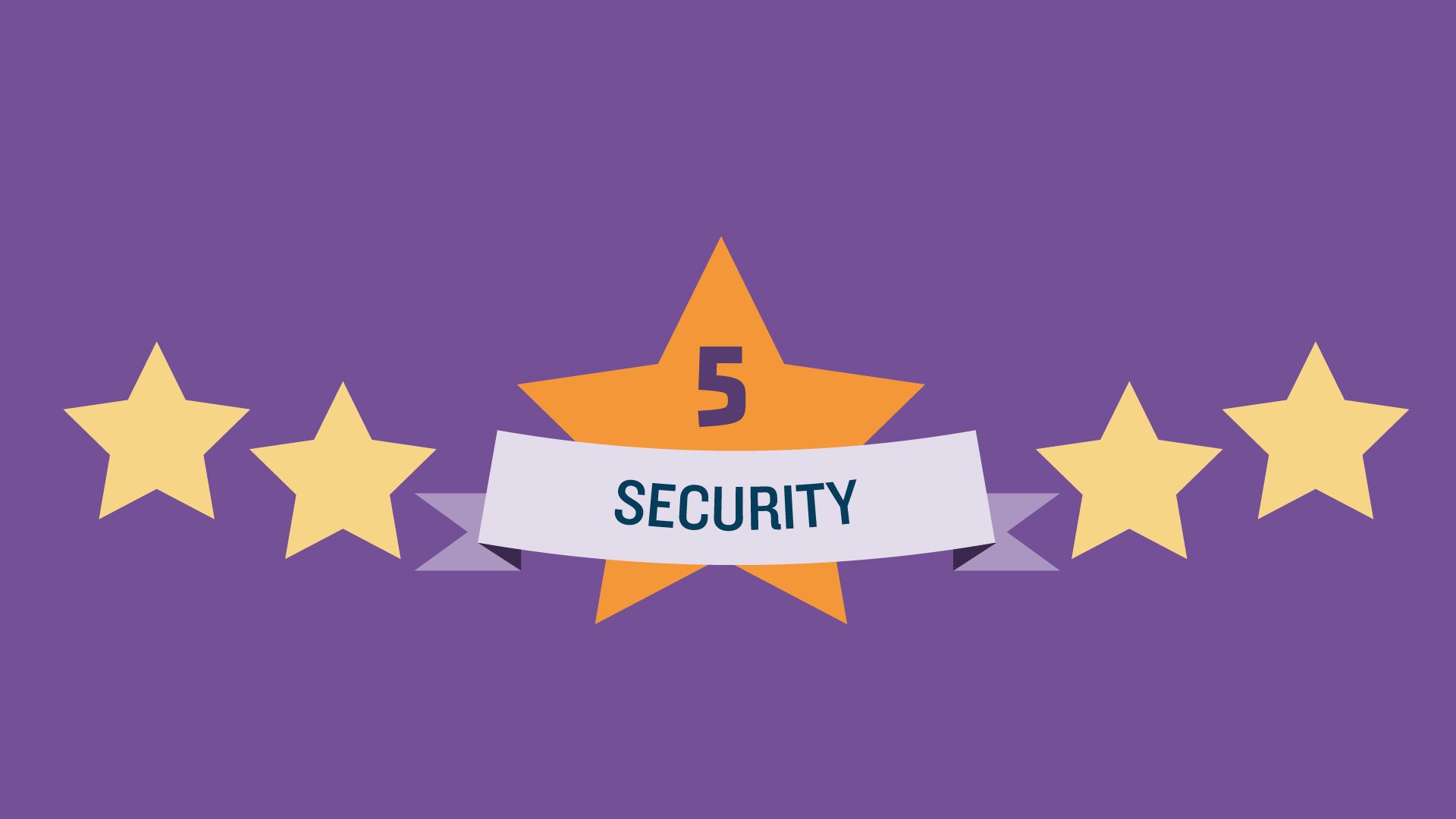 Cybersecurity breaches are a huge problem for retailers – the lucrative nature of ransomware attacks mean hackers and cybercriminals continue to come up with new ways to attack companies.
While retailers have always worked hard at their security, legislation is on the horizon that will make it even more crucial. Strong customer authentication (SCA) will soon become a necessity.
A new European regulatory requirement, SCA is a two-factor authentication process designed to add an extra layer of security when cardholders make an electronic payment. By March 14, 2022, UK retailers must have integrated SCA or risk payment providers declining transactions.
The issue consumers are most worried about when shopping online is identity theft, including theft of financial details – 58% say they are worried about this. This is far bigger than the next biggest perceived threat – data breaches, which 20% are worried about – and suggests retailers may benefit from investing time in providing reassurance around this topic.
Retailers may also want to provide advice on how to avoid falling victim to a data breach, such as using a password manager, watching out for suspicious-looking links in emails or texts, and never giving out personal information such as PINs over the phone.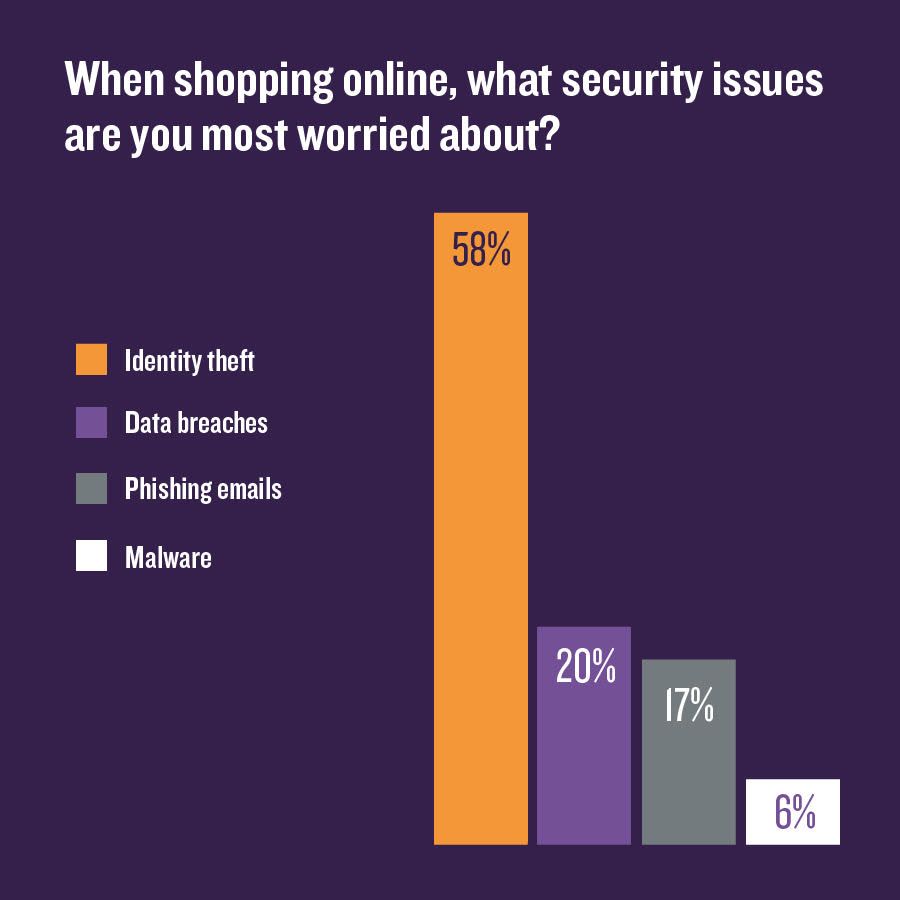 A data security breach doesn't have to spell the end of a retailer's relationship with a consumer, although almost a third (32%) say they would not shop again with a retailer that had suffered one.
Most would be open to resurrecting the relationship, but would need strong communication to ensure they are clear on how to secure their account in the future – such as emails with concise instructions on how to change passwords or clear information on what data has been compromised.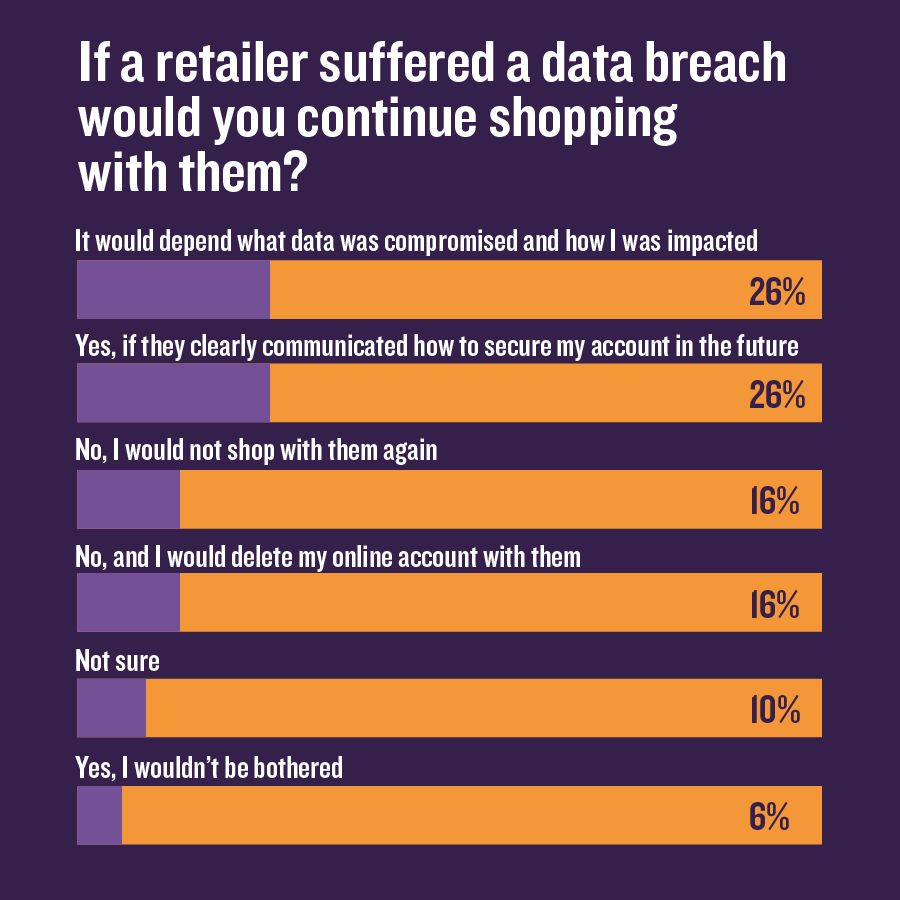 Most people are concerned to some degree about password theft, with just 12% saying they never think about it. Fifty-eight per cent say they are somewhat worried and try to use secure passwords.
Lowe at Okta says it is understandable consumers are worried, pointing to Interpol's reports of spikes in cybercrime over the pandemic.

According to Lowe: "There's been a huge increase in malware and ransomware – people looking to exploit the fear and uncertainty caused by an unstable situation. Trust around this is critical. Adherence to GDPR is a good first step, then retailers should follow best practice around standards such as ISO 27001 in their back-end systems."
ISO 27001 is a family of industry standards relating to the management of the security of assets.
Lowe adds it is crucial to seek expert advice when required. "Retailers now have big development teams, but what they don't always have is a lot of expertise around identity or security in cloud applications. They need the ability to adhere to things such as GDPR and multi-factor authentication in a way that maintains a strong customer experience."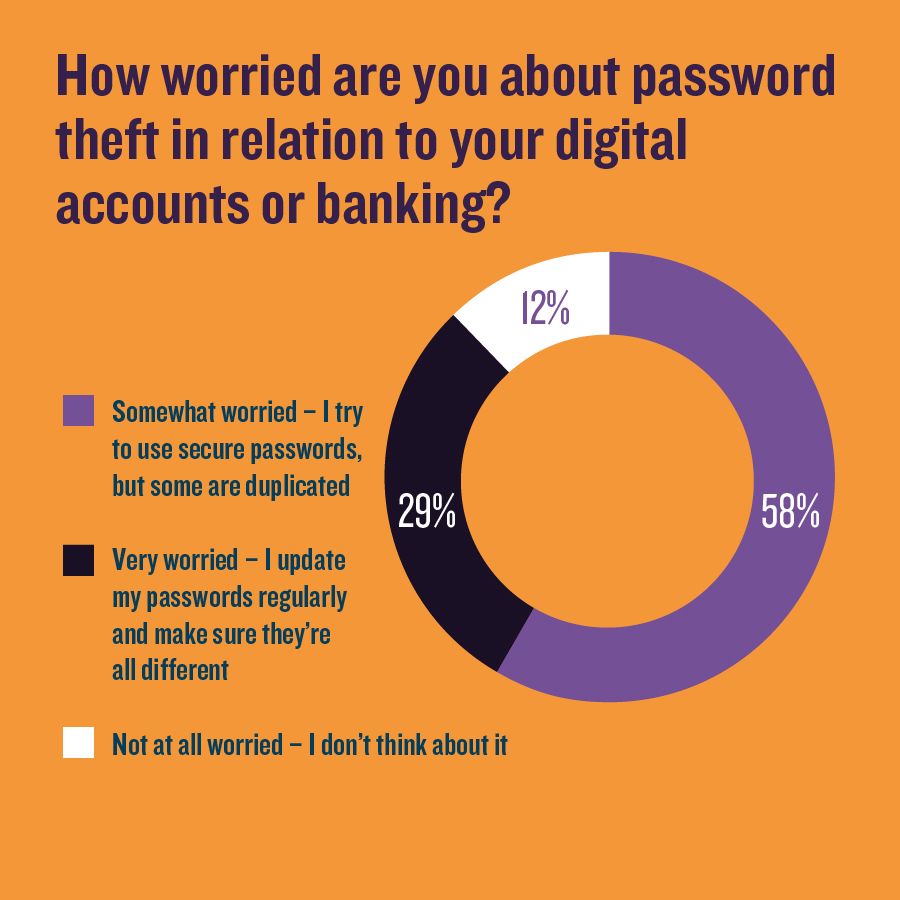 When shopping online, it is the use of strong passwords that will make customers feel safest – 52% say these make them feel safe. Security questions have their use as well but don't rate quite as highly, with 43% saying they make them feel safe.
Just under a third (30%) say biometrics such as fingerprints make them feel safe, while 36% trust secure log-in options such as multi-factor authentication.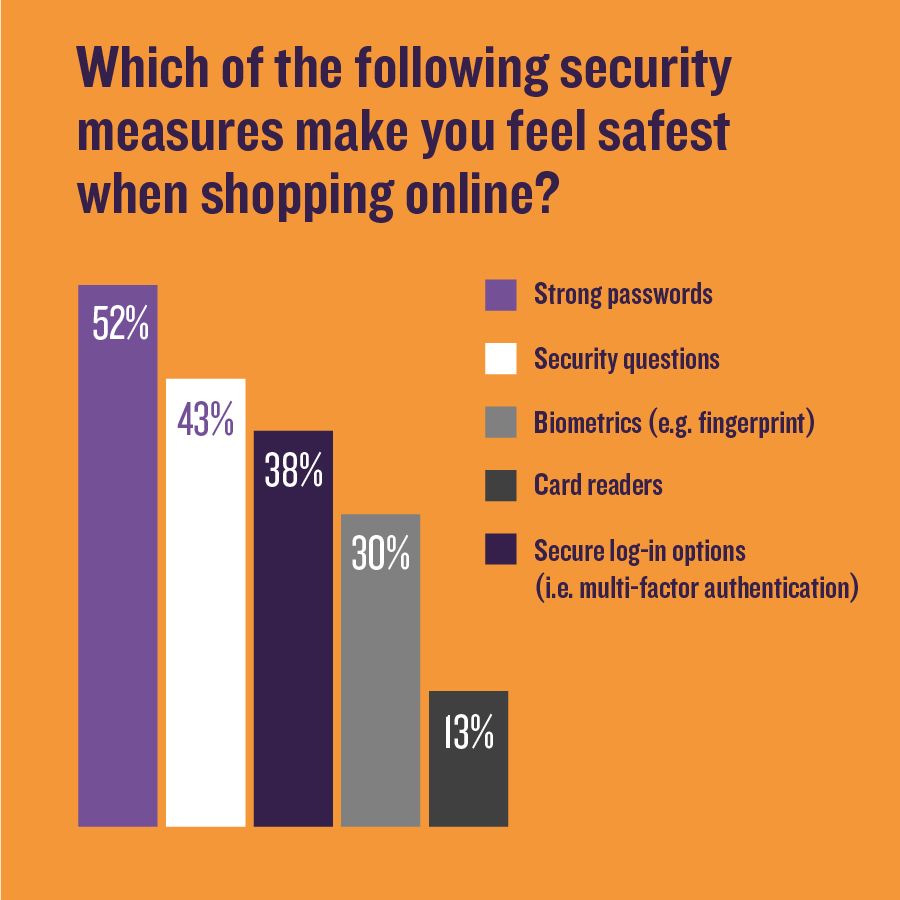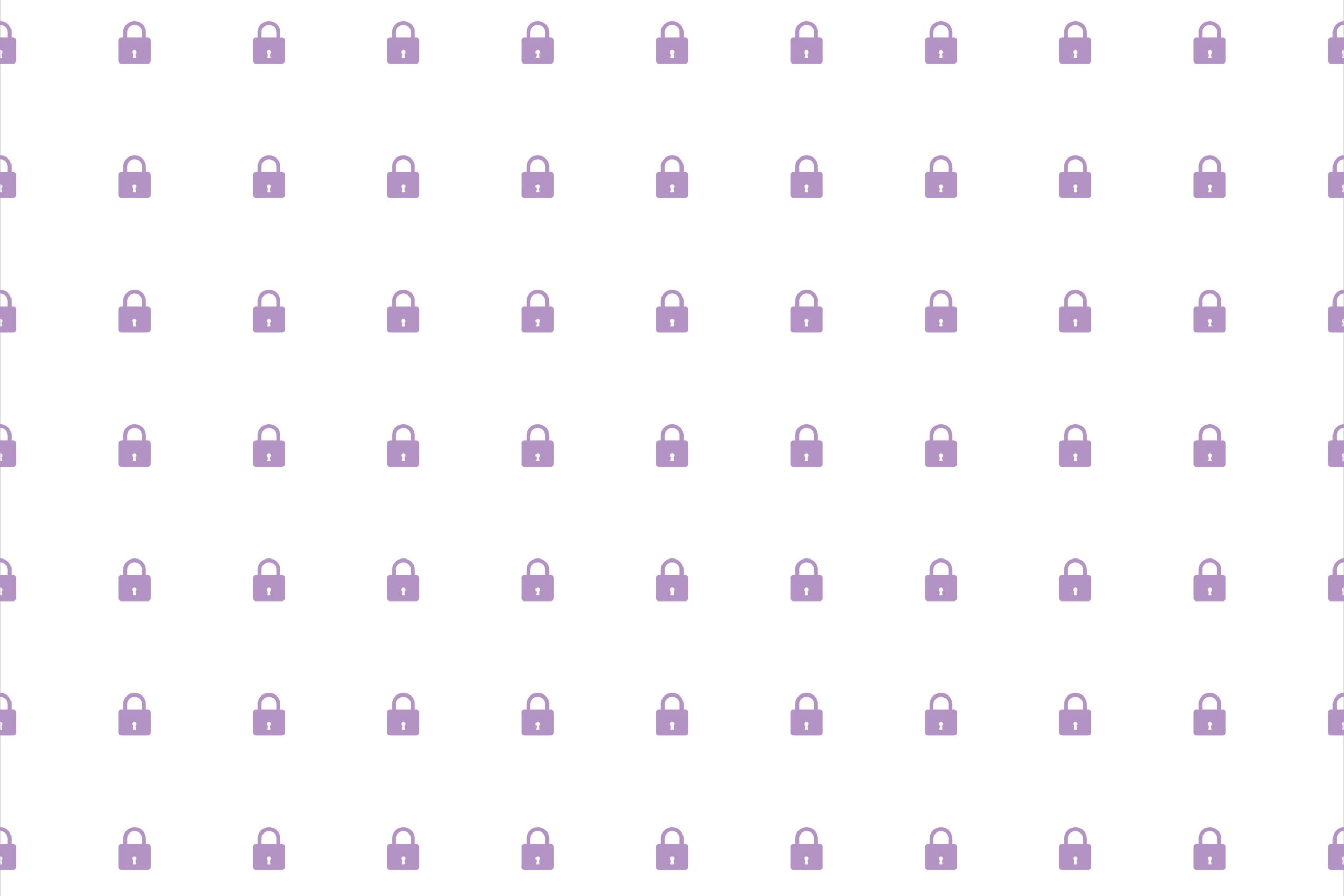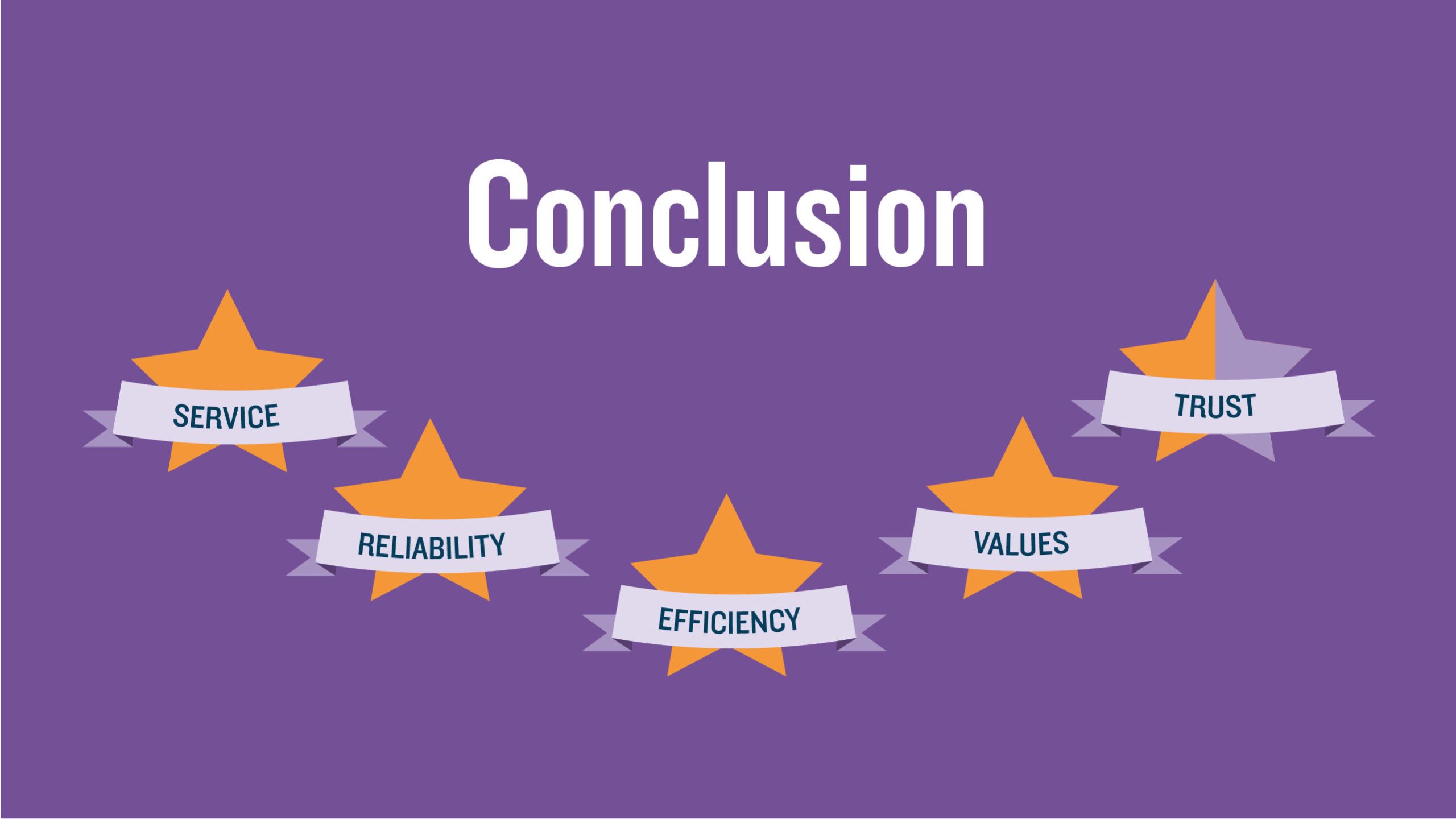 Key takeaways
✔︎ Develop a trust strategy: Building a trust strategy will help a retailer understand its fundamental role in a consumer's life and how to better fulfil that role. As Lowe at Okta points out, there are four areas to consider. "First, delivering a great experience across the whole customer journey, from sign-up to delivery and the loyalty programme, is paramount. As part of that, you need transparency around data, around where products are made and how long they'll take to get to the customer. Thirdly, you need to follow security best practice, such as multi-factor authentication and standards adherence. And finally, you need reliability – your ecommerce channel needs to always be available and online."
✔︎ Be transparent, communicate and accept when things go wrong: Mistakes are not a death knell for trust. Things inevitably go wrong sometimes and retailers that put things right quickly, efficiently and in a transparent way might even gain trust by showing customers they are prompt and competent.
✔︎ Include security as part of the customer experience: Strong security, with clear explanations of why and how data is used, is one of the biggest drivers of trust in a brand. Incorporating it into the customer experience – with well-managed two-factor authentication, for instance – will bring another boost to a customer's perception of a brand.
✔︎ Remember your brand's purpose: The past 18 months have given fresh impetus to the importance of having a clear understanding of a brand's purpose. Acting on this consistently will build trust and loyalty, boosting a brand in the eyes of its customers.
Six winning strategies for building trust
✔︎ Focus on good customer service: It is the one element most likely to win or lose trust.
✔︎ Develop consistency: Consumers trust brands when they know what to expect.
✔︎ Communication is key: Mistakes happen and communication and transparency are vital.
✔︎ Fix problems fast: A 'no questions asked' approach and speedy response will regain trust after a breach.
✔︎ Live your values: If convenience and efficiency are equal, it is the brands with purpose that stand out and build trust.
✔︎ Always remember security: Build seamless security into your customer journey – your customers will reward you with long-term loyalty.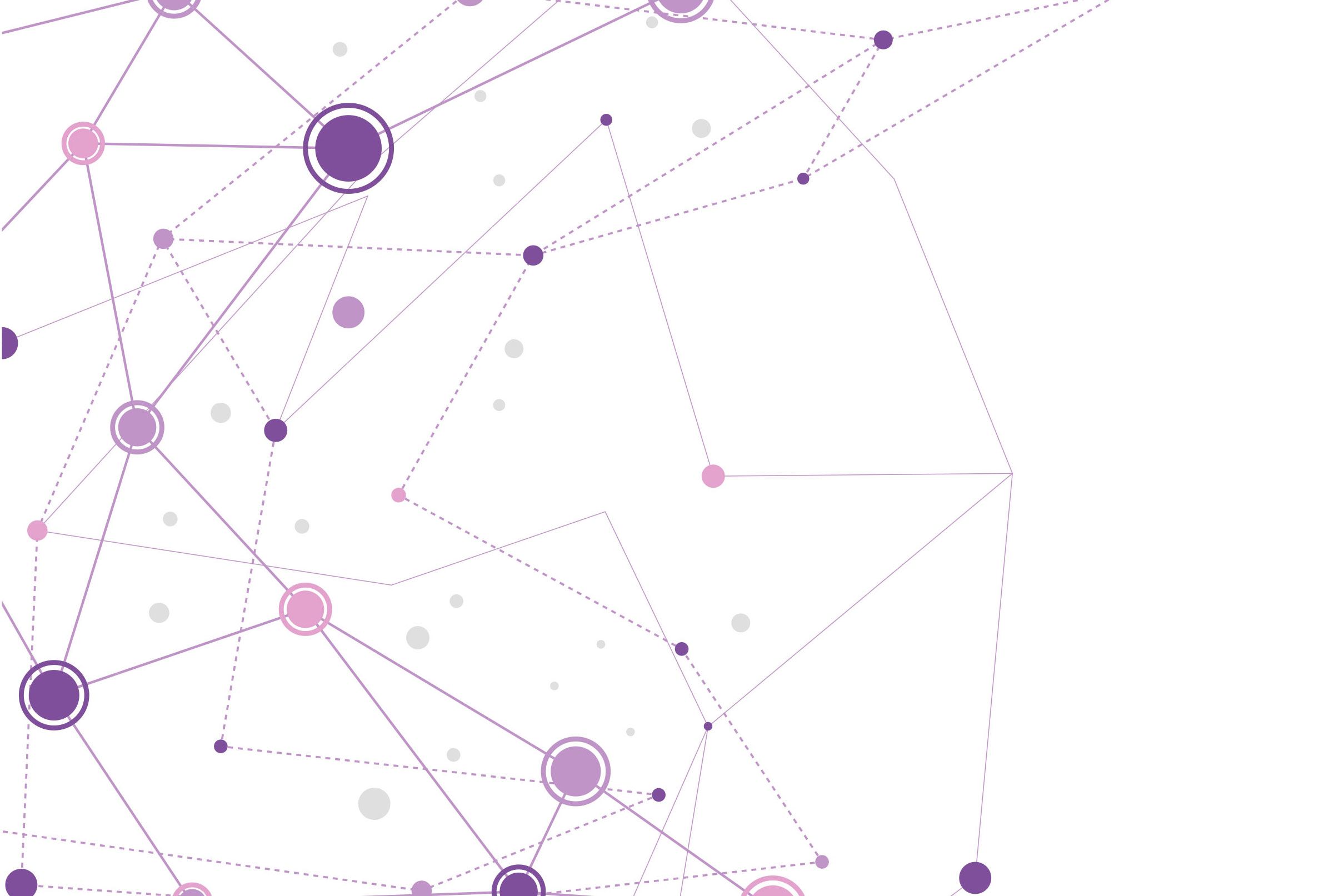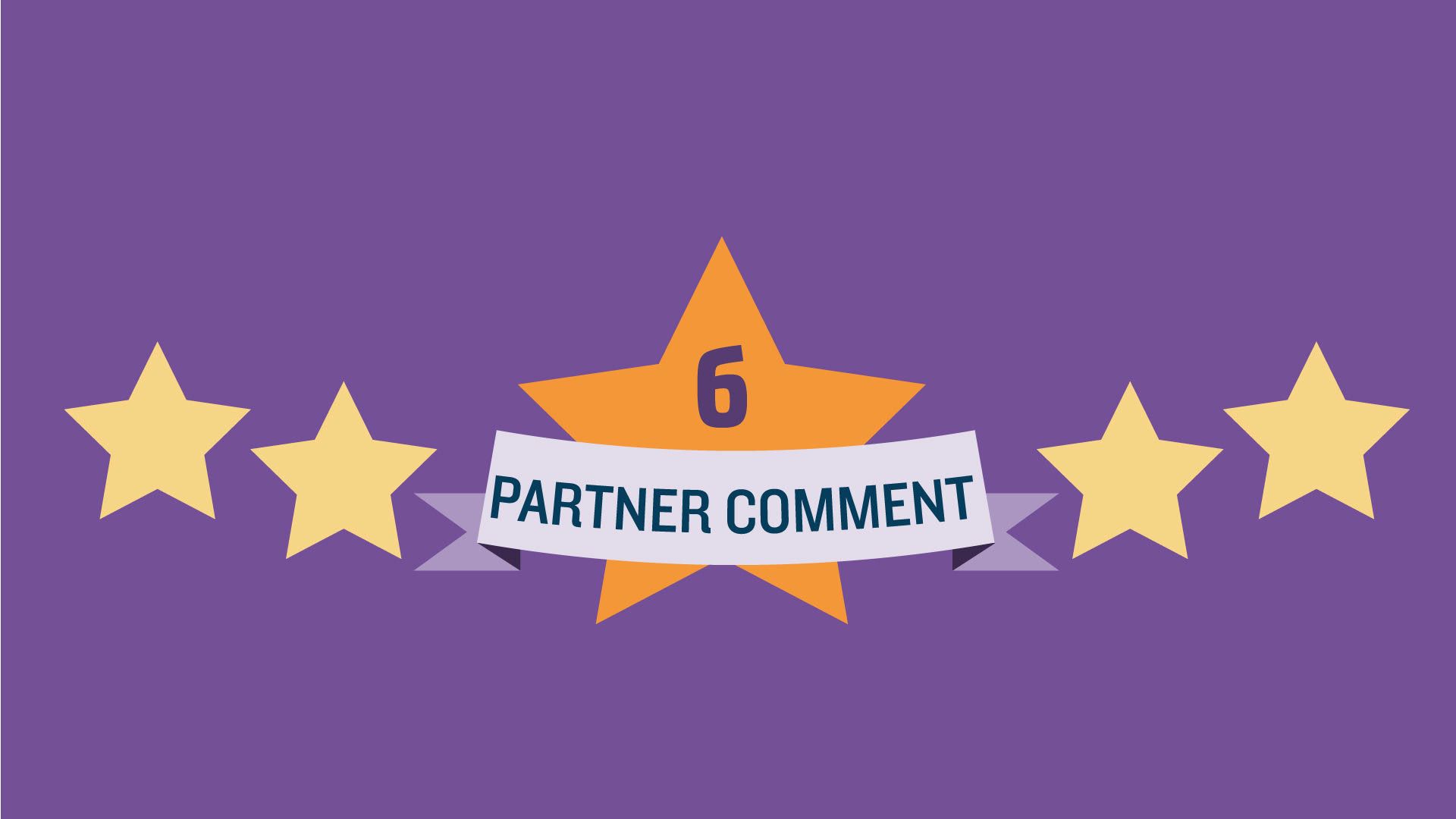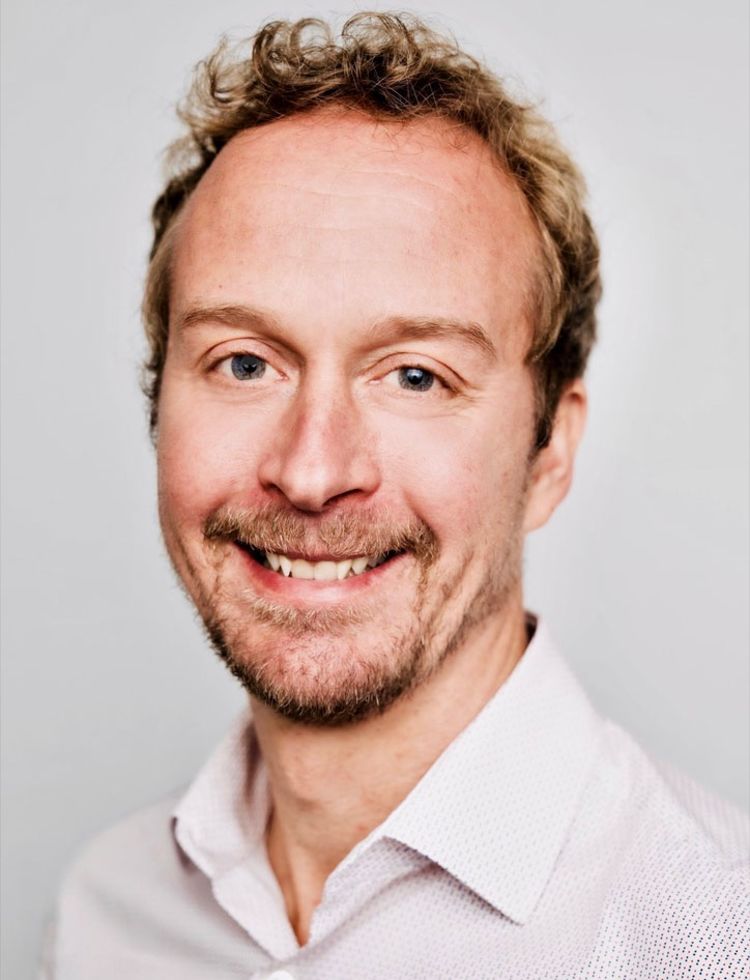 Trust is key to success in the retail revolution, says Okta's head of industry solutions Ian Lowe
A retail revolution has been under way for years, fuelled by the mass adoption of smartphones, high-speed internet at scale, and – of course – the pandemic.
It's fascinating to see the effect this has had on customers' trust in brands. Once, a retailer's trustworthiness was defined by its reputation and longevity, with established brands such as John Lewis and M&S retaining legions of long-term fans. Now, with Amazon topping Retail Week's poll as the UK's most trusted retail brand, it's clear that people's online experience strongly influences their purchase decisions and ultimately their loyalty.
High expectations
With more choice at our fingertips, our expectations around that experience have soared. Today, we demand the freedom to shop whenever we like, on whatever device or app we choose – smartphone, tablet or computer.
But this isn't our only concern. We're also highly conscious about our security when shopping online, with identity theft and password vulnerability a particular worry, suggesting traditional identification methods no longer instil the confidence they once did.
To secure our trust, retailers must meet our expectations on both usability and security.
At Okta, we believe great customer experiences start with a great identity solution – one that strengthens security while helping retailers build better relationships with their customers that go beyond the formalities of sale and transaction.
With strong identity management, retailers can create memorable user experiences that set them apart from the competition, build trust, and ensure customers keep coming back, time after time.
The 20 most trusted UK retailers
Written by Rebecca Thomson
Produced by Helen Berry, Emily Kearns

Published in association with Okta