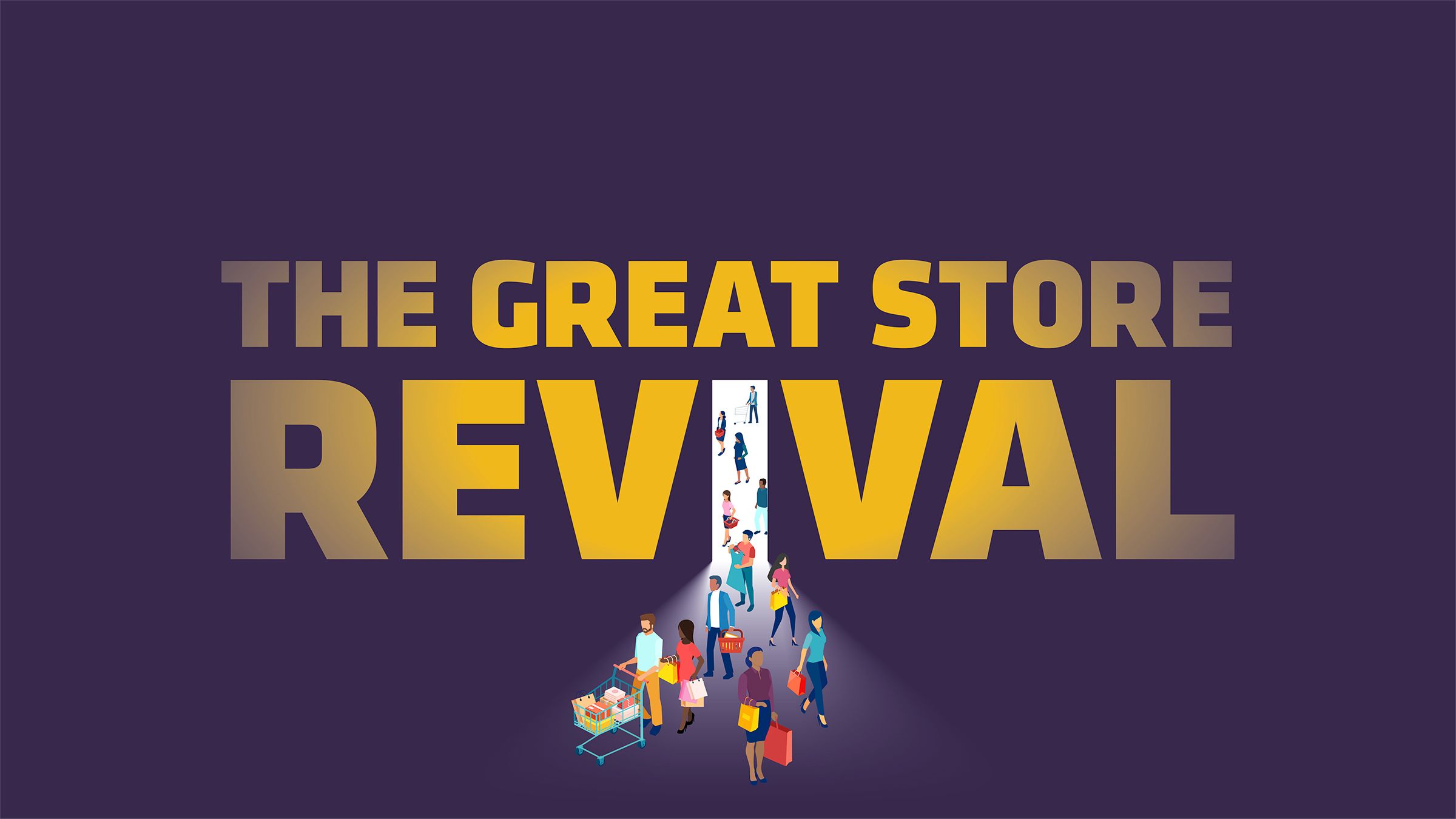 At a glance
Stores are having a moment. There are signs that physical retailing is bouncing back in the wake of a tumultuous two years of pandemic-induced pain.
However, with this bounceback comes a huge shift in where stores are opening, what format they are taking, and the sectors and retailers driving growth.
Combining Local Data Company (LDC) research with new analysis from Retail Week Prospect, in this report we examine the changing UK store landscape from 2019–21 and pinpoint where the growth opportunities lie going forward.
We identify the UK retailers leading store growth and take a look at what retailers and brands can learn from them.
Produced in association with our partner Cegid, The Great Store Revival: New locations, new players and new opportunities will help you to shape your store strategy for 2022 and beyond.
Winning strategies in this report
Retail Week has determined the five key strategies all retailers should focus on in 2022 and beyond to succeed in a market transformed by technology and shifting consumer attitudes.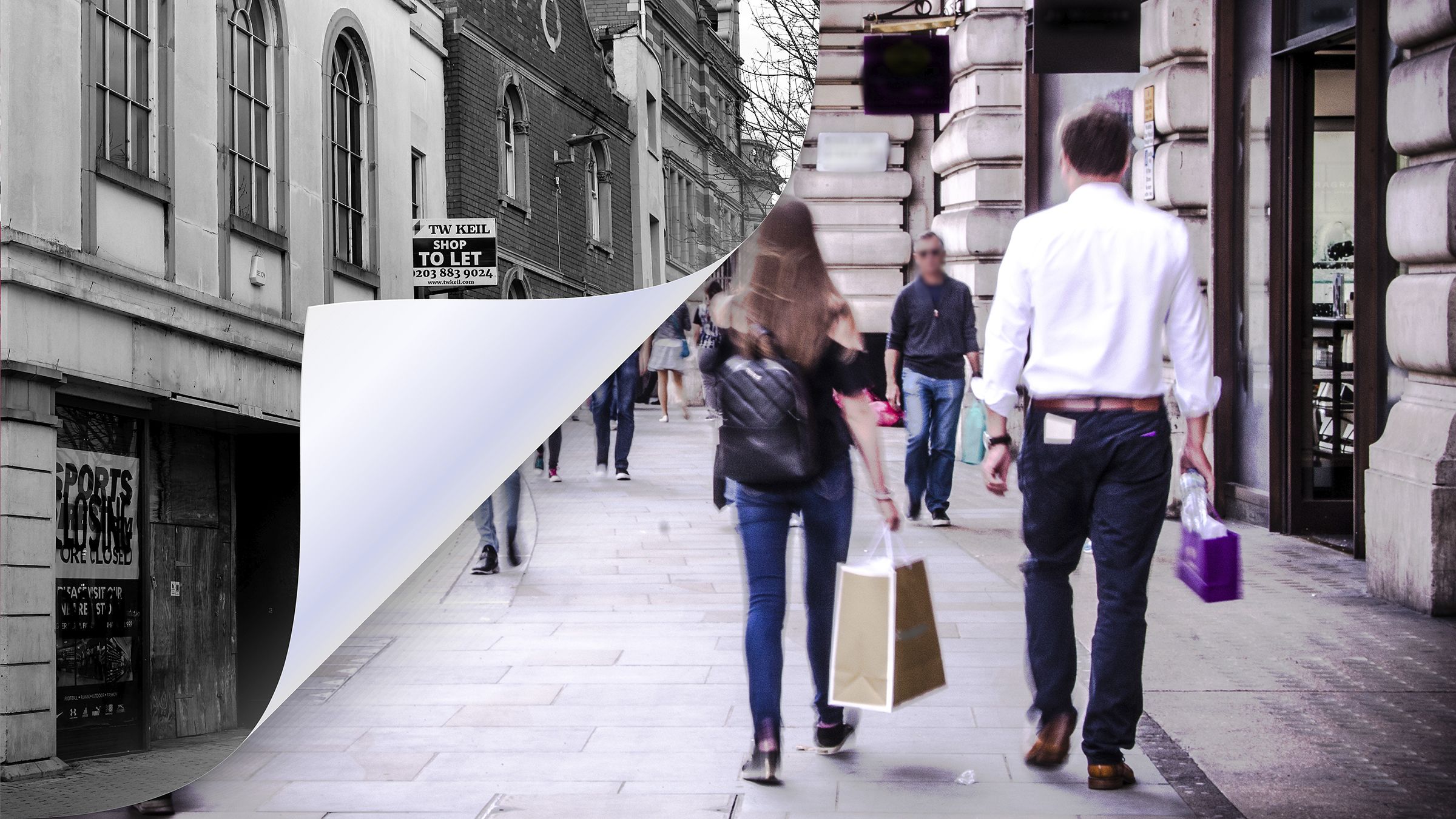 In the words of LDC, which has tracked the state of physical stores every year for more than a decade, there is "burgeoning recovery across an industry that has quickly begun to look to the future".
It reported in January that the overall UK store vacancy rate improved in the final quarter of 2021, for the first time since the start of 2018. Office for National Statistics data also shows that UK online sales are declining, with store sales accounting for 74% of total retail sales in March 2022 – a 6% increase on February 2022.
While the pandemic put a huge strain on physical retail destinations, with many forced to close temporarily and others forced to shut for good, it also served to accelerate positive trends that were already playing out.
''There is burgeoning recovery across an industry that has quickly begun to look to the future"
LDC's data shows UK retail store openings returning to 2019 levels with 43,167 stores opening, across location types, in 2021 – a 10.5% increase from 2020. As we will explore later in the report, it also found a resurgence in independents and more focused strategies from retailers, many of which have shed loss-making stores.
And, although the sunny weather inevitably had an impact, data from footfall experts Springboard indicates a notable recovery in traffic. Footfall over the period from February 27–April 2 was up 5.4% compared with the previous month to levels of -14.5%. This is the same level recorded in November 2021 before the Omicron variant emerged.
There are signs of better landlord–retail tenant relationships too. Real estate firm Landsec, for example, unveiled a range of more flexible leasing options in April for existing and new partners. The target is to lure "digitally native" brands to its sites and meet the "rapidly evolving" needs of traditional retailers by offering shorter and more flexible lease lengths, reduced upfront fit-out costs for taking a unit and access to customer insight and footfall data from its centres.
The number of community-led groups and initiatives leveraging people's newfound connection with their local areas in the pandemic to drive positive change and investment in the UK's towns, cities and regions is also growing.
Much of this is being led by the High Streets Task Force, a consortium of organisations and consultants that aims to collate resources for communities to access and drive change across the UK. The goal is to provide town centres and local authorities with access to place management experts, data and guidance that can drive improvements on a local level to shape regions in line with public demand.
Despite battles over rents and rates, including conjecture over whether an online sales levy may help ease the tax burden for shop operators, generally, the industry is more united in its push for a healthy physical retailing landscape.
Store transformation is on the rise. Retailers from industry mainstays Marks & Spencer and WHSmith, to specialists such as Ikea and Pets at Home, are launching new formats, in-store innovations and trialling different locations to capitalise on the bounceback.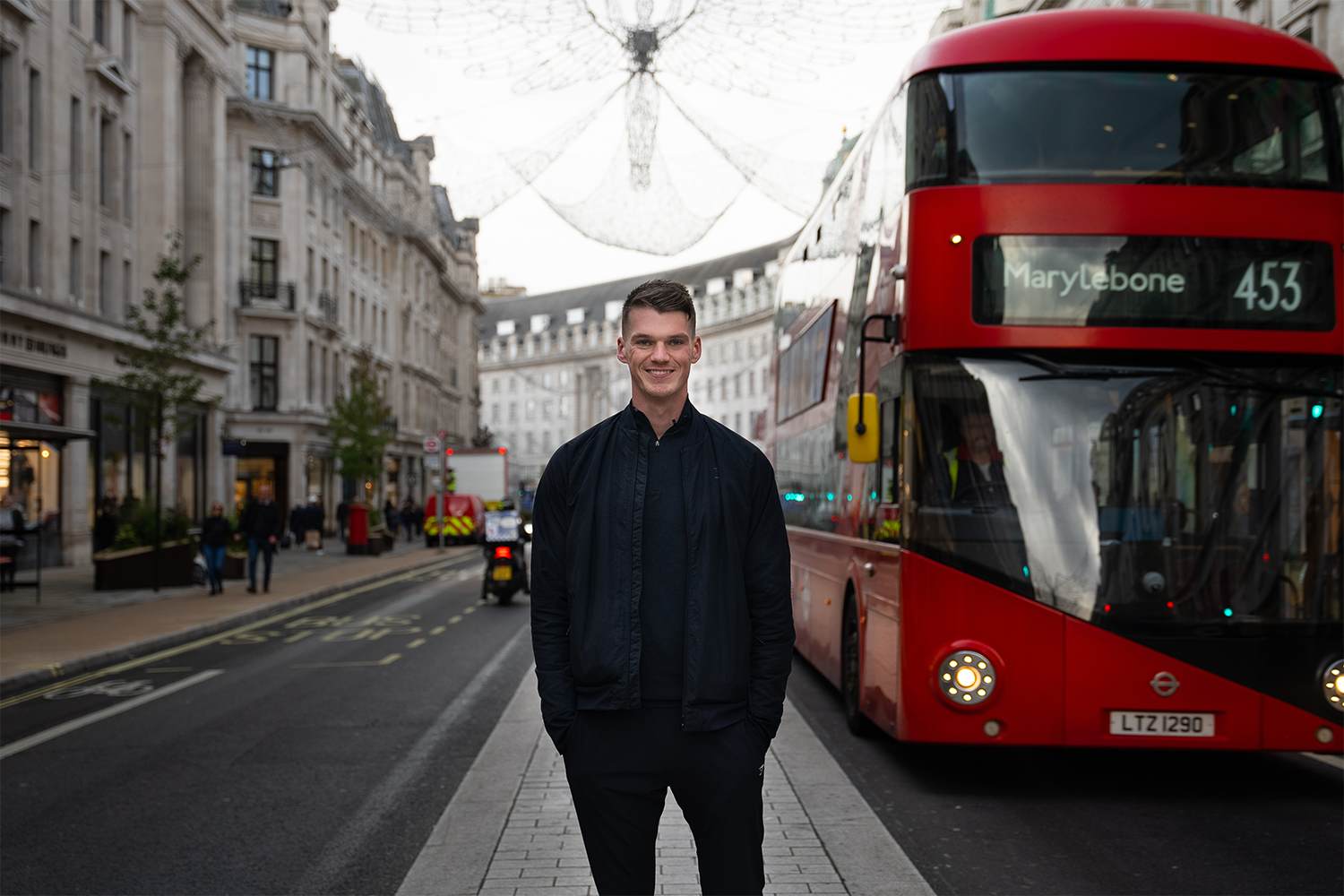 Digital-native retailers such as Gymshark – and even Boohoo with its Debenhams Beauty concept in Manchester – also see the value in opening shops in a world where ecommerce continues to take greater market share. Gymshark is opening its first permanent physical store on Regent Street, London, in the summer.
So, is it time more retailers followed suit and ripped up the blueprint that says the future of retail is all about Web3 and virtual commerce?
Former Apple executive Ron Johnson, speaking at World Retail Congress in April, emphasised the change needed. Johnson said "tired" retail stores will cease to exist within the next two decades and the successful store of the future will fall into two categories. "There will be super-fast convenient stores and there will be great experiential stores. Anything in the middle won't survive," he commented, adding: "there will always be retail stores."
"The idea of tired retail, which isn't modern and isn't fresh, is what doesn't work – those are the stores that won't renew their leases. So you'll have great retail, or you'll have great convenience, but I don't think there will be a middle ground in 10 or 20 years"
The findings in this report certainly suggest there is significant life in bricks-and-mortar retailing yet – as long as it meets the needs of modern consumers.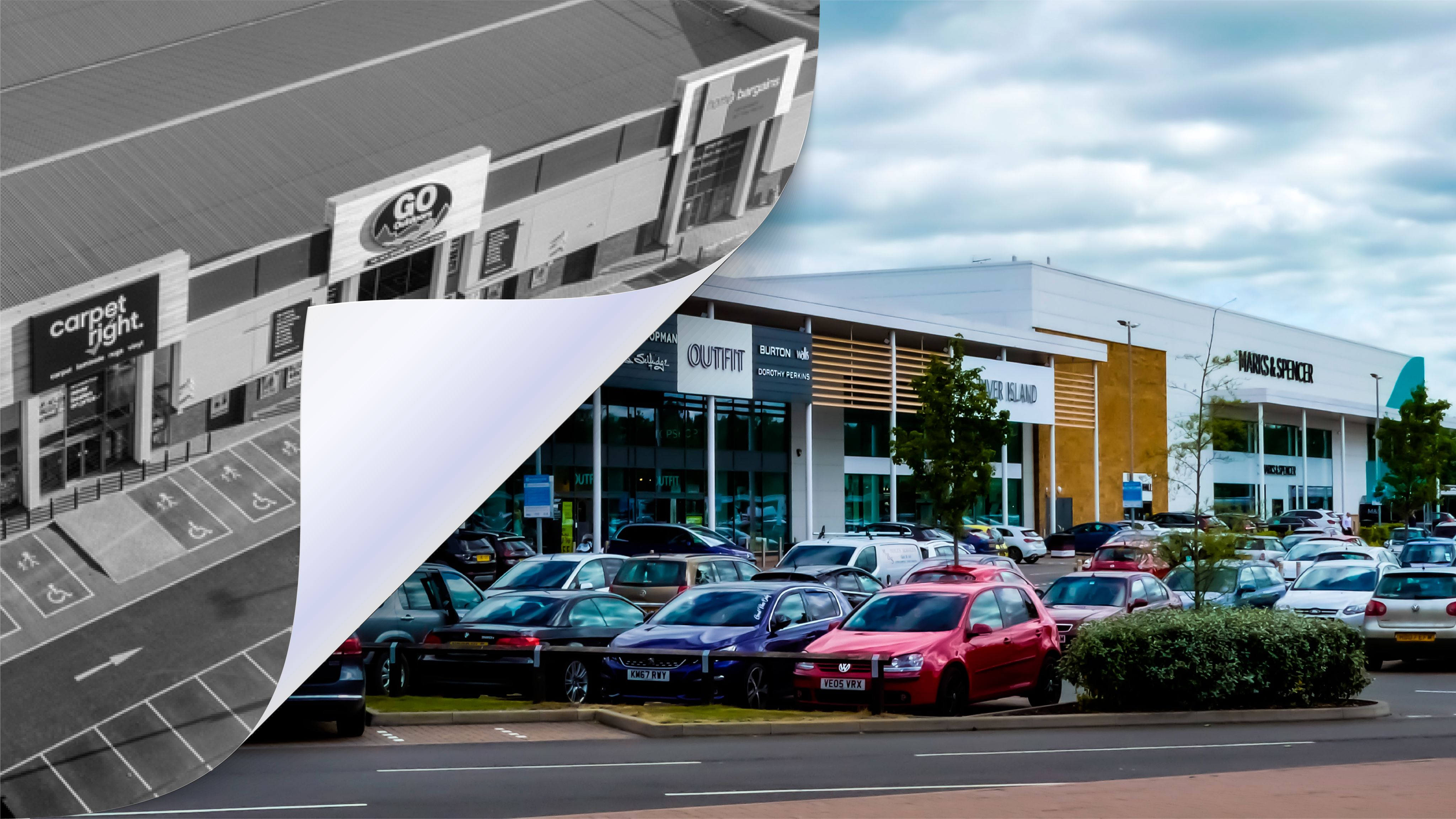 Location, location, location has long been the mantra in UK retail and there are many examples of retailers shifting their focus on where they open stores. Much of that is to do with the impact of the pandemic and new shopping patterns that have emerged.
The research shows an increase in store openings across all types of retail store locations, including high streets, retail parks, shopping centres and standalones, in 2021 compared with 2020.
Comparing UK openings in 2021 with 2020, there were 2,336 more high street store openings compared to 2020, 58 more retail park openings, 329 additional shopping centre store launches and 1,384 new standalone stores
Although the trend over the course of the year was that more stores closed than opened, the net change percentage was much improved from 2020. Comparing UK openings in 2021 with 2020, there were 2,336 more high street store openings compared to 2020, 58 more retail park openings, 329 additional shopping centre store launches and 1,384 new standalone stores. In each of these locations, store openings were not too far off 2019 opening activity – down just 1,716 in total on a two-year comparison – which bodes well for the health of the sector.
Even compared with 2019, 2021's net change figures for stores on high streets and in standalone locations are more favourable.
Shopping centres on the decline
LDC's data shows shopping centres were impacted most by the pandemic, with a 5.4% net decline in store numbers in 2020. They did rebound in 2021 with a net loss of just 3.7%, although this drop was the largest across all retail locations last year.
Shopping centres have been particularly exposed to the challenges of the past two years and have, in part, become a victim of their own success. Over the past decade, malls have evolved into experience destinations sought after by consumers as much for their food and leisure offering as they are for retail therapy – and they also major on fashion in terms of tenant mix.
Fashion's government-mandated "non-essential" status and the accompanying drop in demand for work outfits, holiday attire, formalwear and many other new wardrobe additions meant the sector was hard hit during the pandemic. Casual dining also struggled, with many administrations in this space, and LDC reporting that shopping centres were most vulnerable to each of these challenges.
Shopping centres have been particularly exposed to the challenges of the past two years
Positively, for emerging retailers and brands, LDC says that the subsequent availability of units and the move to more flexible leases mean more independents are opening in these locations (see box, below).
All of this is playing out as property firms look to transform shopping centres to reignite the thrill of in-person shopping and add competitive social offerings to draw in crowds. Westfield London and Lakeside, for example, now house Puttshack, which mixes hospitality and mini-golf as a form of entertainment. Westfield has also been investing in tie-ups with online brands and non-retail players such as TikTok, blurring the lines between physical and digital, in an attempt to keep its sites fresh and attract footfall.
Retail parks on the up
On the flip side, retail parks have been the least impacted by the pandemic with Springboard data showing that this type of retail destination has consistently shown the smallest two-year comparison footfall declines since the pandemic took hold.
In March, footfall at retail parks was up by 4.2% – the only time in the last two years that any retail location actually registered a higher monthly footfall than in 2019. The relative success of retail parks in these challenging times is largely due to greater car accessibility, click-and-collect options, having bigger open-air spaces – which helped accommodate social distancing and allayed fears of spreading Covid-19 – and typically having locations on the edge of towns.
Retail parks and standalone locations were the least affected by the pandemic with the lowest percentage of store closures between 2019 and 2021
Frasers Group founder Mike Ashley's commercial property strategy highlights the value of retail parks right now. Having bought up a string of out-of-town retail parks in recent years, Frasers placed 16 of them on the market in February, with reports suggesting they could fetch up to £320m, as the business looks to cash in on investor demand for this type of space.
According to The Times, which broke the news: "Ashley is seeking to cash in on renewed investor demand for retail parks, perceived to be less at risk than high streets to the rise of ecommerce."
Retail parks are also central to fashion giant Next's strategy. They account for three fifths of its selling space and in its full-year results for 2021, it reported a marked recovery across all locations and retail parks especially, with only a -2% like-for-like sales performance for January 2022 compared to January 2020.
Retail parks are also attracting more attention from food-to-go operators such as Greggs. In April 2021, Roger Whiteside, who recently stepped down as Greggs chief executive, told Retail Week he saw the biggest expansion opportunities for the food-to-go specialist in retail parks.
That said, retail parks have been affected by closures in fashion, electricals and casual dining in recent years. Despite having the lowest percentage of store closures when compared with high streets and shopping centres, it is the only store location type to see consecutive rises in store closures every year, rising from 963 in 2019 to 1,113 in 2020 and then 1,277 in 2021.
It proves that not all retail park locations can be treated the same and in-depth geographical and customer demand analysis is required before investing in this type of space.
High street's heart still beating
With high street store openings in 2021 (21,712) only 791 behind 2019's figure (22,479), and store closure numbers in 2021 more than 2,000 down on 2019's figure (24,847 versus 26,895), there are encouraging signs that the widespread retailer migration from high street locations experienced in the last decade has ended.
The pandemic forced more people to stay closer to home and despite things getting back to normality, this trend has continued with the rise in hybrid working. This has resulted in an uptick in consumers heading to the high street, prompting retailers to take a new approach to their expansion strategies.
Furniture retailer Ikea, for example, has opened its first high street store, in Hammersmith, west London, citing the need to be closer to where people are. Despite the success of retail parks in the pandemic, it is closing its big-box Tottenham store at Ravenside Retail Park as it switches focus.
Ikea said the Hammersmith location was chosen because it is a "vibrant destination where people live, work and socialise". It highlighted the close proximity to four Underground lines and 68 bus routes, which allows it to be easily accessed via public transport.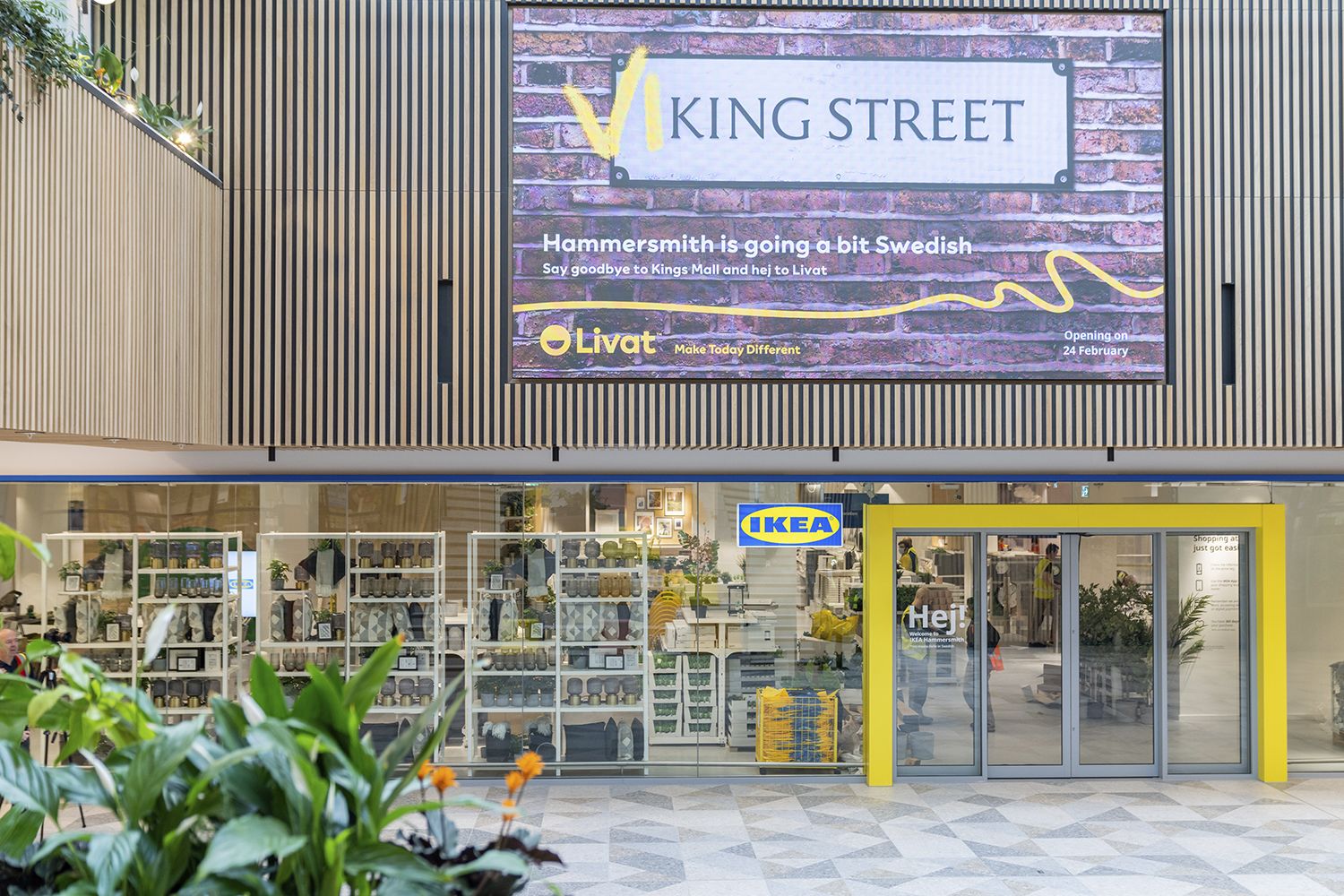 The Ikea high street strategy continues in autumn 2023 when it will open on Oxford Street, taking the place of the famous Topshop flagship. Other locations of this type are under consideration, as Ikea looks to make shopping for its furniture and homewares more convenient.
Fashion brand Superdry is also investing in its high street presence, particularly in iconic retail destinations. In November, it opened its global flagship store on Oxford Street, London, complete with a gin bar, sustainability signage, dedicated event space to host press and influencer events, and a vintage Nike shop-in-shop. The shop spans 32,210 sq ft over three floors with the basement acting as a dedicated showroom.
The store forms part of founder Julian Dunkerton's ambitions to revive the Superdry brand and boost footfall. Dunkerton has said he is "a firm believer that physical stores will play a vital role in the future of retail".
Kingfisher chains B&Q and Screwfix are undergoing a "rightsizing", according to the group, which is looking to open more smaller-format spaces.
In a full-year results announcement for the 12 months to January 31, 2022, Kingfisher said customer demand for speed and convenience will continue to drive the shift online in the DIY industry, "as well as the need for a wider network of smaller and more localised stores".
As a result, more "compact stores", which measure less than 21,500 sq ft, are being opened and previous plans for larger new store openings have been amended to mostly focus on what the company describes as "medium-box" sites of between 21,500-86,000 sq ft. Part of this move involves "rightsizing" a small proportion of its larger-format stores of more than 86,000 sq ft.
Giving an indication of how much further Screwfix can grow in the coming years, Kingfisher said it has 790 shops but the medium-term target is for more than 1,000 sites in the UK and Ireland.
There is an uptick in consumers heading to the high street, prompting retailers to take a new approach to their expansion strategies
Garden centre chain Dobbies has rolled out several Little Dobbies stores on high streets. When opening a store on London's Chiswick High Road in 2021, chief executive Graeme Jenkins said they had been created "to meet the growing demand to shop local".
Meanwhile, Pets at Home, whose traditional retail strategy centred around large-scale sites in retail parks, has begun to tap into consumer demand for more convenient options. Two smaller "next-generation stores" were opened in London in the third quarter of its 2020/21 financial year – one replacing an existing Camden shop and a completely fresh space in Putney.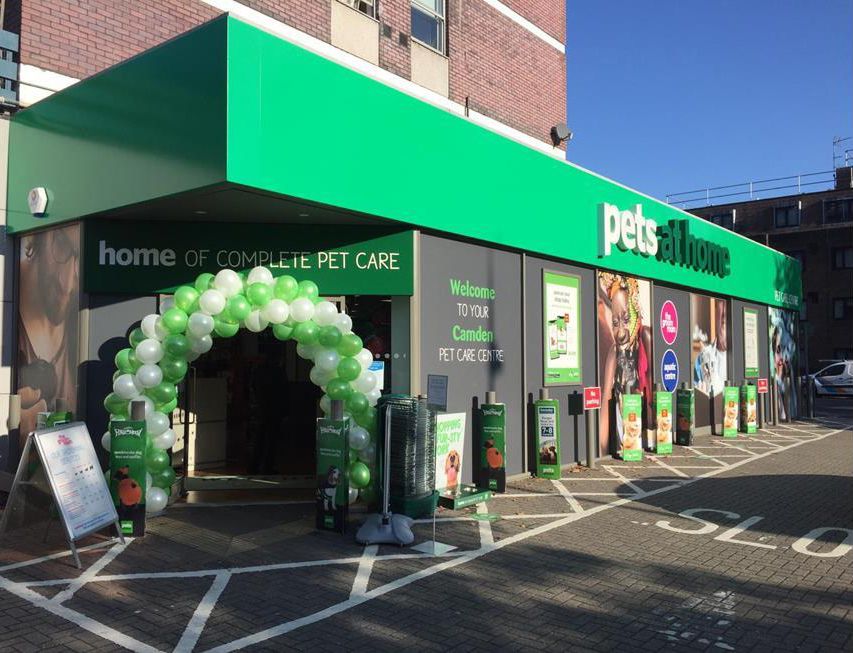 Former chief executive Peter Pritchard wanted to tailor the shops to the London shopper, with smaller pet food bag sizes that can be carried home and other grab-and-go items. The stores also offer the same pet care services its larger shops provide.
"They are high street based, they are typically half the size of a traditional Pets at Home store," Pritchard explained, adding that 20-25 shops of this nature could open in the coming years.
He said: "In London, retail parks are few and far between. With the changes we're seeing in the retail landscape this year, we are anticipating a greater availability of [high street] sites to open up in London in the short term."
There are plenty more examples of retailers looking to the high street, when traditionally retail parks were their preferred destination, suggesting positive momentum for this location.
2021 saw the largest number of independent store openings in the UK since 2019
Independent retail on the rise
Last year saw the largest number of independent store openings in the UK – 36,007 compared with 31,405 in 2020 and 35,193 in 2019.
LDC said the upturn in independent retailers was mainly driven by the flexibility of rental terms, business rates relief and the availability of units creating less competition in town centres and shopping centres.
The category types that have performed particularly well over the past three years favour independent operators, too.
Only four categories experienced continual year-on-year growth over the three-year period. They were hairdressing and health and beauty combined, which was the fastest-growing category, as well as barbers, nail salons and beauty salons.
All these business types are predominantly independently run, showing how the entrepreneurial spirit of smaller companies has played a part in filling the gaps on the high street with relevant service-led propositions.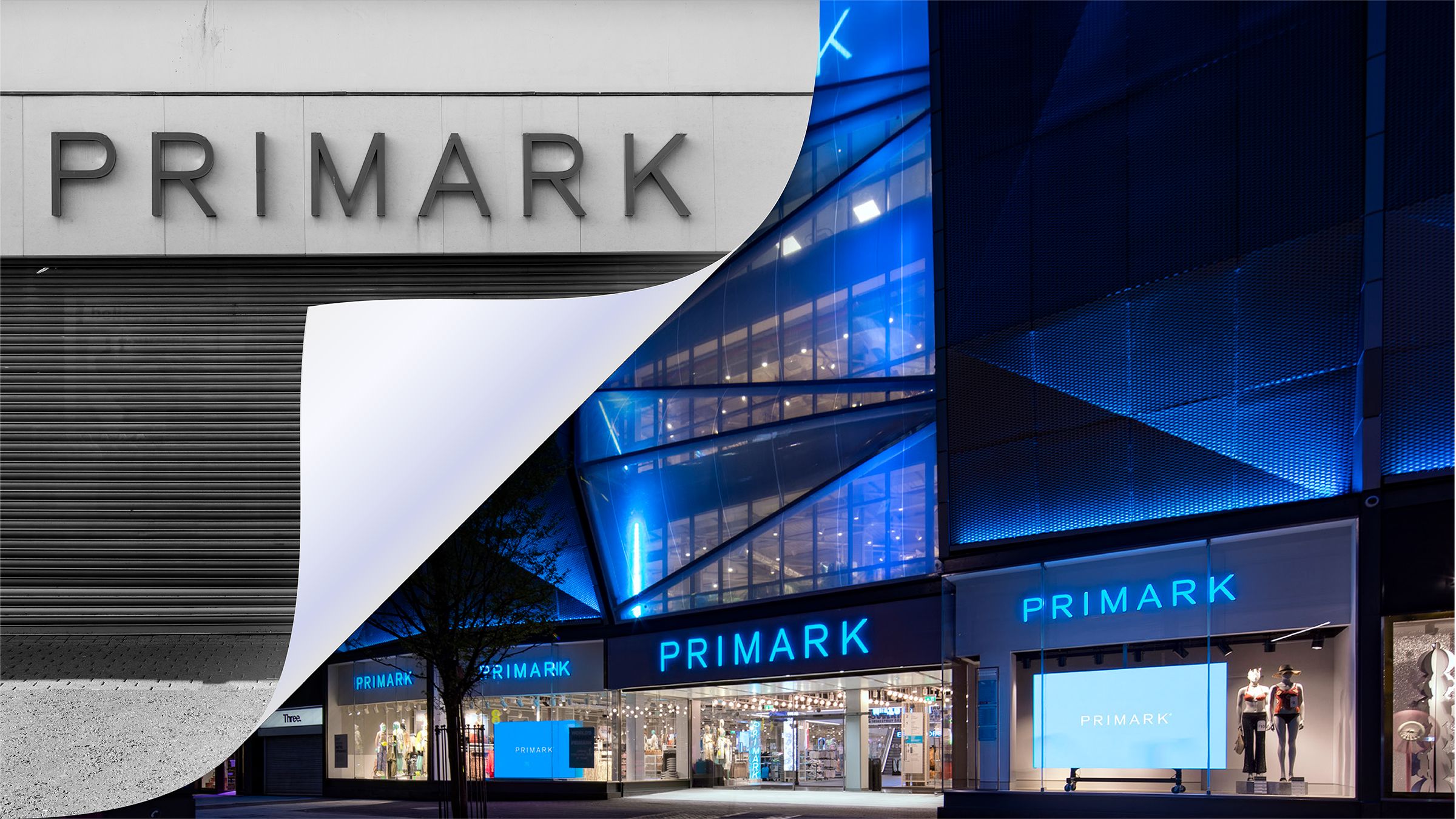 A combination of advances in technology, changing consumer needs, and new entrants to the market is driving fast-paced change in store formats.
Micro but mighty
There are several retailers experimenting with smaller formats and this links to what we referenced in the previous chapter on how retailers used to operating stores at retail parks or on the edge of town centres will need to reduce square footage when opening on high streets.
Like B&Q, Homebase has unveiled smaller shops with a more dedicated focus – such as its Decorate by Homebase offering, which majors on paints and goods for internal projects.
Rather than being employed solely for stock replenishment, staff have more of a consultative role in the store, helping shoppers trial different colours next to one another, for example, using the brochures and samples available. In the seating areas provided, a combination of Homebase employees and dedicated colour consultants and interior designers – all trained by the Dulux Academy – can interact with customers and provide technical advice and inspiration.
These shops, for instance its Walton-on-Thames smaller format that opened in April 2021, stock 2,500 of the most essential products for home and DIY projects such as light bulbs and screws, as well as an order-and-collect service for customers to order from Homebase's full range of 35,000 items to pick up in store within an hour, or for home delivery.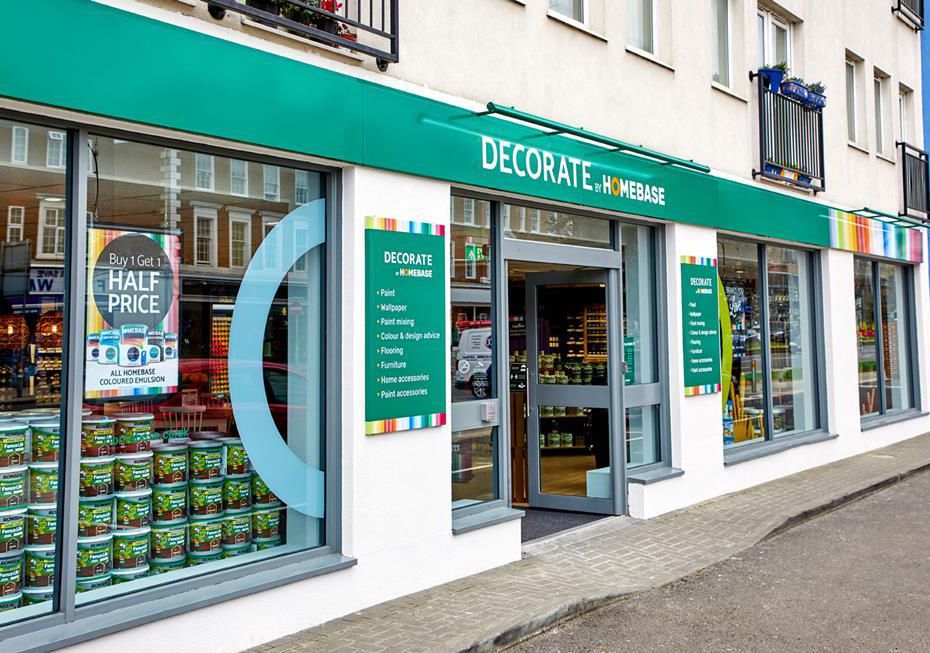 On an even smaller scale, cosmetics retailer Lush launched what is effectively a vending machine at Coal Drops Yard in King's Cross, London, in April 2022.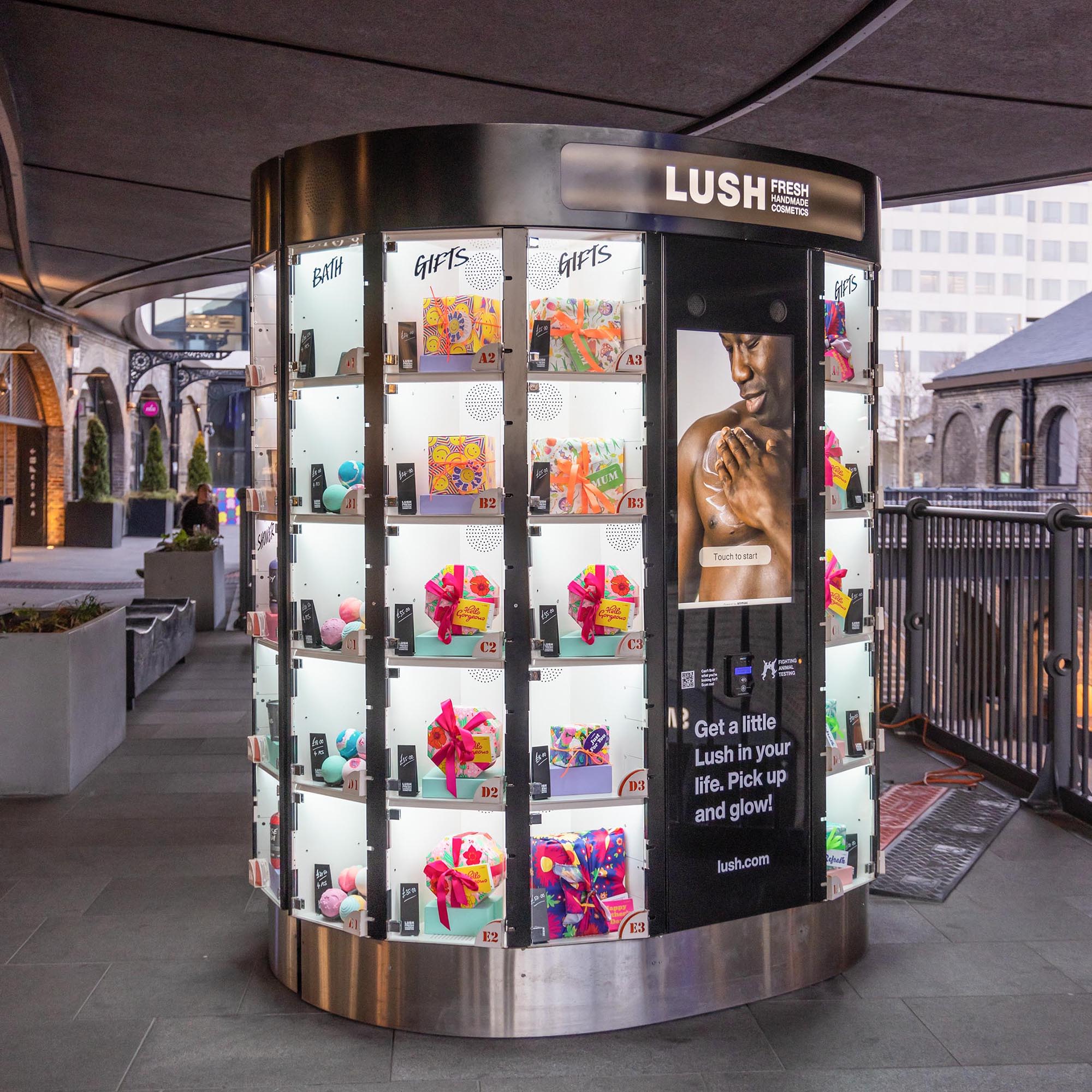 Open 24 hours a day, and described as an "automated retail experience", Lush commissioned Anmac – a retail solutions company run by Hollywood film designers – to bring the machine to life.
Lush has described it as "retail theatre that never sleeps". Charlotte Howe, from Lush's retail leadership team, called it: "A 360-degree retail experience, with a sustainable design that runs on a low-energy output and provides an attractive display for fresh, handmade gifts."
The machine will operate for six months on a trial basis and will be regularly refreshed with different types of product. One reason Lush has launched the micro-offering is to see how it can sell some of its popular products without incurring the enivronmental impact of running a full-size store.

Popularity of the pop-up
Pop-up stores are being used both by pureplays to dip their metaphorical toe into physical space, and by retailers and brands looking to test a new geographical location or concept.
Shopping centre groups such as Unibail-Rodamco-Westfield have welcomed an ever-changing range of pop-ups over the past two years, many of which focus on sustainability or tech-led interactions that are in keeping with consumer demands.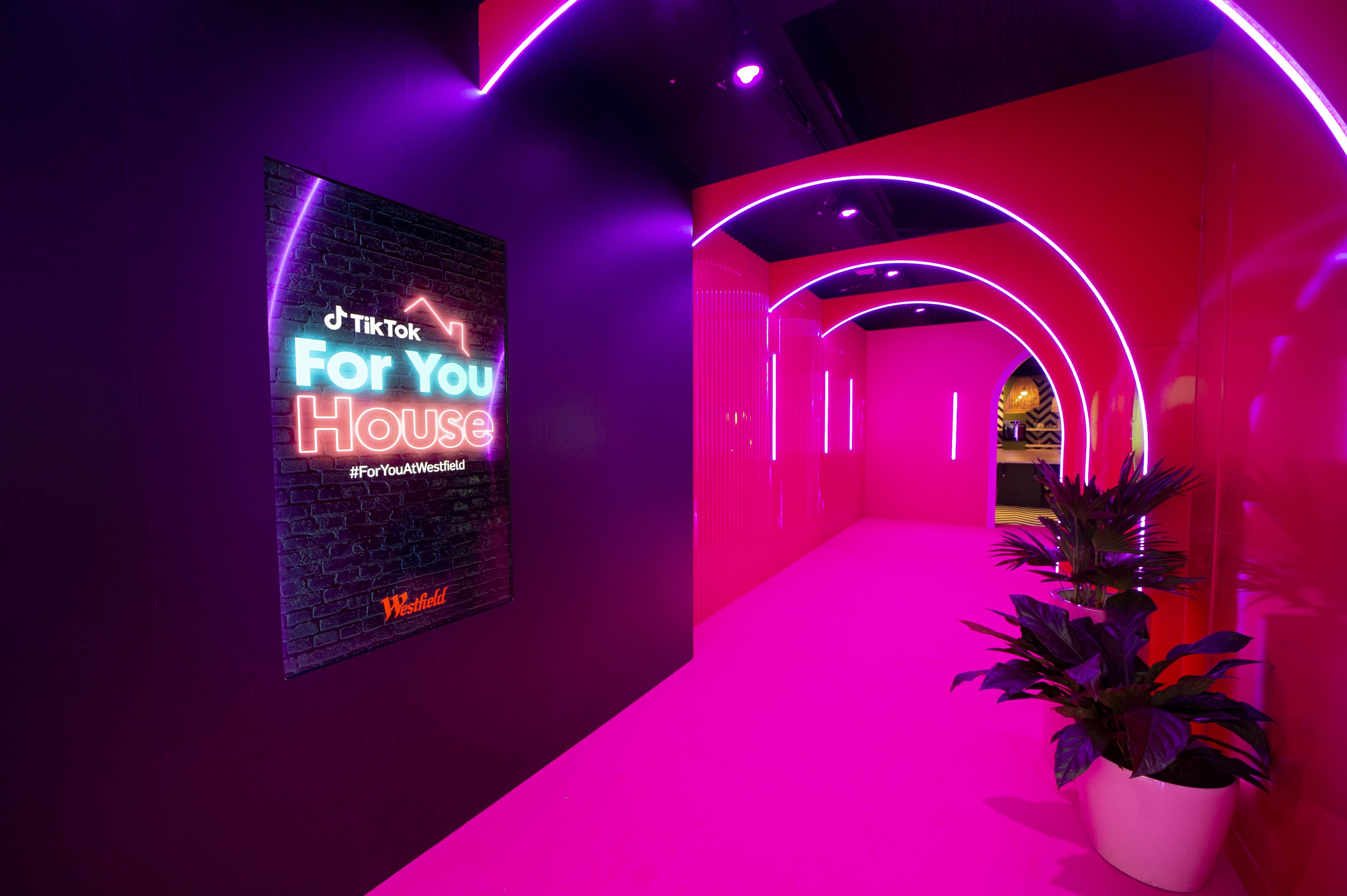 In the past year, Westfield London has hosted two pop-up spaces from sustainable fashion brand We Are, which gave visitors the chance to make alterations to their clothes to increase their lifespan. Additionally, the venue has hosted a Samsung product showcase, an experimental Lego promotion, TikTok's 'For You House' and a L'Oréal skincare range pop-up.
At Westfield Stratford City, shoppers have been able to experience pop-ups from plant-based food and drink brand Alpro, heated tobacco company Ploom and lingerie specialist Victoria's Secret, each conveying strong campaign messages or introducing consumers to new ranges.
Grace Charge, head of brand experience and partnerships for UK and Europe at Unibail-Rodamco-Westfield, says there will be continuing opportunities for brands to invest in "experiential activity" at Westfield in the expectation consumers will continue to crave in-person experiences following lockdowns.
Meanwhile, UK beauty retailer Space NK has adopted a strategy of working with brands on standalone pop-ups. Unilever-owned Tatcha and Selena Gomez's Rare Beauty are examples of the companies Space NK is supporting by financing their pop-up space as part of deeper relationships with these brands.
Reflecting the strength of the market, specialist pop-up retail company Sook has now hit £1m in sales, with chief executive John Hoyle telling City AM in April that an "explosion" of social media brands are looking for flexible spaces to try out their concepts in real life.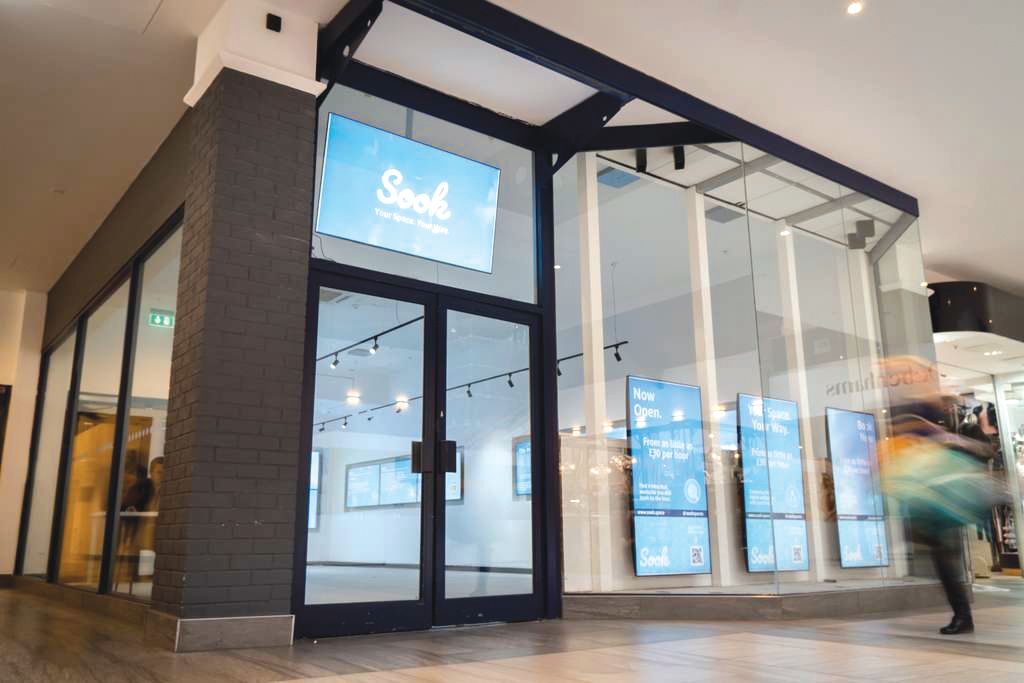 Sook, which appeared in Retail Week's Discovery 2021 report showcasing the most inspiring retail tech start-ups, operates a model that provides "versatility and flexibility" to retailers at a time when many big names have fallen by the wayside, partly due to inflexible arrangements with landlords.
"We can test [locations] with low commitment and try again," Hoyle explained.
Retailers and brands should look to pop-ups as a viable option and route to market in the immediate future.
Supermarket variation
Grocers, supermarkets and food shops saw a net increase of 337 units in 2021, with LDC's data for Retail Week showing this was just nine fewer than had opened the previous year. This rise was largely driven by growth in independent convenience stores as more people shopped locally for their fresh produce during lockdown.
It comes at a time when all the top UK grocers are rethinking their stores. The most future-gazing current example is the opening of frictionless stores by Tesco, Sainsbury's, Morrisons and Aldi. These grocers have all opened shops without traditional checkouts – consumers just pick up their items and the tech inside the stores registers what they have selected and charges them accordingly.
Amazon Go's launch with this model in the UK is a clear influencing factor, with the tech titan pivoting its strategy to close its bookshops and 4-Star stores – which did not have Go functionality – and planning upwards of 100 grocery store launches across the UK that will have it implemented.
But that is not the only new format grocers are adopting to capture today's customers. For instance, in March, Tesco partnered with Homebase to open shop-in-shops inside its stores, with Homebase boss Damian McGloughlin saying putting its goods inside the supermarket makes it easier for consumers to shop with Homebase.
M&S is also jumping on the trend and in the same month revealed it was opening Early Learning Centre concessions at 10 of its stores in a bid to "bring customers into the M&S ecosystem", according to M&S clothing and home director Richard Price.
Then there is Asda, which is using its Middleton, Leeds, store and Stevenage supermarket to trial new environmental and technological concepts. The solutions that work will be considered for wider deployment across its store network. For example, the Leeds store is currently undertaking a major trial of refill stations, as the grocer looks to gauge the demand for and usage of packaging-free shopping.
Convenience chain Nisa, meanwhile, is revamping its Local store format to include refill stations. There has also been a shift to smaller stores including a revamp of its small-box Nisa Express format.
For the last two years, Nisa has been promoting to would-be retail partners the under-1,000 sq ft Express format, which it says is designed to service the "cash-rich, time-poor consumer, living predominantly in a city centre location". It is here, the symbol group says, where shoppers want to be wowed and inspired when entering a store. The smaller formats involve enhanced food-to-go offerings, ready-to-grab vending machine products, premium coffee facilities and a focus on fresh food.
Everything under one roof
Fashion had the worst net change in terms of store openings in each of the last three years, our data shows, as the number of company voluntary agreements (CVAs) and administrations jumped and the shift to online saw more brands rationalise their physical estates. Between 2019 and 2021, the net number of store openings stood at -4,465. For comparison, the next most affected sector – electrical goods and home entertainment – recorded a net number of store openings of -2,115 over the same period.
Next, however, has been a big winner here, becoming something of a modern department store online and offline, with investments in brands such as Reiss, where it took a 25% stake in 2021 with the option through to July 2022 of adding another 26%. The deal also involves Reiss using Next's Total Platform, meaning it uses the high street mainstay's tech and fulfilment infrastructure to serve its online business.
Meanwhile, in 2020, Next acquired a majority stake in Victoria's Secret, and – following a concessions deal agreed in 2018 – Mamas and Papas has continued to roll out shop-in-shops at Next stores. These investments, and openness to working with other retailers and brands, is reflected in the retail space inside its flagships.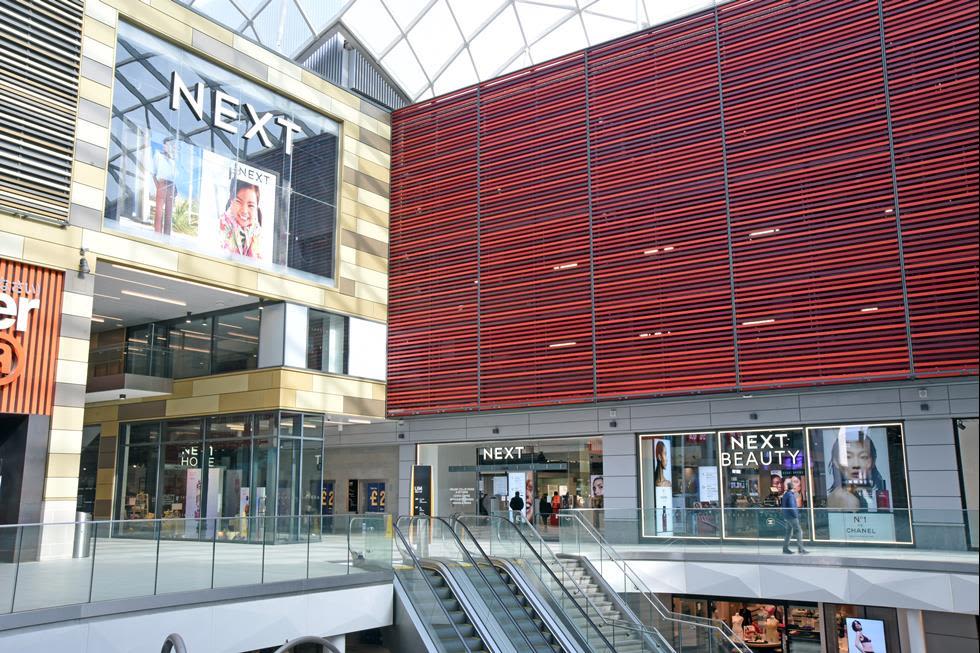 Next even opened its first 'department store' at the end of March, showcasing lots of these new partnerships and concessions. As many retailers are adopting smaller formats, Next is going the other way and becoming a multichannel powerhouse that is supporting the growth of others, while benefiting from the additional customer demographics these businesses attract.
The store innovations we have highlighted are built with customer experience in mind – shops are no longer simply about a transaction. Even the functional, tech-enabled, assistant-free grocery stores cropping up across the UK are offering consumers a fresh experience compared with before.
Overall, the sectors that rebounded the quickest after the pandemic were those based on leisure: cafes and fast food; entertainment; restaurant and bars; pubs and nightclubs. LDC suggests the pent-up demand and need to socialise after lockdowns drove these sectors' growth.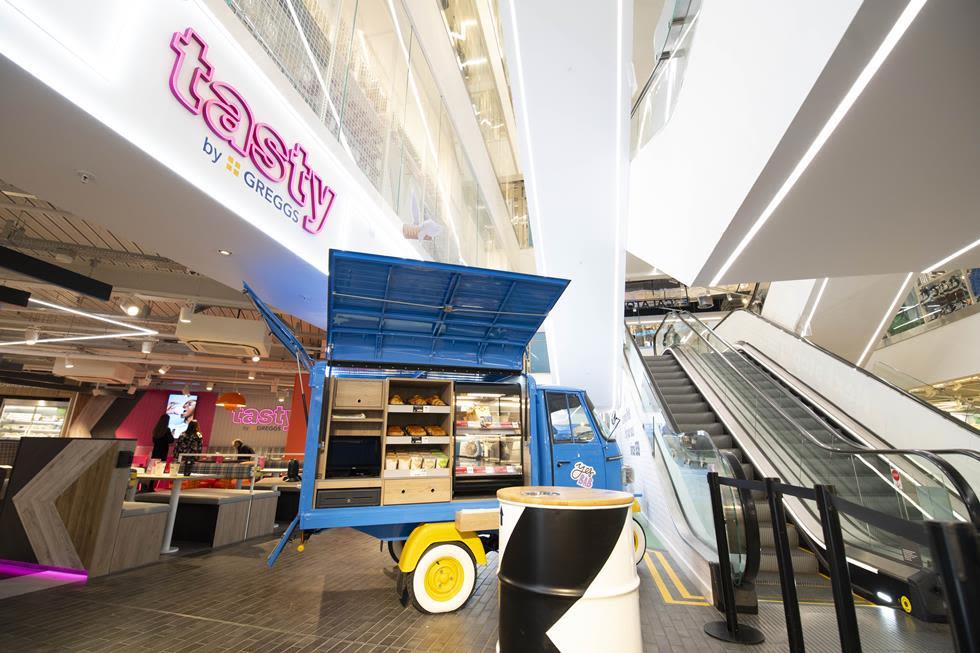 Some retailers are aiming to capitalise on these pockets of growth with Primark and Flannels, for example, both including hospitality and catering in their most recent flagship launches. Starting with its 2019 Birmingham store opening and as of 2021 in its Lakeside shop, Primark is putting Disney Cafes inside its stores. A Greggs cafe opened in its Birmingham flagship to much fanfare, too.
Last December, Flannels welcomed all-day dining destination Café Clo to its mix at Leicester's Fosse Park. These trials and new concepts show in a digital age physical retail stores are transitioning from being primarily a distribution channel for products to becoming a location for experiences, with more attention paid to how they make a customer feel.
From a transactional perspective, the existence of ecommerce means there is no reason for stores to exist, so their function is to fill the gaps online retailing cannot offer – and play up to their crucial role in supporting the communities they reside in.
For retailers – particularly those in emotive categories such as fashion, furniture and beauty – stores can also act as the physical manifestation of all these businesses offer in the online world. They may have huge online followings, be famed for YouTube product demonstrations and do much of their business via ecommerce, but the opportunity to bring their consumers together for special events or to interact with new products in compelling flagship locations, means stores will maintain a key role.

Non-retailers such as TikTok, Netflix and Meta are also opening stores and pop-ups to maximise on entertainment and experiential consumer demand. Even Coca-Cola opened a five-month London pop-up, in April, to sell products and limited edition merchandise and ramp up its marketing activity in a fresh way.
There is no one trend here, either. Some of the historically big-box retailers are eying smaller premises because they no longer need to display all their merchandise or they want to open in locations closer to where people live. But other retailers are opening larger-footprint stores, in line with the rise in new complementary partnerships being forged. What is clear is that store formats must continue to evolve in order to keep shoppers interested and to stay relevant.
TOP 30 UK RETAILERS BY STORE GROWTH
The top five retailers in the UK by store growth over the past three years are Frasers Group, Mountain Warehouse, Crew Clothing, Uniqlo and Homebase, Retail Week Prospect data analysis of store and concession volumes for 2019 through to March 2022 shows.
Frasers Group, with a 63% increase in store numbers between 2019 and 2022, is the runaway leader, buoyed by owner Mike Ashley's acquisitive behaviour before and during the pandemic.
We have picked out five of the top 30 to explore how these retailers are adapting their store strategy to drive footfall and stay relevant.
Frasers Group
63.2% store growth • 1,547 stores
Frasers Group's latest acquisition was online business Studio Retail, which it bought out of administration in February, and that followed the takeover of upmarket fashion retailer Psyche in January 2021 and gym chain DW Fitness in 2020.
Prior to that, the business, under Mike Ashley, built a more than one-third stake in luxury brand Mulberry, a 16.4% stake in luxury fashion brand Hugo Boss and acquired Game, Jack Wills, House of Fraser, Evans Cycles and Sofa.com during a busy period between 2018 and 2019 when Ashley described his intention to create the "Harrods of the high street" thanks to Frasers' multi-brand model.
Frasers Group has been heavily investing in experiential retail and store innovations, led by new chief executive Michael Murray, who before taking the top job in May was head of elevation. The group's Wolverhampton store, complete with a beauty hall and modular flexible merchandising units, which are built with the capacity to be quickly changed or rearranged, was featured among Retail Week's 10 best new store openings of 2021.
Murray views the opening of the new space as a "pivotal moment" in the group's elevation strategy as it looks to enhance the look and feel of its portfolio by giving greater focus to store experience and how the company does digital, as well as selling more premium products.
The elevation strategy also covers how Frasers Group is developing its staff. The group says it is "investing in creating a world-class learning and development programme to provide the best experience possible for our retail community", and the focus of this training is on service, product and operational excellence.
This type of training is being developed group-wide, but it will be particularly important in Frasers' burgeoning retail categories such as beauty, where product knowledge and a service/sale-led approach will be vital to driving success at the House of Fraser and Flannels fascias.
Decathlon
11.1% store growth • 50 stores
Sports equipment retailer Decathlon, which ranks eighth in net UK store openings over the past three years, is one of the few retailers outside of the supermarket sector to trial frictionless payments in its physical space.
Scan and Go, which enables customers to serve themselves and check out using an app, was rolled out across its Netherlands and Germany stores in recent years, and this innovative technology is being considered for the UK market too.
One new format present in the UK already is the Decathlon concession in supermarkets. Looking to benefit from the major grocers' high footfall Decathlon has opened a click-and-collect shop in Tesco Cardiff to give consumers a convenient place to pick up their online orders and touch and feel products prior to purchase.
Asda also hosts several Decathlon concessions, with the sports equipment retailer present in the form of branded aisles. It is an example of a forward-thinking specialist retailer getting itself in the most popular spaces – and it happens to fit in with Asda's fast-evolving partnership strategy, which involves bringing in popular brands to complement its broad grocery offer.
B&M
5.6% store growth • 693 stores
B&M is a rare breed as a successful UK retailer that does not yet have an ecommerce offering, relying on its physical presence for all its revenue.
Unsurprisingly, it is growing its store estate – with a 5.64% increase in store numbers from 656 to 693 over the last three years, it ranks 15th in our list. Recent results justify its approach, with sales of £4.8bn last year, up 25% versus 2020, and a pre-tax profit of £525m.
B&M was quick to recognise the opportunity in expanding its value-led offer into grocery. It acquired Heron Foods in a £152m deal in 2017– more than three years before Poundland bought Fultons Foods. By nature of that acquisition, which gave B&M 251 convenience stores, its space has been reformatted to cater for the offering.
Heron was a location-based takeover too, with the acquired company coming with strong value credentials and a loyal customer base but in towns without a competing convenience offer from the likes of Tesco or Sainsbury's.
B&M Bargains, a FTSE 100 company, operates 1,100 stores across the UK and France, and is a mainstay on City analysts' buy lists. It has even eclipsed the market cap of heritage retailers including M&S, though it will soon have to navigate a path without its long-time leader Simon Arora who announced in April that he will be leaving.
How that pans out for B&M remains uncertain – the B&M share price dropped considerably on news of Arora's decision – but the foundations are in place for the retailer to continue its success.
Some of that future success may come in a more digital format, considering recent recruitment. In 2021, the company poached The Range's chief digital and omnichannel officer Jens Sorensen as its new digital director, suggesting plans are afoot to develop this side of the business.
Whatever happens there, like Primark, Lidl and Aldi – which B&M has acknowledged in the past it is trying to emulate from a general merchandise perspective – the store is going to remain central to its proposition.
Sainsbury's
0.2% store growth • 1,418 stores
All eyes are on the grocers and, circling back to the LDC data which shows grocery as the category with the most store openings, it is hardly unsurprising that Lidl, Aldi and Sainsbury's all feature among the top 30 retailers for store growth. Sainsbury's is in at number 30, with store growth of 0.21% across a network of 1,418 stores.
Many of Sainsbury's store openings in the past three years have focused on a new community-led Neighbourhood Hub format. These are stores, such as its Midhurst store, which are three times the size of a standard Sainsbury's Local, measuring almost 12,200 sq ft.
The stores are designed to offer a one-stop-shop proposition, and cater for the shift towards longer shopping missions and bigger basket sizes that were emphasised in the pandemic. Key features of the Hub stores include coffee-to-go, fresh orange juicers, beauty and cosmetics areas, and collection points for Argos and Tu clothing orders made online.
The supermarket giant wants to have 18 Neighbourhood Hubs in operation by 2023 as part of chief executive Simon Roberts' strategy to "put food back at the heart of the business".
It is a clear move by the grocer to take advantage of the trend of localised shopping and finding a formula that best suits consumers.
As it moves in this direction, Sainsbury's is rewarding its frontline staff with better pay too. Since March, new rates of pay for store staff have been implemented to recognise "the extraordinary work they do for customers", with Sainsbury's hourly rate of pay up by 25% over the last five years.
The role of its store staff has changed in line with the company's evolving formats, with more staff now required to manage the growing number of scan-and-go and self-service facilities in store. As click-and-collect has grown in popularity, and ship-from-store for online orders has become more prominent, greater numbers of shop staff have been trained up to support online delivery fulfilment alongside their traditional roles.
Uniqlo
15.4% store growth • 15 stores
Uniqlo ranks highly in the store opening rankings, with 15.38% growth over the last three years, though that growth comes from a low base. Pre-pandemic, Uniqlo had 13 stores in the UK but now it has 15, which suggests a cautious approach to physical retailing in the UK considering it operates more than 800 shops in its home country, Japan.
There are signs of a new direction in 2022, with the retailer opening a joint store on London's Regent Street in April with Fast Retailing stable mate Theory. It represents the first store in Europe combining the two brands. Other features indicating a fresh approach to bricks and mortar strategy in the UK include the store's repair studio, which offers a range of repair services based on the Japanese sashiko stitching technique. Such a move is in keeping with the wider industry's shift to promoting reuse, repair and recycling as part of society's environmental awakening.
To celebrate 20 years of Uniqlo in the UK, Uniqlo launched an open call in partnership with the Tate Collective to respond to the theme "the spirit of London", and it has resulted in winning artists creating a series of 12 digital art pieces that are showcased on the staircase in the store. In another local move, the store has also partnered with JamJar Flowers and Perky Blenders coffee, to embellish the usual mix of clothing and accessories with additional customer services and experiences. Uniqlo Europe chief executive Taku Morikawa said: "The store was designed to reflect the spirit of London and aims to make our LifeWear offering more accessible and sustainable for our loyal customers who have supported us in the UK for these past 20 years."
What about Amazon?
While Amazon is not in the ranking, its ambitious growth for both its Amazon Fresh and Amazon Go fascias – and in some cases a combination of both – suggest it could make future lists.
Either way, the Amazon story makes for interesting reading. The company has been quick to pivot, announcing the closure of its 68 bookshops and its two 4-Star stores in March 2022, citing a more concerted focus on its grocery offering and on developing the technology to support other retailers' innovative stores.
Even if its own store growth does not elevate Amazon into the top 30 next year, the tech titan is set to have its fingerprints all over modern retail as its Just Walk Out technology is being deployed by third parties. Sainsbury's and WHSmith are already using the technology to fuel frictionless and self-serve stores – deploying it in busy cities in the UK and US to serve the time-poor lunchtime crowd and in airports, respectively.
Amazon's early work in this space suggests self-serve, access-by-app shops will major in busy locations where time is of the essence.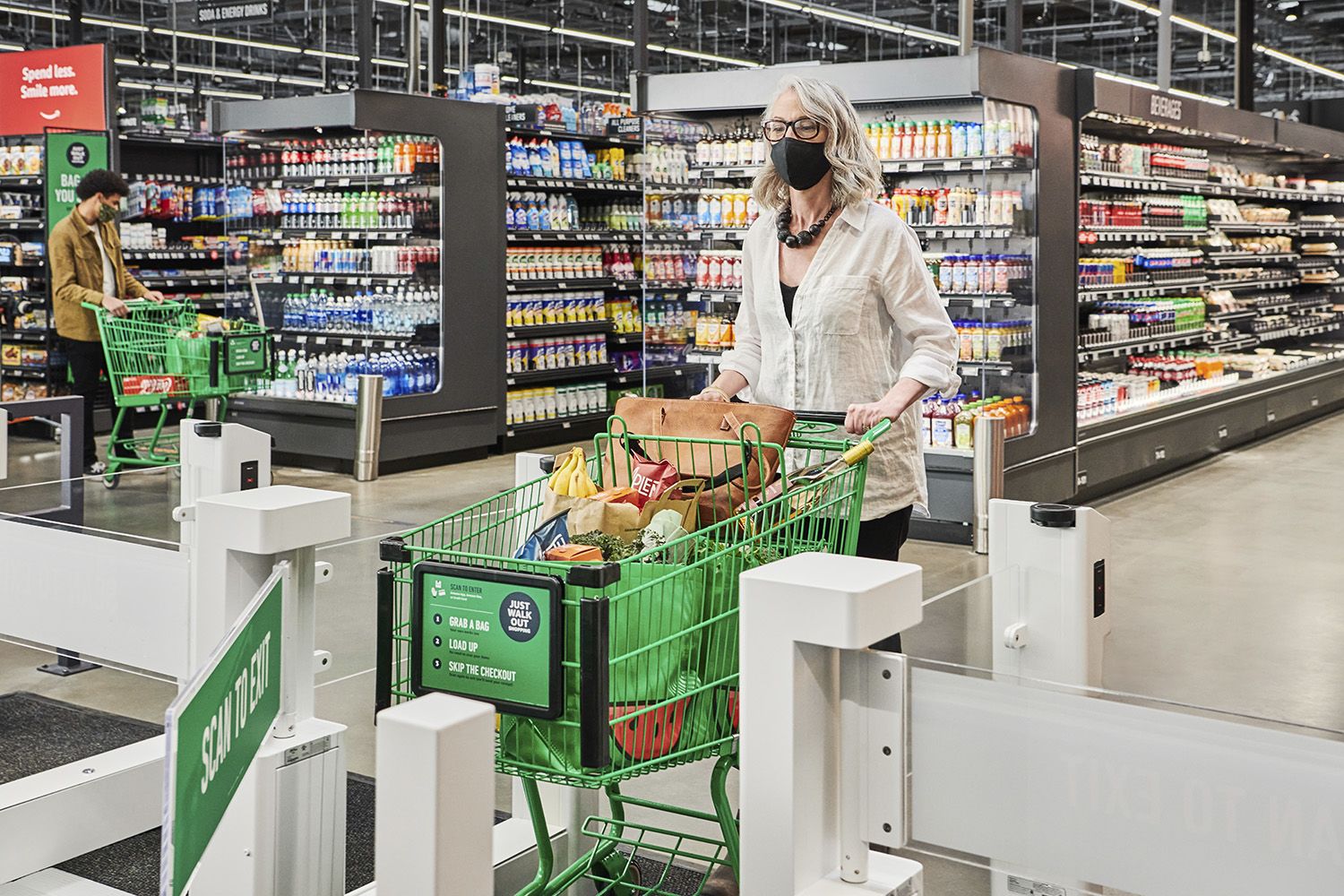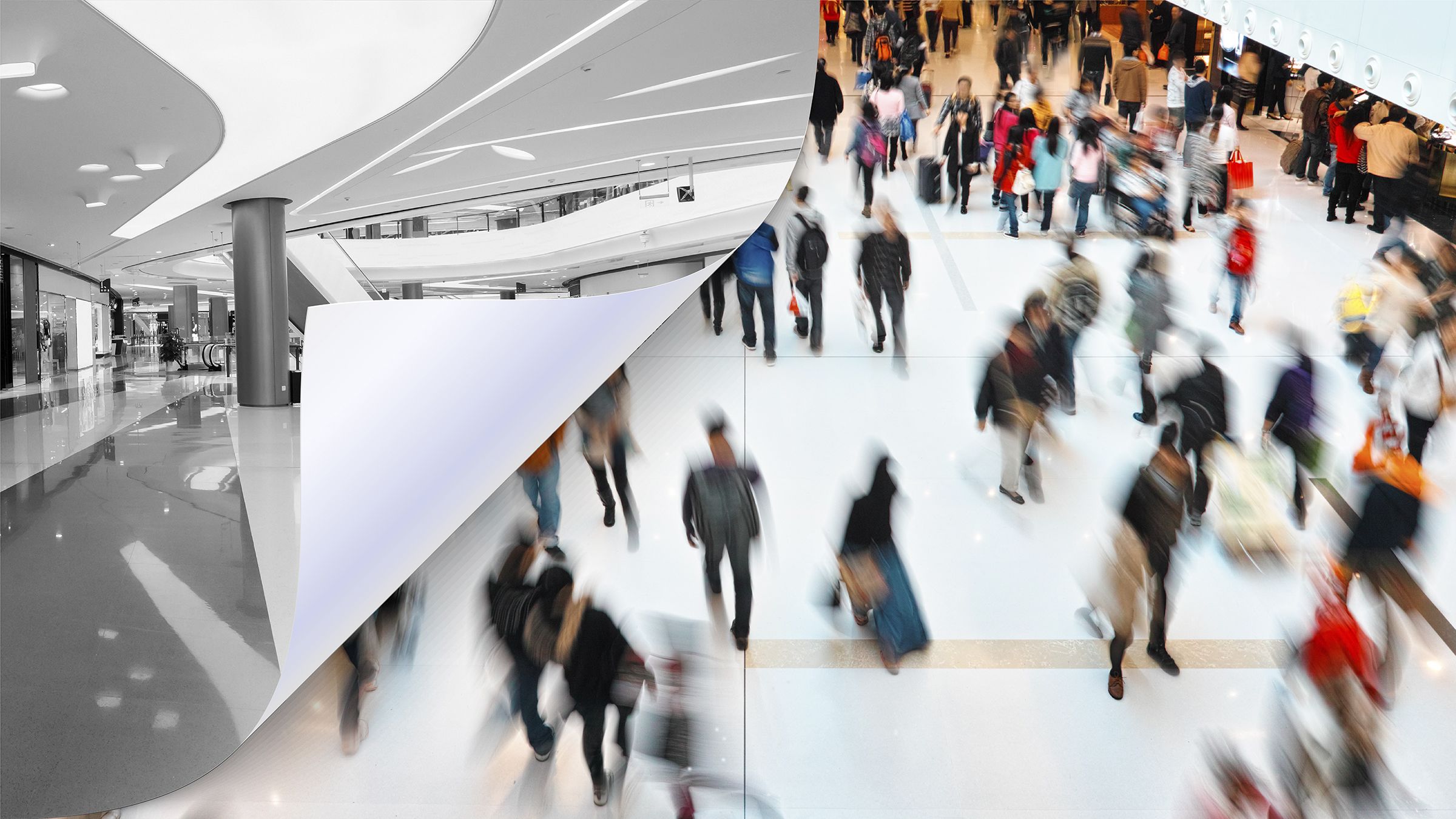 What should retailers expect for store openings, closures and vacancies going forward?
The retail CEO's take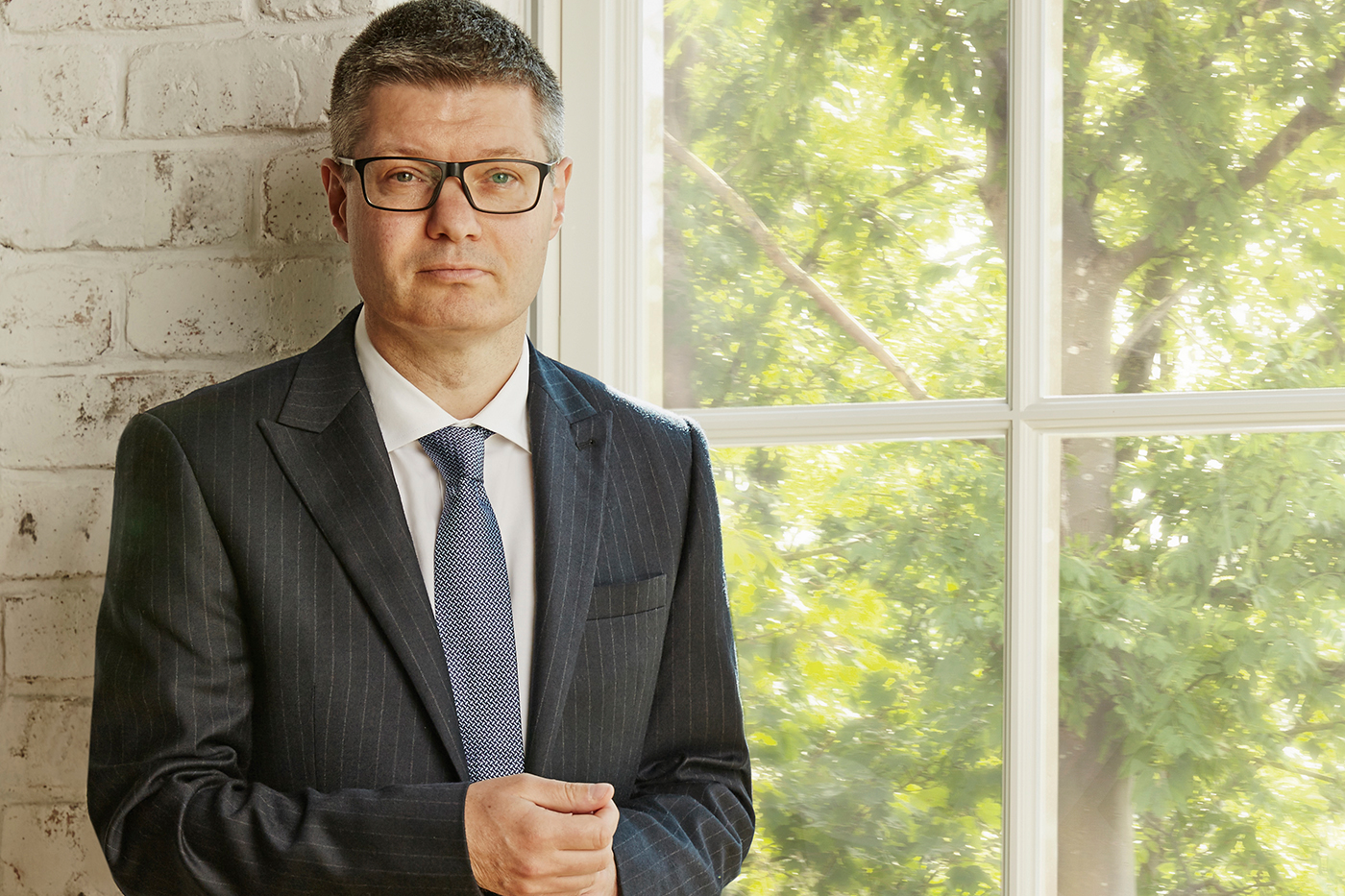 Next chief executive Lord Wolfson has built up a reputation over the years for astutely observing and predicting how wider macroeconomic trends will impact the retail industry.
Reflecting LDC's positive view on how the retail industry performed following the end of lockdowns, Next reported a "better than expected performance" within its stores division after shops reopened last April, according to Wolfson, speaking in January 2022.
Wolfson warned that what he deemed a positive performance occurred in a subdued market generally and indicated that projections for the year are continually evolving.
"The original expectation was that retail [sales from stores] would be worse than the -7% we now expect for the rest of the year," he explained.
"We are less pessimistic about [physical] retail and not quite as optimistic about online. Because so many of our retail costs are fixed, it means we're now looking at a slightly more favourable margin mix."
The shock of the pandemic prompted the collapse of some big retail names, including department store chain Debenhams, and Wolfson thinks Next's store performance has benefited as a result.
"If you look at the high street today, versus where it was two or three years ago, there are a lot of names that were there that aren't there today and that may be helping us more than we anticipated," he noted.
Next and Wolfson have devised a 15-year 'stress test' for the business – which the chief executive said is a "scenario" to consider rather than an expectation or plan. It shows that a 330-store network is sustainable and worthwhile within Next's multichannel model, even if shop revenues fell at a rate of 10% a year.
The model indicates Next could continue to run 195 loss-making stores, at a cost of £35m a year, to maintain online store services in key locations
Other well-run retailers will have done their own modelling, but Next displays a rare openness around these issues. As a market outperformer with locations across the country, it serves as a good template for the wider industry to consider when planning stores in a multichannel world.
The analyst prediction
LDC figures show that physical retail has bounced back after the Covid-19 crisis in a stronger-than-expected fashion. This is largely due to a successful and swift vaccine roll-out in the UK, the return to working in offices and extended government support, which particularly helped the independent sector recover.
The Omicron variant, which seemed like a major threat to retail when it emerged at the end of 2021, seems to have been brought under control. The UK government's 'living with Covid' approach means the threat of temporary shop closures – which were so damaging to the sector – no longer hangs over retail.
However, there are several factors influencing how the recovery will continue. For example, the end of commercial rent moratoriums and various support packages that provided vital assistance to the sector during the pandemic.
At the onset of the pandemic, the UK government announced that commercial landlords were to be precluded from forfeiting commercial leases and evicting tenants for non-payment of rent. This measure was originally in place until June 30, 2020, but was extended several times before finally ending on March 25, 2022.
However, LDC director Lucy Stainton believes "these factors are already evident in vacancy rates".
"Many occupiers have already negotiated deferred rents with landlords and therefore lessened the impact of the end of the moratorium. A number of landlords are also expecting planning approvals to come through, enabling them to repurpose long-term vacant stock that is unlikely to come back on to the market," she adds.
Repurposing activity is likely to support a gradual fall in vacancy rates but not an immediate recovery to the levels reported in the second half of 2019, before the pandemic
LDC notes that this accounts for nearly 4.7% of all units, meaning repurposing activity is likely to support a gradual fall in vacancy rates but not an immediate recovery to the levels reported in the second half of 2019, before the pandemic.
Stainton says: "Units will be taken from the market and new occupiers will continue to open in available space, while larger occupiers continue to churn units at lease renewal events and adapt to both local and national trends."
Given the continuing economic uncertainty, LDC hedges its bets on what 2022 will look like in terms of UK net store openings and closures, giving a wide spectrum of 6,450 to -9,160.
Although the lowest projection represents a lot of units lost across UK high streets, shopping centres and other destinations, this scenario would be a less dramatic outcome than any of the past three years and much better than the -11,319 net change experienced in 2020.
1. Long live the store
Our report shows that where, what and how retailers invest in their stores to maximise profits and customer engagement depends on the individual business and what their consumers' needs are. However, the case studies we have drawn upon, combined with positive data from LDC and our net store growth ranking, dispel the myth that the store is dead. Bricks-and-mortar retail is simply evolving.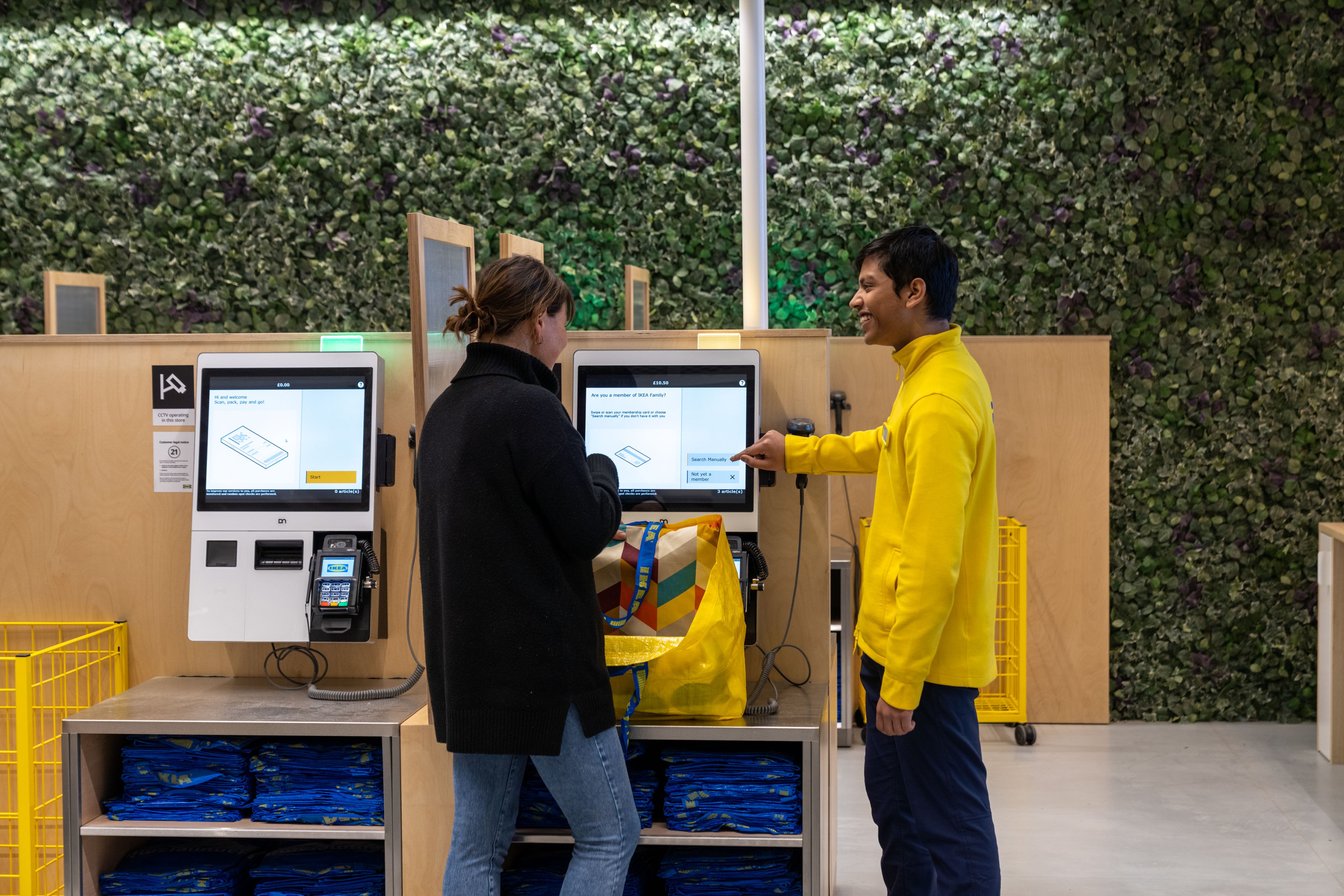 3. Micro to macro formats
With that shift to more high street locations comes a natural downsizing that reflects the type of properties available. While this report shows smaller formats are being used to showcase the latest products, support fulfilment activity and drive convenience, other retailers such as Poundland and Frasers Group – and Next with its new department store concept – are opening larger premises that aim to put all they have to offer under one roof.
5. Pureplay and non-retailers want in
In general, stores continue to be a core part of retail, despite the major decline in units tracked by LDC over the past 10 years. The fact that digital businesses, such as Gymshark, Netflix, Meta and especially Amazon, see a huge value in opening physical spaces is a clear indication of their belief in the future of stores. What is clear is that stores are not dead – tired retail is.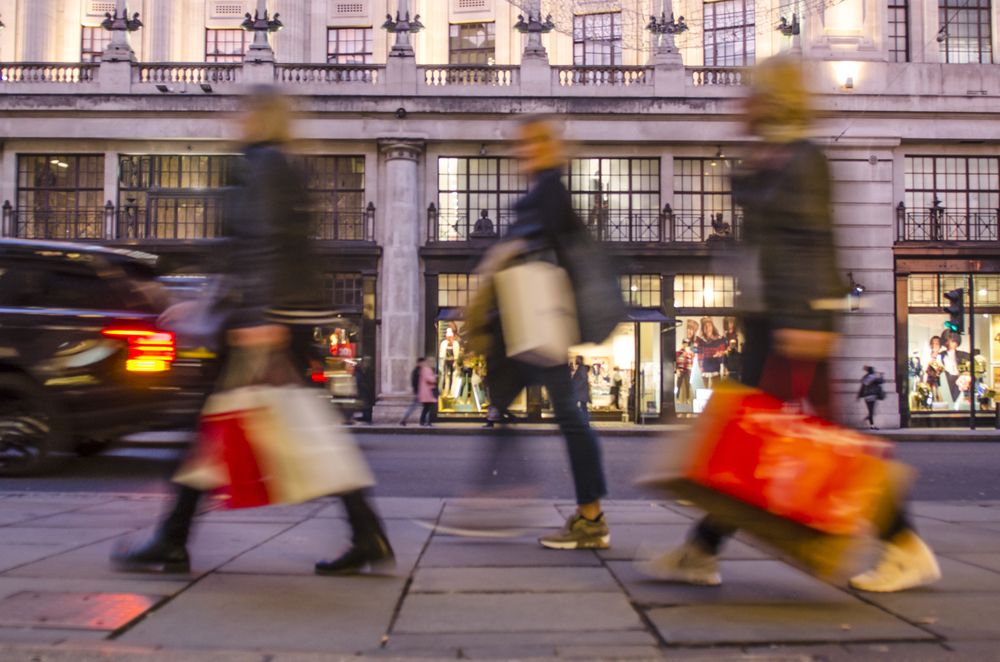 2. Going local
The impact of the pandemic and the growth in hybrid working has propelled local shopping, as highlighted by the rise in high street openings, and has influenced retailers – big-ticket, DIY and furniture businesses, in particular – to get closer to where people live.
What is clear is that stores are not dead – tired retail is
4. Grocers are on the up, as is collaboration
In grocery, as is exemplified by Sainsbury's, there is a move to continue the roll-out of smaller stores in the heart of communities and stocking them with a greater variety of product lines. There also appears to be a move to consolidation, teaming up with otherwise competitive businesses to drive foot traffic, as with Decathlon. However, as Next shows, the benefit of store collaboration is not just limited to grocers.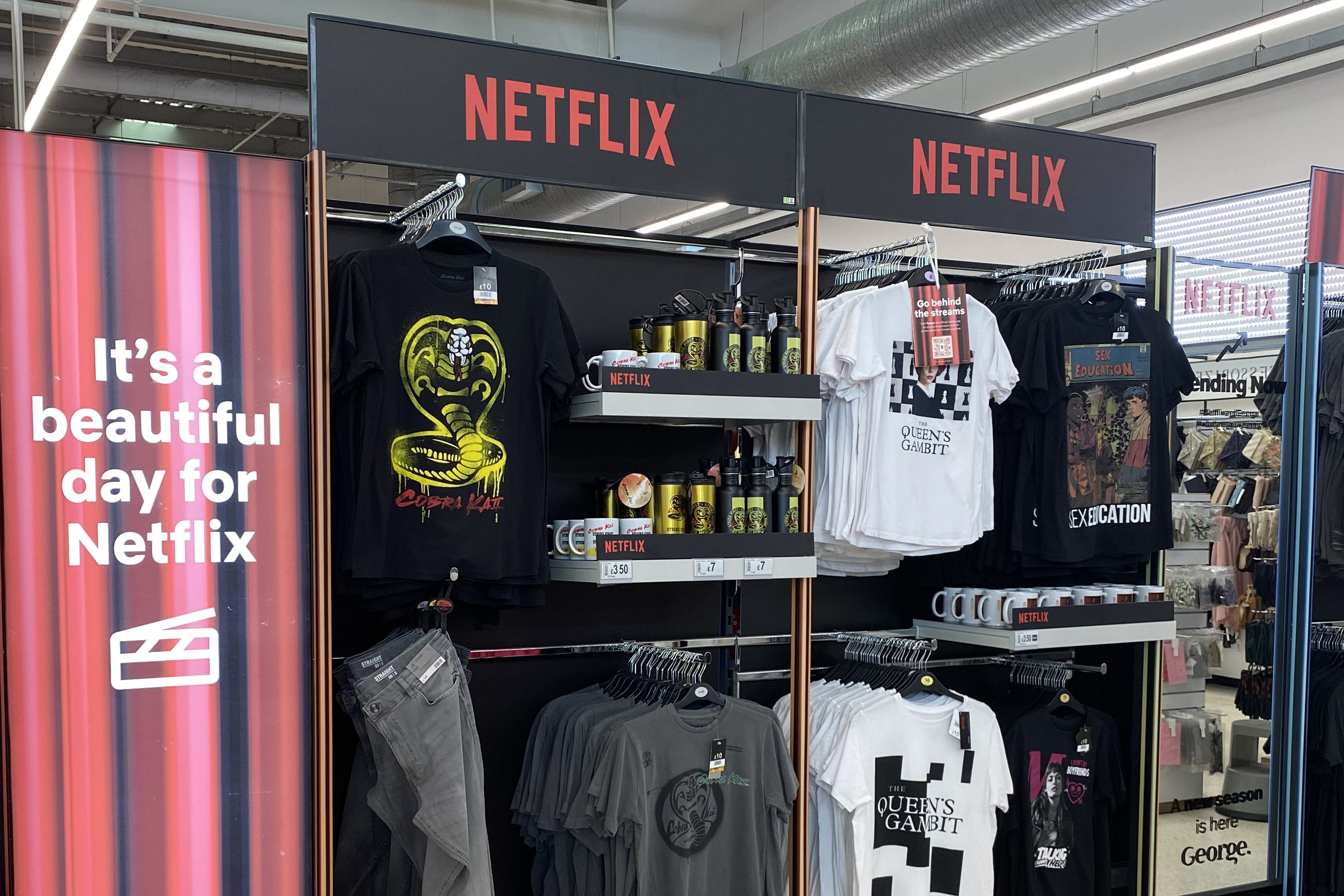 Partner viewpoint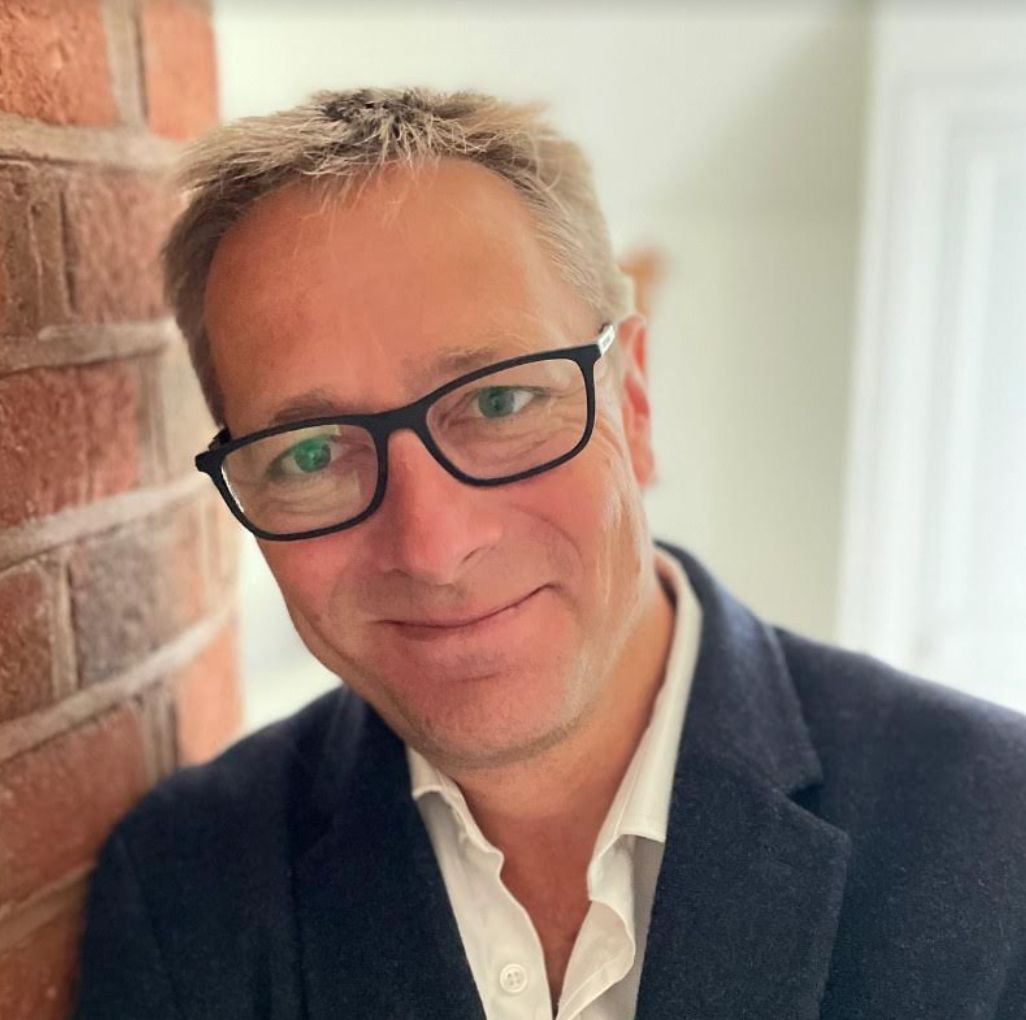 Alan Holcroft, country manager – Northern Europe
Customers are looking to connect with brands they love and they crave a personalised and convenient experience when shopping in their stores.
Retailers who are succeeding today are those who are able to unify their online and physical stores in real-time and offer a memorable experience when their customers walk through the door.
With the Cegid Retail POS and unified commerce platform, retailers like Gant, Paul Smith and Benetton Group are able to gain a real-time view on single stock, offer services like click and collect, ship from store, and endless aisle and store associates are empowered with the latest store management and POS technology to help them deliver personalised and memorable brand experiences.
We hope this report provides some insight into the UK store landscape and helps you shape your store strategy for 2022 and beyond.
To find out more about Cegid's POS and unified commerce platform, visit: cegid.com/en/retail/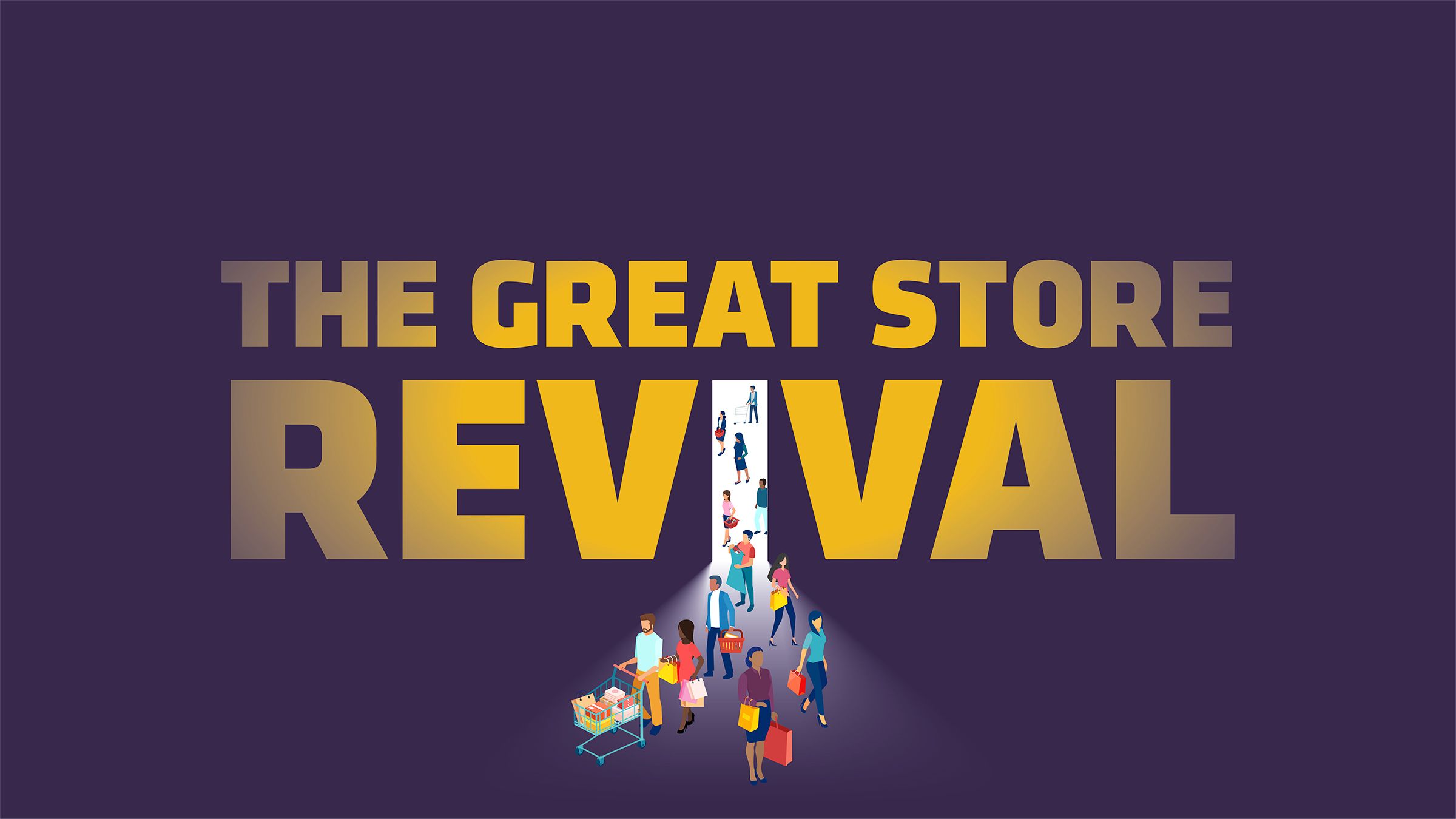 Produced in association with
Cegid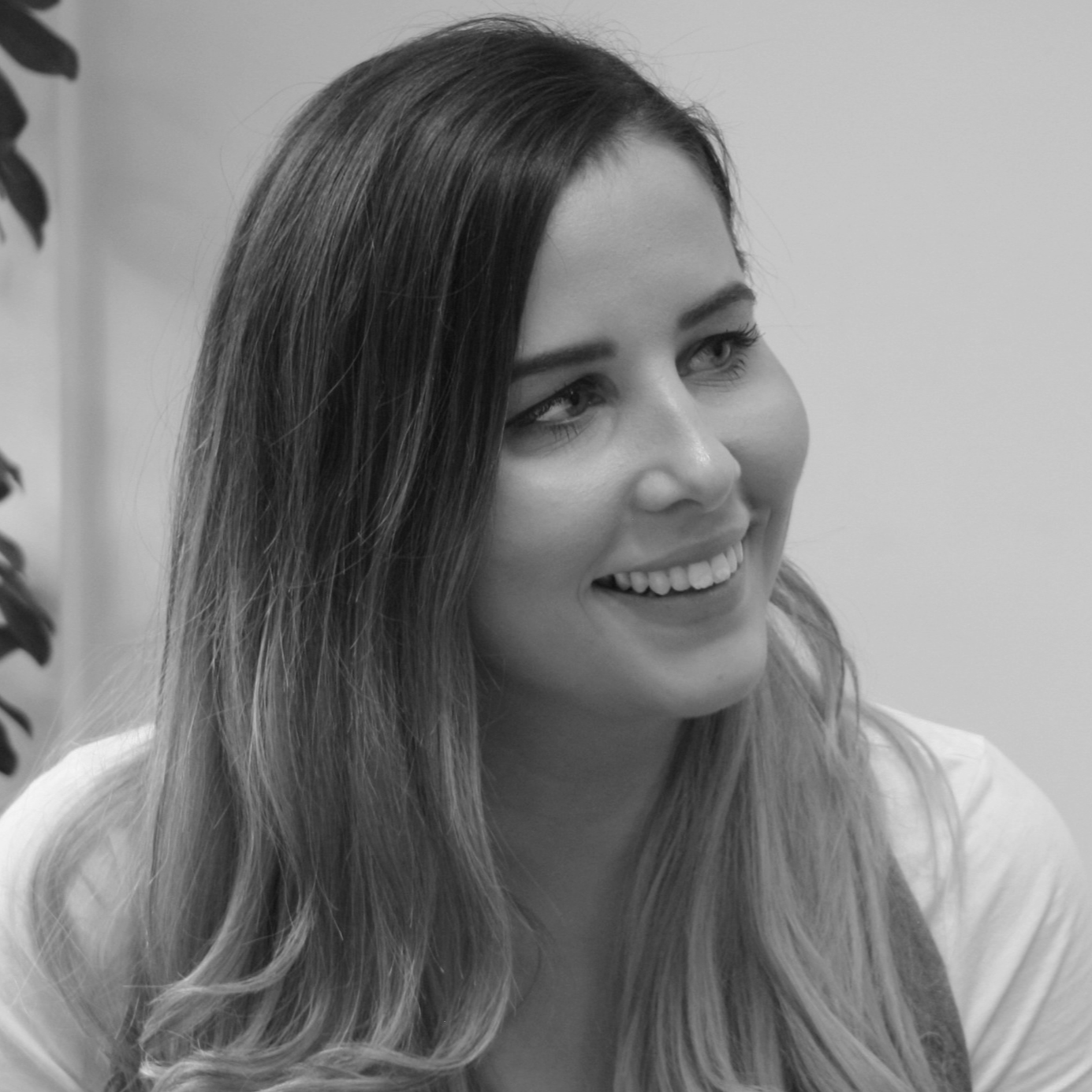 Content lead: Megan Dunsby, senior commercial content editor, Retail Week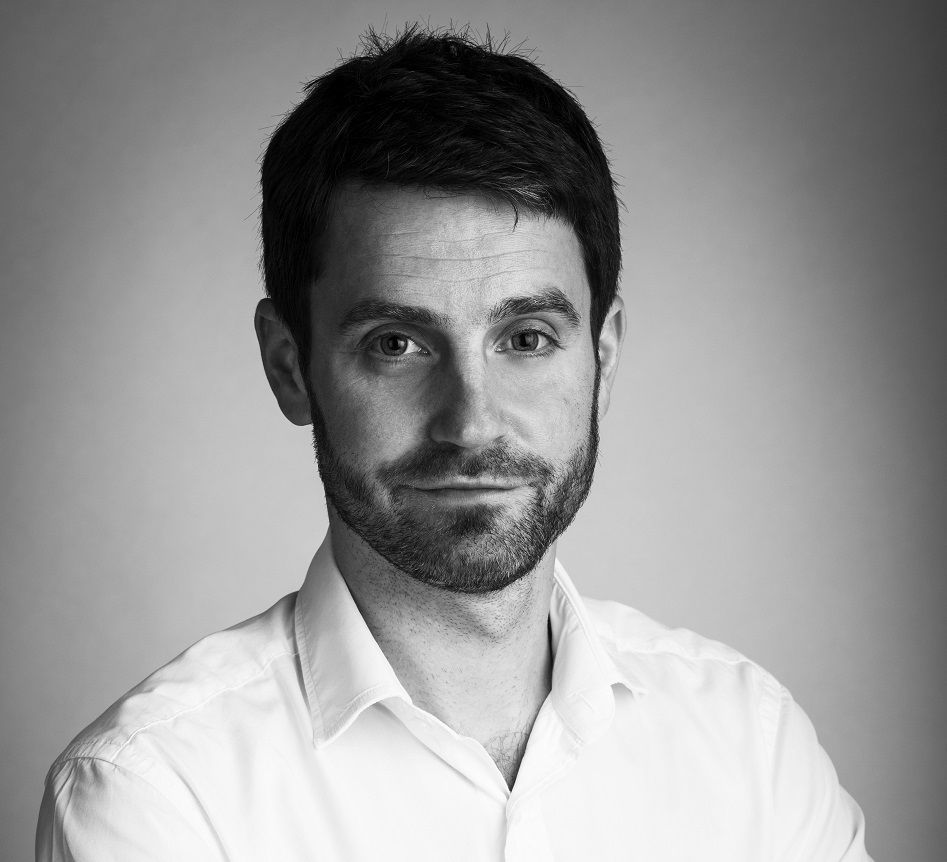 Report author: Ben Sillitoe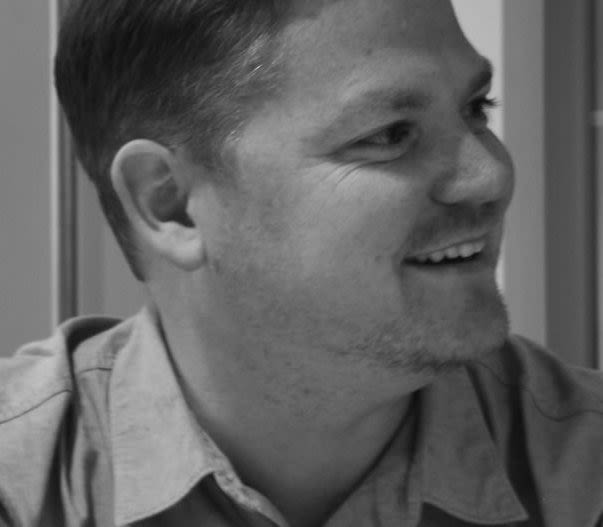 Sales lead: Tom Jones
Production: Stephen Eddie, Emily Kearns
Designer: Laura Reid